Nov 24, 2020 01:52 PM Central
Gayle Reinsma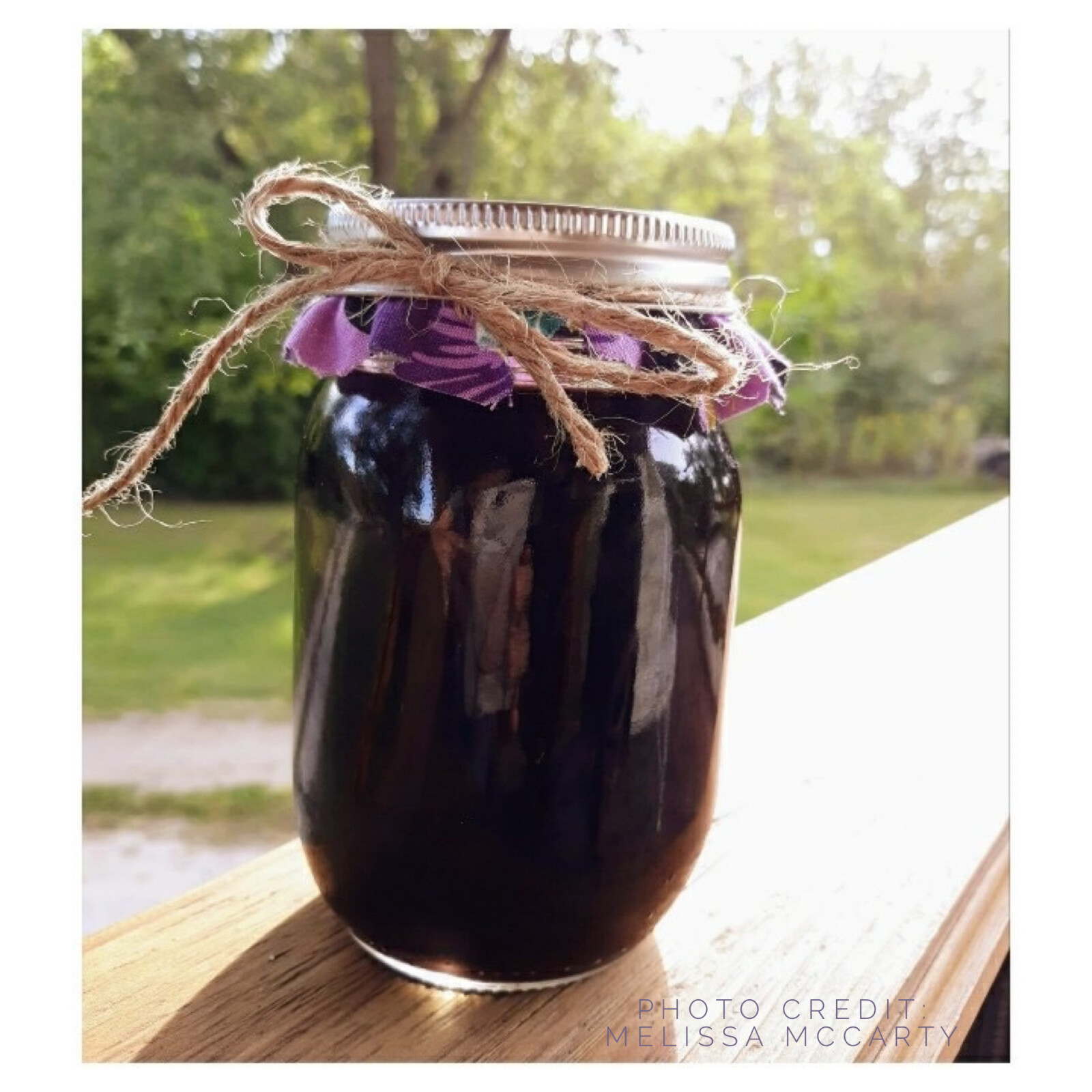 Making Elderberry Syrups with Essential Oils!
(Originally released in March of 2020 and re-released in November of 2020)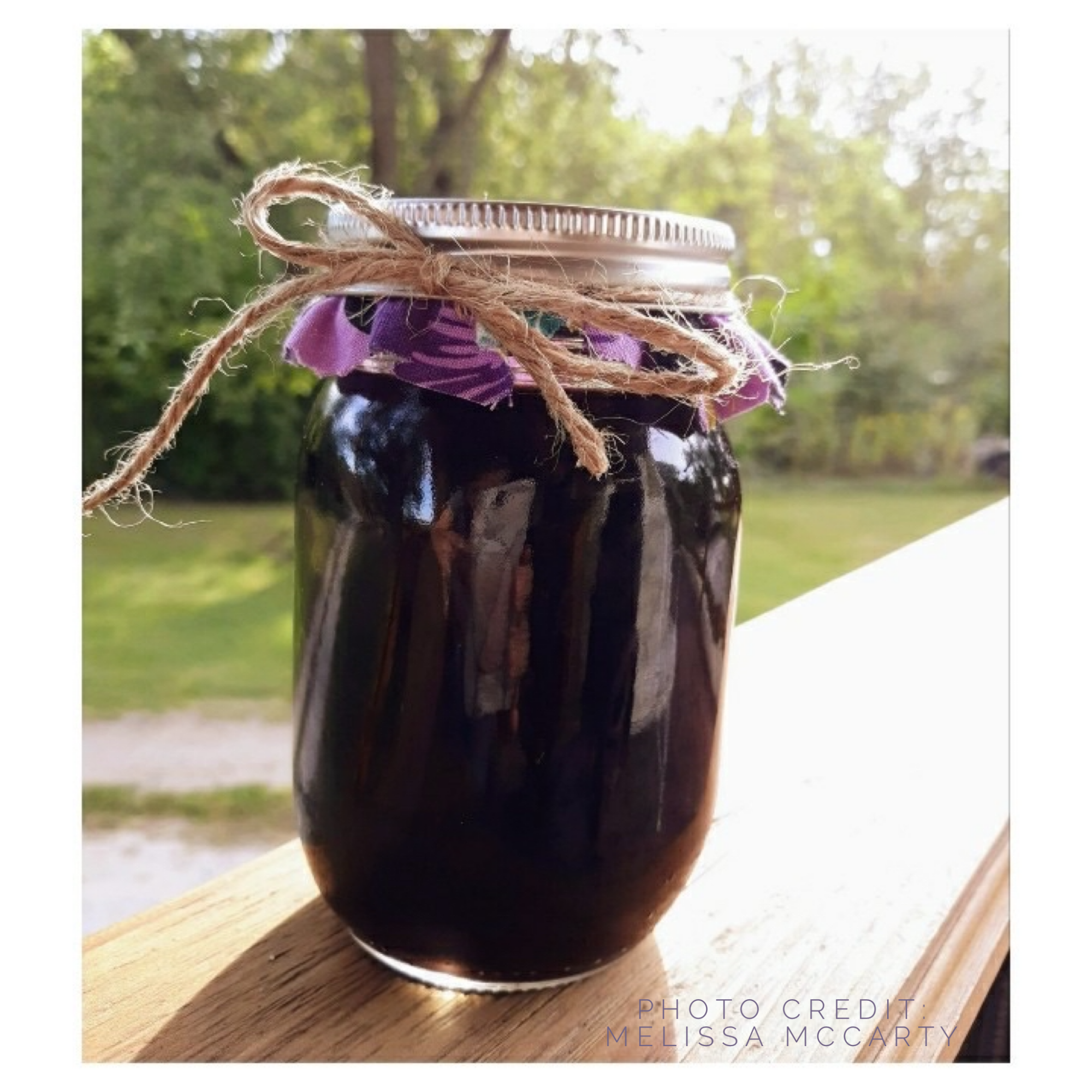 (Below is the original March of 2020 blog post. It's time to make Elderberry Syrup again so I'm re-posting this "must have" recipe for Winter!)
How are we all doing out there? Supporting each other while supporting our immune systems I hope?
This COVID19 issue has suddenly become a very real and and almost an all-consuming thing, affecting not only the health of some but the jobs and daily lives of all. My last post had some light hearted moments in it, but then, as now, I do take this seriously. As of Saturday March 20, my state is now "Shelter at Home", and when it was announced the day before, it produced some pretty bad anxiety for me. I used my oils - a LOT! And my next post will be on using oils for these unsettling times. But today, let's talk more about keeping that immune system strong - and specifically with Elderberry Syrup!
In my last post, I gave you my tips for immune support and briefly touched on the fact that I also use Elderberry Syrup. This post will focus on how and why I love this syrup! I love to put a tablespoon a day into my NingXia Red.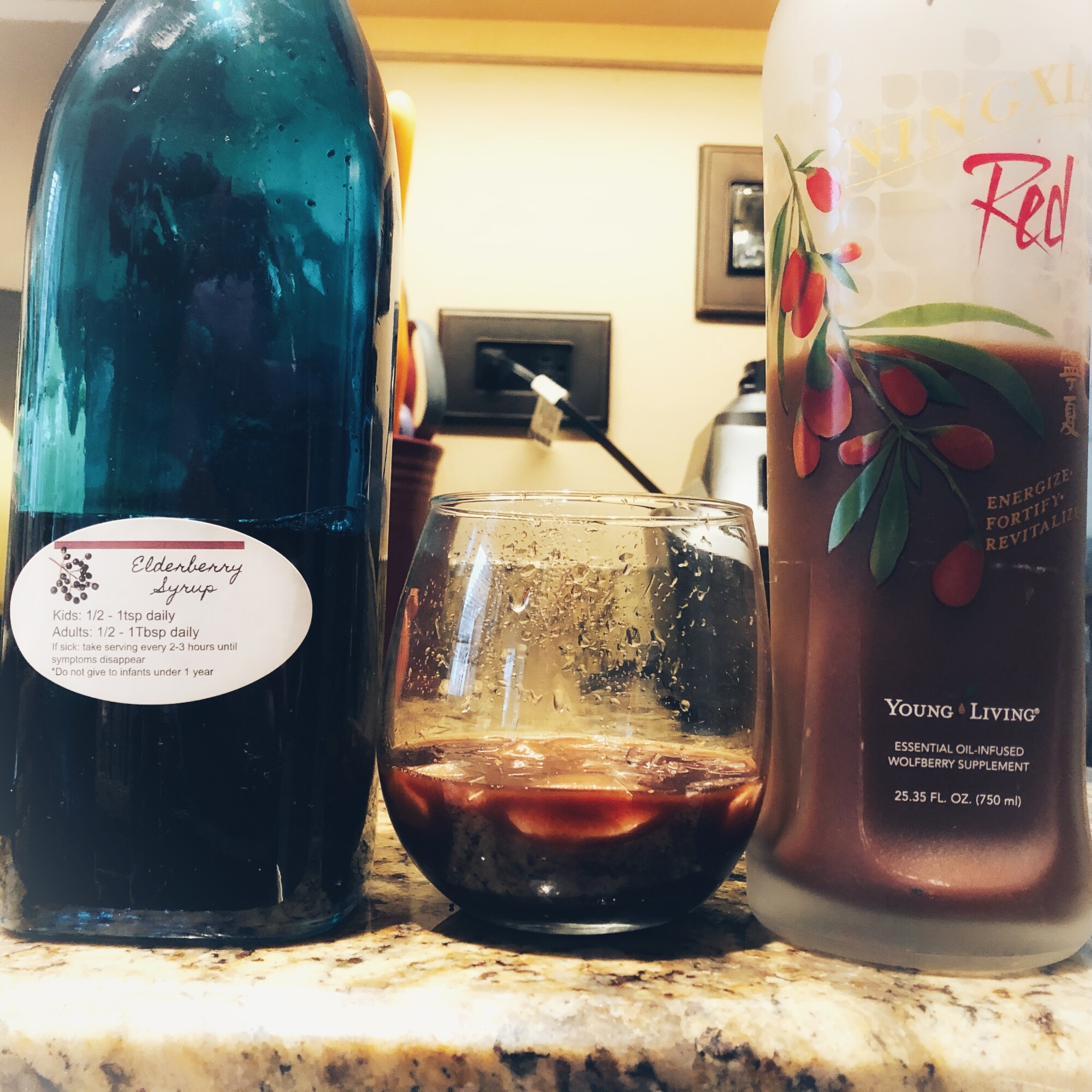 This is actually the first fall and winter I have used this syrup regularly. I decided last fall to do this, and I'm so thankful that I have kept this habit up since last fall! I immediately loved the syrup, and with the result of having a very healthy fall and winter, in spite of being around several sick people, my personal belief in the health benefits of supplements, essential oils and elderberry syrup has been strengthened even more! In fact, I'm so impressed with the addition of elderberry syrup that I even decided to make this for everyone I love for Christmas. It was a HUGE hit. Everyone was SO grateful, and many reported back to me that this helped them SO much!
How do you make it?


On my journey to find a good recipe, I researched, asked around, and did some trial and error as well. I'm a busy gal, and the idea of NOT having to grate ginger, add other herbs and buy expensive Cinnamon Sticks appealed to me BIG TIME! I settled on this recipe, that can be made stove-top OR in the Instant Pot (my fave!).
There are fantastic versions out there of this recipe, all very good. But I know me, and you may be that "me" as well: If it takes too long to make (too many steps lol) I'll probably buy it from someone instead! The key things in Elderberry Syrups are good berries, purified water and a local-to-you honey. The rest is how you like to enhance it. I chose the common addition of Cinnamon, Ginger and Clove. And the idea of being able to get the incredible benefits of those spices in an enhanced and easier to add form made me incredibly happy! Now please note, I use
essential oils
labelled for internal use, and I use the strongest
essential oils
made. Adding them AFTER the heating keeps all of the health benefits active, and THAT is the most important thing!
This recipe is SO easy, I can't believe it took me so long to even try it! And once I tasted how delicious it is, I am REALLY mad at myself for waiting so long lol!
So what's this good stuff all about anyway? Why take it?
Elderberries come from the Sambucus tree (Latin for Elderberry), a tree which is native to Europe but grown all over the world now. There are several varieties but all have a long history in health and wellness. In folk medicine, the dried berries or juice were used to treat influenza, infections, sciatica, headaches, dental pain, heart pain, nerve pain and more. Elderberries are also high in antioxidants. Elderberry syrup can help strengthen your immune system by "scrubbing to blood" so to speak, but it also works well at reducing inflammation. * (see note at end on this). Local-to-you honey might help seasonal allergies in your own environment but there are no strong studies to prove it. However, it's always the freshest and most natural honey! If you simply cannot use honey due to bee pollen allergies or other health concerns you may absolutely use other sweeteners, but if you can use honey, please do - it's so good for you!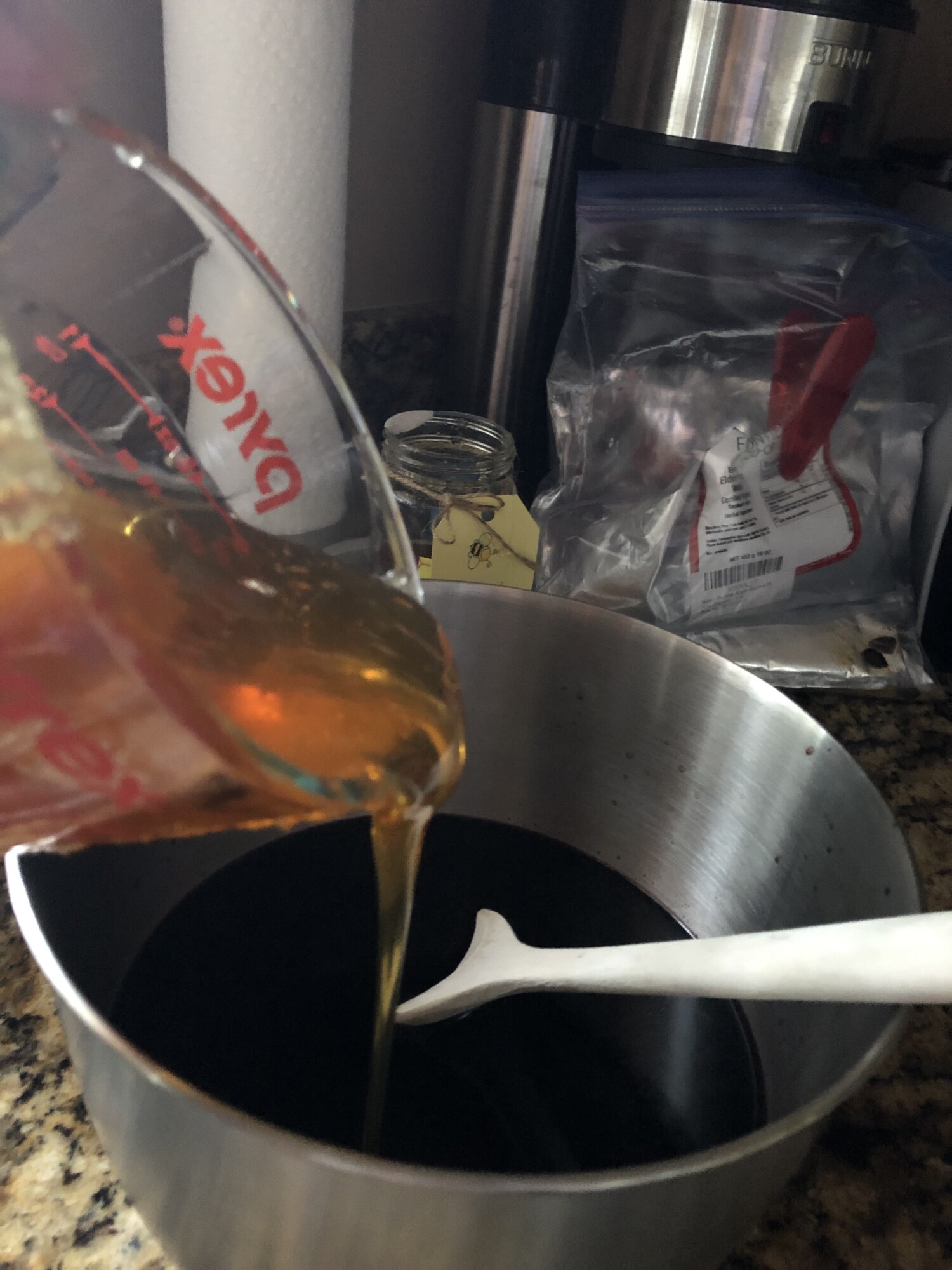 Here is the recipe I like the best:

Elderberry Syrup

1-1/2 cup dried elderberries I like Frontier Co-op.
(In Flu seasons, these prices are double the price what they are in early fall - stock up then!)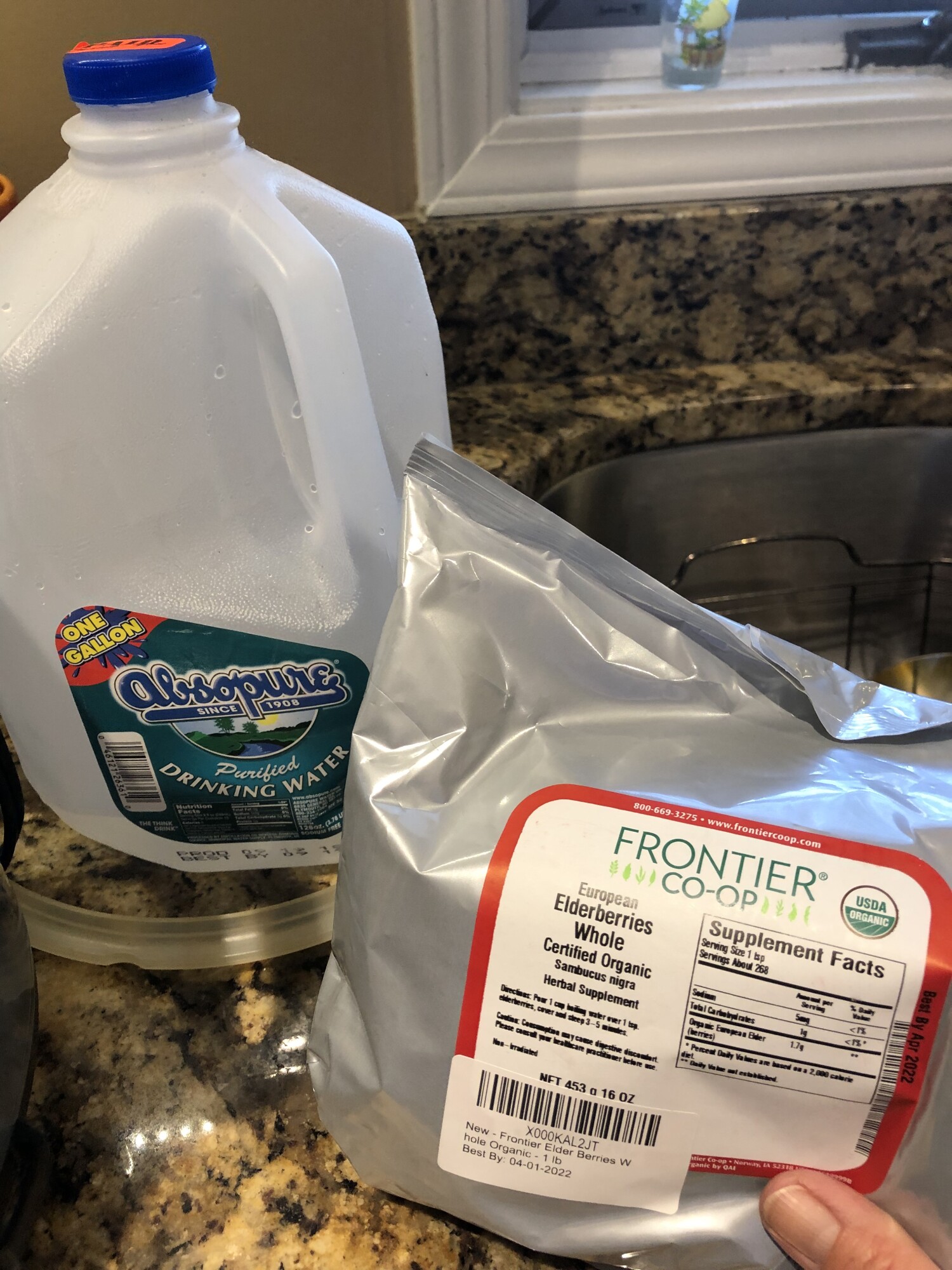 1 cup raw honey (local to you is best!) More if you like sweeter syrup
1 drop Ginger
1 drop Cinnamon Bark
1 drop clove
(optional other oils: Thieves, Orange, Copaiba, Frankincense, Lemon or any others you chose)**
**All
essential oils
listed should be from the Young Living Vitality line!)
There are two options for cooking. The trick is to make sure it's cooked long enough to reduce the liquid by about half or almost by half. Remember, ALWAYS add the honey and essential oils after cooking for either method!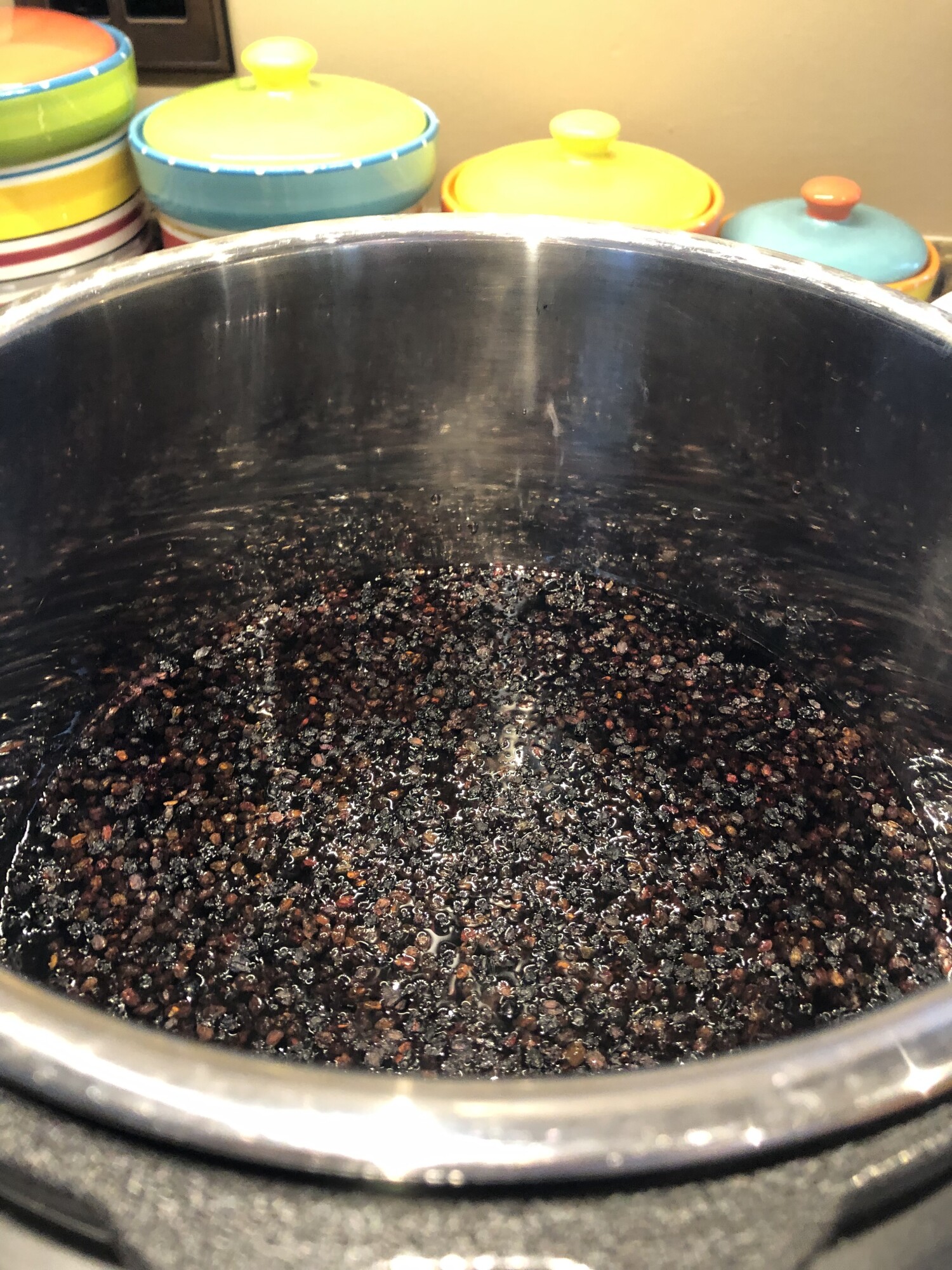 Instant Pot Method: Add the dried elderberries and water to the pot. Turn on "Manual" setting and set the time for 7 minutes at high pressure. When finished, release the pressure. You can saute a little longer (10 minutes or so) for a thicker or more potent syrup, but I do not do that. (SEE FINAL STEPS FOR THE REST OF THE INSTRUCTIONS!)
Stovetop Method: Add the dried elderberries and water to a large pot and bring to a boil. Allow to simmer for 45 minutes OR until the liquid has been reduced down to about about half. Some prefer to not simmer that long going for 20 to 30 minutes. It depends on how thick of a syrup you want. (Thicker will be more tart)
Final steps for both methods: Strain in small amounts through a fine mesh strainer or cheesecloth over a bowl. Gently press the strained berries with a spoon against the side of the strainer to release their juice, (or gently squeeze the cheesecloth) then discard the berries.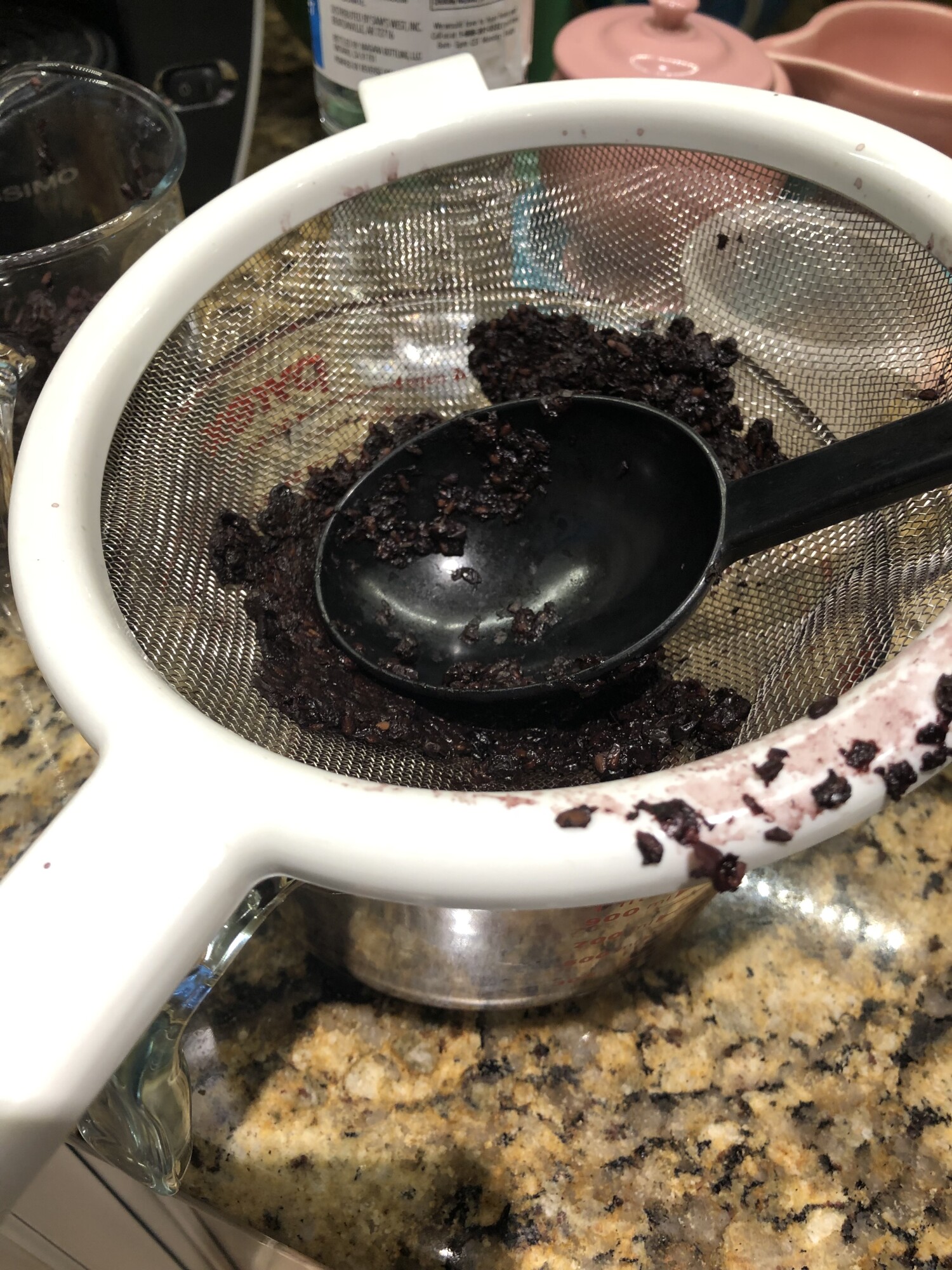 Once the entire batch has been strained and the liquid has been returned to the cooking pot, allow to cool a bit to a handling temperature, and then add the honey, Ginger, Cinnamon Bark and Clove essential oils.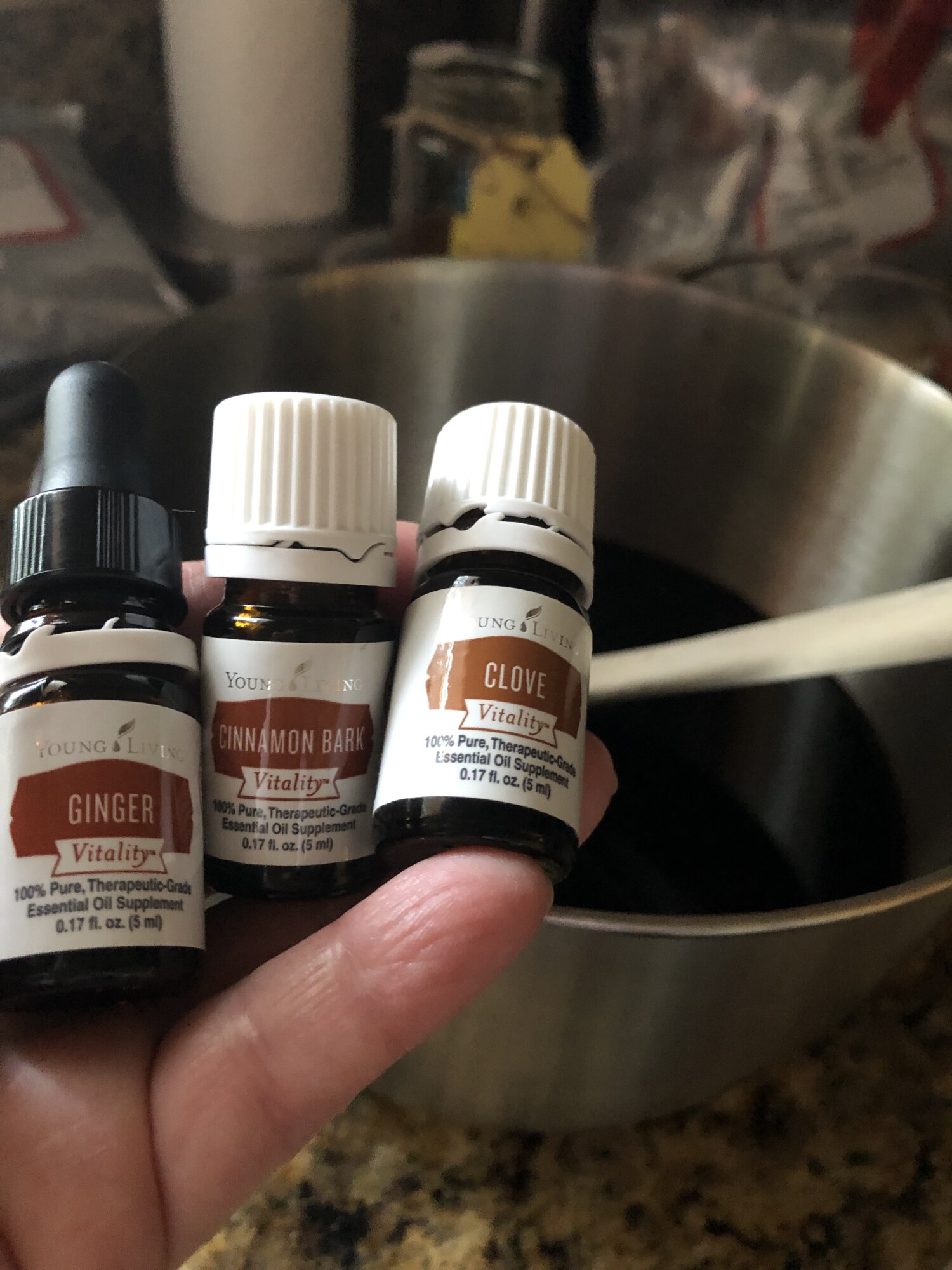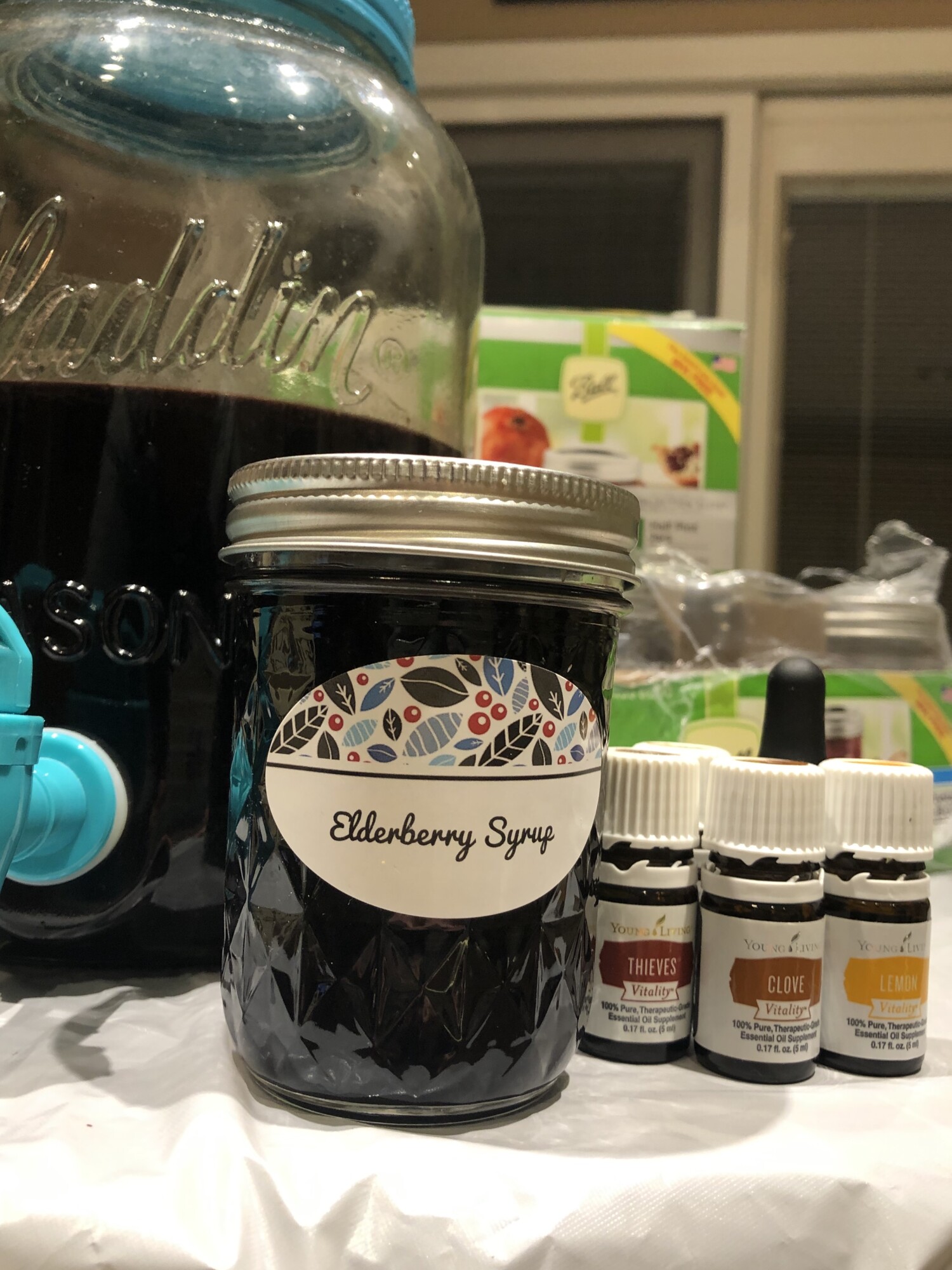 Stir and refrigerate until ready to place into smaller bottles if desired. However you bottle your syrups, always refrigerate it until it's gone! You can add ¾ cup to an 8 ounce Ball jar and add Young Living Vitality essential oils of choice. Examples of more oils for both flavors and health benefits are:
3 drops Orange and 1 drop Copaiba (makes a GREAT cough remedy!)
2 drops Thieves, 3 drops Lemon (great for extra immune support!)
2 drops Frankincense, 3 drops Orange, 2 drops Lemon (good for the flu!)
Read your reference book or use what you know to add oils to your individual jars. Keep the syrup refrigerated until it's gone. Use within 3 to 6 months. Get creative with bottles and labels. Here are a few FREE Printable styles just for you! Both are the Avery 22804 labels. Elderberry1.pdf Elderberry2.pdf. Get creative, enjoy and share the goodness. Just make sure when you give it to your loved on that you remind them to pop it in the fridge right away and to KEEP it there until it's used, or 3 to 6 months have passed. Have I said that enough yet? To keep it in the fridge? K, just checking. I told everyone that I gave it to to keep it chilled - even gave the a sheet with instructions that said "Keep in Fridge". Did they all do it? Nope!
HOW TO TAKE IT

• Kids that are old enough for honey take 1 teaspoon a day.
• Adults take 1 TBSP a day
•Sick? Take 2 or 3 times a day for a while * (see notes below)
• Feel free to add any of the Vitality Essential oils from Young Living that you want to take to your daily dose.

• NEVER TAKE ESSENTIAL OILS INTERNALLY THAT ARE NOT LABELLED FOR INTERNAL USE!!
"But Gayle, I read this blog about the dangers...."
You may have heard a buzz about not using your Elderberry syrups as it may cause something most of us have never heard of:
Cytokine Storm
. Dr. Donna Mazzola, Pharm.D. wrote about it on her blog, DrAutoImmuneGirl.com. And the whole Elderberry-taking world blew up lol! Not really, but it seemed like it! I listened to an interview with her and 3 other pharmacists regarding COVID-19, and this was a topic presented. The COVID-19 "spikes" on the outside of the virus cell (and all Coronavirus "spikes") kind of "pierce" and settle in the lungs and cause them to inflame. This makes it hard to breathe and produces the dry cough people report. Because Elderberry Syrup raises our Cytokine levels in a good way (like sleep does), this concern was considered. An increase in Cytokine levels is a form of "good inflammation". This might get tricky for someone with Auto Immune disease or those already with very compromised immune systems, are undergoing Chemo, or are taking a type of drug therapy. ANY time you add any herbs or supplements or essential oils into a health plan that includes daily synthetic drugs, you ALWAYS need to tell your Dr. what you are doing. ALWAYS. Do I? You bet I do! I walk in with my bag of supplements and my purse of oils on every check up. Believe me, my doctors office KNOWS lol. For those already experiencing inflamed lungs from COVID-19, the fear is that if your lungs are already inflamed, this would cause further inflammation in the lungs. (However, I have not heard that it has). And since this is a "novel" virus, we really don't know. Anyway after looking into this, I still am taking my Elderberry Syrups, along with thousands of others Elderberry Syrup users.
I still feel it's important to keep using it now for the "good inflammation" - the kind that fights off the stuff trying to make me sick! If you are normally healthy and get COVID-19, you may want to stop your Elderberry while you have that dry cough. (Unlike the normally suggested increase in using it when you don't feel well). COVID-19 symptoms include a high fever, and the high fever is busy killing off the virus at that point. Elderberry can be saved for when you are well. Here is some more info by another Dr. on the panel that I reviewed, and also my favorite Oily Pharmacist, Dr. Lindsey Elmore: Read HERE.
Stay well! Keep up good habits! Take care of each other in love!!
Like getting all of these ideas? Don't miss a single post! Be sure to join my e-mail list today, and let me know others ways I can serve you :)