Jul 1, 2020 08:08 AM Central
Gayle Reinsma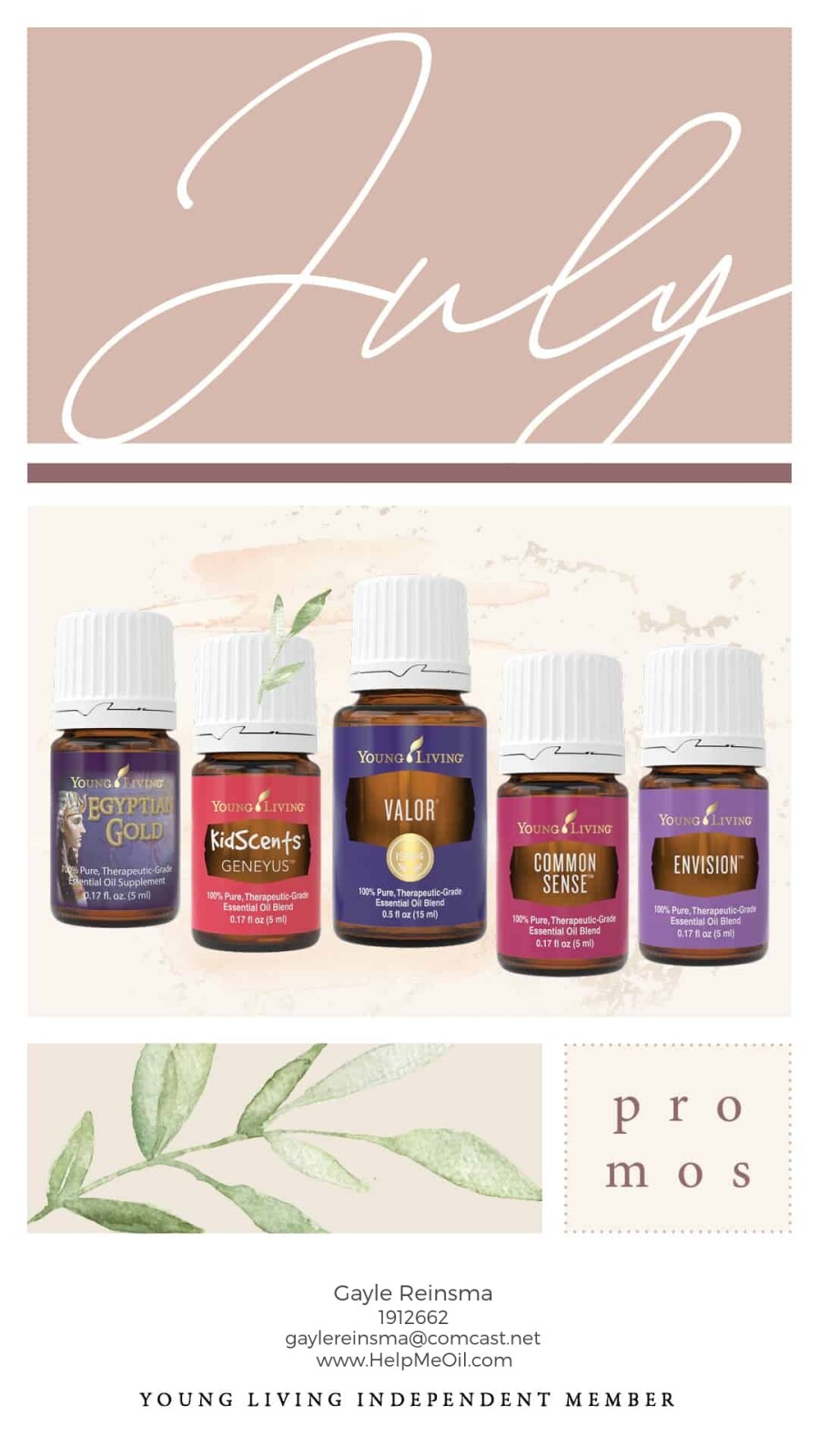 My FAVORITE kind of Young Living Promo - ALL OILS!!!!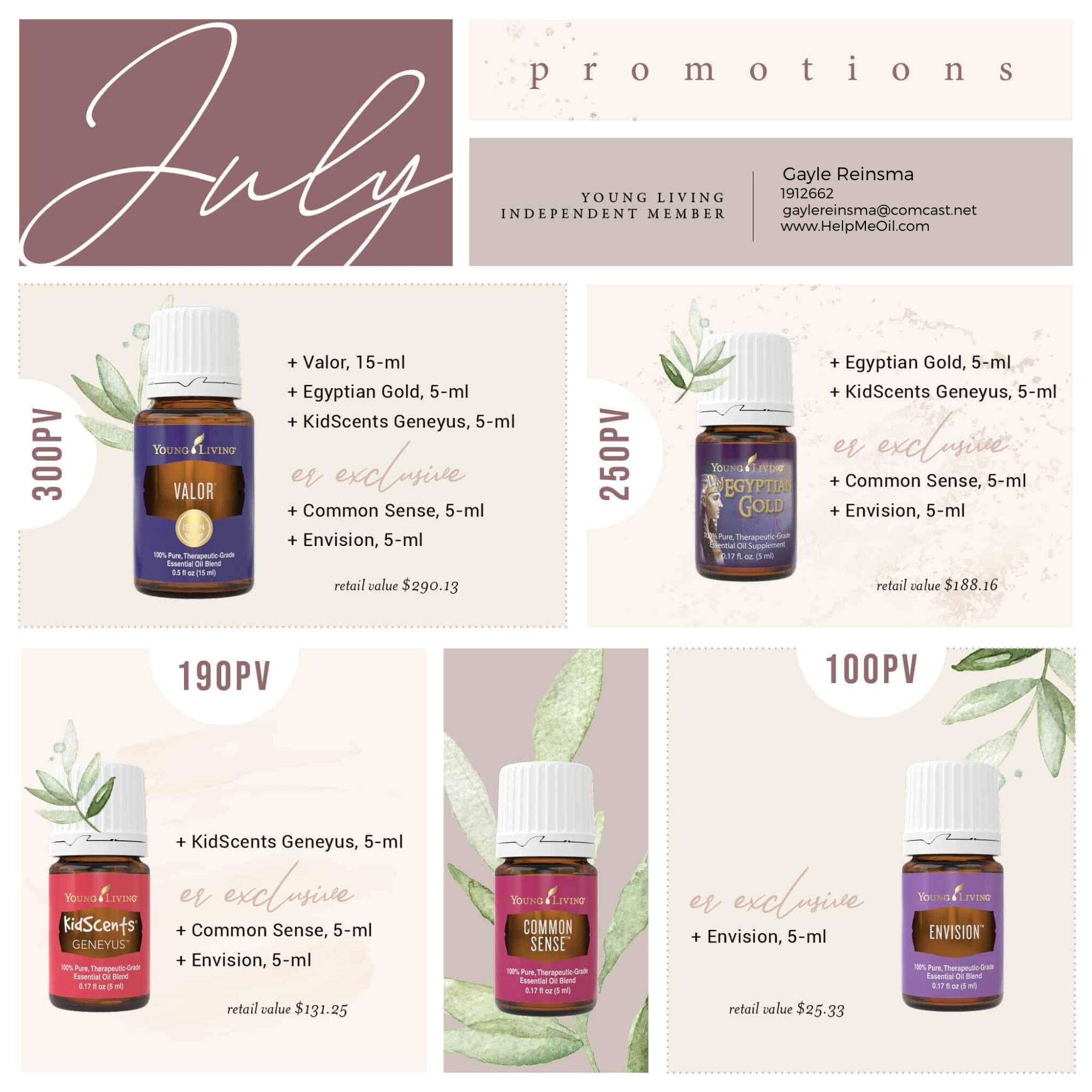 YAAASSSSS!!!!
Not only is this an exciting promo, it's one MANY will get because you NOW can get MANY ov the new convention items ON YOUR ER!!!
Enjoy getting your learn on with these these oils for the brain!
15 ml of VALOR!!!
EGYPTIAN OLD!!! (Finally!!!)
This is a GREAT promo woohoo!!

Ooh laa laa!! My fave kind of promo - ALL OILS!!

Jump-start your busy days ahead with the calming, uplifting aroma of 💪🏼 Valor! Then diffuse Envision 🤩 to inspire a can-do attitude while you jot down your daily to-dos. When it's time for you or your little one to focus and hit the books, turn to the aromas of a study buddy duo that brains LOVEEEE 🧠 KidScents GeneYus and Common Sense 🧠 to create a focused environment. 👌🏼 Once the homework and handouts are finally done, fill the whole house with the warm, woodsy scent of 🌿💰Egyptian Gold!!

Remember that the BEST way to order is on Essential Rewards!!! GUYS. It's the BEST value with fantastic freebies and perks! This is our monthly wellness subscription box program that offers points back and additional promos. You don't want to miss out on all the oily goodness available through ER! 💗



______________________________________________________________________

☀️ 100PV ER Bonus - 5ml Envision

This is one of myFAVORITE, and my first ever "after the kit purchase" blends!! 😍

Formulated to stimulate feelings of creativity and resourcefulness, Envision includes Black Spruce, Geranium, Orange, Lavender, Sage, and ROSE!! 🌹🌷🌸 I love applying this to myself at the beginning of my day or on my crown or in a roller as perfume! 💕 It's wonderful for setting intentions for the day! It's great during hour weekly planning sessions or anytime you need to get organized and inspired. A tiny little but goes a long way, trust me! I learned the hard way.

🌿 Uses for Envision:

➕ Apply to the neck or wrists for a perfume

➕ Combine with V-6 for a relaxing massage

➕ Mix with Epsom or sea salts for a relaxing bath

______________________________________________________________________

☀️ 190PV ER Bonus - 5ml Common Sense

✨☀️💜July Promotions! ✨☀️ 💜

If there was one oil I wish I could apply to everyone RIGHT NOW it would be Common Sense, hahaha! 😂😂😂 For real though, this oil is INCREDIBLE for the brain, and I love using this when I need help focusing, and you will love it when your kids need an extra boost of concentration during school! 👊🏻 I 🌿✨

Common Sense essential oil is a proprietary blend of Frankincense, Ylang Ylang, Ocotea, Goldenrod, Rue, Dorado Azul and Lime formulated to enhance rational decision-making abilities leading to increased wellness, purpose, and abundance.

🌿 Uses for Common Sense:

➕ Diffuse to create an environment of creativity and focus

➕Apply a few drops to your temples to help calm your thoughts

➕Add a few drops to a cotton ball and place in your car vent to help calm your brain and enhance decision making

______________________________________________________________________



☀️ 190PV - 5ml KidScents GeneYus

One of my FAVS!!! 😍😍 I use this one daily on the top of my head. This is the essential o il blend of your dreams!! It's a mama favorite for all things kid focus! This oil is a game changer for anyone that has trouble focusing on one task! Diffuse alone or try it in the diffuser with Clarity or another fav, Grapefruit! 🤤 This is part of the Kidscents line and is diluted for kids over the age of two so no need to dilute before using on your younger kiddos! For under two, just add a little carrier oil before you apply to them.

GeneYus is an excellent blend to diffuse for young ones that are concentrating on projects. 🧠 And I just plain love the smell ❤️

Will it ensure that they enjoy doing their homework? Probably not. 😂 But it should help them to sharpen their resolve to get the job done. And isn't that half the battle? 😉

🌿 Uses for Kidscents GeneYus:

➕ Add a few drops to a diffuser bracelet

➕Diffuse to help your kids stay focused while doing school work

➕Combine with other calming oils and make a roller bottle for your kids to apply at school

______________________________________________________________________



☀️ 250PV - 5ml Egyptian Gold

This is a hidden jewel. A treasure chest of focus, and wellness support waiting for you to bring it home and add it to your trove of special oils. It is super light and exotic smelling, and a must have for keeping our bodies in top shape.

A drop or two down the spine daily is a great wellness keeper. It's great for emotional balance - diffuse or apply to vitaflex points on ear. We love to use it around the nose to protect from things in the air. Mixed with some rose ointment (add some Exodus II if ya have it!), this is great for staying healthy and especially when traveling!

Egyptian Gold is a blend of Frankincense, Lavender, Balsam Canada, Myrrh, Hyssop, Northern Lights Black Spruce, Rose, Vetiver, Cedarwood and Cinnamon Bark. I mean WOW. Basically sounds like the best oil for everything your body needs. I mean your brain will love this for sure. It is grounding with those tree oils, but the Lavender and Rose add these beautiful floral notes to the blend. I can't wait to get this oil!

Say WHAT?? It's like the all star team of oils. They picked the best of in every category and made a blend. Pure, oily gold. And wait until you smell it?! It probably smells even better when it's FREE!



🌿 Uses for Egyptian Gold:

➕Drop on the crown of your head for an incredible day

➕Apply to the bottom of your feet or spine for incredible immune support

➕ Diffuse for a glorious aroma



______________________________________________________________________



☀️ 300PV - 15ml Valor



Who else is jumping for joy that VALOR is in the promo this month?!

I will be making sure I get this freebie TWICE (once with ER and once with a Shop Order) this month! This is one of my favorite oils ever! 🤩😍🤩😍

Literally every single person needs to experience Valor themselves. So snag that bottle for yourself and see why it is so cherished and valued by so many of us. And if you *think* you don't need Valor, buy it anyways. YOU DO.

Valor is a blend of Black Spruce, Camphor Wood, Blue Tansy, Frankincense and Geranium. Known as liquid courage, Valor is awesome to help calm nerves and give you an extra confidence boost. And let's be real, I need this all day every day! I literally have a bottle in my bag at ALL times.

Whether I am traveling, DRIVING, about to speak to people, or try something new, I make sure my oily BFF is right there with me!

🌿 Uses for Valor:

➕ Convenient for on-the-go muscle recovery, pop a roller top on this oil and use it before, during, after a workout, yard work, etc.

➕Add to epsom salts with Aroma Siez for an amazing, rejuvenating bath

➕ Apply on the wrists or neck for a subtle cologne or perfume

➕ Add to YL's Bath & Shower Gel Base to make your own Valor bath gel

If you've never tried Valor, you're missing out, my friend! This is one of Young Living's top selling oils, and is hard to keep in stock! Make sure you don't miss out on this AMAZING freebie!

😎 So what are YOU excited for this month?! ⛱🌊
Like getting all of these ideas? Don't miss a single post! Be sure to join my e-mail list today, and let me know others ways I can serve you :)