Jul 1, 2021 10:06 PM Central
Gayle Reinsma
CHECK OUT THE JULY 2021 SPECIALS!
Hey folks! We have some super sweet options this month! So do not fill your Essential Rewards (Subscribe To Save) carts until you have read this!
Young Living is Celebrating International Essential Oil day for the ENTIRE MONTH of July!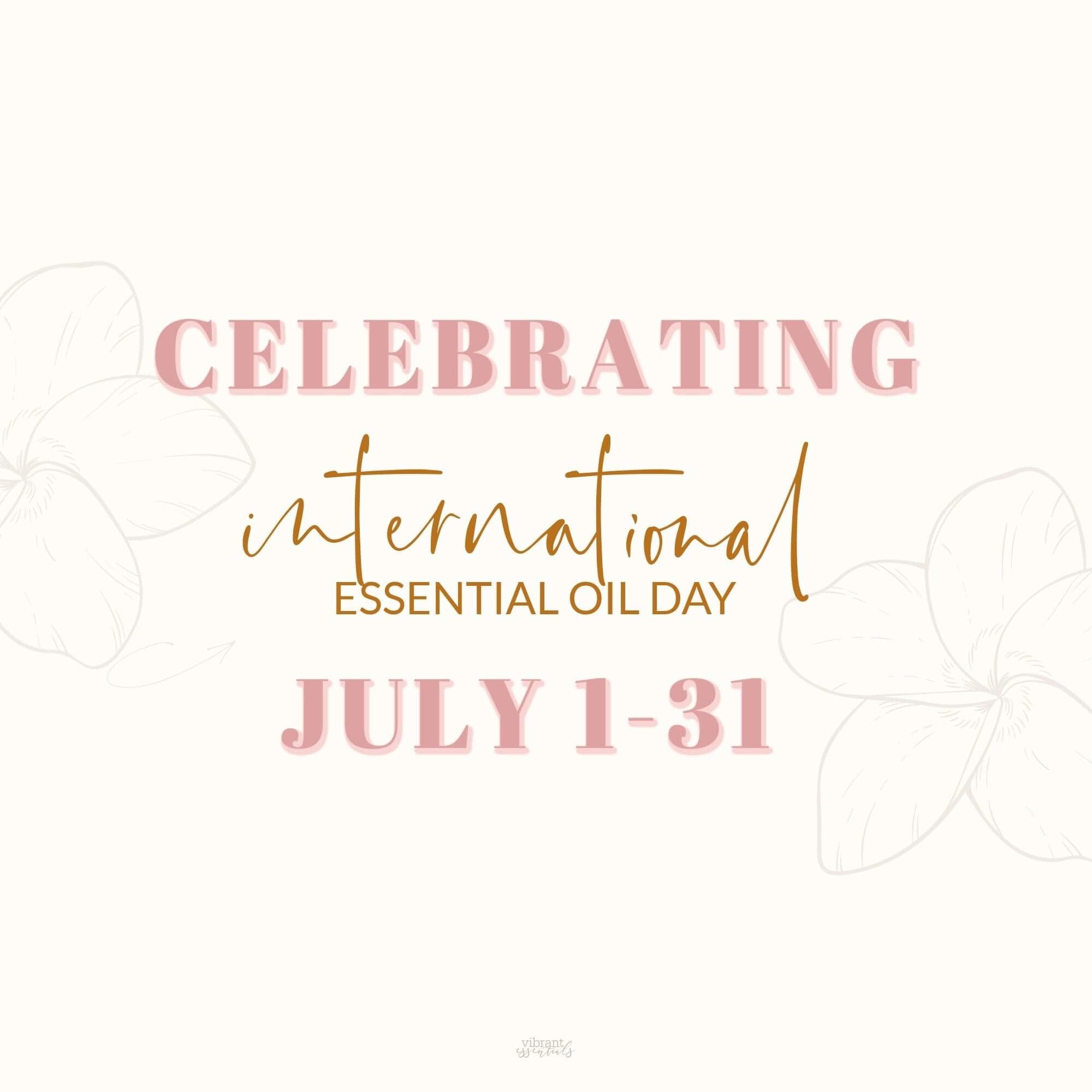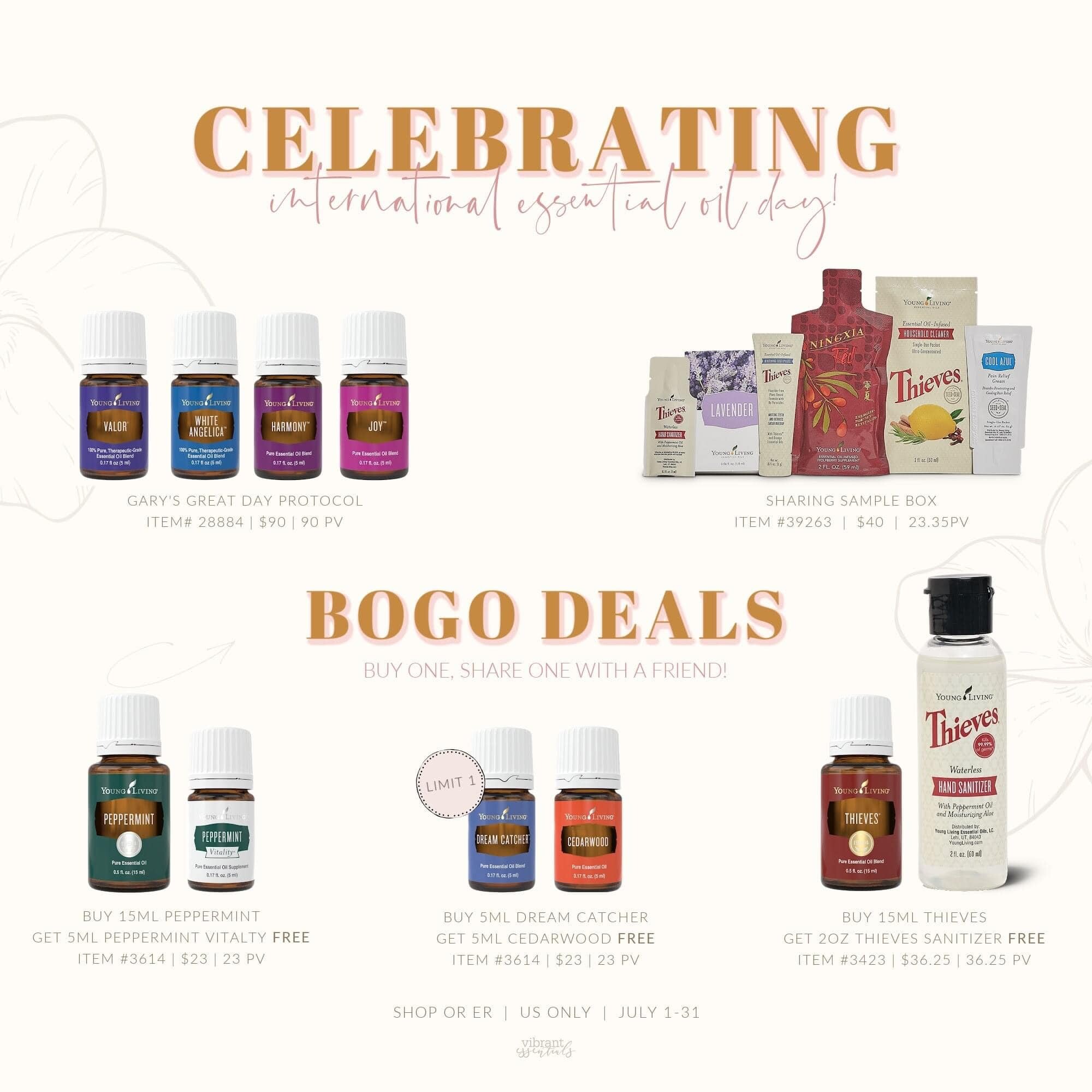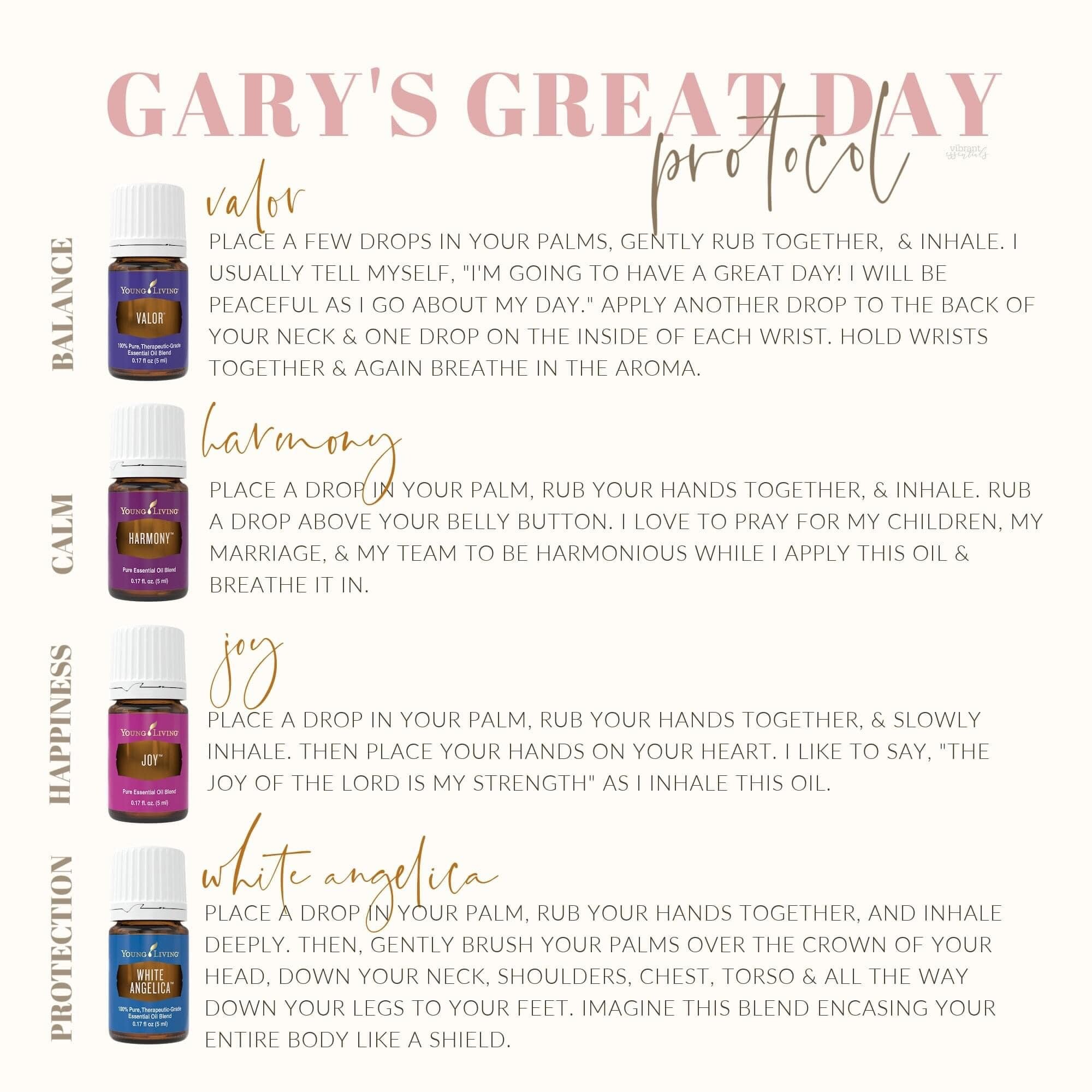 CELEBRATING INTERNATIONAL ESSENTIAL OIL DAY ALL MONTH LONG!

Gary's birthday was July 11th. These amazing sales, deals and shareables are to honor him and his mission to share essential oils with every home in the world.
Beginning TODAY, Young Living is offering some super fun things -- a brand-new sample box full of things to share with friends, Gary's Great Day Protocol at 20% off and three awesome BOGOs!! Together, we can spread Gary's dream one drop at a time.



Gary's Great Day Protocol

Incorporate Gary's empowering essential oils routine into your daily life! Start by applying a drop of Valor to your left wrist, then Harmony above your belly button, next Joy over your heart, and end by gently brushing White Angelica from crown to toe.
Protocol bundle includes:

5ml Valor

5ml Harmony

5ml Joy

5ml White Angelica
Item #28884
$90 | 90 PV
No limits

BUY ONE GET ONE DEALS


BUY 15ml Peppermint GET 5ml Peppermint Vitality FREE!
Item #3614
(Add Peppermint to your cart and Peppermint Vitality will add automatically.)
$23 | 23 PV
(PV is not earned on the free item.)
No limits

BUY 15ml Thieves GET 2OZ Thieves Hand Sanitizer FREE!
Item #3423
(Add Thieves to your cart and Thieves Hand Sanitizer will add automatically.)
$36.25 | 36.25 PV
(PV is not earned on the free item.)
No limits
Note: Bottle color of Thieves Waterless Hand Sanitizer may vary.

Buy 5ml Dream Catcher GET 5ml Cedarwood FREE!
Item #3361
(Add Dream Catcher to your cart and Cedarwood will add automatically.)
$33.50 | 33.50 PV
(PV is not earned on the free item.)
Limit 1

Sample Box

Young Living is more than just amazing oils. These oil-infused samples will bless your friends!
Box includes:
5 Cool Azul Pain-Relief Cream sachets

5 NingXia RedSingles

5 Thieves Household Cleaner sachets

5 Thieves Waterless Hand Sanitizer sachets

5 Thieves Whitening Toothpaste sachets
Lavender Sample Card, 1.8 ml bottle with card
Item #39263
$40 | 23.35 PV
No limits
Details:
July 1-31
While supplies last
U.S. only
SHOP OR ER
Share this goodness with your friends!!



Also, To continue to spread good like Gary did, Young Living will donate 5 percent—up to $300,000—of global sales July 10−11 to the D. Gary Young Global Leadership Fund for Higher Education.


Annnnd check out the July freebies! (More info on how to use these coming later this month)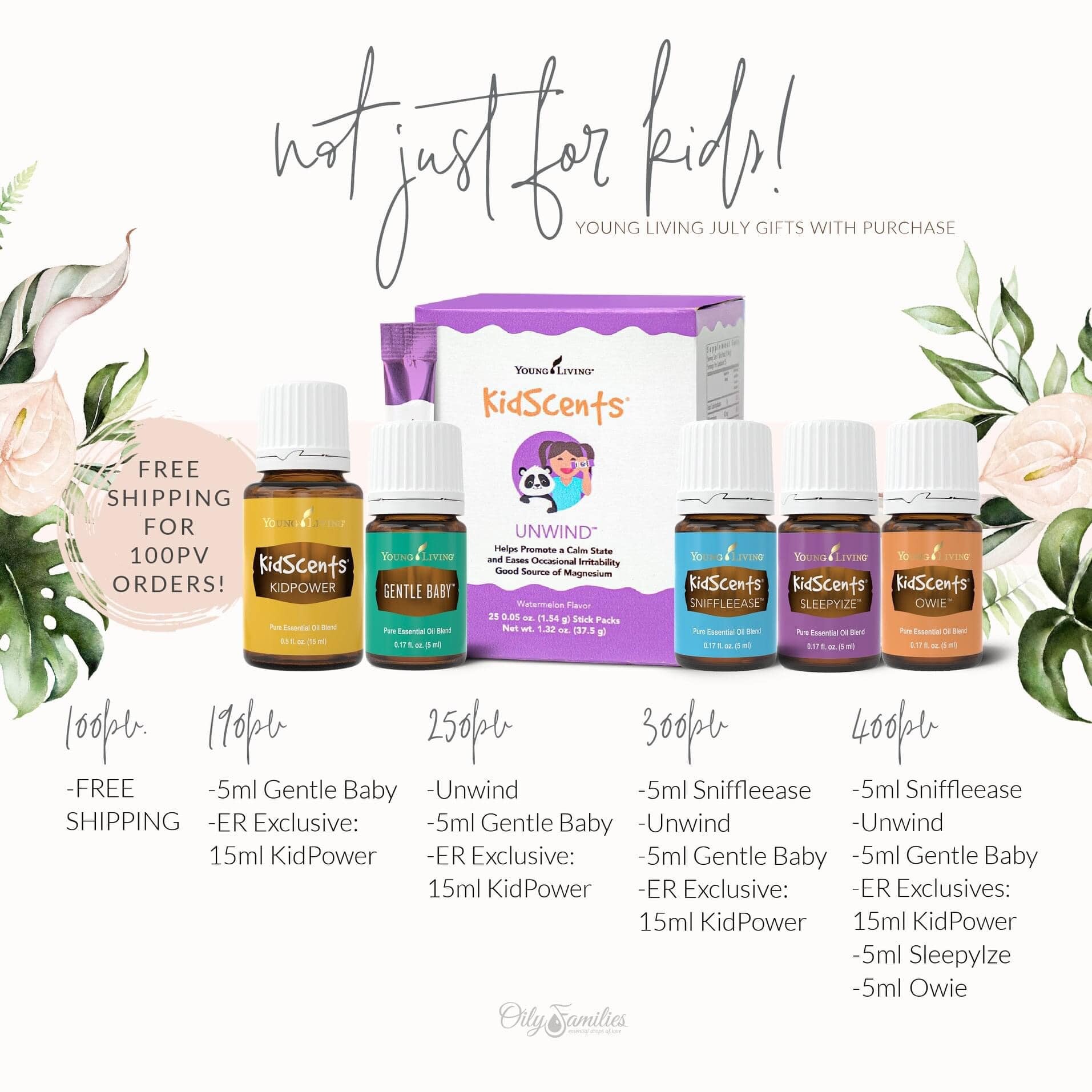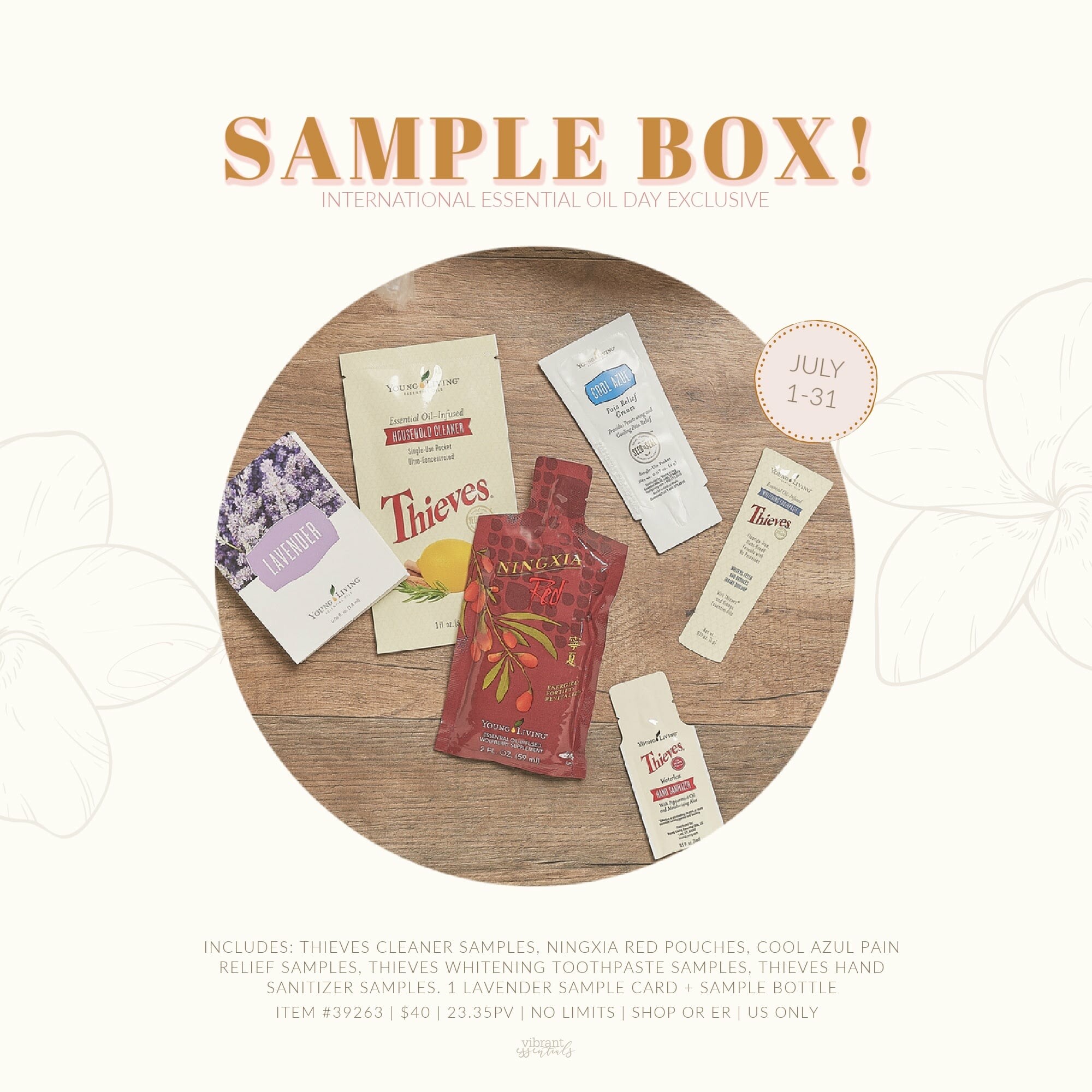 Like sharing! Or just like to have travel sized items? Check out the Sample Box available this month!

July Gifts With Purchase are HERE!

Just L

K at all the freebies for kids and kids at heart! These bottles of plant goodness are literally for EVERYONE! I use them alllllllll the time as an adult!!!!! And…..we get a FREE supplement!!! Hooray!!!


I am SO excited about a

15ml KidPower being the gift with purchase at 190PV!! It is an incredible essential oil that smells like an orange creamsicle! I can't get enough, and I've been bathing myself and my family in it since February!! On top of that, favorites like SniffleEase, Owie, Gentle Baby and SleepyIze top out this fabulous promo.
Gentle Baby is one of my skin favorites. It's amazing for stretch marks too. Owie is one that I never want to be without. It has helichrysum in it which is my absolute favorite for my first aid kit. SniffleEase and SleepyIze do exactly what they say...ease the sniffles and make the eyes sleepy.



And Kidscents Unwind is an AMAZING supplement, and I am so excited to get it for free this month! And the best part? It's not just for kids! Even I love taking this at night to unwind!
What are you most excited to receive FREE with your July order?!

__________________________________________

100PV - Free Shipping
Shop your monthly must haves and score free shipping with orders over 100PV!
Place as many 100+ PV orders as you desire and Young Living will give you free shipping every time - on your 100+ PV ER order and every 100+ PV Shop order!



Yep, friends….even up to SEVENTY POUNDS!!!! So you can stock up on all the easy, breezy, summertime faves and you don't have to pay for shipping!!!
Remember that the BEST way to order is on Essential Rewards!!! GUYS. It's the BEST value with fantastic freebies and perks! This is our monthly wellness subscription box program that offers points back and additional promos. You don't want to miss out on all the oily goodness available through ER!


__________________________________________

190PV ER Bonus - 15ml KidPower
This is bravery in a bottle for the littles!

This delightful oil blend reminds me of Valor with a hint of an orange creamsicle. Roll on wrists or spine, or take a big inhale when you're going into a new situation and need some courage, or are experiencing occasional feelings of doubt or worry.
KidPower is formulated to help inspire feelings of confidence, courage, and positivity.
KidPower is made with INCREDIBLE oils:
-Black Spruce: Earthy and grounding to help balance the senses
- Blue Tansy: Has a floral aroma that is uplifting to the senses
- Frankincense: Popular for meditation and promotes a comforting environment
- Geranium: Promotes peaceful, spiritual feelings
- Ho Wood: Provides a floral, relaxing aroma
- Orange: Has a sweet and energizing aroma
- Vanilla: Sweet and comforting

Uses for KidPower:

Apply KidPower roll-on to wrists or back of the neck to calm worries and strengthen resolve for the best days ever!

Add a few drops to your diffuser and diffuse it daily to promote feelings of courage.

Literally open the bottle and breathe. It's the best!
__________________________________________

190PV - 5ml Gentle Baby
Gentle Baby is a blend of Coriander, Geranium, Palmarosa, Lavender, Ylang Ylang, Roman Chamomile, Bergamot, Lemon, Jasmine and Rose!

It is not only an oil that all mothers need, but it has a beautiful aroma that everyone in our home enjoys. This is NOT just for babies!
Gentle Baby is LUXURY in a bottle!!

It's gentle enough for the most sensitive skin. Great for smoothing out stretch marks and fine lines.


Uses for Gentle Baby:

Specifically designed for expectant mothers and newborn babies. It is comforting, soothing and relaxing and may be beneficial during the birthing process.

Mix up 10 drops in a few tablespoons of coconut oil for an after-bath massage for your infant or child, or rub on stretch marks, or a growing pregnant belly.

Try a drop in your moisturizer at night before bed!

During pregnancy, can be massaged in perineum to help prevent tearing. It is amazing diffused during labor, and before bed + during the night!
Tips for all the mamas: place a few drops on the car seat straps or on a toy for baby's comfort.
__________________________________________

250PV - Kidscents Unwind
Raise your hand if your kiddos ever get a little too wound up?!
The world is a big, exciting place for kids!! They can't help but show enthusiasm for all that they have going on - from school and piano lessons, to playdates and finger painting new masterpieces! Is it any wonder that their minds and bodies don't like to settle down at night?!
You can help ease the effects of overstimulation with KidScents Unwind! This product is perfect for moms helping their children learn the art of intentional unwinding, calming themselves, and slowing down.
Your child's wellness relies just as much on good nutrition, enrichment, and activity, as it does on downtime and rest.
When it's time to settle down, help your little ones rest easy with KidScents Unwind. Formulated with calming, synergistic ingredients like L-theanine, 5-HTP, and magnesium, this sweet watermelon-flavored formula also helps relieve occasional irritability and stress. I think we all could use this every day! Can I get an AMEN?
With 42 mg of magnesium, and 100% plant-based natural watermelon flavor, you can have peace about giving this to your little one, too!
Did you know?? Magnesium is necessary in over 200 metabolic reactions in the body, magnesium plays a role in defending against occasional sleeplessness and may also bring a sense of calm to your environment.
KidScents Unwind is formulated for children 4 years and older, and comes in an easy to use single dose pack, just like MightyPro! Just open up the packet, and pour directly into the mouth.
*** Secret - guys, I have to tell you... we've been adding this pouch to water..... it's even a nice "Mock-tail" when you add a pouch to sparkling water, and man... it's the best!!! I will also add a dash of NingXia Red or a Nitro to mine... it's so good!!!
__________________________________________

300PV - 5ml SniffleEase
This one is LOVED by folks of ALL AGES! Truly a gem! It is one of my FAVES for all things respiratory!
As soon as you open the bottle and catch the energizing aroma of this incredible blend, you will know exactly how and when to use it!! We looove this on little chests and backs!
Did you know that the soles of the feet are an ideal application spot to open airways? Don't overlook applying there too!
SniffleEase is full of powerful oils like Eucalyptus Blue, Palo Santo, Lavender, Dorado Azul, Ravintsara, Myrtle, Eucalyptus Globulus, Marjoram, Pine, Eucalyptus Citriodora, Cypress, Eucalyptus Radiata, Black Spruce and Peppermint oils! This is so needed ALL year round! Especially when the weather and seasons seem to be constantly changing!
Remember how we talk about how much we LOVE those tree oils? YUP. Full of 'em!
So tell me - have you tried this on the adults in your family? Everyone needs this oil!!!!!

Uses for SniffleEase:

For a soothing bath, mix a few drops into Himalayan sea salts or Epsom salts & add to warm bath water!

Apply to the bridge of the nose when you want to breathe more freely!

Rub this one on sinus areas when you need a little sinus support!

Diffuse at night when you're fighting the sniffles and stuffiness!
______________________________________
400PV ER Bonus - 5ml SleepyIze
This relaxing bedtime (or anytime!) blend is so popular amongst oily mamas! SleepyIze is a beloved oil for ALL ages. I cannot tell you how much we adore this blend in our little ones' diffusers at night.

It contains a beautiful combination of Lavender, Geranium, Roman Chamomile, Tangerine, Bergamot, and Sacred Frankincense, as well as sleepytime favorites Valerian and Rue!
It is so helpful when applied to the bottom of everyone's feet before bedtime. And, do not think this is just for kids... OH NO!! Keep this one handy all the time, especially when traveling!!!
Perfect for nighttime bonding and snuggles, with a serene, relaxing aroma… you & your kiddos are going to LOVE it!!

Uses for SleepyIze:

Diffuse for the best bedtime ever.
Roll on big toes and spines and it's lights out!

__________________________________

400PV ER Bonus - 5ml Owie
For ALL.THE.BOO BOOS!
This is a fave to leave out where the kids can easily grab it when needed!
Formulated with gentle, skin-loving oils that are known for their cleansing and antioxidant properties, as well as oils that are grounding, calming, and relaxing; this blend will help soothe minor skin irritations and calm upset kiddos at the same time.

Owie is made with oils such as Tea Tree, Helichrysum, and Elemi; you'll want to keep this one handy whenever your rough housing goes wrong, or when bumps and owies happen! Grab the roller bottle for easy application! This is a blend you will want to have multiple bottles of, all around the house, in diaper bags, and in your purse. You never want to be without it!

Just drop it right on top of any ouchie! We add roller tops to ours for easy application on the go. We haven't met a boo-boo that Owie can't make feel better!

Uses for Owie:

Apply topically for bumps, bruises and skin irritations.

Inhale from the bottle for a calming effect!

Items included:
• 5 Cool Azul® Pain-Relief Cream sachets, 2 g each
• 5 NingXia Red® Singles, 2 oz. each
• 5 Thieves® Household Cleaner sachets, 1 oz. each
• 5 Thieves® Waterless Hand Sanitizer sachets, 3 ml each
• 5 Thieves® Whitening Toothpaste sachets, 1 g each
• Lavender Sample Card, 1.8 ml bottle with card
---
In closing - check out the new convention items that are NOW available on rewards!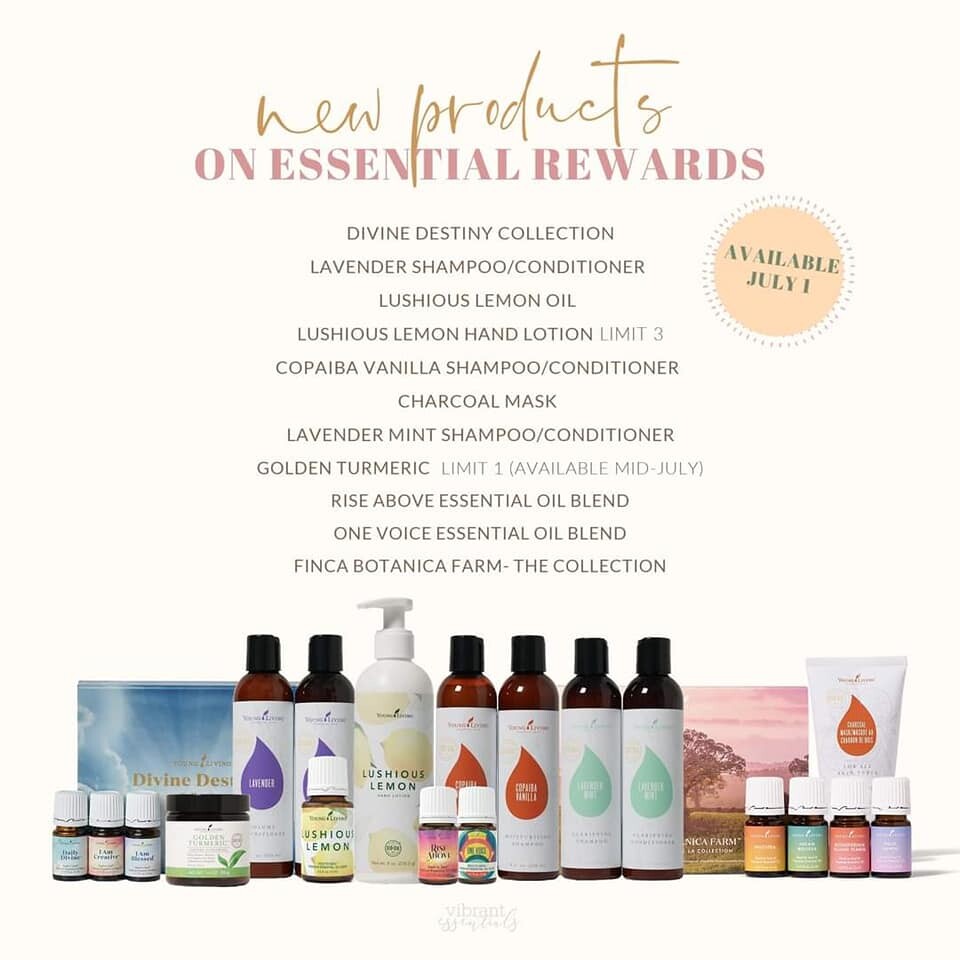 ---
Whew! What a month!! Announcements will be coming all month - so stay tuned!
Like getting all of these ideas? Don't miss a single post! Be sure to join my e-mail list today, and let me know others ways I can serve you :)