Jun 20, 2021 06:34 PM Central
Gayle Reinsma
CHECK OUT ALL THE NEW STUFF!!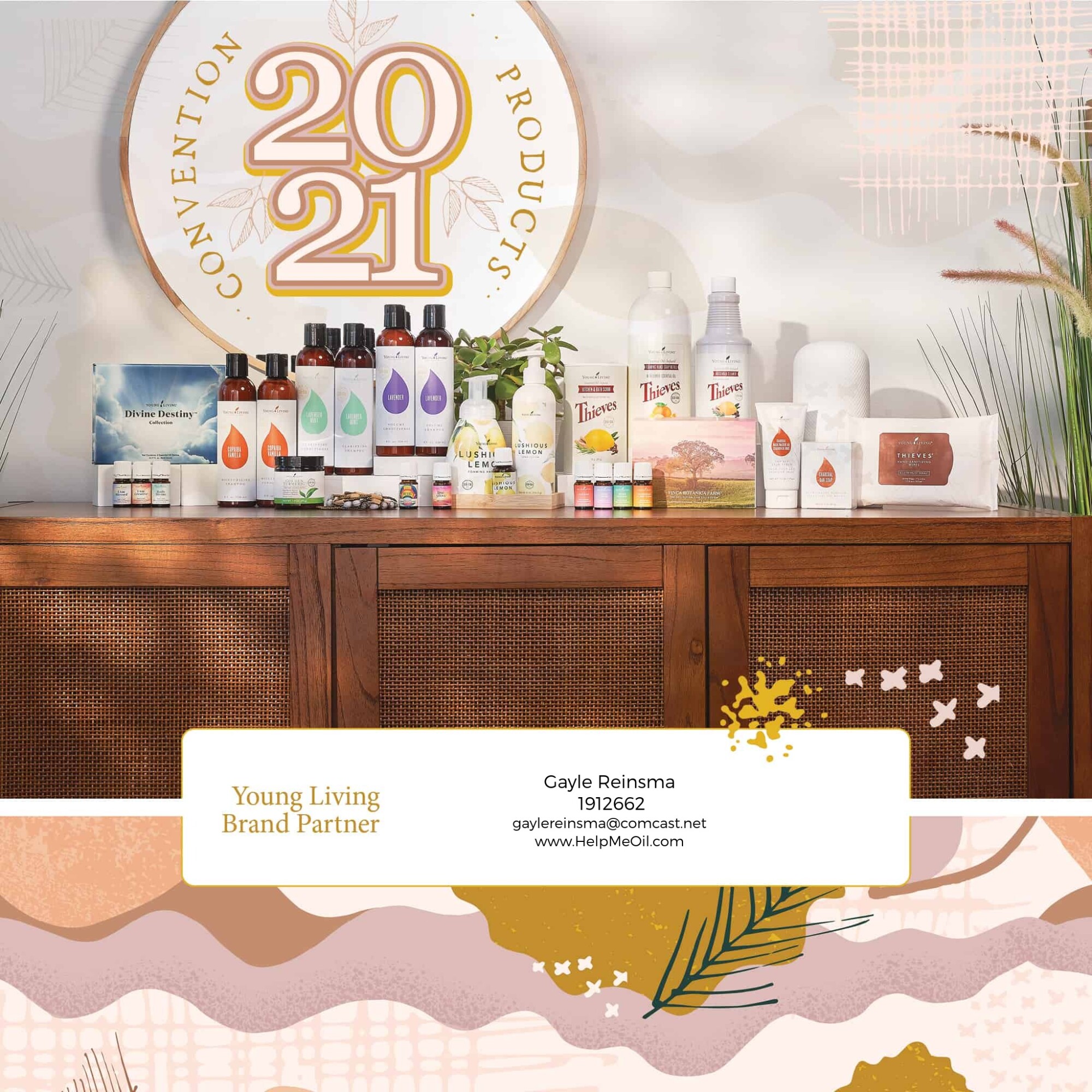 Young Living just finished its SECOND (yes, another....) digital only convention. And while we didn't get the hoopla that an in-person event brings, and yes, face it, two years in a row of this makes the experience a bit melancholy, the excitement for new stuff NEVER grows old! Annnndddd, the digital experience made me realize all the more how very much I will never complain again how busy convention is! (OK, I probably will as I'm weak like that 🤣

Lushious Lemon essential oil blend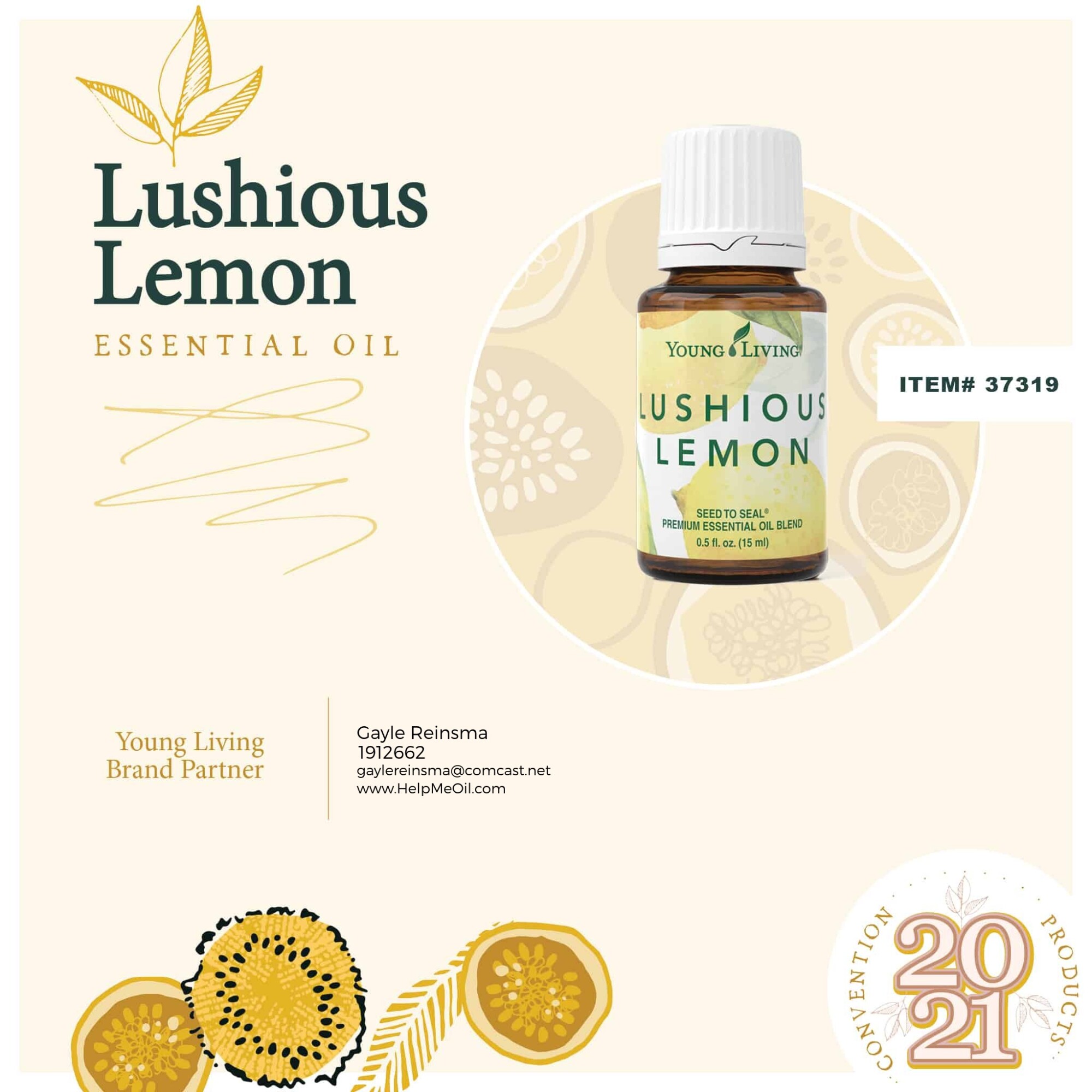 Lushious Lemon essential oil blend helps neutralize unwanted odors and fills your space with cheer with its bright citrus notes of Lemon Myrtle and Lemon, the fresh floral scent of Ylang Ylang, and cool, inviting Spearmint and Eucalyptus Globulus. Lushious Lemon essential oil blend, a Young Living signature scent, features Lemon essential oil that is cold pressed from fruit grown on the Amanzi Amahle Cooperative Farm in South Africa, as well as Lemon Myrtle essential oil that is extracted from steam distilled leaves of the myrtle plant. These two essential oils combine for a sweet, dazzlingly vibrant scent for any space. Floral Ylang Ylang, obtained from plants grown in Madagascar, and cool Spearmint and Eucalyptus Globulus round out the aroma, adding a touch of herbal depth. Brighten your day and freshen your home with the invigorating, citrusy aroma of Lushious Lemon essential oil blend.
• Lemon Myrtle essential oil: Lemon Myrtle essential oil, commonly known as the "queen of lemon herbs," contains the highest naturally occurring constituent citral, which provides a fresh, uplifting aroma and cleansing properties.
• Lemon essential oil: Lemon essential oil has a fresh, uplifting aroma that cleanses the air and eliminates odors when used aromatically. When taken internally, it provides immune and circulatory support and can be used to add a fresh flavor to food and beverages.
• Ylang Ylang essential oil: Ylang Ylang essential oil promotes the appearance of healthy-looking skin and shiny hair, with a calming aroma that sets the mood for romance.
• Spearmint essential oil: Spearmint essential oil provides aromatic comfort during times of occasional uneasiness when diffused or applied topically. When taken internally, it may provide digestive and general wellness support.
• Eucalyptus Globulus essential oil: Eucalyptus Globulus essential oil contains eucalyptol, which creates a refreshing breathing experience when inhaled and creates an invigorating sensation on the skin when applied topically.
Item #: 37319
Price: $39.75
PV: 39.75
Lushious Lemon Hand Lotion (YES!!)
Hydrate and soften hands with the bright, citrusy aroma of Lushious Lemon Hand Lotion, infused with Young Living Signature Scent Lushious Lemon. This clean, naturally derived, highly moisturizing hand lotion is specially formulated to soften and smooth dry skin. The creamy, fatty acid and antioxidant-rich formula quickly absorbs into skin to provide immediate, long-lasting hydration while protecting the skin's natural moisture barrier—without any greasy or heavy feel on the skin. Pair it with our other Lushious Lemon products for a fragrant burst of invigoration that's as fresh and clean as it smells. Good for your ENTIRE body! I use our lotions EVERYWHERE!
LUSHIOUS LEMON BUNDLE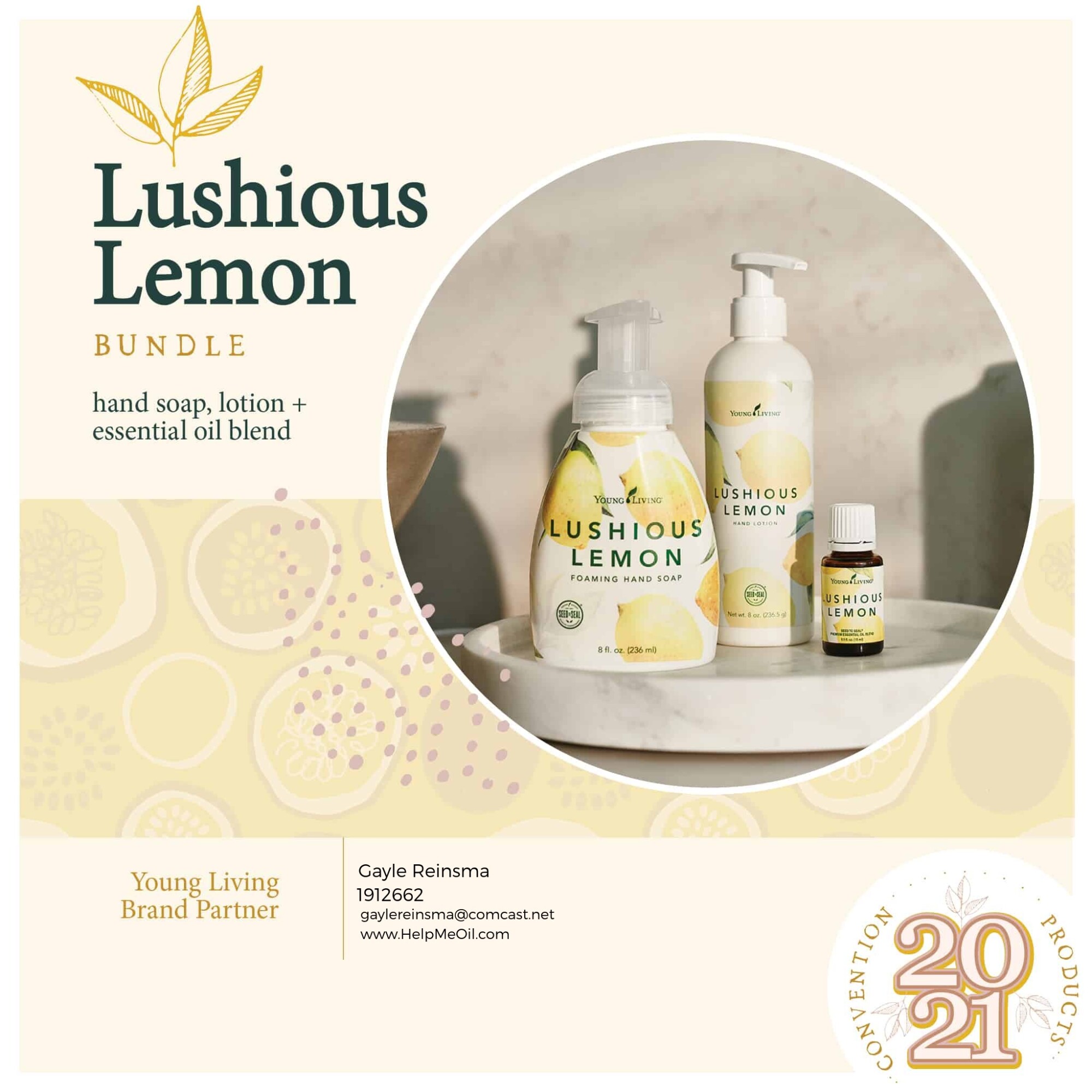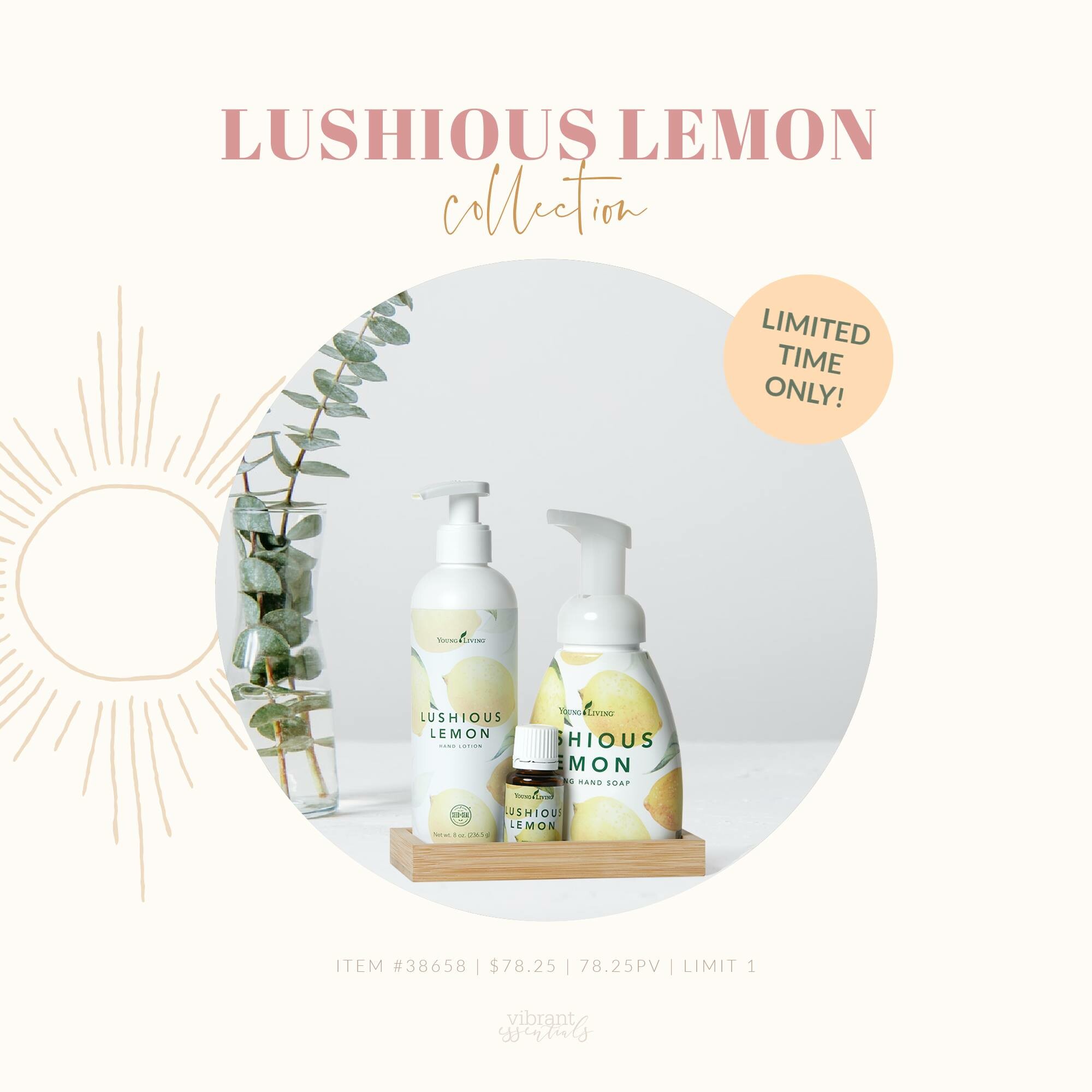 So how 'bout a bundle already, ammiright???
Yep! This bundle also comes with a free bamboo tray! Shhh!! Don't tell anyone, but I want this just for that tray! OK maybe not really but I know I want this bundle ASAP when we get to shop (Monday June 21) before it's G O N E!
Item #: 38658
Price: $78.25
PV: 78.25
Limited Time Offer
Charcoal Face Mask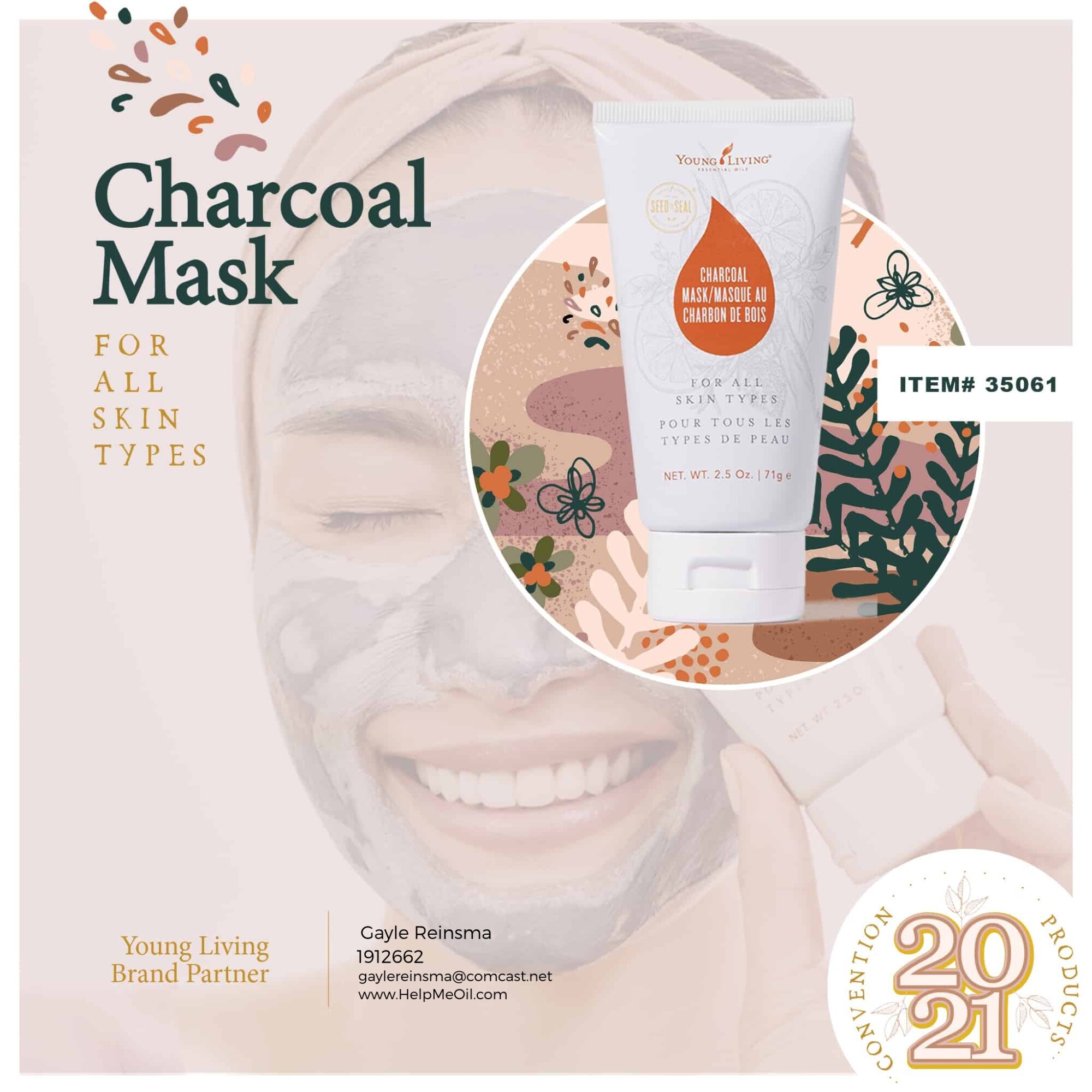 When you're pampering and detoxing your skin with a mask, the last thing you should have to worry about is harsh, synthetic ingredients. Young Living's exclusive Charcoal Mask is made with naturally derived ingredients to support healthy skin without the synthetic shortcuts. Our Charcoal Mask uses Tahitian volcanic black sand to gently exfoliate for softer, glowing skin, while activated charcoal from China and South Africa absorbs impurities to detox skin, purify pores, reduce the appearance of blemishes, and restore the appearance of an even skin tone. Made with salicylic acid, a blend of fruit-derived alpha-hydroxyacids (AHAs), and Peppermint premium essential oil, this mask supports the appearance of softer, brighter, and clearer skin and has a tingling action you can feel.
KEY INGREDIENTS
•Activated charcoal: Sourced from China and South Africa, our activated charcoal absorbs impurities, naturally purifies and detoxes skin, and has powerful adsorptive properties, thanks to its very fine particle size.
•White kaolin clay: Ethically sourced from the United States, our white kaolin clay absorbs excess oil and impurities without stripping the skin of necessary moisture, leaving it matte, soft, and radiant.
•Gray kaolin clay: Ethically sourced from Spain, this clay has a rich sulfur content, which helps to control skin imperfections.
•Volcanic black sand: Sourced from Tahiti, this sand is formed from the erosion of basalt volcanic rock. It gently exfoliates the skin, leaving it feeling soft, radiant, and glowing.
•Fruit-derived AHAs:This gentle, natural blend of alpha-hydroxy acids (AHAs) from bilberry, orange, lemon, sugarcane, grapes, and sugar maple provides five different targeted acids that safely and gently exfoliate by causing the skin to release dead skin cells for a softer, smoother, more radiant complexion.
•Peppermint premium essential oil†: Peppermint essential oil contains menthol, which soothes and cools.
•Orange Blossom essential oil blend: Lavender,Patchouli, Lemon, and Rosemary premium essential oils give an invigorating, pleasant citrus aroma
•Made with activated charcoal and a blend of ethically sourced kaolin clays to lift dirt and oil, purify pores, detox skin, and help restore the appearance of an even skin tone
•Exfoliates, moisturizes, and detoxes skin for a smoother, more radiant complexion
•Creates a tingling, tightening sensation to let you know the ingredients are hard at work delivering results you can see and feel (Some may even experience temporary redness, which is normal.)
•Visibly and instantly clears the complexion and provides skin with a smoother texture
•Free of comedogenic oils and formulated specifically for combination to oily skin
•Contains a global blend of natural alpha-hydroxy acids(AHAs) derived from European bilberries, Argentine lemons, Czech sugar beets, Spanish grapes, and more
•Dermatologist tested, hypoallergenic, non-irritating, and cruelty free
•Helps control excess oil and shine and promotes clears kin
•Formulated without parabens, phthalates, petrochemicals, synthetic preservatives, synthetic fragrances, or synthetic dyes
Item #: 35061
39.75
PV: 39.75
Golden TuRmeric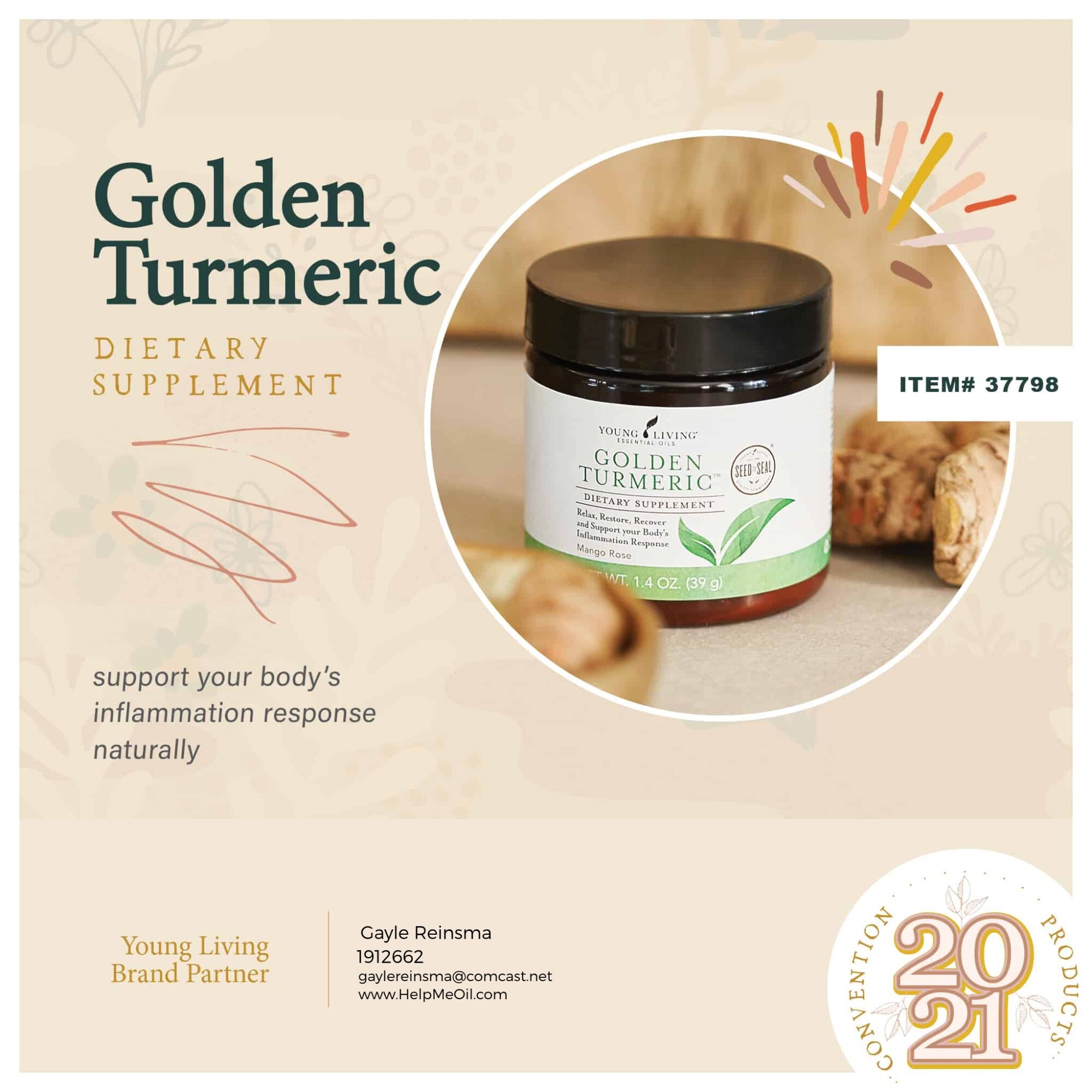 Hey so fun fact: For year, I corrected people in my head for saying this wrong. Yep I did. AND spelling Turmeric wrong. I was all like "It's Tumeric people! Ya, then I read a little closer and got over myself 🤦🏻‍♀️
Golden Turmeric is a delicious mango rose drink that combines the benefits of high-quality turmeric and prebiotics to support your body's natural response to inflammation, immune response, joint health, mobility, and recovery after exercise.
Drinking one glass can support healthy digestion as well as your gut-brain axis.
Golden Turmeric's unique, water-dispersible formula makes it 24 times more bioavailable than standard turmeric extracts. It absorbs quickly and easily, so you can enjoy the full benefits of turmeric and relax, restore, and recover.
Key Ingredients:
+ Turmeric extract (Curcuma longa): Turmeric contains naturally occurring actives such as curcuminoids to help support the wellness properties in our bodies.
+ Boswellia (Boswellia serrata) resin extract: Commonly known as Indian Frankincense, this resin has a long history of internal use in Indian herbal medicine.
+ Ginger (Zingiber officinale) root extract: Ginger is a world-renowned spice that has been used in Southeast Asia for thousands of years.
+ Tapioca Fiber: Tapioca fiber is a prebiotic that supports healthy digestion as well as the gut brain-axis.
+ Lime Vitality essential oil (Citrus aurantifolia): This favorite Vitality citrus oil contributes a light and uplifting quality and a citrus taste to Golden Turmeric.
•Supports the body's natural response to inflammation, immune response, joint health, mobility, and recovery after physical exertion
•24 times more bioavailable than standard turmeric extract
•Your body absorbs the same amount of curcuminoids from just 300 mg of Golden Turmeric as it does from1,926 mg of standard turmeric
•Contains prebiotics to support healthy digestion as well as the gut-brain axis
•Turmeric contains naturally occurring actives, such ascurcuminoids, that help support joint mobility.
Item #: 37798
39.75
PV: 39.75
One VoiCE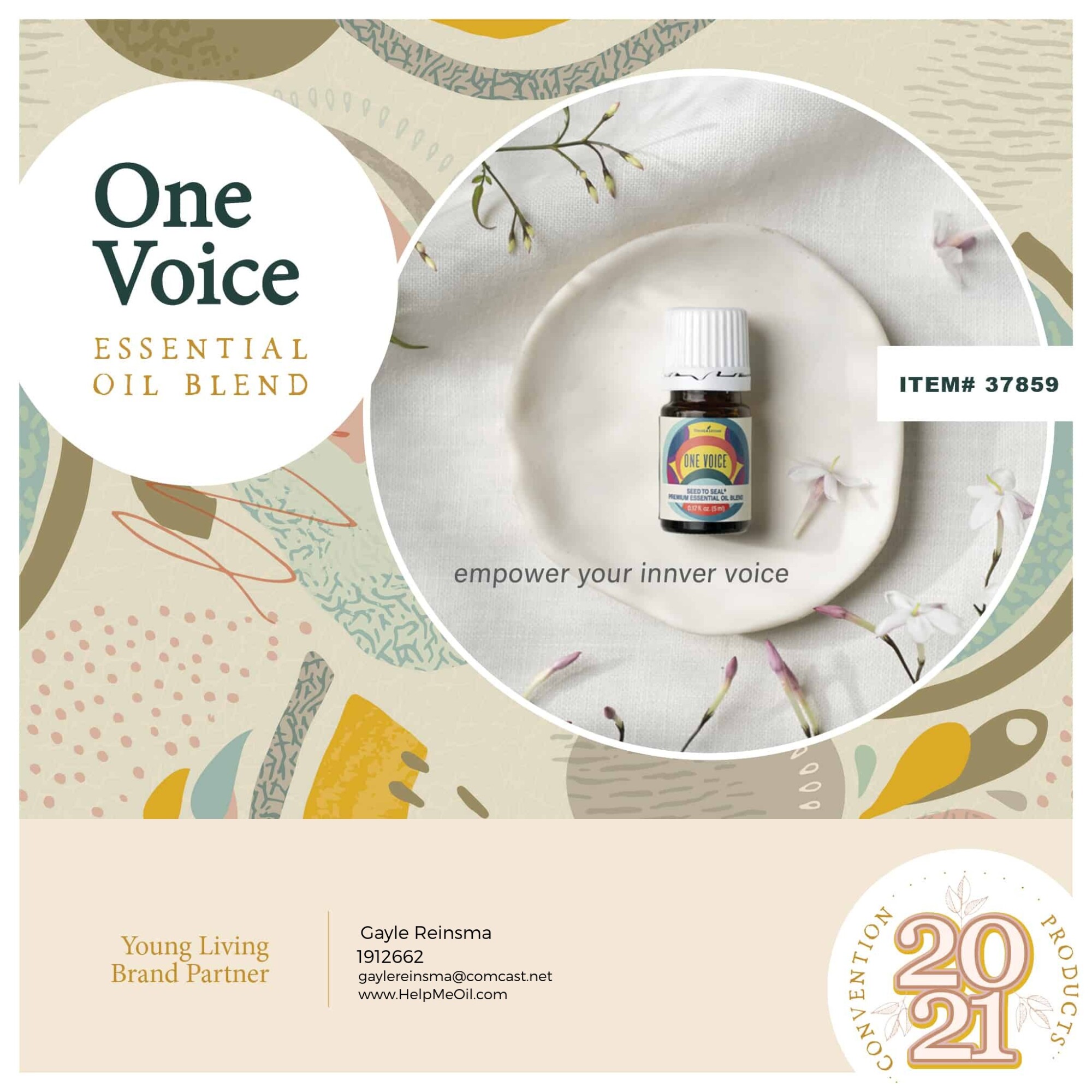 Raise your voice to break through silence with One Voice. Created in collaboration with The D. Gary Young, Young Living Foundation to support the Foundation's effort to end exploitation worldwide, One Voice essential oil blend is a complex bouquet of exquisite floral, grounding, woodsy premium essential oils. This comings with a beautiful diffuser bracelet handmade with love in Uganda. It was crafted with clay and ensigo beads by talented female artisans in Lugazi, Uganda.
+ One Voice is the second in a series of essential oil blends created in collaboration with the Young Living Foundation.
+ 35 percent of each wholesale purchase of One Voice is donated to the Foundation's efforts to end exploitation, where funds will be used to protect the vulnerable from losing their freedoms to human trafficking and help survivors restore their lives.
+ The One Voice label design was created by a human trafficking survivor who is currently participating in the Hope for Justice Stepping Stones program—a program sponsored by the Young Living Foundation that provides teen survivors with the life skills they need to live independently and to thrive in the future. This label design celebrates the personal transformation that once-exploited individuals undergo as part of the restorative process: the transformation from victim to survivor; from having no voice to having a unified voice of freedom. Believe me, her story is amazing!
• Highest Potential: Highest Potential essential oil blend has an inspiring aroma, perfect to use throughout the day as you set goals, complete tasks, and work to achieve your "Highest Potential."
• Clarity: Clarity essential oil blend promotes feelings of stability, clarity, and spirituality. A blend of Basil, Rosemary, Peppermint, and other essential oils, Clarity invites a moment of openness when used topically or aromatically.
• Sacred Sandalwood: Sacred Sandalwood essential oil has long been coveted for its skin-benefiting properties, seductive aroma, and use during spiritual ceremonies. It supports the appearance of healthy looking skin when applied topically and inspires confidence and clarity when diffused.
• Sacred Frankincense: Sacred Frankincense essential oil is believed to be the resin variety brought to the Christ Child on his birth. It has a grounding, woodsy aroma that enhances meditation and spiritual practices when used aromatically.
• Ylang Ylang: Ylang Ylang essential oil promotes the appearance of healthy-looking skin and shiny hair, with a calming aroma that sets the mood for romance.
• Idaho Grand Fir: Idaho Grand Fir essential oil creates a refreshing breathing experience when applied to the chest and neck, soothes fatigued muscles when combined with massage, and increases spirituality when used during meditation.
• Idaho Blue Spruce: Idaho Blue Spruce essential oil soothes tired muscles when applied topically with massage and has a grounding aroma perfect for use in your spiritual practice.
• Helichrysum: Helichrysum essential oil rejuvenates skin, reducing the appearance of uneven skin texture and tone when applied topically, making it a must-have for every home.
• Rose: Rose essential oil has an intoxicating aroma that allures you to its high frequency notes creating a peaceful, loving, and nurturing environment at home and sets the mood for romance.
•Use while you are working on owning and empowering your inner voice
• The encouraging aroma supports you in speaking your own truth and using your voice to help those in need
• Enjoy the aroma to evoke the feelings of belief, faith, self-confidence, and courage
• Supports The D. Gary Young, Young Living Foundation and its efforts to protect and empower our world's young
• Complex bouquet of exquisite floral and grounding woodsy essential oils
Item #: 38276
99.75 wholesale
PV: 24.75
Rise Above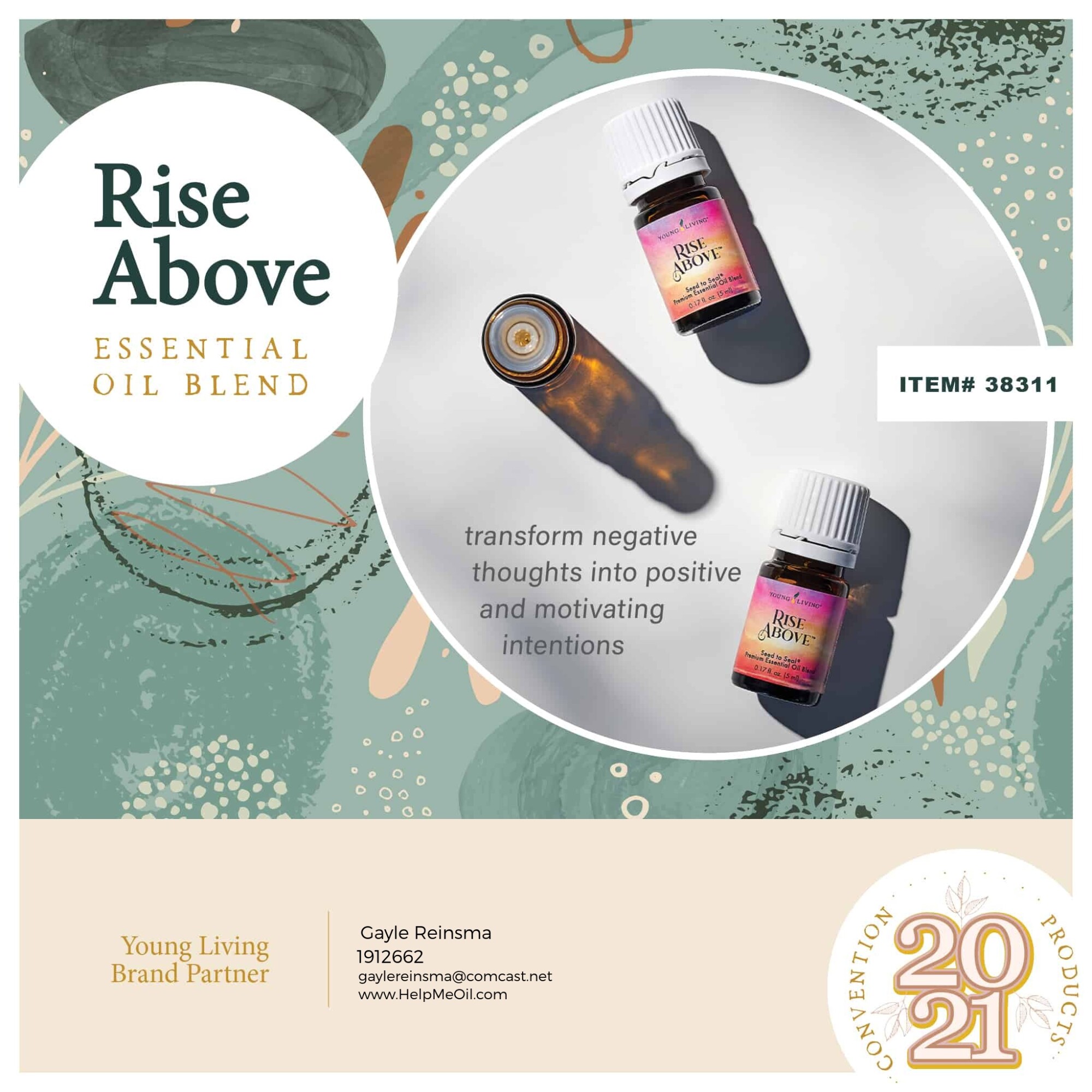 If there was ever a year this generation needed an oil for this, it's now!!
Rise Above essential oil blend, the 2021 convention blend, contains:
Valor, Frankincense, Bergamot, Dorado Azul, Idaho Grand Fir, Cedarwood, Cardamom, Lavender, and Rose to help you create an environment where you can transform negative thoughts into positive and motivating intentions. Inspired by Young Living Founder D. Gary Young through Co-Founder and CEO Mary Young, it features specific essential oils to help transform old thoughts that hold you back, so you can rise above to achieve your soul's true purpose.
Valor is to empower and strengthen the spirit to encourage you to overcome personal challenges. Frankincense, Cedarwood, and Cardamom promote healthy beliefs to help you seek or attain your true potential.
Dorado Azul contains the constituent 1,8 cineole.
Bergamot, Lavender, and Cardamom are a balancing blend of essential oils that promote feelings of stability, clarity, and spirituality; they open us up to new ways of being able to flow with the universal energy that surrounds each one of us.
The benefits of the essential oils go beyond the spectrum of measurement of their constituent profile. They open the heart, the mind, and the soul to be able to move from the past to the future. It's time to rise above with intention, with affirmations, and with vocal decrees to put into motion that which you desire. Visualize your reality with words and thoughts to create a spiritual harmony that will be sensed by the heart and soul.
"Rise Above" your perceived limitations and open the doorway into a brilliant new future.
Item #: 38311
49.75
PV: 49.75
Thieves Kitchen and Bath Scrub (!!!!!)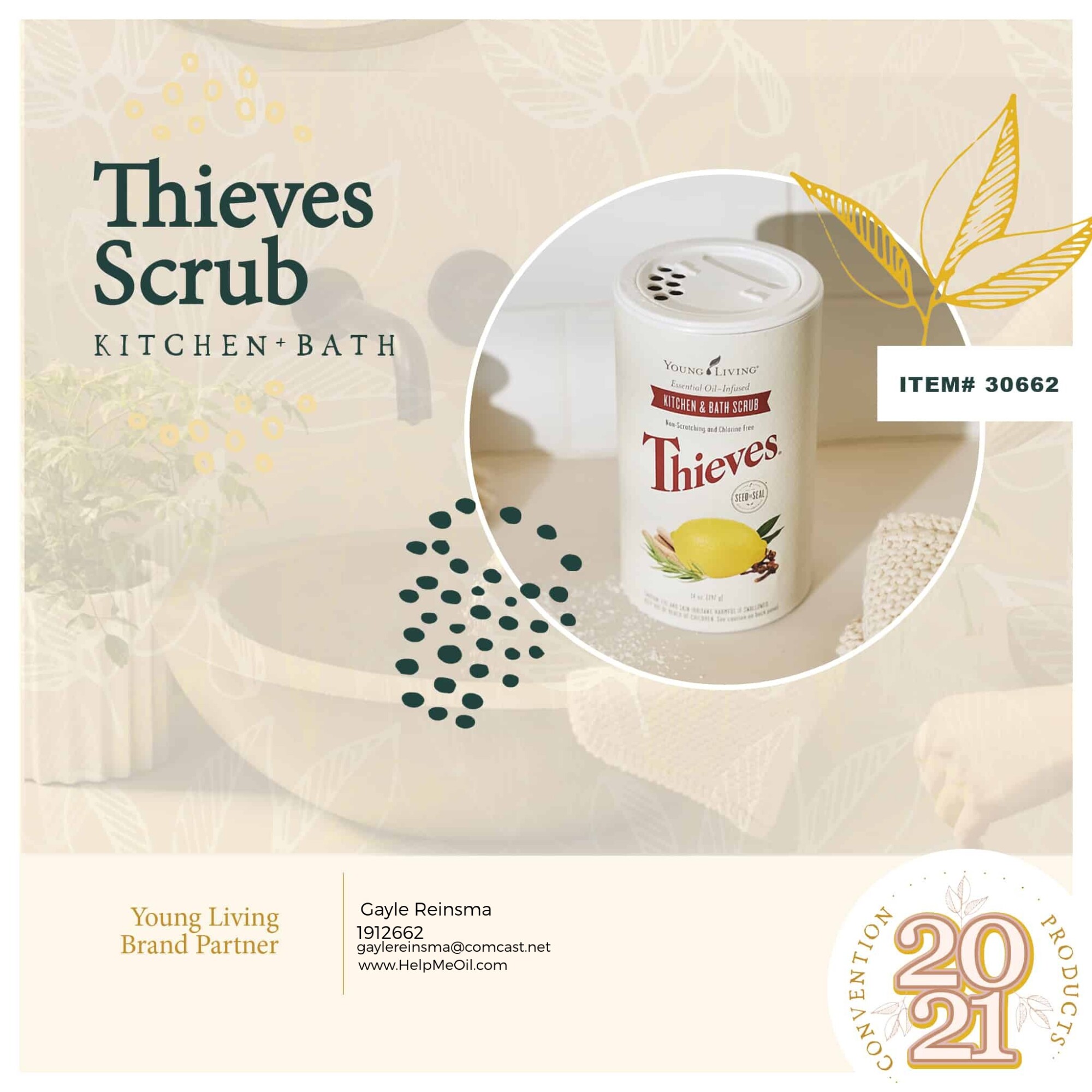 Thieves Kitchen and Bath Scrub gives you the power of a surface scrub free of harmful chemical smells and residue. Thieves Kitchen and Bath Scrub gains its tough scrubbing power from nepheline syenite, a mineral we obtain from responsibly mined sources in Ontario, Canada; baking soda that gently absorbs odors; sodium percarbonate that releases oxygen when combined with water, providing a powerful boost of cleaning power against tough stains; and Young Living's signature Thieves blend. Designed for use on multiple surfaces, Thieves Kitchen and Bath Scrub is your new naturally derived cleaner: tough on messes and safe for your family.
•Use it to naturally tackle soap scum, built-up grease and grime, and hard-water stains in the kitchen and bathroom.
• Keep it on hand for cleaning grills and barbecues after picnics.
Key Ingredients:
• Nepheline syenite: A naturally occurring mineral responsibly mined in Canada, nepheline syenite is formed from molten magma and is similar to granite. It provides the scrubbing power to removes tough stains without scratching.
• Sodium bicarbonate: Commonly known as baking soda, this powder helps remove odors and gently cleanse.
• Sodium percarbonate: An effective, safer alternative to chlorine bleach, this ingredient releases oxygen to lift stains and dirt.
• Citric acid: This natural ingredient helps tackle tough hard-water surface stains.
• Thieves essential oil blend: Thieves is a Young Living signature blend that features purifying essential oils known for their immune support, refreshing breathing experience, and cleansing properties.
• Chlorine-free all-purpose cleaner that is safe for use on porcelain, ceramic, copper alloys, fiberglass, Corian, brass, bronze, and chrome
• Easily cleans cookware, stove cooktops, countertops, tile, grout, bathtubs, faucets, toilets, backsplashes, barbecue grills, outdoor patio furniture, and exteriors without scratching
• Removes grease, dirt, grime, residue, and tough stains from most surfaces without harsh chemical smells or residue
• Formulated without harmful chemicals, synthetic surfactants, phosphates, synthetic perfumes or dyes, gluten-containing ingredients, or artificial colors or fragrances
Item #: 30662
14.75
PV: 14.75
Limited Time Offer
DIVINE DESTINY COLLECTION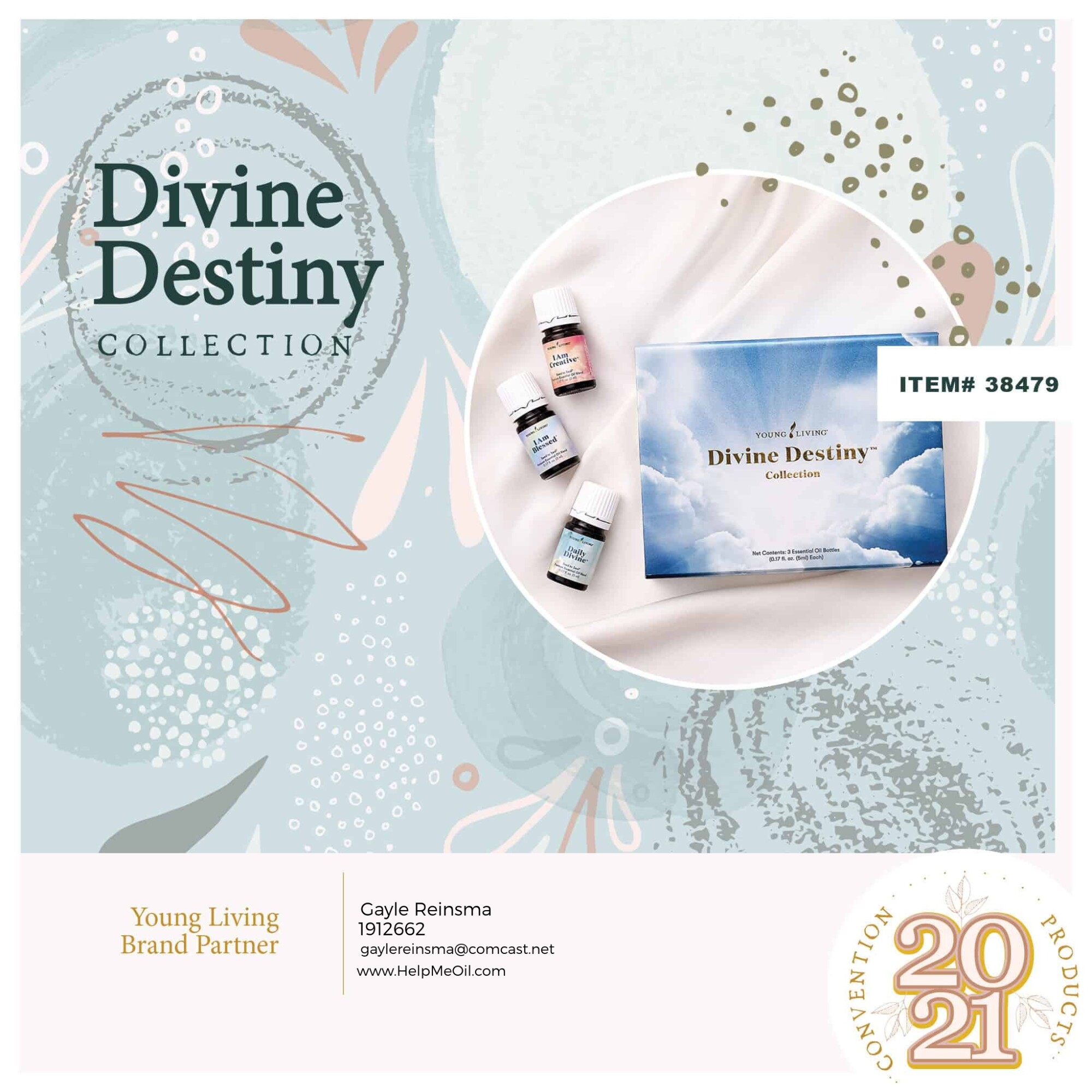 Literally the FIRST thing I have purchased once the new products hit!! This speaks to me in a way that is hard to explain! I have limited myself in my own beliefs for too long - this stops now. Stopped last week before convention began actually, so the timing on this is PERFECT FOR ME!
The Divine Destiny Collection is a trio of essential oil blends created to work synergistically as an aromatic companion to your self-development journey of discovery and enlightenment.
• This collection was created to help heighten spiritual awareness and empower your inner self as you reflect on your own destiny and that which you desire to accomplish in your life.
• An aromatic companion to your journey of self development and enlightenment, this collection will help you block out distractions, words, and programming that keep you from discovering the truth of who you are.
• These blends have a unique, harmonic interaction when layered one upon the other, bringing you a feeling of peace and introspection.
• Each blend is personal and will respond to the frequency of the individual and target that which is desired—this is your discovery and your journey.
+ Daily Divine
This is the foundation of the Divine Destiny Collection. It contains White Fir, Black Spruce, Sandalwood, Palo Santo, Vetiver, Manuka, and Jasmine premium essential oils to help create a space where you can reflect on opening your mind and heart to the changes you are seeking.
+ I Am Blessed
Geranium, Jasmine, Goldenrod, Valor , Pine, and Palo Santo premium essential oils to help create a space where you can expand your awareness and transformation of thought to promote feelings of being worthy and good enough while acknowledging your gifts and talents.
+ I Am Creative
Grapefruit, Tangerine, Bergamot, Helichrysum, Lemongrass, Eucalyptus Radiata, Juniper, Cypress, and Hinoki premium essential oils to help create a space where you can set in motion the energy of your creativity to facilitate the reality of your destiny. It is the most powerful and inspiring when combined with the first two blends.
Item #38479
Finca Botanica Farm Collection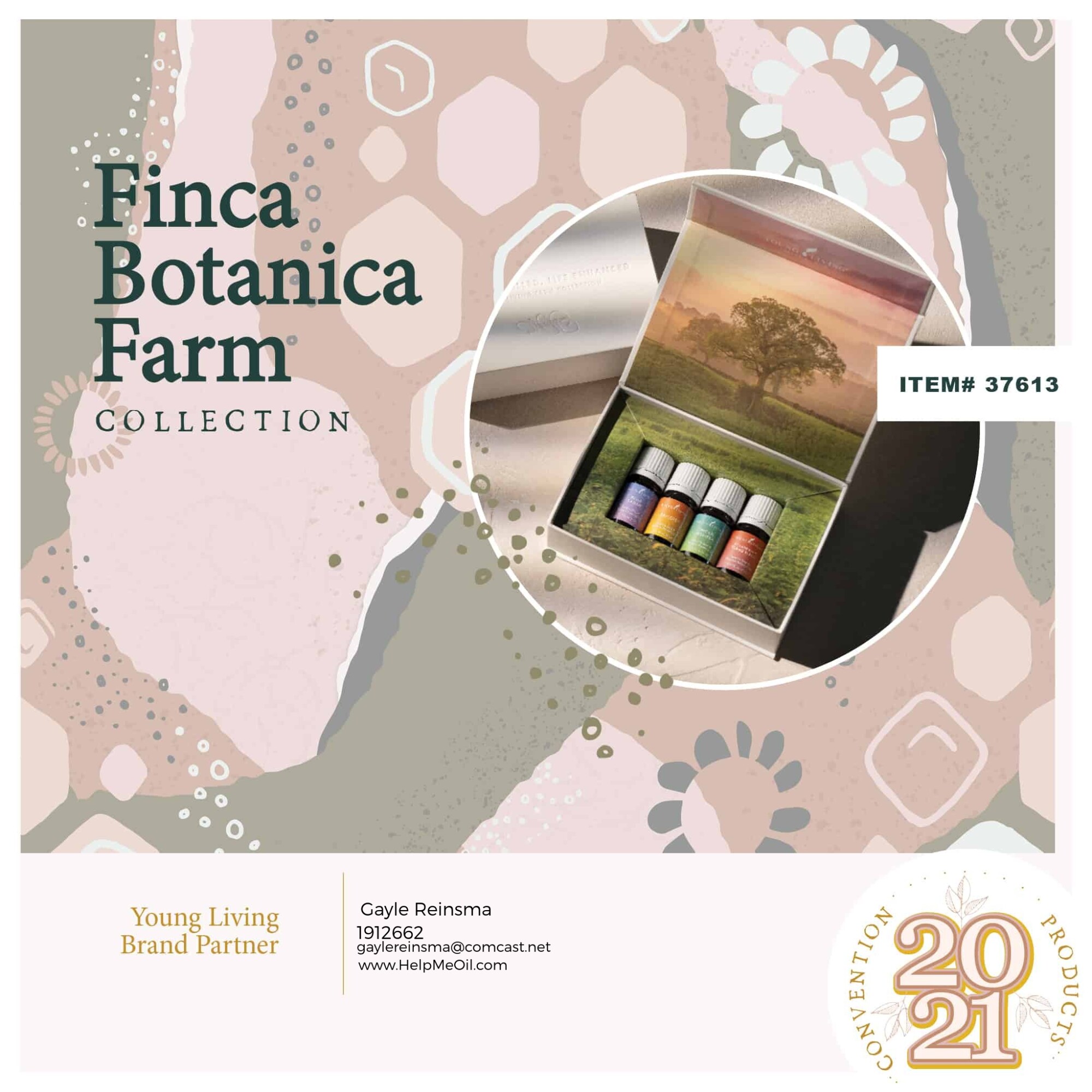 ACT FAST!! This RARE collection includes Melissa, at an incredible price folks!! And a softer smelling Ylang Ylang is marvelous!
The Finca Botanica Farm Collection features four rare, exotic essential oils from plants cultivated at Young Living's Finca Botanica Farm and Distillery in Chongon, Ecuador: Incan Melissa, Paicotea, Ecuadorian Ylang Ylang, and Palo Santo. Construction of the Finca Botanica Farm and Distillery was a passion project for Young Living Founder D. Gary Young. The unique microclimate in this region of Ecuador supports year-round cultivation, with rich soil and lush surroundings. Today Young Living actively farms 2,000 acres at Finca Botanica, producing several unique essential oils, including the four essential oils in this collection: Incan Melissa, Paicotea, Ecuadorian Ylang Ylang, and Palo Santo. This collection celebrates the unique biodiversity of the farm and highlights Young Living's commitment to sustainability and ethical sourcing. Enjoy this bouquet of exotic oils and their benefits, individually or combined.
Item #37613
OUR HAIR CARE PRODUCTS GOT AN UPGRADE!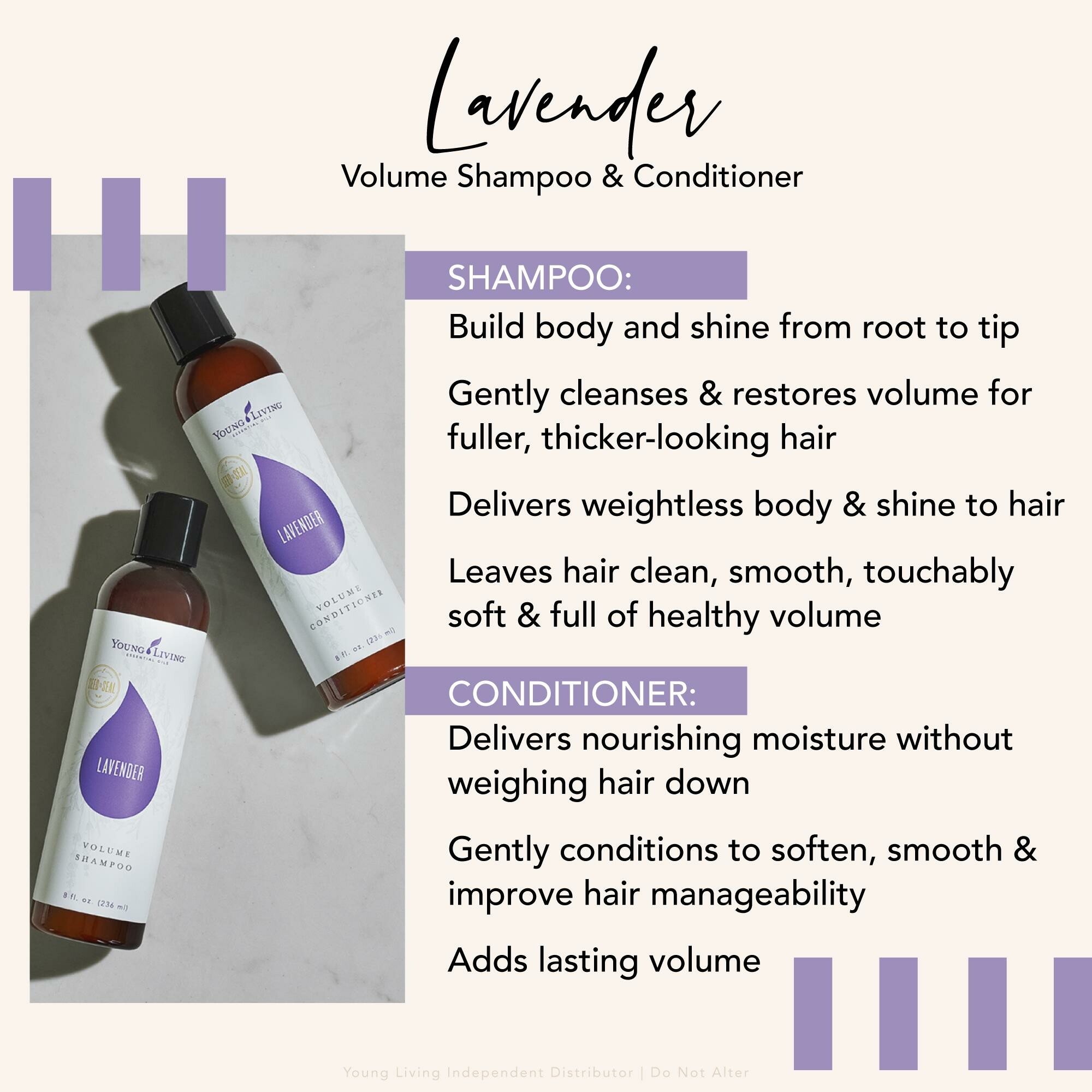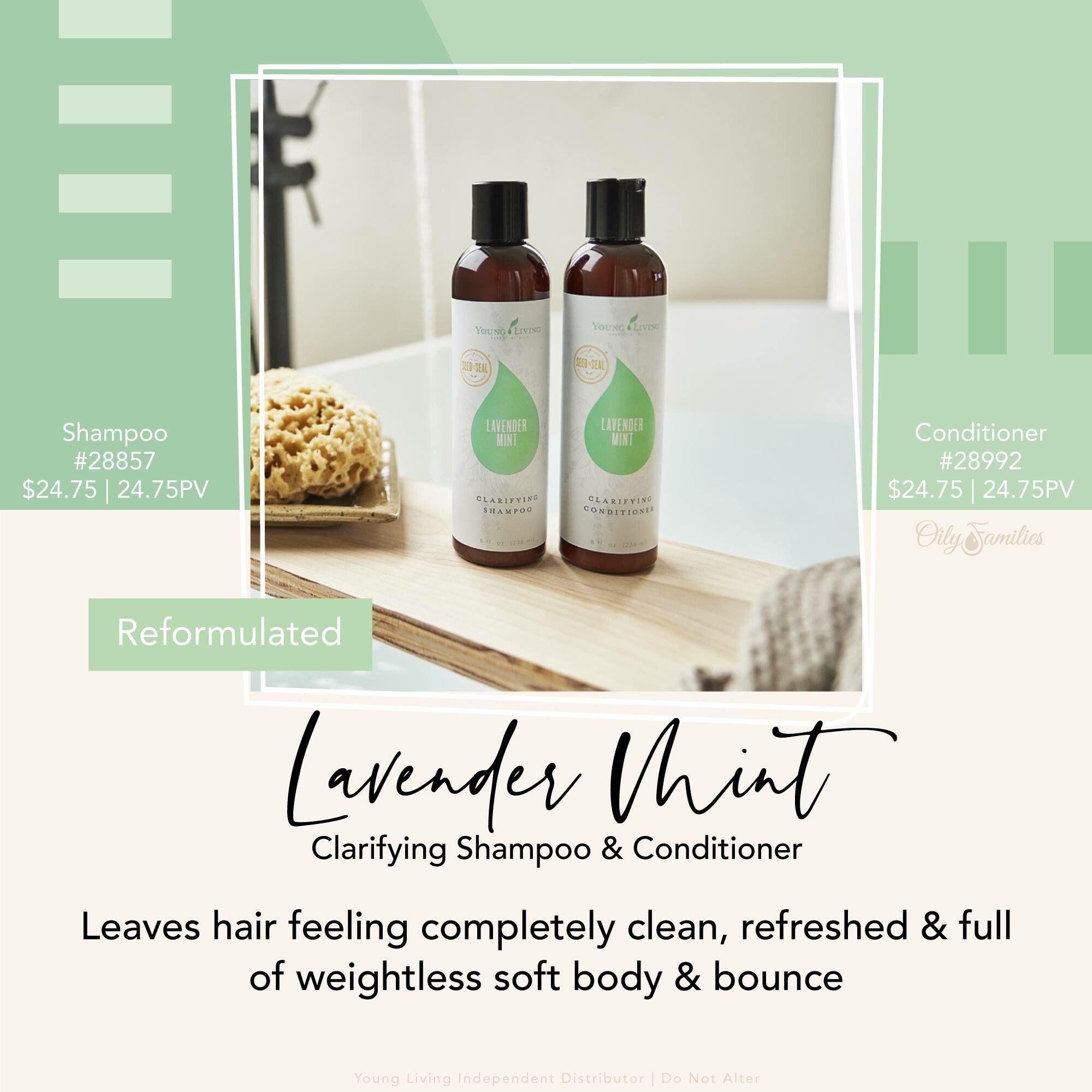 // LAVENDER VOLUME REFORMULATED SHAMPOO & CONDITIONER //
A brand new formula for those who need VOLUME! If your hair feels flat and lifeless, this is for you! This is a fresh lavender and warm cedarwood scent - and we know lavender and cedarwood make for amazing hair growth!!!
+ Lavender Volume Shampoo uses yeast extract to support fuller, thicker looking hair. Squalane is derived from olives to soften and smooth, and monoi oil absorbs quickly to deliver moisture to hair and scalp.
+ Lavender Volume Conditioner uses murumuru butter and pracaxi seed oil to lock in moisture and replenish hair hydration. Chamomile extract strengthen strands and adds shine.
// COPAIBA VANILLA SHAMPOO & CONDITIONER //
This is a brand new formula and if your hair feels thirsty, damaged, or is thick and in need of moisture - this is for you!
+ Copaiba Vanilla Shampoo contains squalane oil from olives to soften and smooth hair, copaiba essential oil for its warm and woodsy scent, plus linden bud extract lock in moisture. It also contains pracaxi seed oil which is rich in behenic acid to help replenish hair's hydration.
+ Copaiba Vanilla Conditioner contains avocado oil which has vitamins a, d, and e to provide hair and scalp with nourishing moisture. Pracaxi seed oil and murumuru butter lock in moisture and add nature shine and replenish the hair.
// LAVENDER MINT SHAMPOO & CONDITIONER //
This is a brand new formula and a great option for those who need some clarifying! If your hair feels oily and weighed down - this is for you! It's a spring cleaning for your locks, is formulated with peppermint & lavender.
+ Lavender Mint Shampoo contains nettle leaf extract to cleanse and comfort the scalp, and linden bud extract to lock in moisture.
+ Lavender Mint Conditioner uses murumuru butter and marula seed oil to deliver nourishing moisture and add shine. Both the shampoo and the conditioner contain pracaxi seed oil to replenish hair hydration.
Next Level Beauty Collection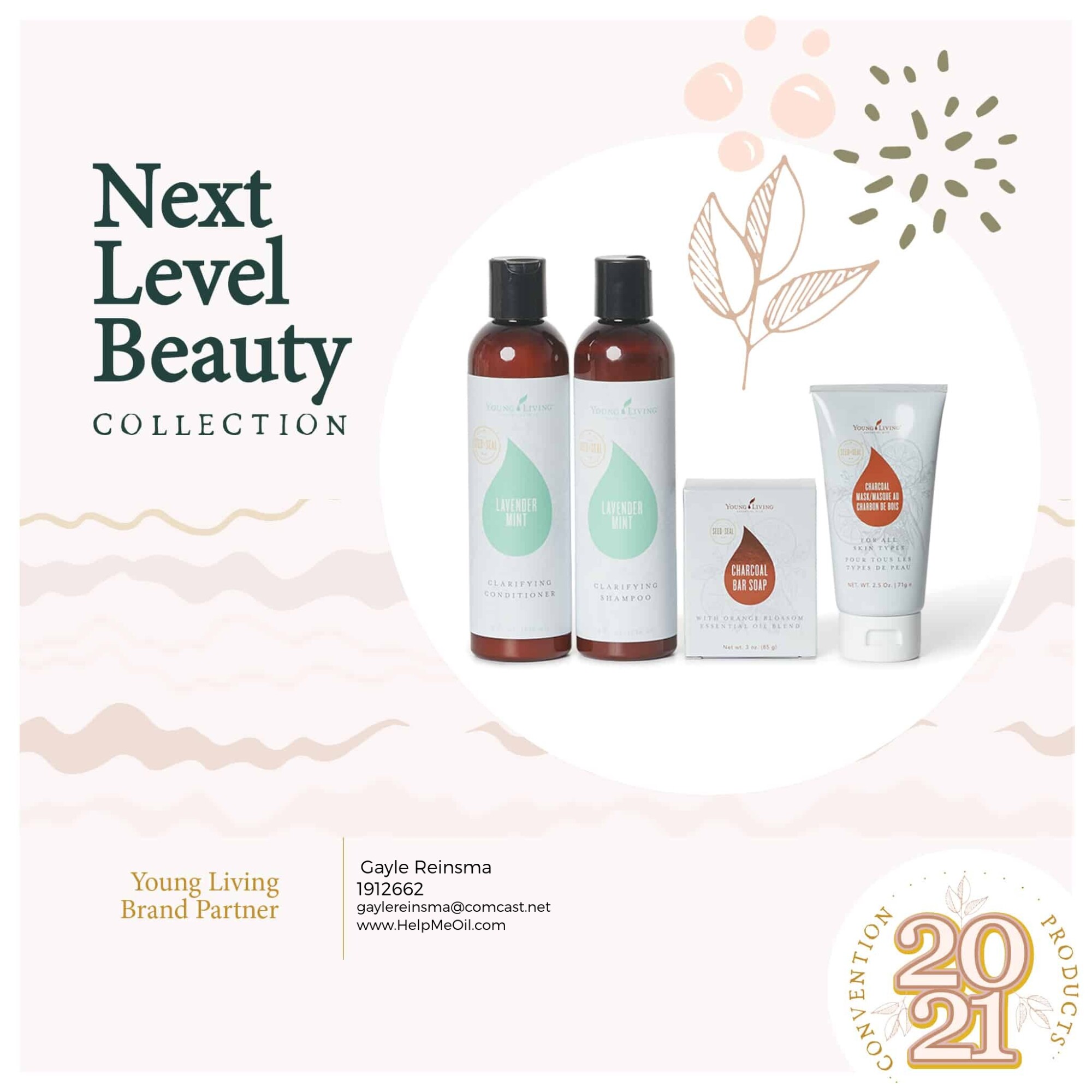 Ahhhh, what a fun bundle!! That mask is worth its weight in gold! And you save 7% on this bundle!!
This limited-time collection includes:

Lavender Mint Shampoo

Lavender Mint Conditioner

Charcoal Bar Soap

BRAND NEW Charcoal Mask
Next Level Beauty Collection | #38657 | $95 | 95PV | Limit 1
Next Level Home Collection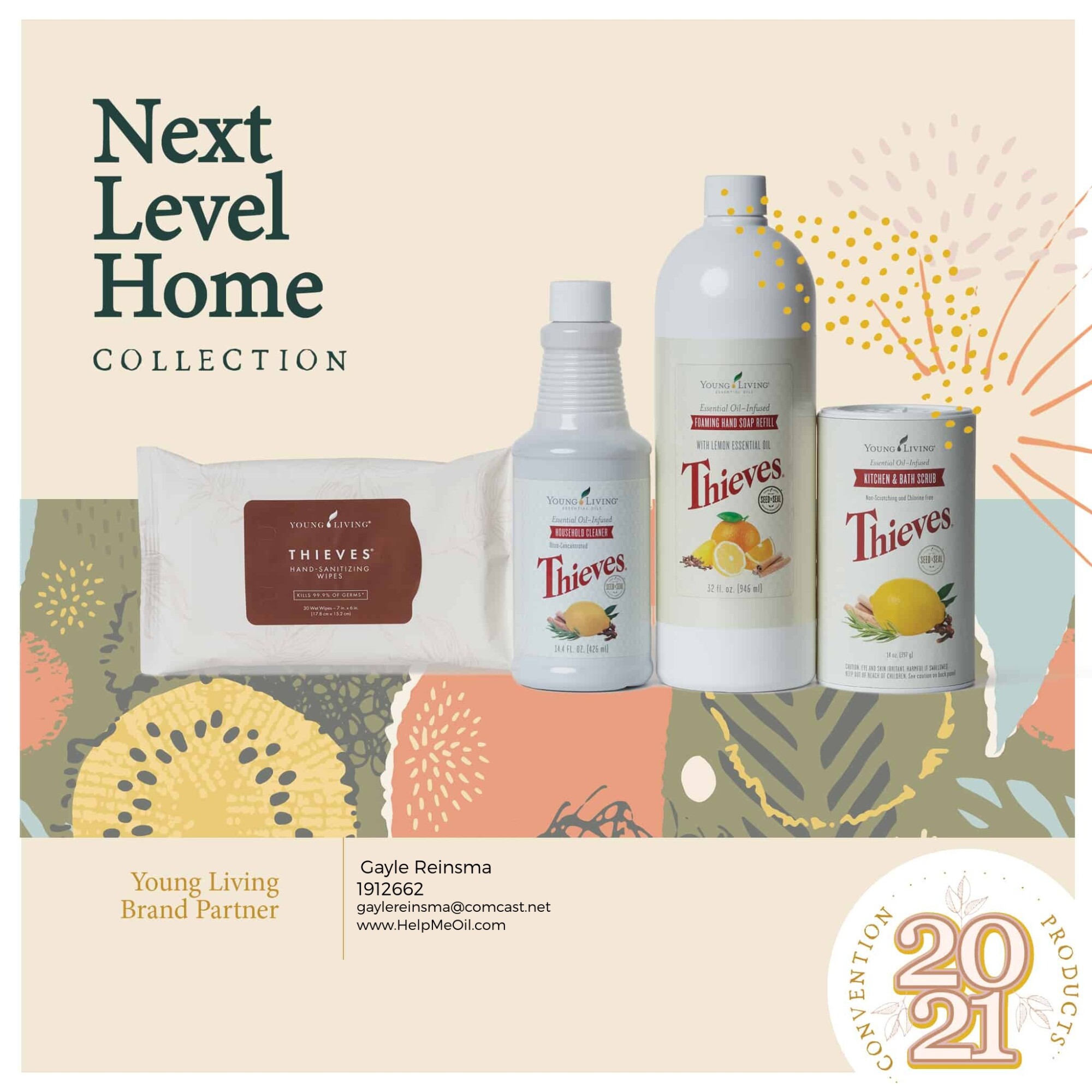 Check out this fabulous home collection that will get you well on your way to clean, healthy cleaning products!!! Oh, and you save 7%!!

This limited-time collection includes:

Thieves Wipes

Thieves Household Cleaner
Thieves Foaming Hand Soap Refill

BRAND NEW Thieves Scrub
Next Level Home Collection | #38656 | $86.25 | 86.25PV | Limit 1
The Rise Above Collection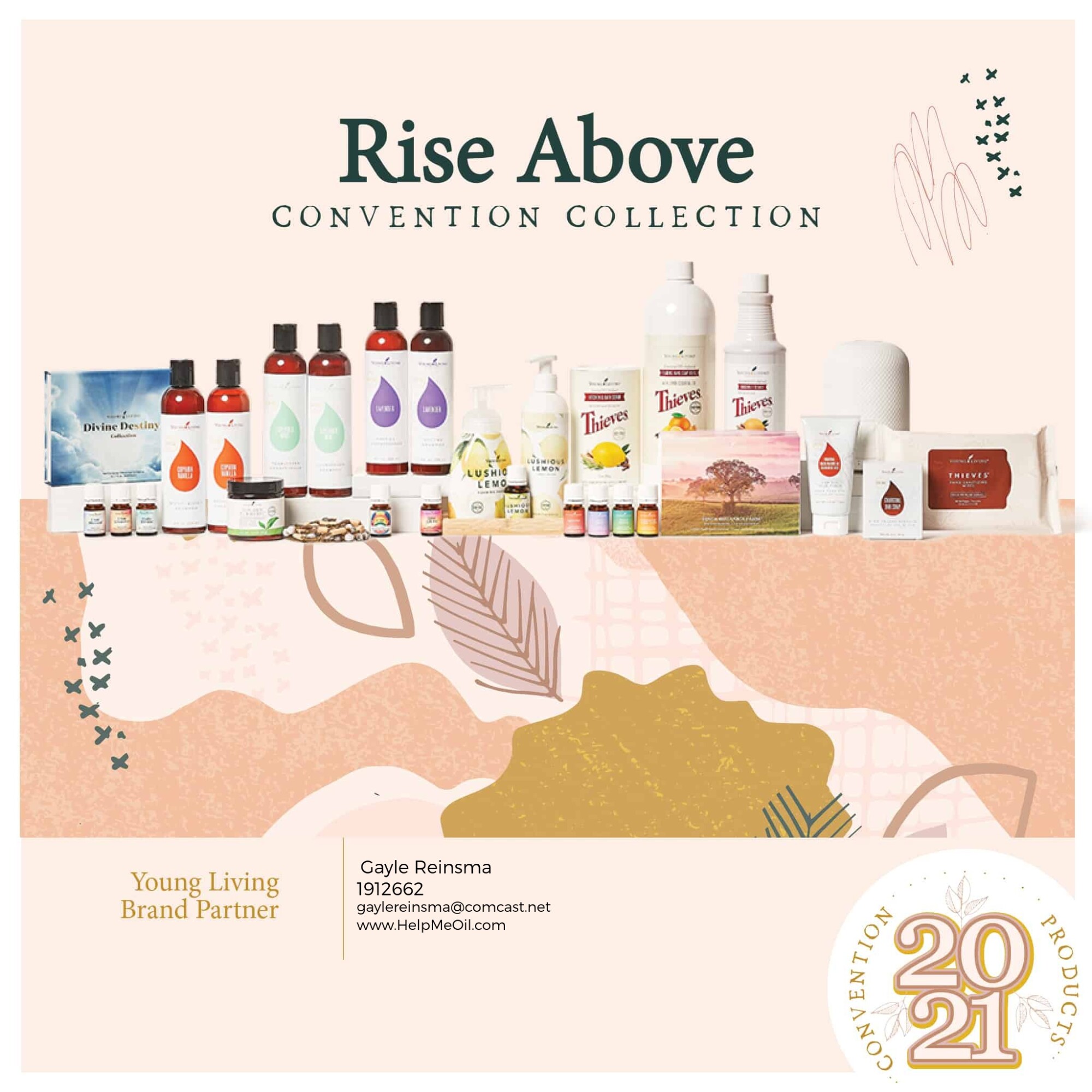 LIMITED TIME ONLY!!!!! WHILE SUPPLIES LAST! Approximately 15% savings!!
Includes:
Divine Destiny Collection
Finca Botanica Collection
One Voice essential oil + Bracelet
Rise Above Essential Oil
Golden Turmeric
Charcoal Face Mask
Thieves Kitchen & Bath Scrub
Lushious Lemon Blend
Lushious Lemon Lotion
Lushious Lemon Hand Soap
Lavender Mint Shampoo & Conditioner
Lavender Volume Shampoo & Conditioner
Copaiba Vanilla Shampoo & Conditioner
Haven Diffuser
Charcoal Bar Soap
Thieves Hand Sanitizer Wipes
Thieves Household Cleaner
Thieves Hand Soap Refill
Item #: 38659
Price: $760 (almost a 15% discount!!!)
PV: 672
And if this were not enough.... (is it ever? I'm such a sucker for new stuff!) we also have some stunning collections which help us raise funds for the exceptional causes of the D Gary Young Foundation! Because Young Living pays all expenses of our charities, 100% of your donations, which includes a portion of each of these sales as shown, goes towards these causes! 🌳❤️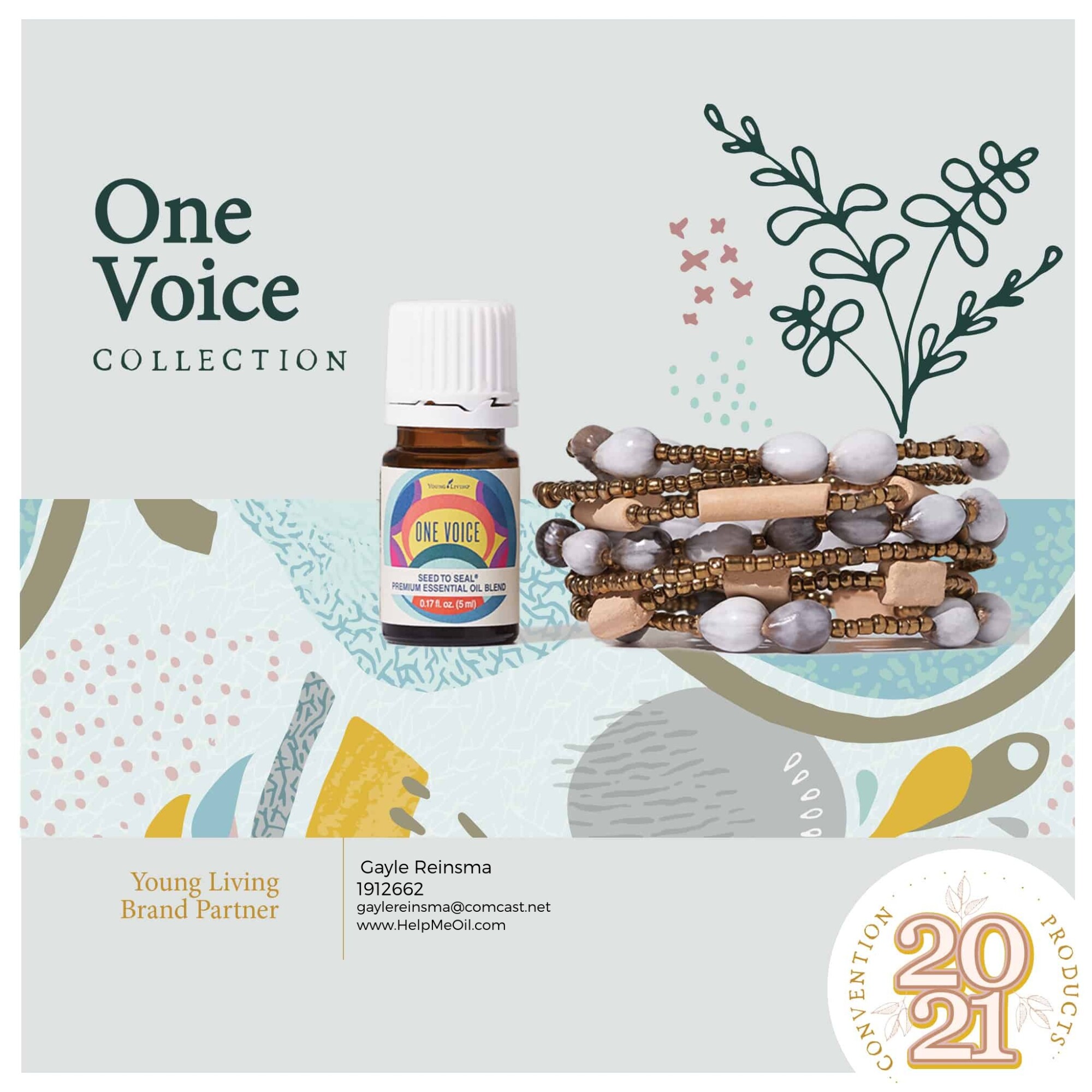 This beautiful collection features our brand new YLF Convention oil, One Voice, along with beautiful handcrafted stacking diffuser bracelets made by the Mabira Collective in Uganda. The Stacking Diffuser Bracelets are handcrafted with sustainably sourced clay, glass and ensigo beads.

Mabira Collective is a women-led social enterprise that provides fair pay and stable employment, daycare, and education opportunities to women in Uganda. Mabira also provides health care, helps pay for school fees, and gives women the opportunity to learn, grow, and lead. Their purpose is to empower women to become advocates for change in their communities.

Eve, one of Mabira's artisans, describes how working at Mabira changed her life for the better: "I have three children who are my world. Before Mabira, I was only able to think about how I could find food for them each day. Now I look to the future and am working to own a home. Because of my hard work, my children have enough to eat and are enjoying going to school."

Proceeds from this collection will benefit the Young Living Foundation. There are no limits on this collection!
One Voice Collection | Item #38276 | $89.75 | 24.75PV

OLIVE WOOD KITCHEN COLLECTION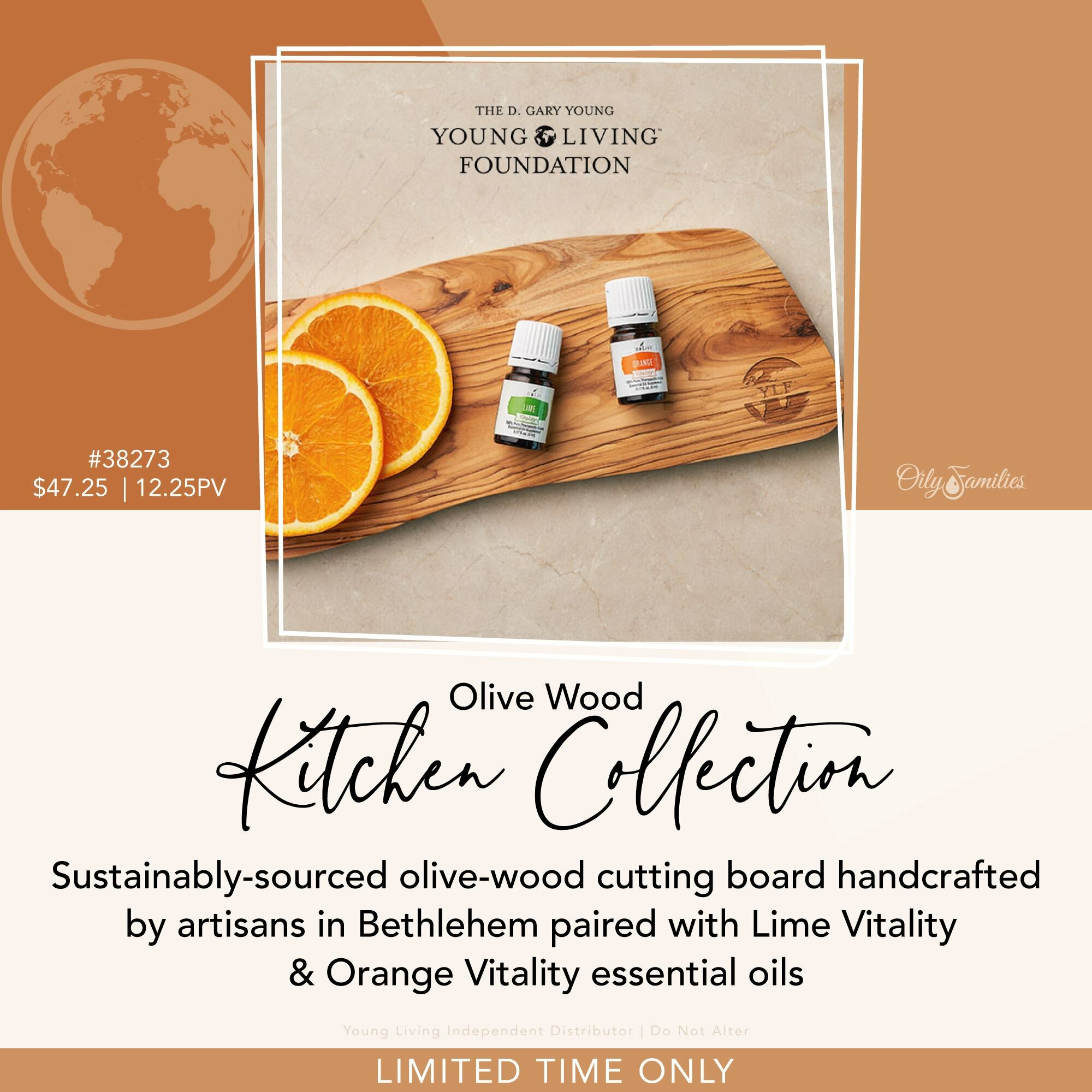 This collection is the perfect addition to your kitchen! This collection features a beautiful olive wood cutting + serving board created in female-owned workshops in Bethlehem. Young Living's order of these boards helped more than 10 workshops in Bethlehem reopen after global shutdowns, reviving the area and it's artisans.


The boards are made using only pruned olive tree branches from trees up to 2,000 years old. Wow!!!! When you purchase this collection, you help these artisan families provide better opportunities for their children and their surrounding communities.

You also receive Lime Vitality + Orange Vitality oils with the collection! You'll be all set for serving up delicious food and drinks to your family and friends!
Proceeds from this artisan product will benefit the Young Living Foundation! There are no limits!!
Olive Wood Kitchen Collection | Item #38273 | $47.25 | 12.25PV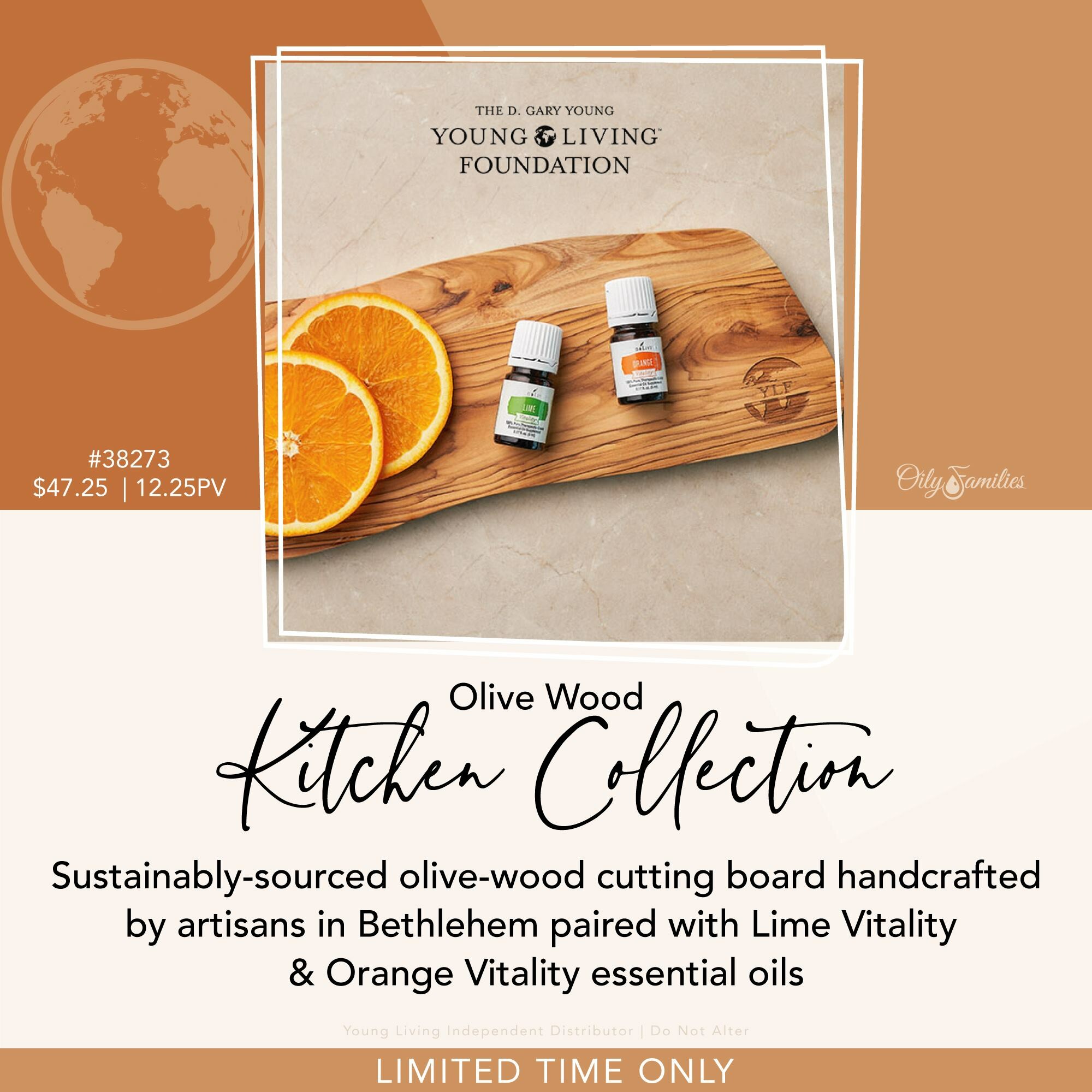 ONE HEART EARRINGS COLLECTION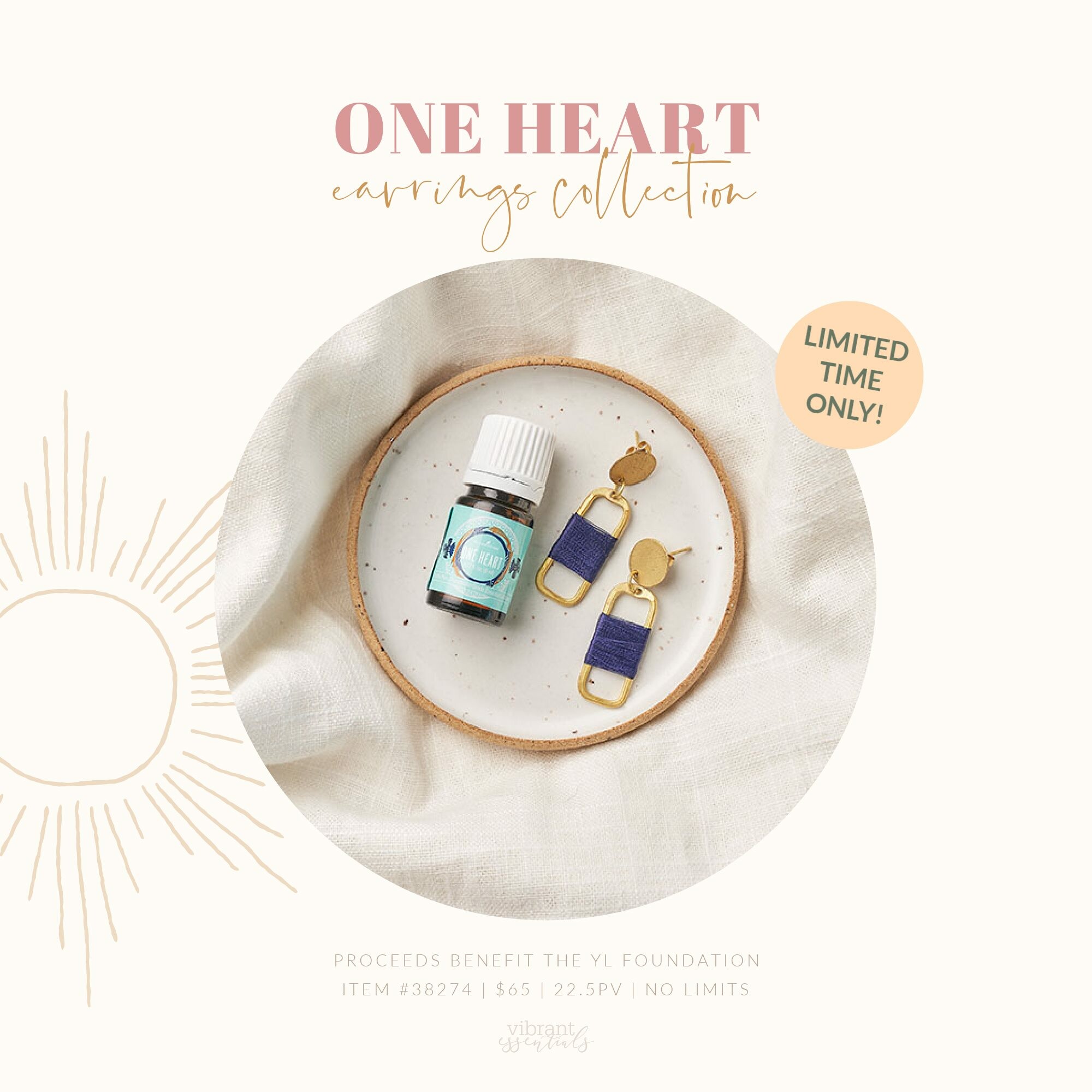 How stylish are these earrings?! Handcrafted by master female artisans using age-old skills, this collection pairs beautiful, artisan-made brass earrings with a 5ml bottle of One Heart! Amira Art Cooperative in India employs female artisans who come from marginalized communities to help them break the gender inequality gap. By purchasing the One Heart Earrings Collection, you'll help women receive fair-wage employment, vocational and literacy training.




Proceeds will go directly to support the Young Living Foundation's efforts to champion education, develop enterprise, and end exploitation. Every time you wear the earrings or diffuse the oil blend, you're stepping out in style AND enriching your soul by helping others.

One of the artisans, Nighat, is grateful for the fair-trade wages and financial stability she now has through Amira: "Previous jobs I've held have paid very low wages for the same amount of work. This job provides decent working conditions, which I have not had access to in the past. I am now able to afford school and better food for my daughter."



I used to hesitate purchasing jewelry for myself from Convention or the Holiday Catalog. I ALWAYS regretted it. I would see others wearing the jewelry and think, "I should have ordered that!" Don't wait around, my friends! These items are one of a kind!!
One Heart Earrings Collection | Item #38274 | $65 | 22.50PV

PEPPERMINT & PEACE BAG COLLECTION

How CUTE is this bag?!



Store your favorite oils with our new Peppermint and Peace Oil Bag Collection, which includes an artisan-crafted bag and Young Living favorites Peace & Calming and Peppermint. This exquisite bag is made of cork that is 100 percent natural, stain resistant, water repellent, and scratch proof.
Completely renewable and sustainable, the cork comes from the bark of a cork oak tree, which can live up to 200 years. The harvesting process actually supports cork trees' longevity and encourages CO2 absorption. Each bag is lined and has special spots for up to four 5 ml essential oil bottles or any of Young Living's roll-on bottles.
These bags are handmade by the all-female artisan group Free Women. This group employs women from Afghanistan and Pakistan who have fled oppression, conflict, and abusive environments to relocate to Salt Lake City, Utah. As refugees, these women are working hard to provide for their children. A grant from the Young Living Foundation helped Free Women acquire much-needed equipment to improve their ability to build an income to become truly free women. Ordering this collection makes you a part of their success!!

Proceeds from this oil bag are donated directly to the Young Living Foundation to champion education, develop enterprise, and end exploitation.
Peppermint & Peace Bag Collection | Item #38265 | $72.00 | 47PV
Shopping begins June 21 at 10 am MST! Happy Shopping!
Like getting all of these ideas? Don't miss a single post! Be sure to join my e-mail list today, and let me know others ways I can serve you :)