Jun 1, 2021 11:06 PM Central
Gayle Reinsma
Happy June! This month greets us with a fantastic deal for everyone, geared towards the men!!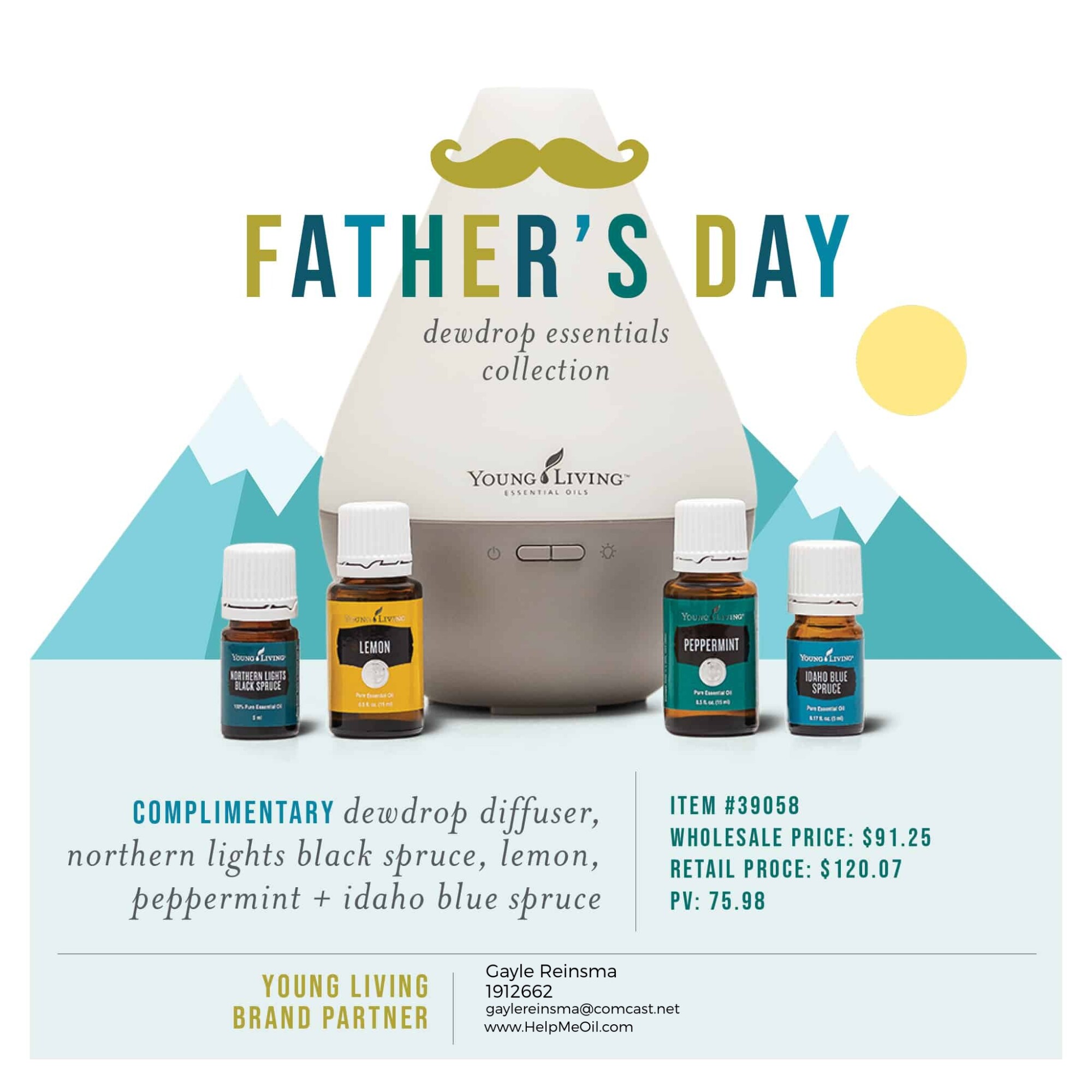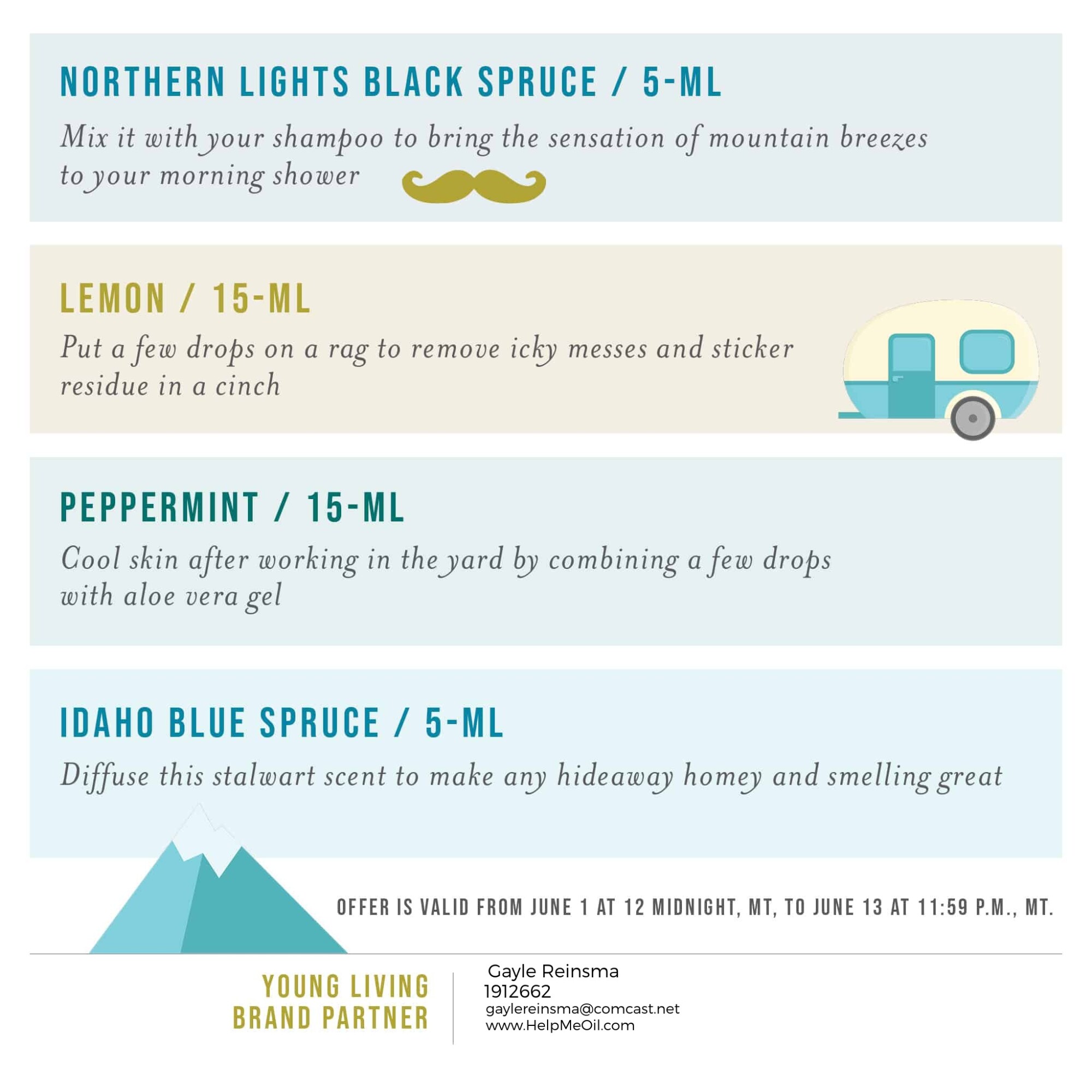 Geared towards the men, yes, but these oils are favorites for all! And this set is AVAILABLE to all! If you want that discounted member set, but sure to reactivate your membership! Don't have one yet? The Basic Kit sale was EXTENDED! You get at least the value of the kit cost with Stress Away and samples, plus you get that 24% discount on everything - woohoo! (Take care of that little detail
HERE!
). Then, add this collection and you have yourself my personal FAVORITE diffuser. Like all good men, this gem can handle the tough stuff (getting knocked over, overworked, getting grimy 🤣 ) and still not miss a beat! And of course you have added 4 extra oils!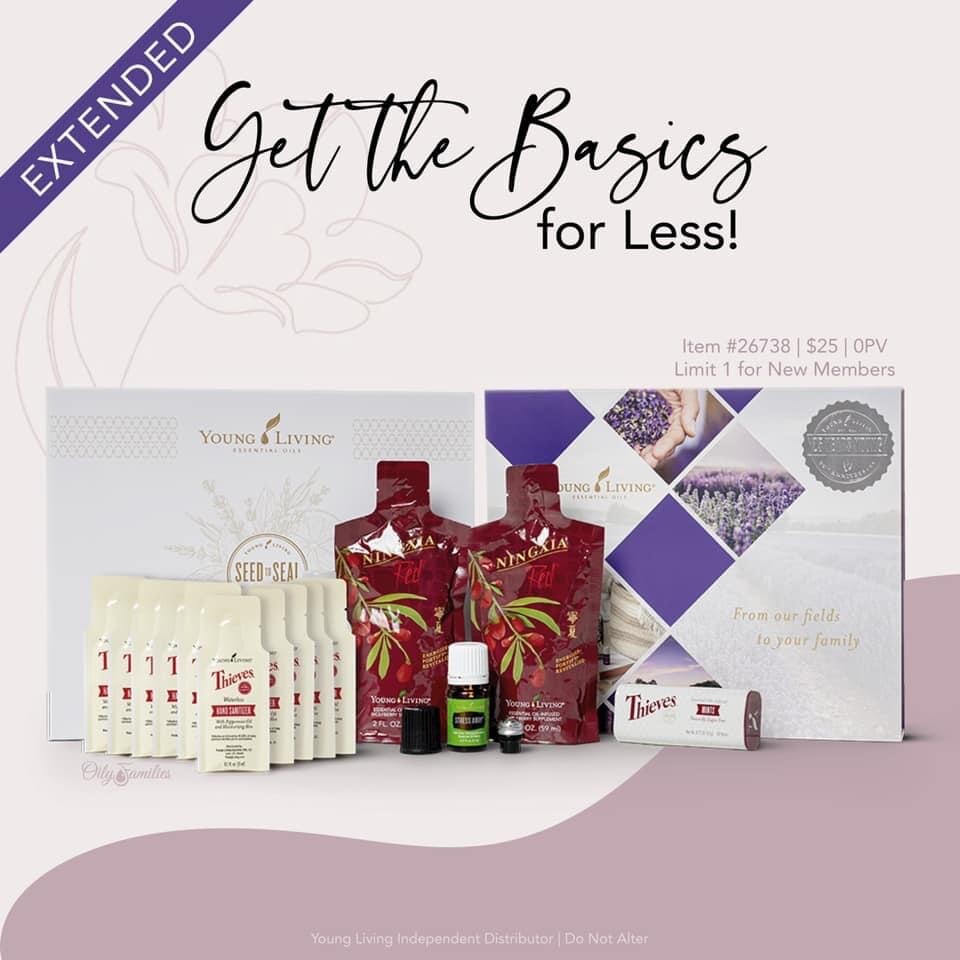 Let's explore (and have some silly fun) this super cool dealio for June, which is on both shop AND ER - A Father's Day Special



DEWDROP ESSENTIALS COLLECTION
This collection is SO GOOD for the season we are in - not just a Father's Day gift! Featuring a Dewdrop Diffuser plus FOUR oils! Idaho Blue Spruce, Northern Lights Black Spruce, Peppermint, and Lemon for one incredible price point.
// IDAHO BLUE SPRUCE // 5ml

put a drop on the crown of your head each day, it releases emotional blocks, bringing about a feeling of balance and grounding. Sets you up to have a great day. Also really good for any spikes in ickiness you're seeing as you're out and about in the world.
+ high frequency! Did you know a healthy human body has a frequency between 62-78 MHz? Thinking negative thoughts can bring down your frequency 12 MHz and positive ones can bring it back up by 10. Even holding a cup of coffee can bring down your frequency!


And when our frequency gets low that when we start feeling run down, tired, emotional, below the wellness line... Idaho Blue Spruce is one of the highest frequency oils


+ in the bedroom


Men. Here is how to rev your engine with oils

Take Idaho Blue Spruce internally 5-8 drops a day to help support healthy testosterone. According to Dan Purser, MD, this has been shown to increase testosterone levels up to 30% in two weeks.
Also take 4 drops before go-time.

Here's a blend called "Mr. Libido's Perky Pellet" :
Mix these in 10 drops of Carrier Oil in a capsule and swallow about 10-30 minutes before go time:
- 5 drops Idaho Blue Spruce
- 3 drops Goldenrod
- 3 drops Nutmeg
HAVE FUN!
+ This oil can also help to promote hormone balancing in women. Gary Young said that by using this oil he will not take responsibility for an increase in the family.



+ major respiratory benefits to support the respiratory system and the immune system. Try applying on chest and one drop under the tongue or diffusing.
+ Emotional trauma can lock the brain in fight or flight mode. Over time emotions have less ability to adapt and cope causing loss of creative potential and a focus on fear rather than love. This oil works very well for dislodging forgotten emotional blocks or traumas and helps resurrect them into the conscious mind where they can be resolved and dealt with. Try applying on the top of the foot between the big and second toe or in the middle of the forehead at the hairline.
+ Try applying topically to relieve muscular discomfort. It's a great sub for
panaway and targets stressed and tense muscles
+ This oil can also stimulate the thymus and adrenals and is really supportive for those with hyperthyroid!
+ Gary Young said that Mary Young takes a capsule of this oil every day to promote bone density and strength as she ages.
+ great for healthy lungs! you can apply to chest or use the diffuser, or for very targeted support, make suppositories.
// NORTHERN LIGHTS BLACK SPRUCE // 5ml

Northern Lights Black Spruce comes from Young Living's Northern Lights Farm in British Columbia, Canada. Diffuse this rich, woodsy, and invigorating scent during meditation to create a fresh aromatic atmosphere or at night to have a great night sleep in what will smell like an enchanted forest. Mixing it with lavender, frankincense, or Peace + Calming is one of my faves. Add it to skin care products or apply it topically to help improve the appearance of dry skin or to help maintain the appearance of healthy-looking skin. Make a roller with it to help release emotional blocks and bring about a feeling of balance and grounding. NLBS can also be applied anywhere, including to the bottoms of feet, along the spine, back of neck, or used for massage. Tree oils are also SO GOOD for the lungs. Do you see a theme?


Young Living is so good to us.


Warmer weather is coming and so are the creepy crawlies

Drop peppermint along windows and doorways to repel them! This is also a key oil for enjoying the outdoors when there is pollen everywhere! Add 20 drops each peppermint, lemon, and lavender to a 10ml roller and top with carrier oil - roll behind ears each morning and as needed!
A drop on your thumb pressed to the roof of your mouth is great for head tension!

You are going to LOVE the bright, citrusy scent and the taste of Lemon!!
Tis the season when all things are in bloom! LLP // Lemon, Lavender and Peppermint will help you enjoy being outside when the seasons change! Pop it in a roller or into capsules so you can have fun in the great outdoors!
Oh, also - moms and dads and teachers listen up!..... Lemon helps your brain LISTEN. Diffuse for those rowdy kiddos!
Kiddos put stickers on all the unwanted places? Or stickers on glass picture frames? Add a drop of Lemon, let it soak for a minute and simply wipe away. It's also the bomb for cleaning. I love to make a paste with baking soda and go to town.
Since it is also a vitality oil, you can add to baked goods, stir fries, dressings, vinaigrettes, meats, veggies, pastas, marinades, and more! Lemon can also be taken via capsule if desired.I begin every morning with a few drops of this "liquid sunshine" in my water to help my body wake up, perk up, and get ready for a new day! But it doesn't stop there! The list of uses for this versatile oil is ENDLESS!
Item # 39058
Price: 91.25
PV: 75.98
Shop/ER until June 13 or while supplies last
For all US existing members, reactivations, and new members can pair it with a $25 basic kit upon enrollment.
TWO BACK IN STOCKS WERE ANNOUNCED TODAY!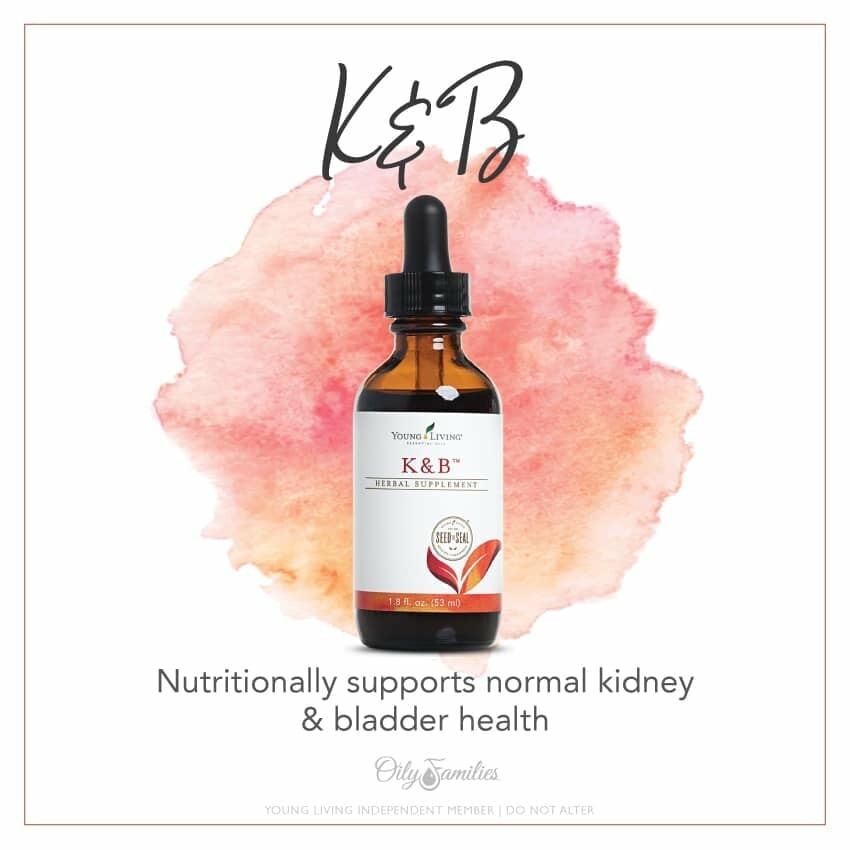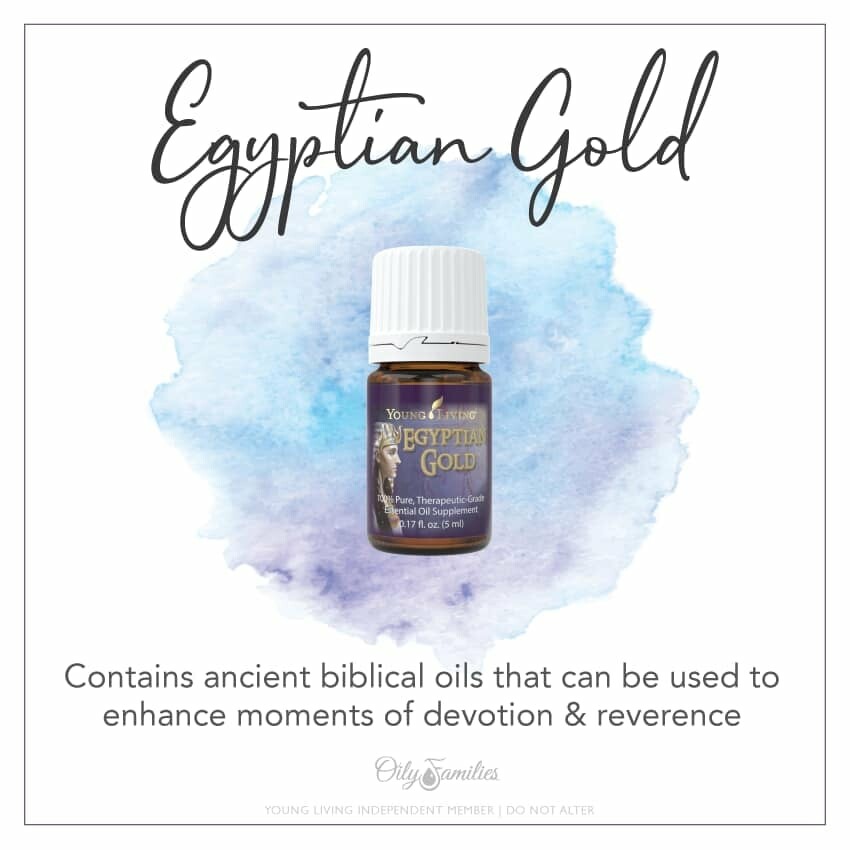 K&B Tincture
K & B is formulated to nutritionally support normal kidney and bladder health.* It contains extracts of juniper berries, which enhance the body's efforts to maintain proper fluid balance; parsley, which supports kidney and bladder function and aids overall urinary health; and urva ursi, which supports both urinary and digestive system health. K & B is enhanced with therapeutic-grade essential oils.
K and B Tincture Kidney Bladder Supplement is the perfect home remedy to support healthy kidney and bladder function. Supports normal kidney and bladder health.
Juniper is one of the best plants to naturally cleanse and maintain proper fluid balance. This tincture combines juniper extract and juniper essential oil with other herbs and oils.
This tincture is also safe for animal usage and works particularly well for cats. Felines have a long history of kidney and bladder imbalance. And now we can help support a healthy urinary system using this tincture.

Egyptian Gold
This is a hidden jewel. A treasure chest of focus, and wellness support waiting for you to bring it home and add it to your trove of special oils. This has been out of stock for I don't even know how long. It is a blend of Frankincense, Lavender, Balsam Canada, Myrrh, Hyssop, Northern Lights Black Spruce, Rose oil, Vetiver, Cedarwood and Cinnamon Bark.
It is grounding with those tree oils, but the Lavender and Rose add these beautiful floral notes to the blend. This oil has been a life saver for me on more than one occasion! It's one you WANT in your Oily tool chest!
Whew! That's a LOT of news! And it's not even the newsletter yet - ha! That's coming soon, but I will add that these are the June 2021 "Gifts With Purchase"! You will see the ideas tips and tricks on these soon, and of course, all of the NEW products that will be unveiled later in the month with CONVENTION! It's gonna be an awesome month for oilers!



Like getting all of these ideas? Don't miss a single post! Be sure to join my e-mail list today, and let me know others ways I can serve you :)