Oct 3, 2018 09:56 PM Central
Gayle Reinsma


Don't you just LOVE October? One of my FAVE months of the year, even if my beloved Cubbies are not in Post Season :( . Oh well, I got out my favorite fall diffuser blend and moved on lol!!
How are you feeling? I'm doing GREAT, but some really suffer with such drastic weather changes we are having. To keep healthy, and also to gear up for the windows being closed all the time, here are some tips:
Thieves diluted along your spine and throat
RC, Raven, or Breath Again roll-on on your chest (ALL THE TIME)
Frankincense anywhere and everywhere
Hot honey tea with Manuka Honey, 1 drop Thieves, Lemon, & Peppermint Vitality
InnerDefense (one capsule a day or keep it close to use at the FIRST sign of any scratchy throat)
Life 9 Probiotic & MightyPro Pre/Probiotic for the kids--a MUST for everyone #GutHealthEqualsImmuneHealth
Thieves Cough Drops
Did I forget anything?
If you have another GREAT tip, share it in the Help Me Oil Members page. Community tips helps us all grow!
This month's newsletter will cover:
Important team and YL announcements (upcoming classes & giveaways)
Favorite fall combos
Biz oil of the month
YL PROMOS
Important YL & Team Announcements:
YL Announcements:
Live Your Passion Rally is this Saturday!
Young Living always releases great announcements and sometimes even new products!
To view, you need to be in the only rally group HERE.

If you are unable to view it, let me know and I'll add you!
THE FALL CATALOG WILL BE UNVEILED - WOOHOO!!!! Remember last year when you release mascara and broke the internet lol. Hoping THAT won't happen again!! I trust they are better equipped to handle the rust :) . If you see something you LOVE, don't wait - the sell out quicly!
YL GO and YL GO+ subscriptions are still available at launch pricing of $59 for YL GO and $129 for YL GO+. I put in one ER order and One Quick Order in September and got free shipping on everything because I have YL GO+! It has saved me over $13 already. I plan to order again this weekend too! While my contest for the rebate is over, this amazing launch price is not!
Upcoming Classes:
Links with dates and info will go out soon! However save October 25 for our FALL TASTING! We have weekly Tuesday online classes too held
HERE.
Check your emails and my web page
Help Me Oil
for the latest on that coming soon
Business oil of the month is the MOTIVATION blend!
Any guesses why?
The holiday season is almost here. Find motivation this month and on into the holiday season with the Motivation blend.
Feeling unmotivated, lazy, or a little down with the cool weather change? Add a drop of this to the back of your neck or the bottom of your spine and be prepared to be amazing! Or, Diffuse Motivation to turn it all around and be more productive! #HolidayShoppingDoneEarly #FallCleaningComplete #LeavesRakedAndBagged
If you don't have the Motivation blend yet, get it in your ER order STAT!
Diffusing Motivation is also perfect for those of you who are building your Young Living businesses. This is the busiest time of year for us! Diffuse it when you need a kick in the pants to get 'er done or need to stay on task.
Favorite Fall Recipes!
I have my PERSONAL favorite that I pulled out already for my room sprays, smelly jelly room fresheners, liquid hand soap or any diffuser in the house! Need instructions on how to make those things, let me know!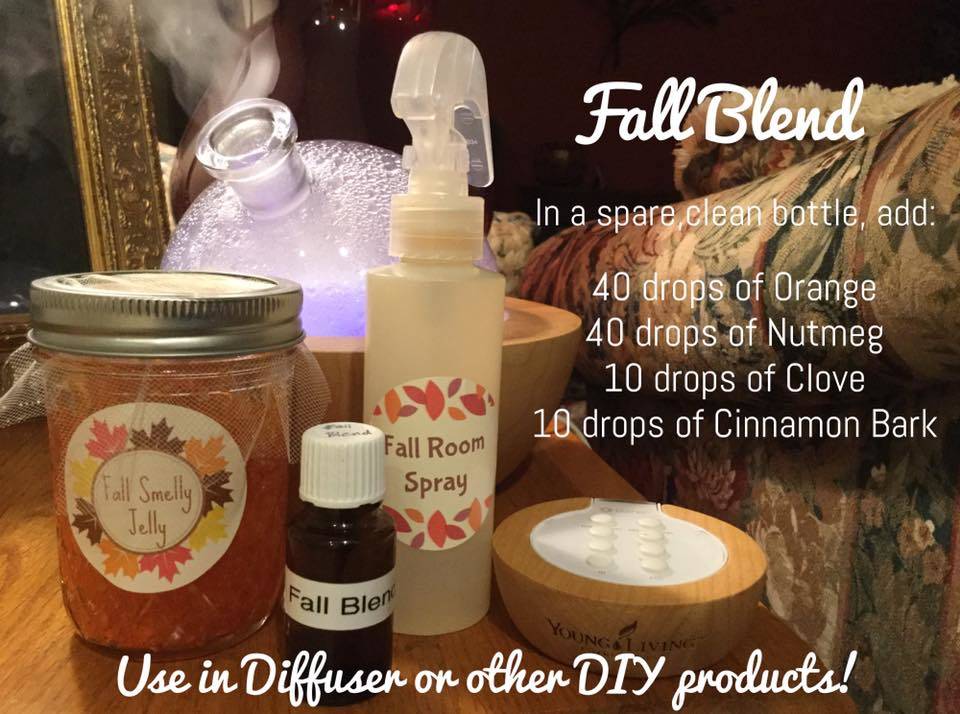 Here are some more ideas! If there is a blend you like, quadruple it up and store it in a spare bottle - you will thank me!!
YL Monthly Promos.
There is a 400 pv tier again this month, and it's AWESOME!!! The extra item's retail value is $140!! And it's FREE if you order 300 pv, - you get it with all the other freebies!!
With 400 PV - Retail Value $386.52
EXTRA ITEM:

Our Seed to Seal Story Collection:
Seed to Seal exclusive 10-ml Lavender, Peppermint, and Tea Tree essential oils. Three popular blends you can give as a gift or keep for yourself!
MultiGreens: Take MultiGreens capsules daily to boost vitality by supporting your immune system. This season of sweets calls for all the extra greens we can get.
5-ml Palo Santo: Cleanse the air with Palo Santo before family and friends arrive. This sweet, woodsy aroma will warm up any space for moments shared and memories made.
15-ml Thyme: Find your purpose as a family by diffusing Thyme with Eucalyptus and Lime.
5-ml AromaEase: Its blend of Ginger, Peppermint, and Fennel is the perfect aroma for post-feasting relaxation. You are definitely going to want this one for Thanksgiving, so get it free now!
Bonus Essential Rewards exclusive 5-ml Cinnamon Bark: We all know this scent screams fall and you will diffuse it often this season, so what better way than to get an extra bottle FREE!
Bonus Essential Rewards exclusive 5-ml Oregano Vitality: Infuse a bottle of olive oil with 15-20 drops of Oregano Vitality. Mix it with vinegar and use as a bread dip for an easy appetizer.
• In the event that supplies of these items become unavailable, Young Living may replace promotional products with equivalent products of a similar value.

Push your order through early if you have your heart set on this!!
With 300 PV - Retail Value: $241.78
120 ct. MultiGreens
5-ml Palo Santo
15-ml Thyme
5-ml AromaEase
Bonus Essential Rewards exclusive: 5-ml Cinnamon Bark & 5-ml Oregano Vitality
With 250 PV - Retail Value $141.30
15-ml Thyme
5-ml AromaEase
Bonus Essential Rewards exclusive: 5-ml Cinnamon Bark & 5-ml Oregano Vitality
With 190 PV - Retail Value $95.58
5-ml AromaEase
Bonus Essential Rewards exclusive: 5-ml Cinnamon Bark & 5-ml Oregano Vitality
With 100 PV - Retail Value $15.97
Bonus Essential Rewards exclusive: 5-ml Oregano Vitality
Each One, Reach One
Sharing made easy.
This month, I want to encourage you to share your oils with ONE person. Aren't you glad your enroller shared with you?
If we all reach ONE person, we will help so many more people who are struggling to find wellness, purpose, and abundance.
How to share your oils with others.
Use your oils in front of your friends or family.
Share a sample with a friend in need.
Tell your mama, sister, brother, kids, cousin, or neighbor that they NEED their own kit!
Listen to what people are telling you they need. Use your reference materials to find some suggestions about what they can use. Show them the value of the kit. Give them your very own member number so they can order their own PSK.
When you help a friend get a PSK, you will get a $50 "Thank you" check* for spreading the love. This is a great way to help others and get some extra holiday money.
The Young Living business opportunity has blessed many families, even families on this very team. They are receiving monthly paychecks that cover their YL products, groceries, car payments, and even mortgages. I didn't think I would ever do this business and it has not only been a blessing for me but it has also changed the lives of those I have shared my oils with and helped order their very own Premium Starter Kit.
I want to make sure you have seen the NEW 2018 Income disclosure statement. Here is a snapshot. Yes, those are MONTHLY incomes.
Find the full Income Disclosure statement HERE.
If you need help finding your member number, I can help.
*You must spend 50PV during the same calendar month that your new member orders the PSK in order to receive your $50.
Help 5 Bonus
If you feel like helping 5 people this month, Young Living has a special gift for you!
Qualifiers will get a 16-ounce bottle of Thieves® Fruit & Veggie Soak and five YL-branded reusable mesh produce bag.
This month's gifts are inspired by the Young Living 5x5 Pledge and their goal of becoming a zero waste company in five years.
Earn five points to qualify. Members earn a point for any of the following:
• Enrolling a new member with a Premium Starter Kit
• Helping an inactive member reactivate their account with a new Premium Starter Kit
• Signing up a personally enrolled member for Essential Rewards with an order of 50 PV or more
• Reenrolling a member in Essential Rewards with an order of 50 PV or more
*New Essential Rewards enrollment includes members who you get back on the ER program after they have been inactive on ER for six months or more.
Co

Giveaways: Who won the YL Go rebate??

CONGRATULATIONS DEBBI BLOCKER!! Email me the receipt or confirmation email soon! Or send over FB Messenger


Gayle Reinsma
708-670-2066 cell
Like getting all of these ideas? Don't miss a single post! Be sure to join my e-mail list today, and let me know others ways I can serve you :)