Jun 2, 2019 10:00 PM Central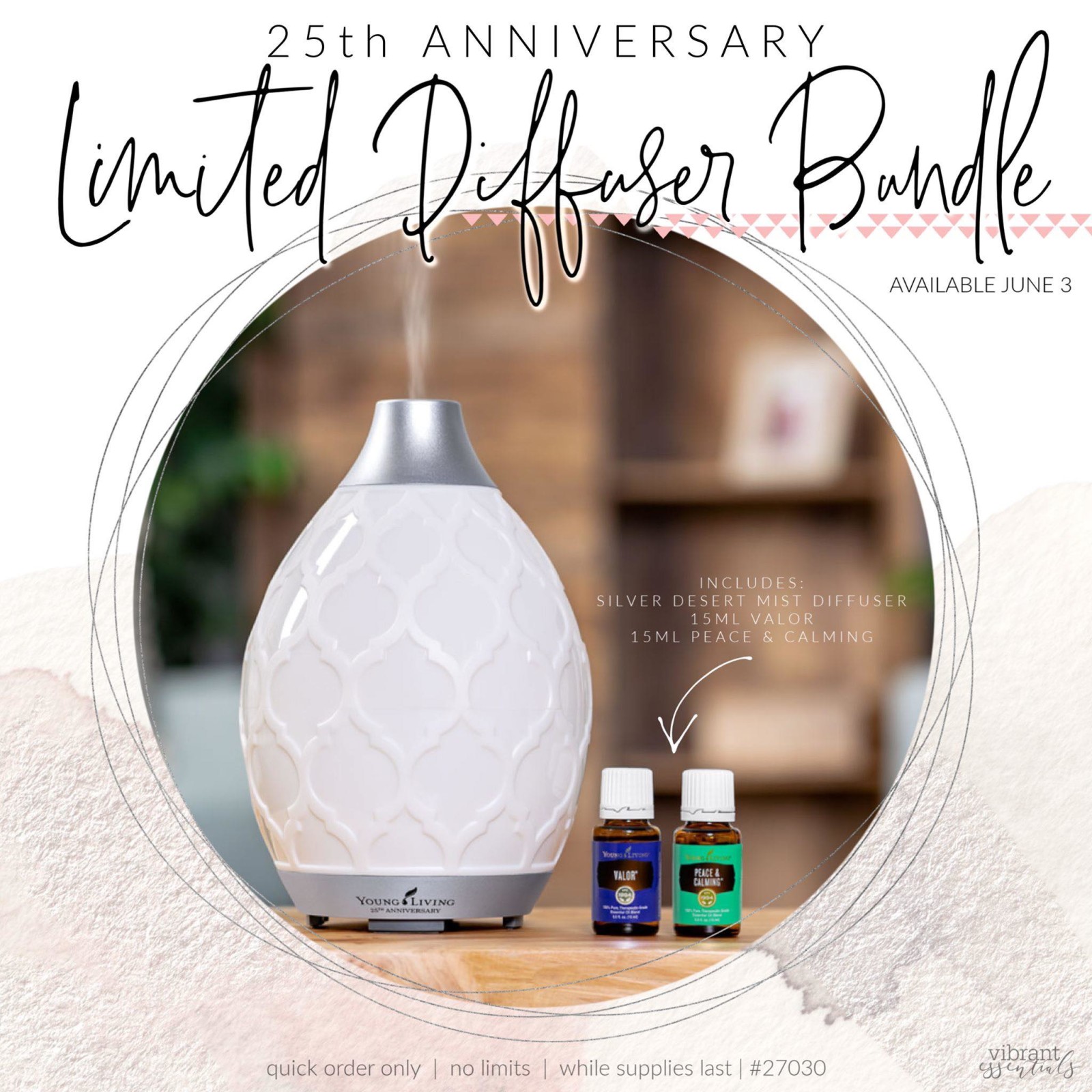 Young Living Flash Sale! Desert Mist, 15ML's of Peace and Calming and Valor, and Shutran!!
I love how Young Living keeps surprising us, and this time it's with a DIFFUSER!!! A Special Edition, 25th Anniversary SILVER ribbon Desert Mist Diffuser!!!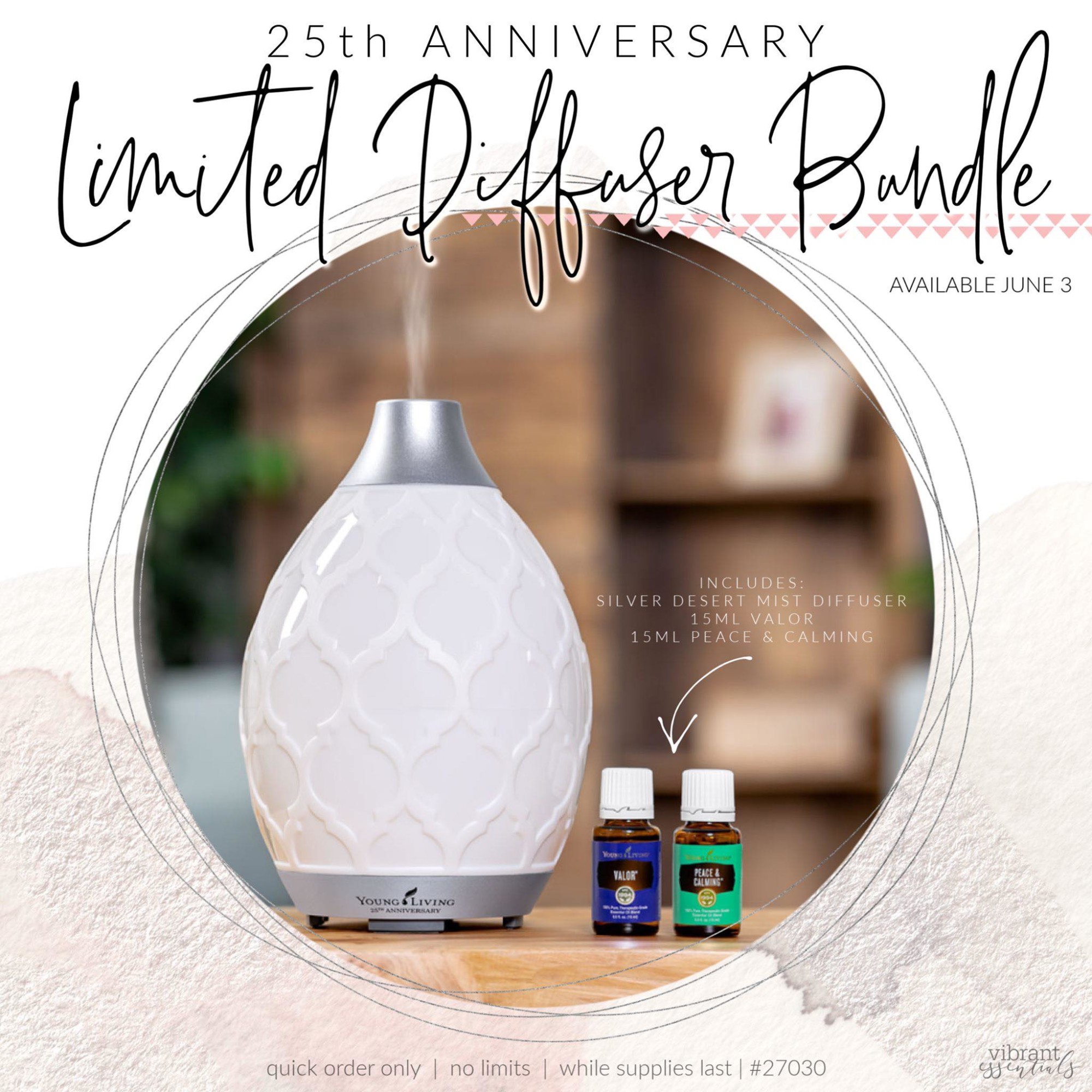 Oh my GOODness that is GORGEOUS, isn't it?? I want it!!! But wait folks, there is more. OH, there is always more!!
With this exclusive bundle, you will also receive 15ML BOTTLES OF PEACE AND CALMING AND VALOR!!
GET. OUT!!!
You know, I knew the existed but I tell you, I never saw one lol!!
🎊🎊🎊 25TH ANNIVERSARY LIMITED EDITION DESERT MIST DIFFUSER WITH 15ML BOTTLES OF VALOR AND PEACE & CALMING!!!!!! 🎊🎊🎊
You guys!!! 15ml bottles of Valor and P&C??!! This is like the BEST NEWS EVER! 😍💃AND, at a KILLER price!
✨ Starting June 3 at 10 a.m.MT, you can get the exclusive silver Desert Mist Diffuser with 15 ml bottles of Peace & Calming and Valor!
✨ And there are NO LIMITS!!! 🎉 WHAT?!
✨ Are you freaking out yet??! I sure am! You will REALLY freak out at what I have to say next!! 😂😳
This deal is literally A STEAL!!!!
Members can buy Desert Mist diffuser at their discounted price of $63.75 (It pays to be a member!) During this special event, for just $16 more, you get 15mls of two of my favorite oils!!! THINK ABOUT THIS FOLKS - LET ME PAINT YOU A PICHTA!
If you were to purchase a bottle 1/3 of the size, the standard sizes that Peace and and Calming and Valor (normally sold in 5ml's), you would pay $74.50. Multiply that by 3 and it's $223.50 .
Are you getting this yet? Go into your virtual office if you don't believe me lol! Add 3 Peace and Calming, 3 Valor, 1 Desert Mist and tell me what it says. Ok, I'll tell ya lol!
IT'S $287.25!!
You (me! - we!) get this amazing limited edition bundle for only $79.75!!
! I'm pretty sure I need to pick my jaw up off the ground right about now....😮
+++++
Whew!!
Ok, well, there is also a sweet deal of 15% off on a Shutran Gift set - perfect for Father's Day!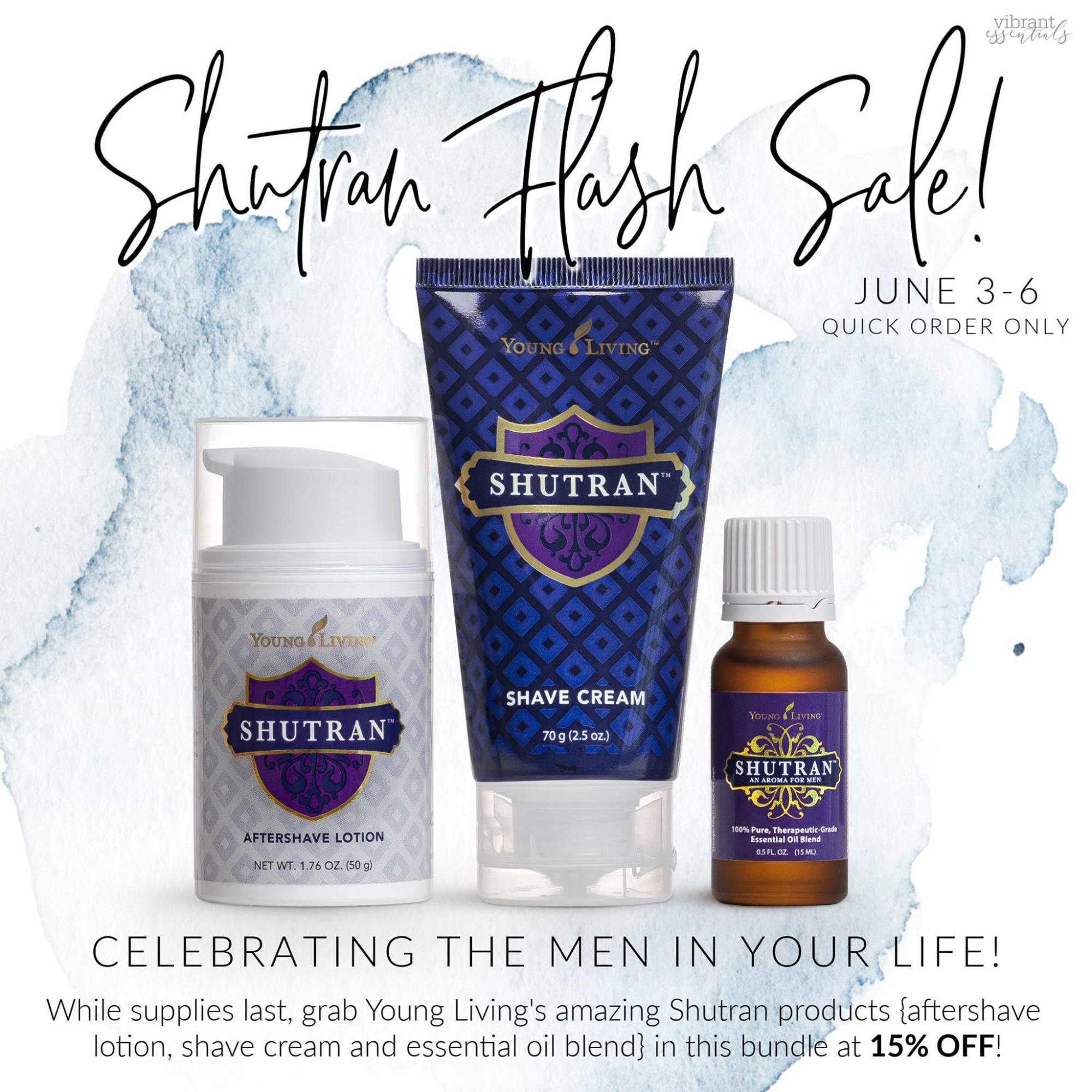 And, while we are at it, you should check out the PV Promo's for June!!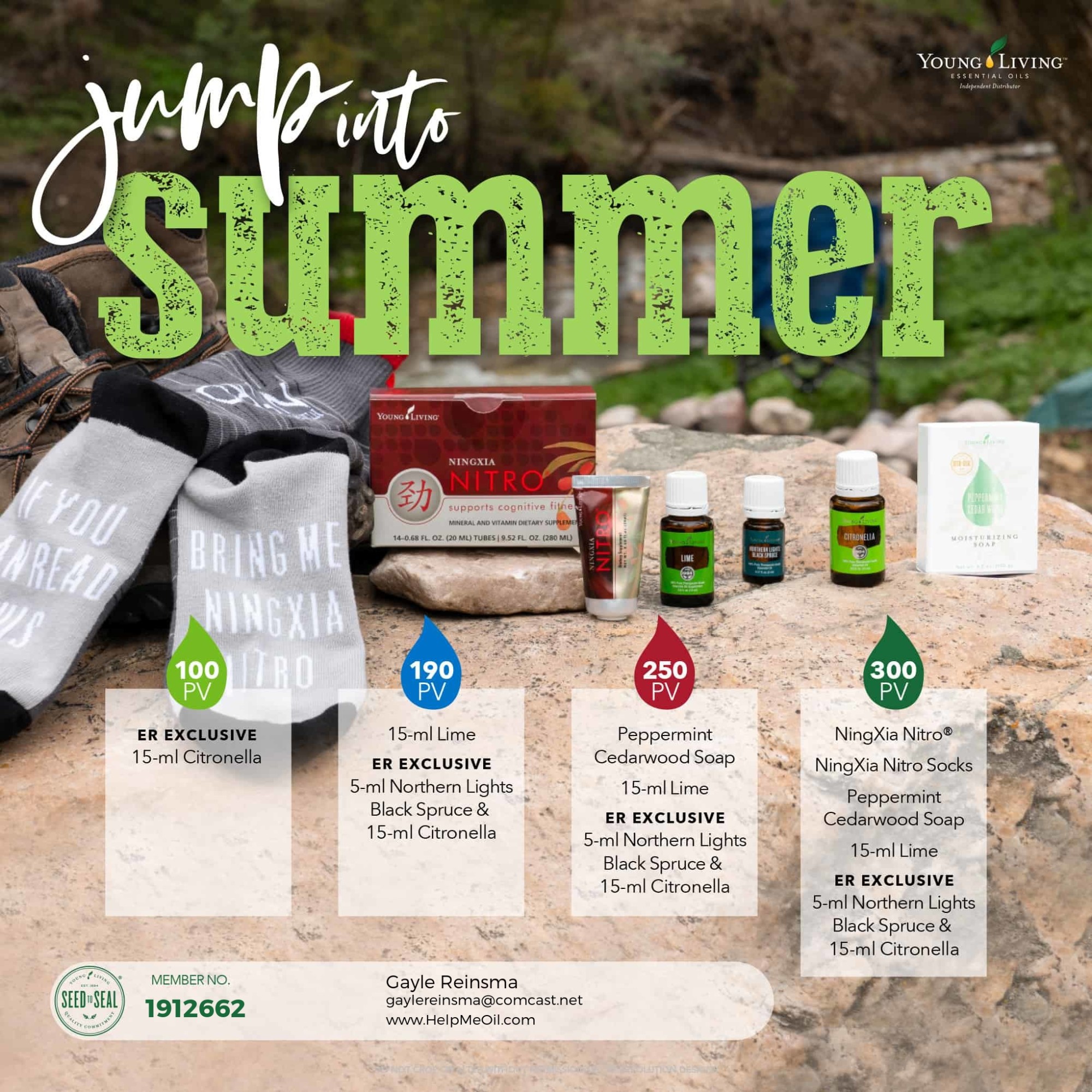 More coming on the promo's- including a class Tuesday night, June 4 at 9 pm Central in our
Essential Oil Online Classes
group! Check out the next email with info on my summer line up of new events and classes!
Not a member yet? Just head over to
HelpMeOil.com
and get that taken care of today!
Jan 11, 2019 11:11 AM Central
Oh my GOODNESS!! It's a Starter Kit FLASH SALE!!
And this one is for EVERYONE!! Even if you already are a member!
Read more...
Sep 12, 2018 01:10 PM Central
FLASH SALE ON THE DIFFUSER KITS!!!
Hey friends!! Sorry for two posts in one week, but this one is too good to sit on, i'st a sale on the starter kits FOR EVERYONE!!!!!!
Earlier in the week, it was announced that Starter Kits in Canada and Europe were on sale, and now they are also on sale in the US Market too!
September 12 - 18** (dates extended) only, so don't delay. If your account is about to expire, or already did - this will re-activate for a whole year too - for FREE!
If you are already a Young Living Member, just select "Premium Starter Kit" from the Quick Order tab. (Quick orders only, not Essential Rewards. If you are part of YL Go - you can get this shipped for free*)
If you are NOT a member but want a starter kit, go
HERE
and select "Place an Order" and "Member". Membership are FREE with purchase of these starter kits!! Then, wait impatiently for it to arrive lol. You'll also get a goodie bag in the mail from me :D (New members)
I'll be in Salt Lake City for the next few days on a trip I earned from this amazing company, but if you need help, email or text me (708-670-2066) and I'll touch base with you that night.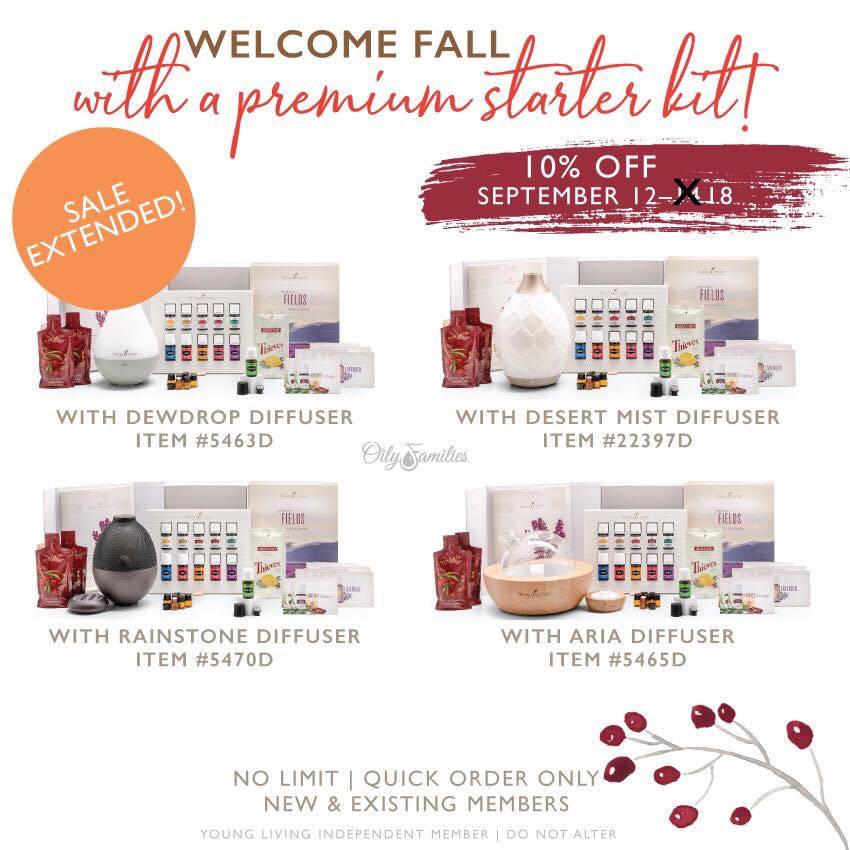 *YL Go an YL GO+ are Young Living's free shipping programs