One of the most exciting times of the Young Living Year!
The Holiday Catalog launch!!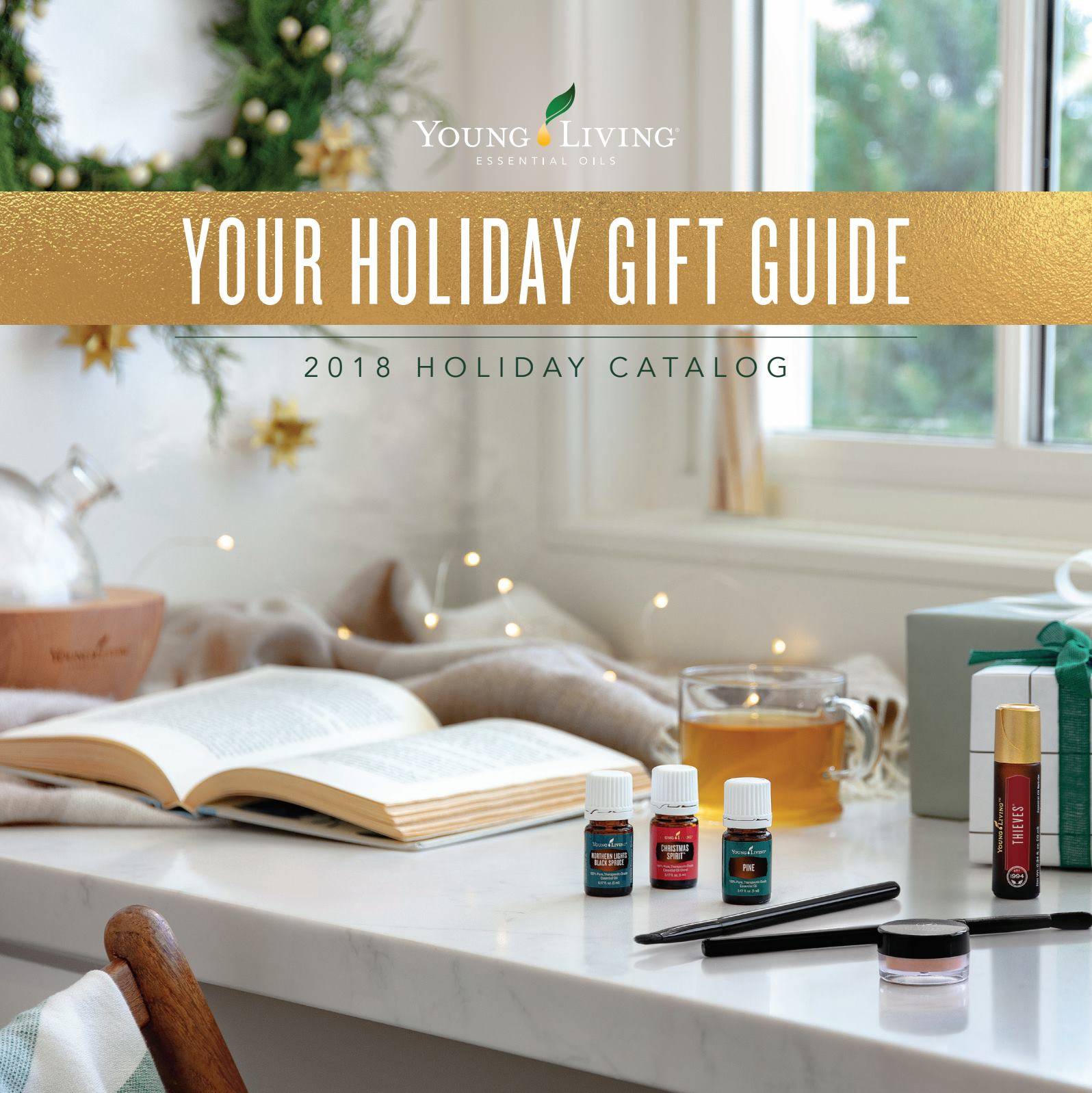 Our Holiday catalog launched on Saturday October 6! Sales on most items went live that day! A few, such as the Chocolate, the CRACKERS (!!!!) and the breakfast set will come in stock soon!
Bundled and seasonal items are limited and will sell out. Bundled items are always a nice savings! However, certain items like our crackers will be permanent!!
EVENTS WHERE THESE ITEMS WILL BE DISPLAYED

:
October 25 Snack and Share Fall Tasting
Christmas Make and Take! November 30 and December 1
(Details on the make and take coming soon!)
We will also have classes at each event. They will be fun - do not miss them!!
First up - we have a NEW Essential Oils BLEND! Australian Kuranya This is available right away, is part of our permanent line and can even be ordered on Essential Rewards this month! ( Please note that all other new items are quick order only this month)
Here is an item you will ADORE!! Our popular Thieves oil, one we recommend to apply all over, especially daily on the bottom of your feet, is now in a very convenient 10 ml roller!! Stocking stuffers - right!!! This is one easy gift to cross off that gift list for teachers, college kids, just about everyone!!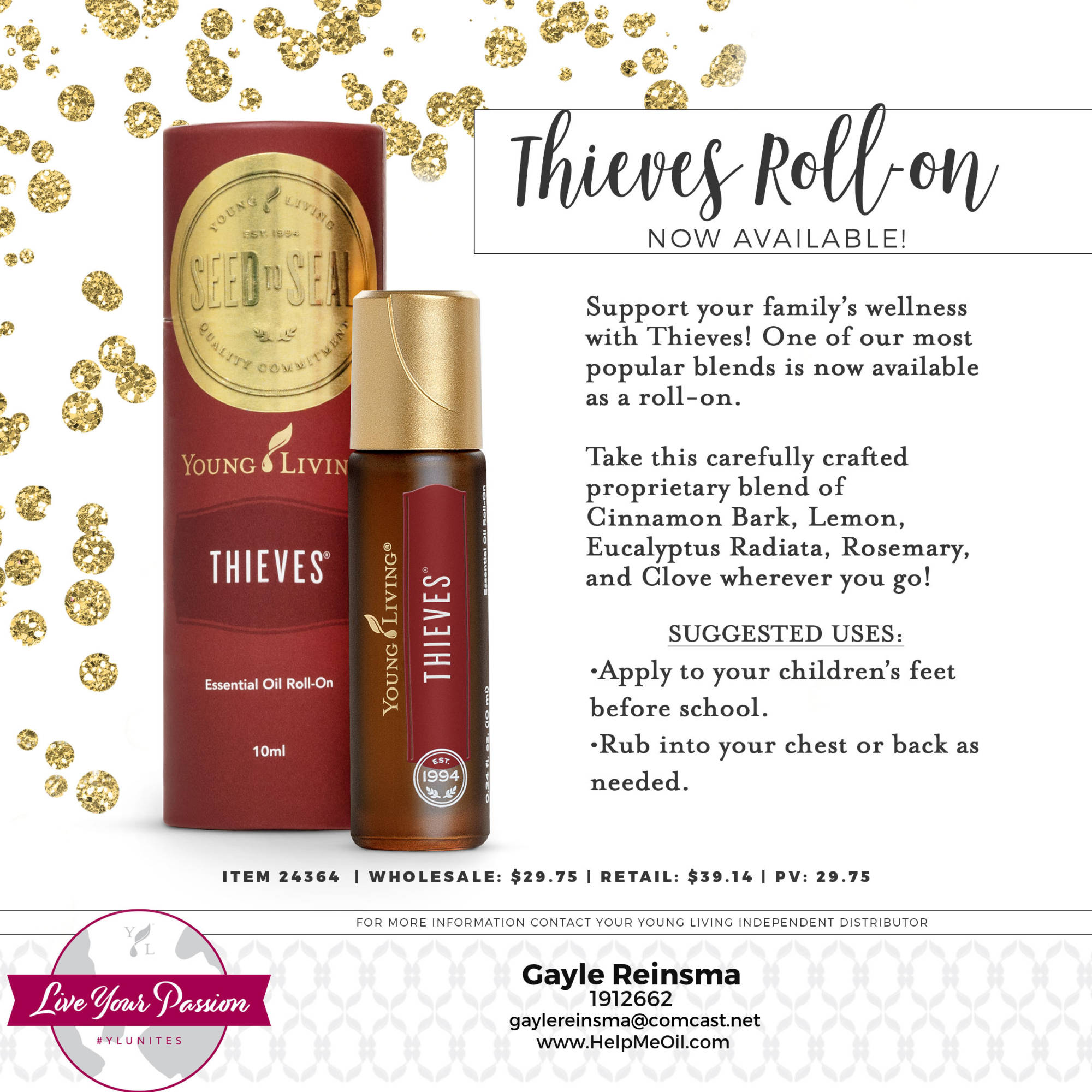 New Einkorn items!! Einkhorn wheat has 14 chromosomes, not 42. It's original ancient unmodified wheat, and while it is not for those with Celiac's disease, if your are gluten sensitive or gluten intolerant, you may have a much better time digesting this! Even if that is not you, Einkorn Wheat is better for you and adds a much higher nutrient value per calorie than white flour! These items will be available soon! I CAN'T WAIT!!!!!!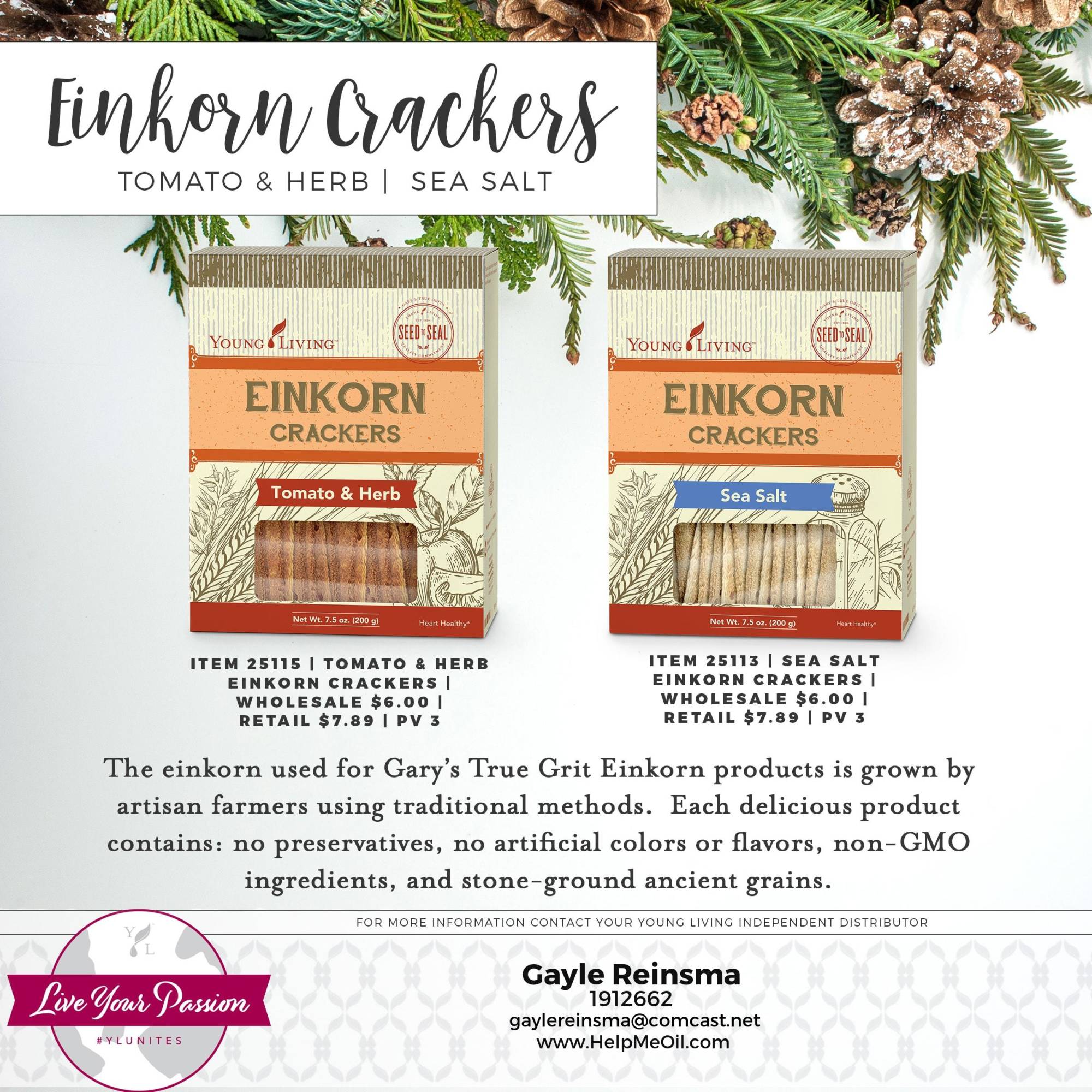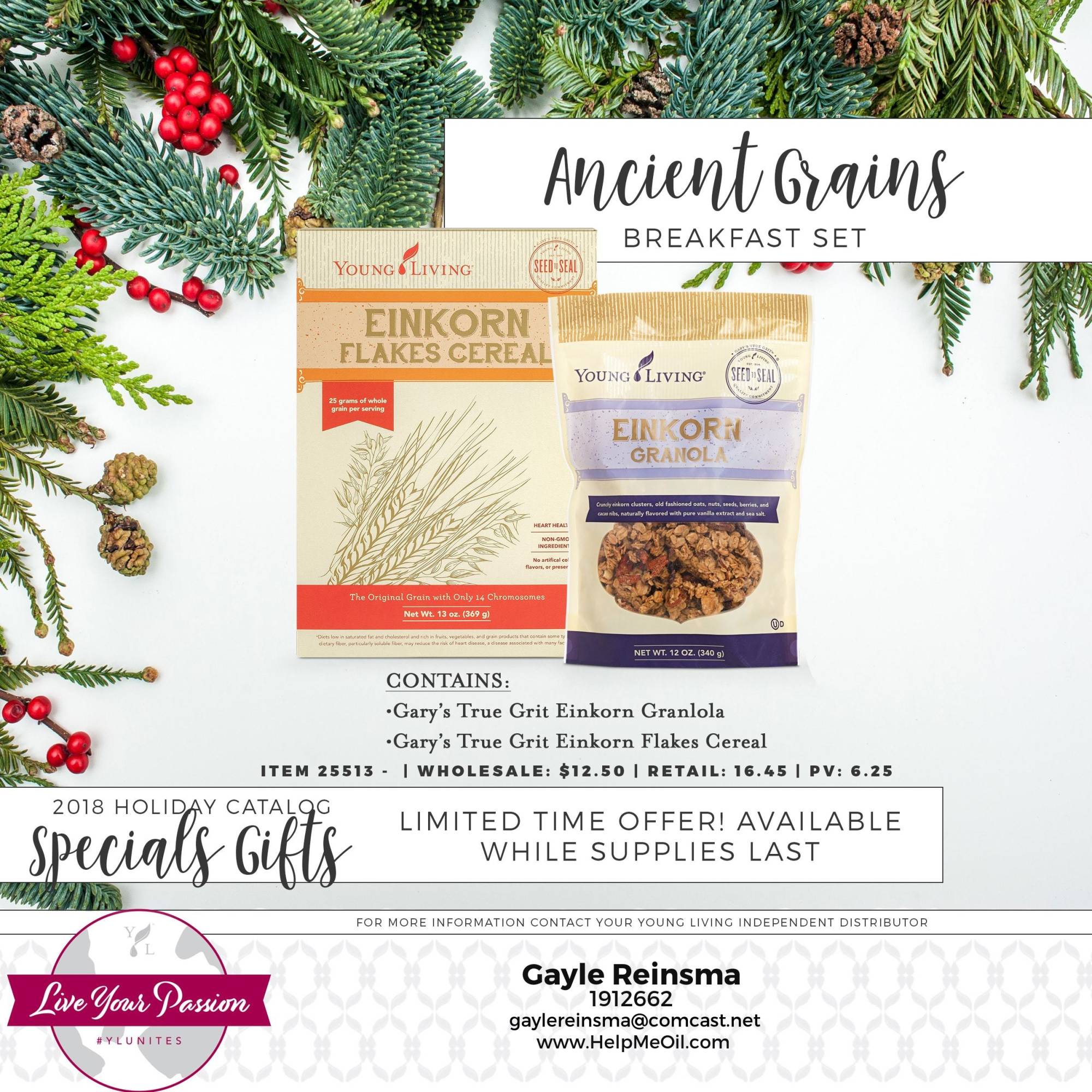 Another gift for the foodies - the Vitality Cooking set! We have had a peak at this - it's gorgeous!!!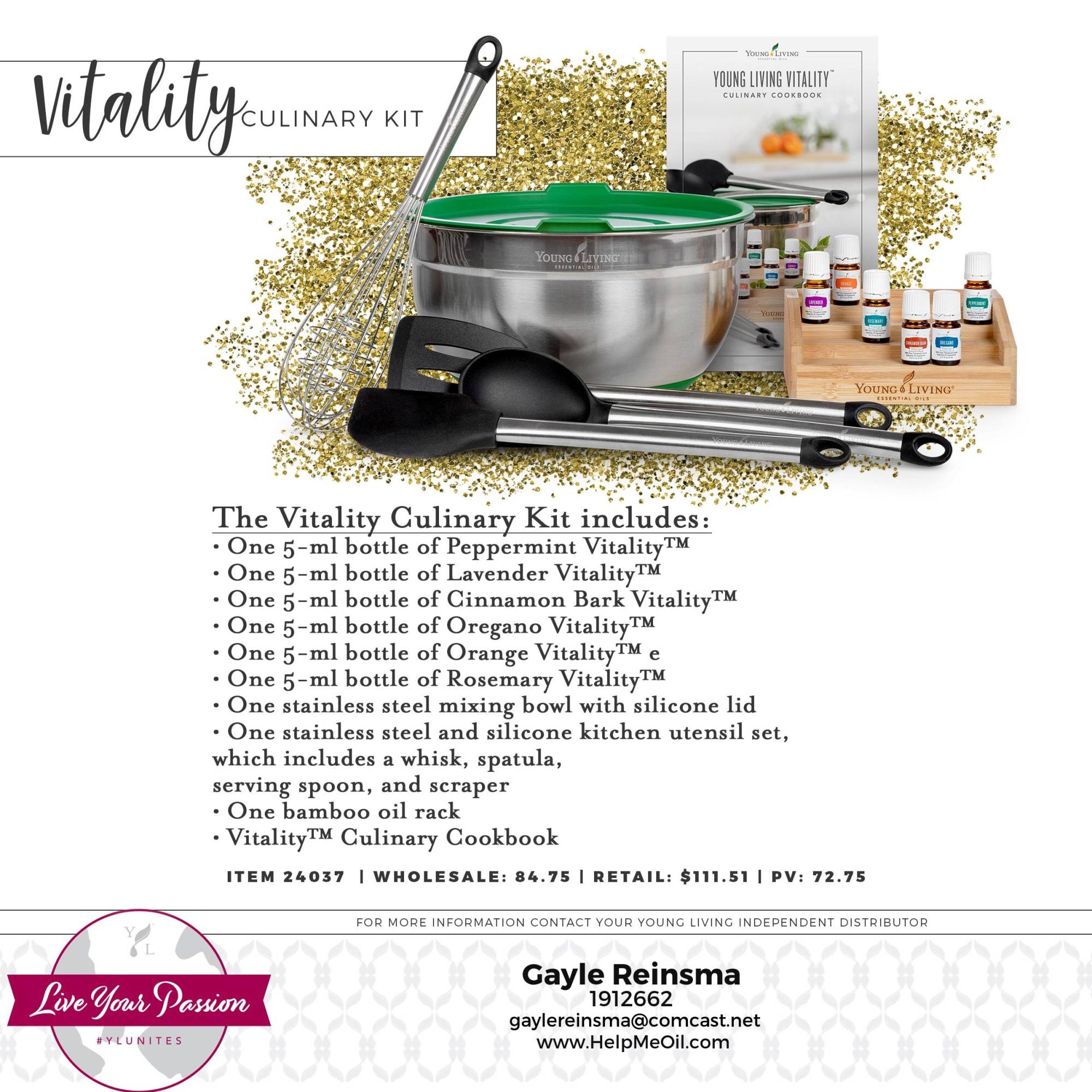 Spa items!! Relaxing, pamerping, luxorious!! Give a bag of steamers or separate them up in pretty little gift bags. The Lavender Luxury set is gorgeous and saves you $9 over buying the individual products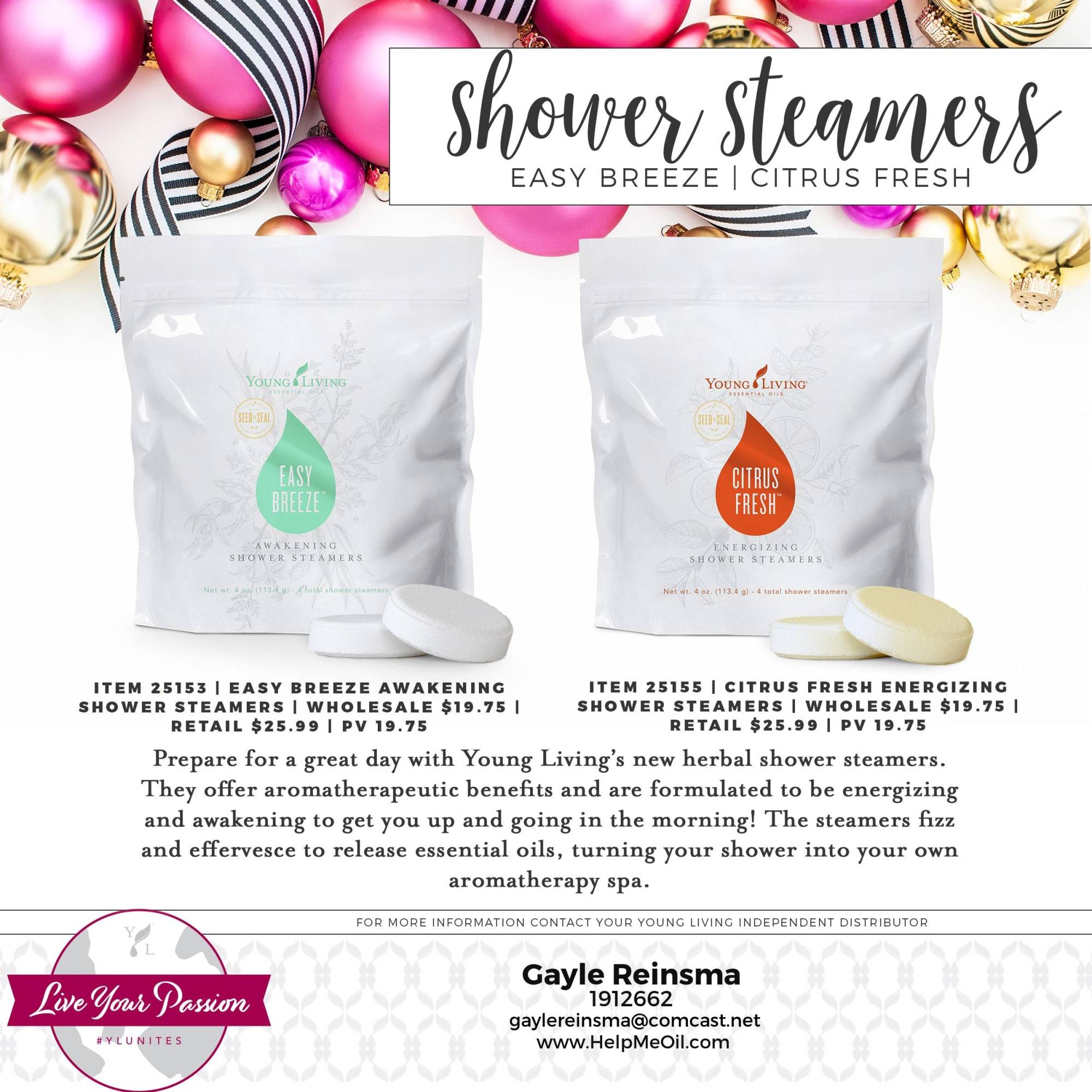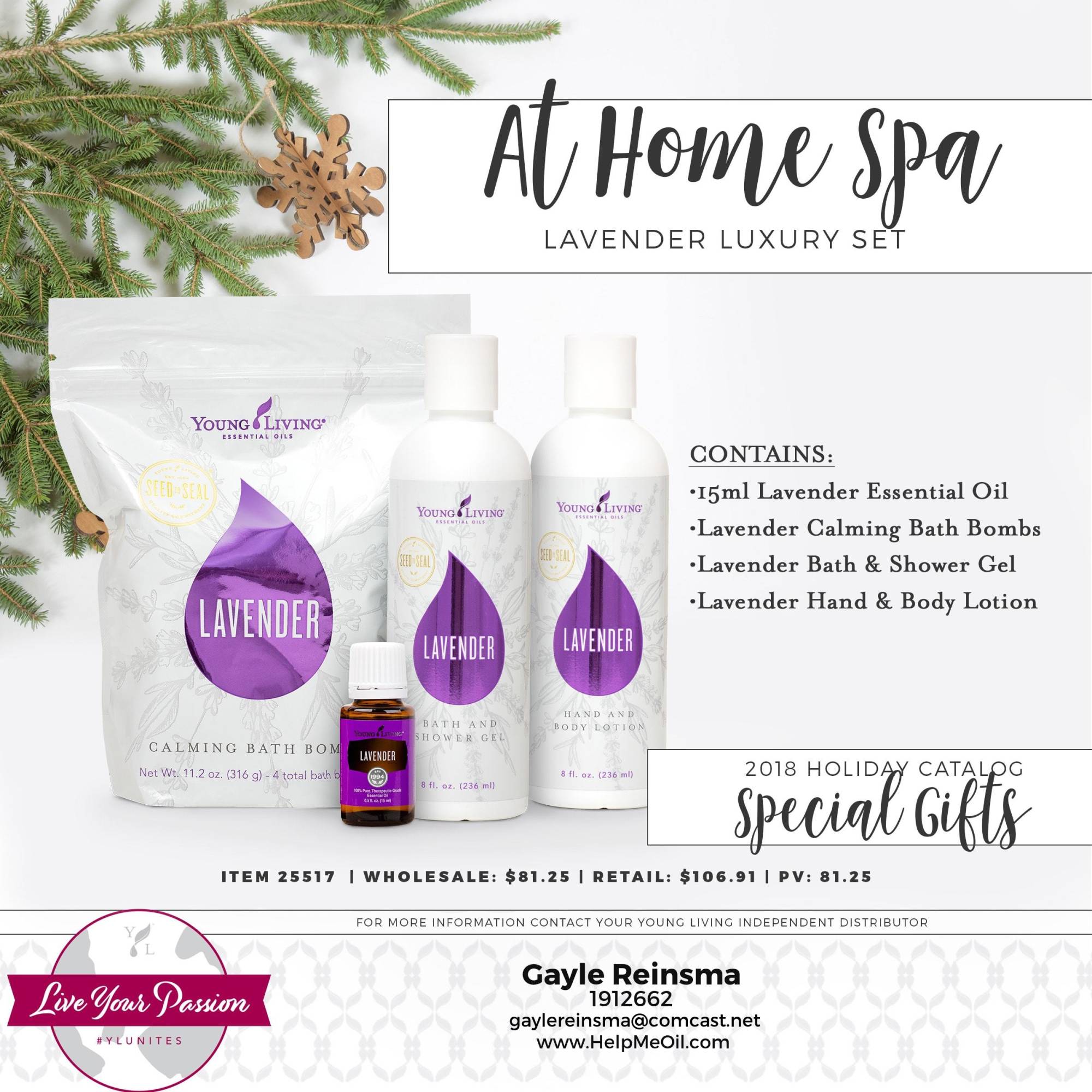 The Relax and Unwind set and the Gentle Mist Personal diffuser if for the hard to buy for woman - the one who "has everything". She doesn't have this - but she will now!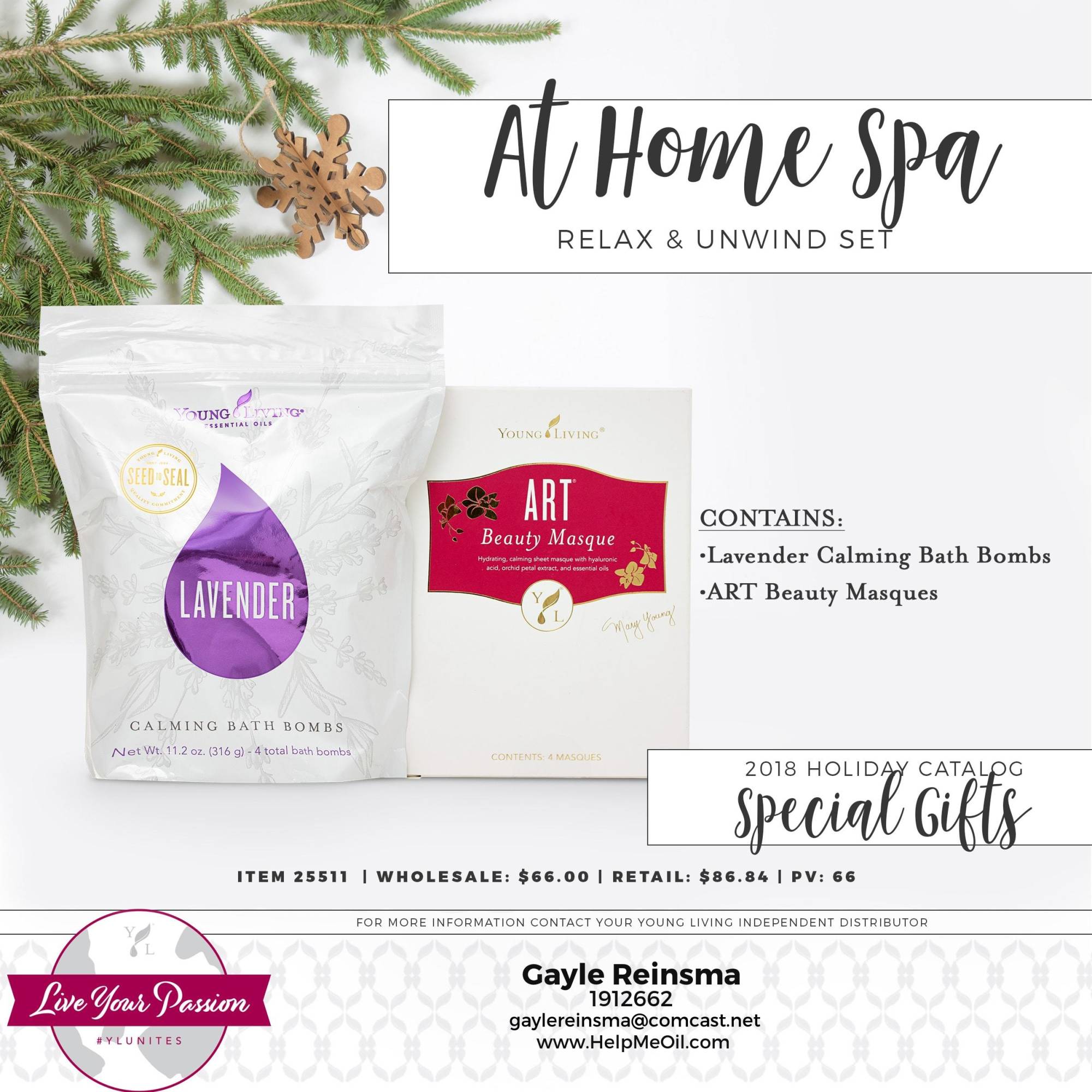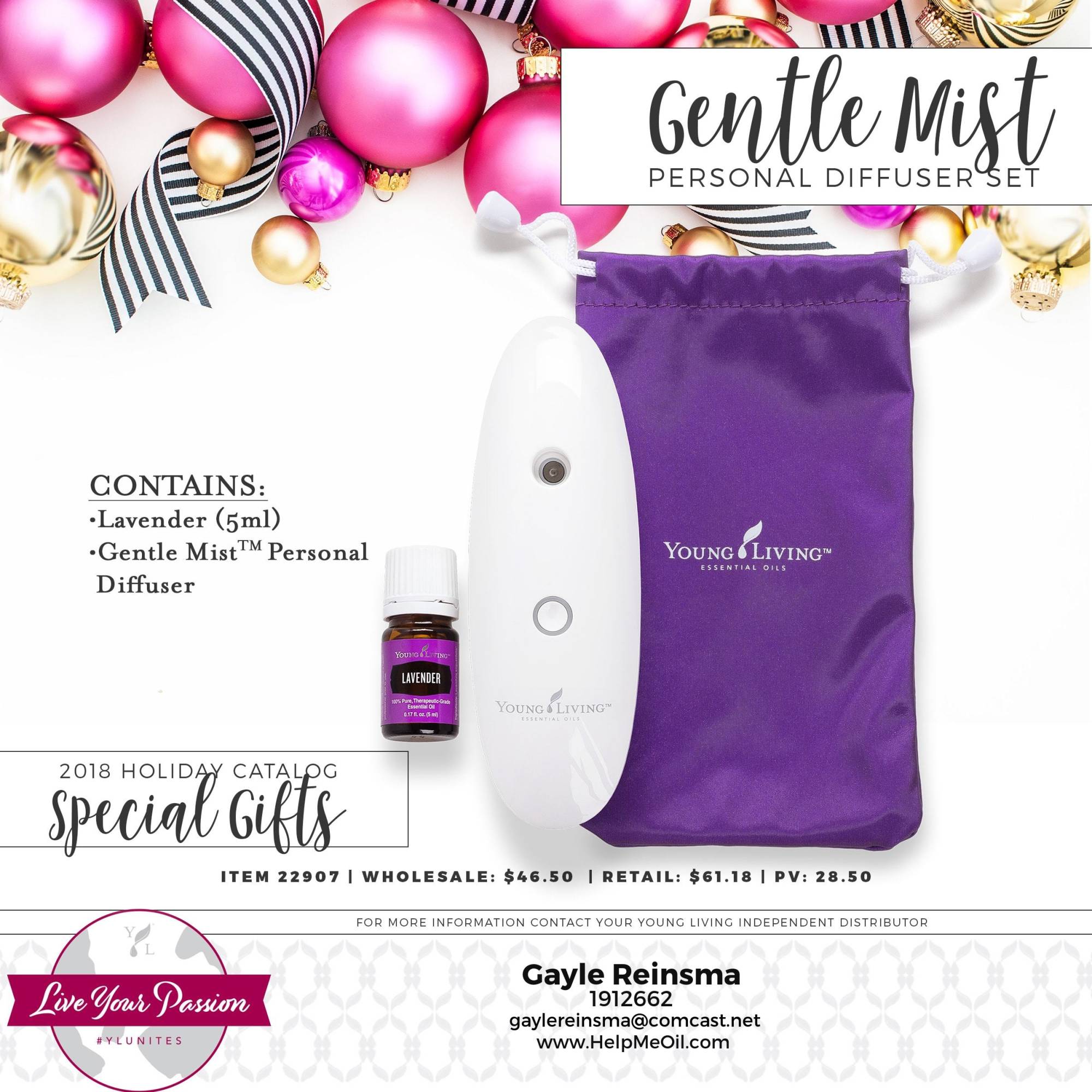 CHOCOLATE!!!!! Dropping soon, don't wait on this once it hits! Equadorian chocolate sweetened with natural sugar, this is an annual favorite!!
Specialty items for your friends with two and four legs!
The car diffusers are available individually or bundled in this sweet set that includes Peppermint! The set gives you a $7 savings! Our Animal Scents gift sets are fun, sell out quickly, and basically give you a free toy for your furry friend.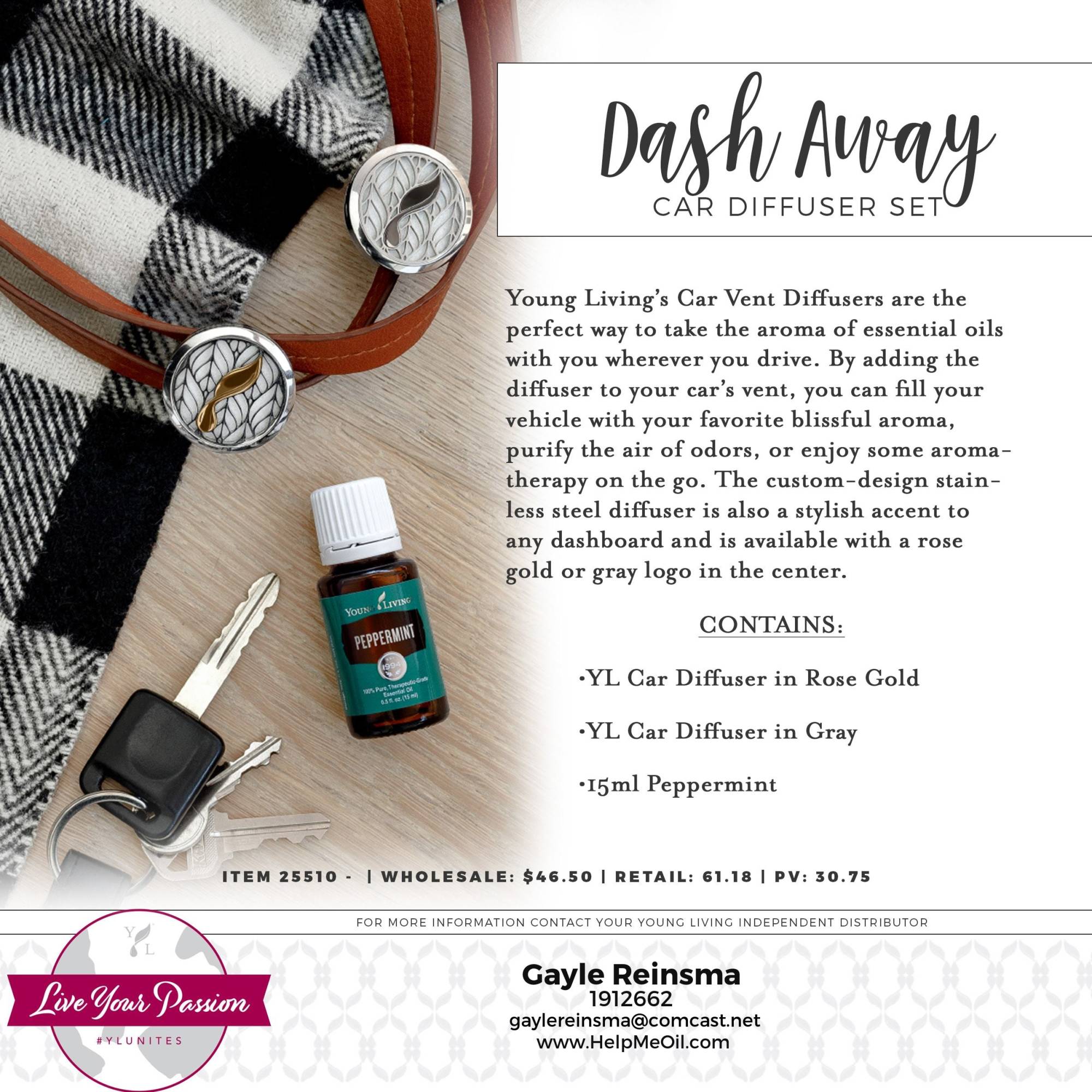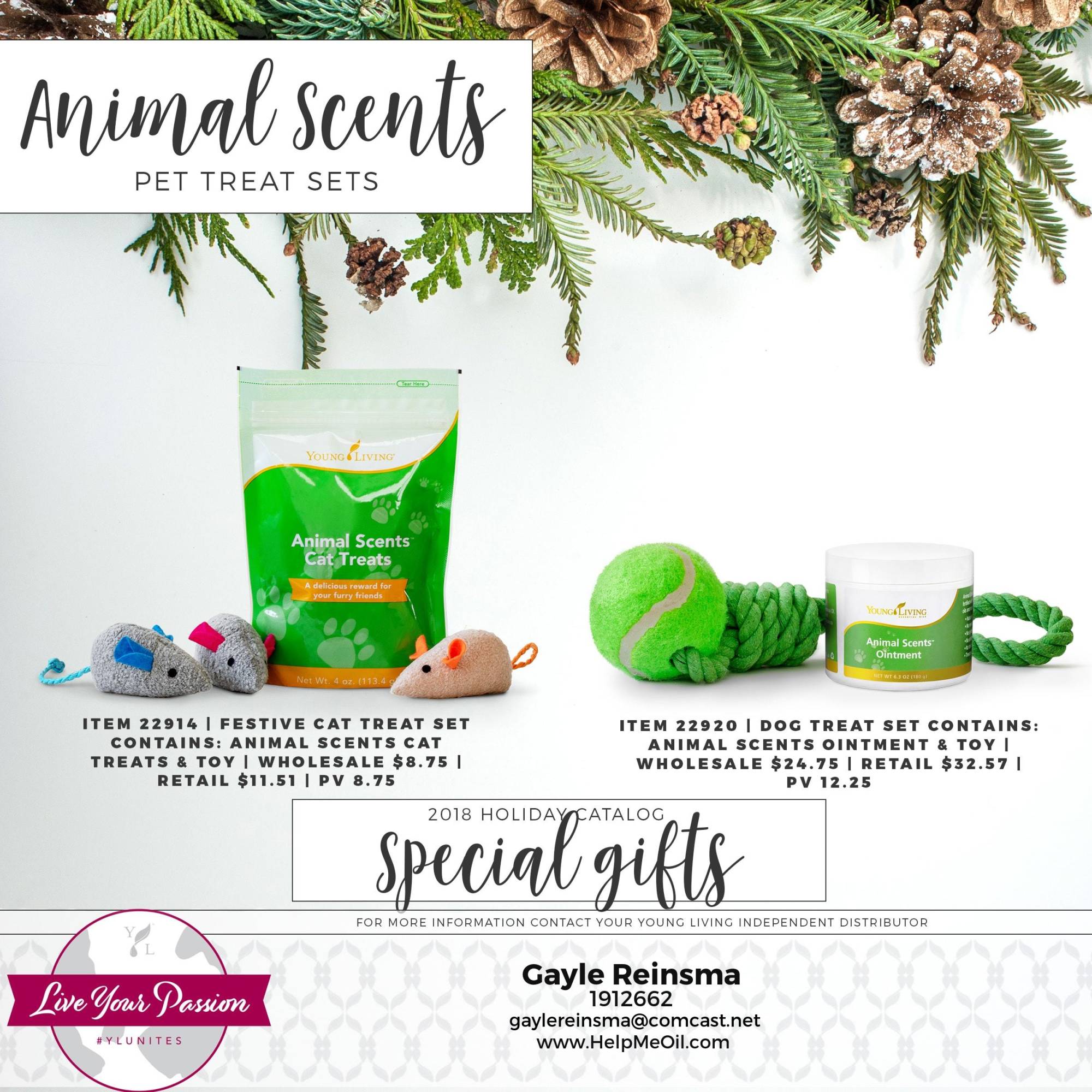 Returning faves!! The tree scent set, this year with Northern Lights Black Spruce, can be used all year long with any essential oil! I like using Pine, Christmas Spirit, Balsam Fir, Juniper and even Orange on the sticks for the hoidays. The Holiday Room Spritz sold out quickly last year - don't wait on this!! This beautiful spray bottle can be used to make room sprays all year round.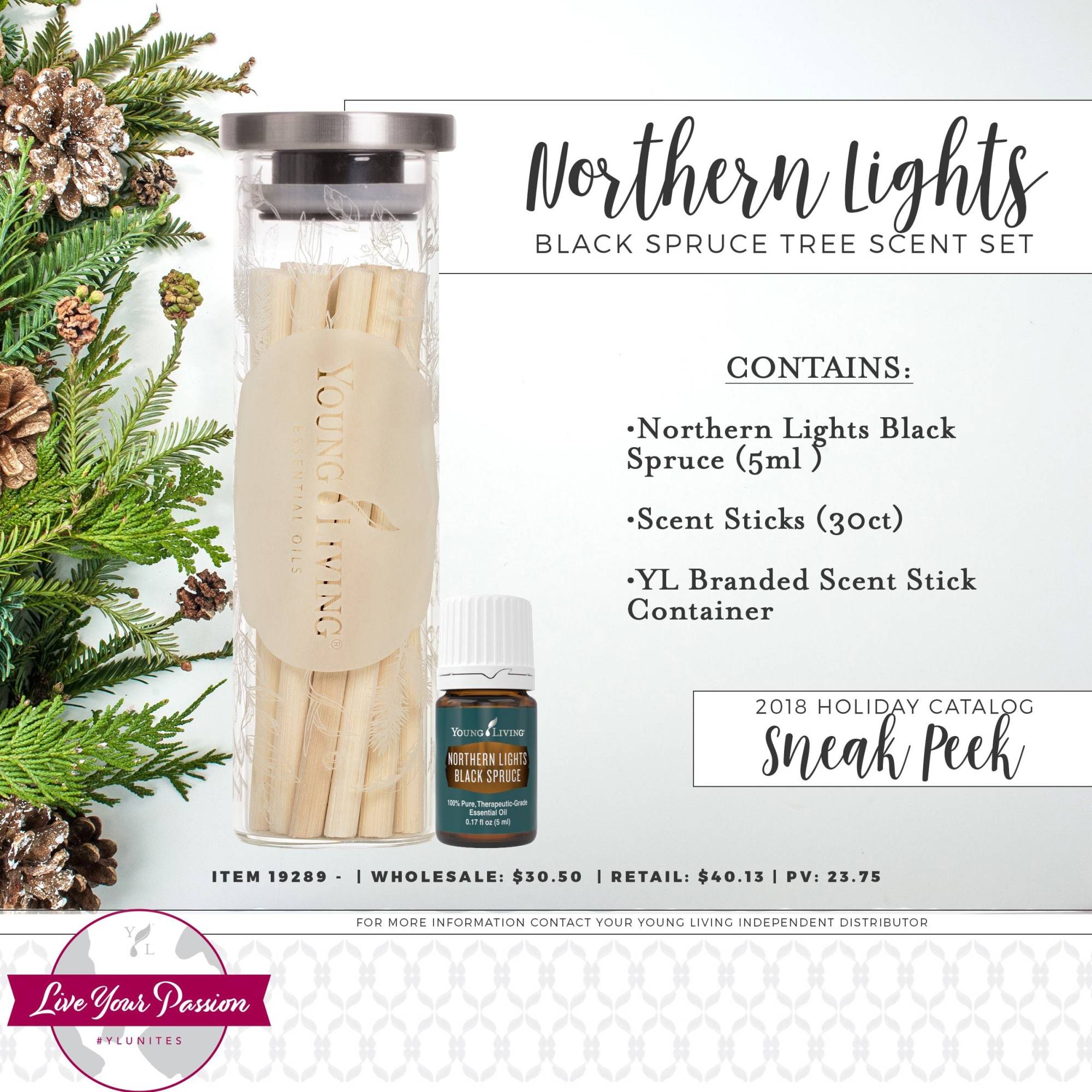 The lip balm set, includes the Vanilla Mint - only available this time of year! Buy the set to give in this pretty little bag, or break it up and stuff stockings and gift bags galore with several sets. But don't hesitate on this one - it sells out early every year. The Essence of the Season has 3 amazing oils AND RESINS! Resins can be burned in a resin burner or incense burner. The price is amazing on this one!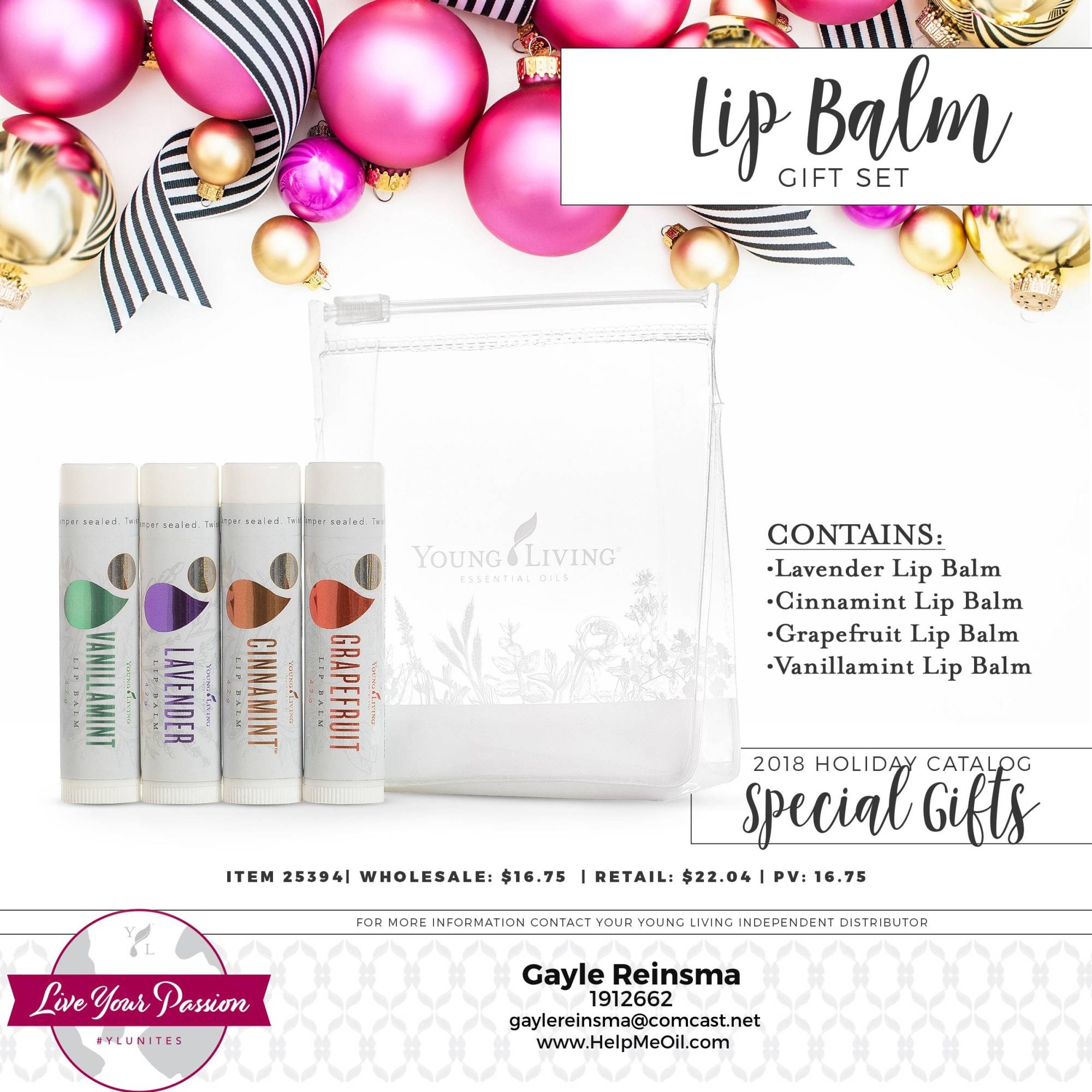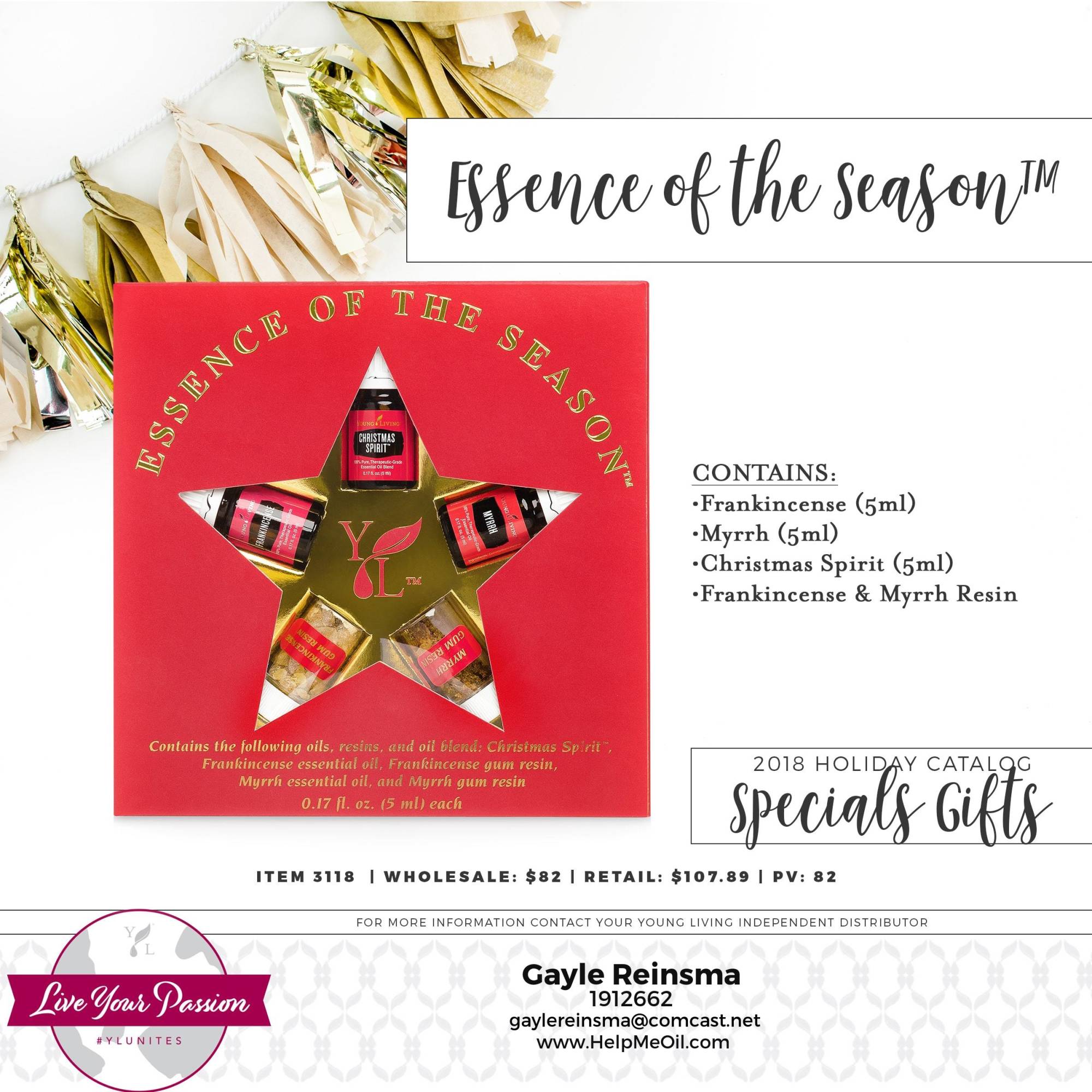 Money saving health sets - Gifts to you! The kids set saves you $6 and gets you a sweet free toy. The Wellness Warrior Set - one we ALL need, is a HUGE SAVINGS!! Buy this set and save $22.50!!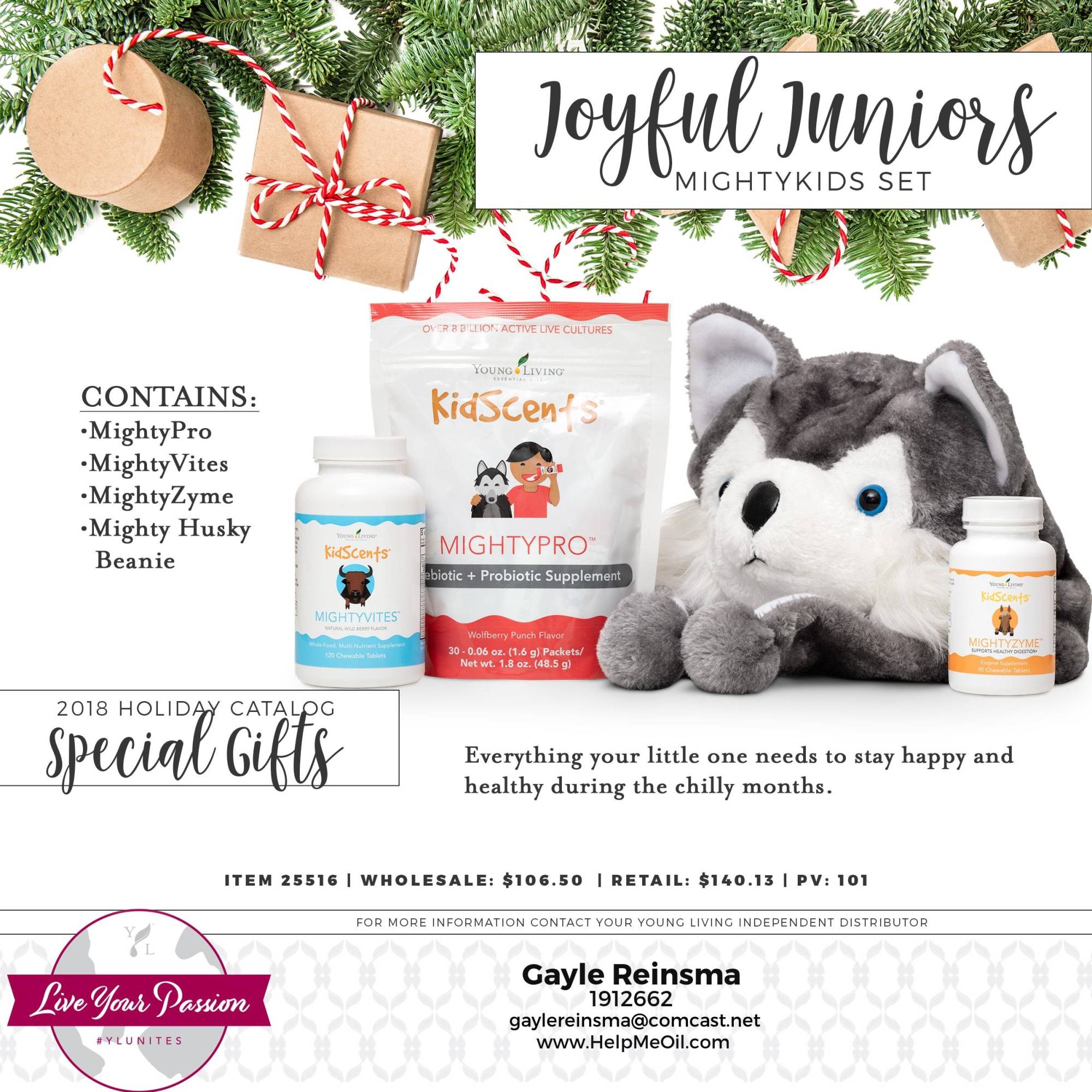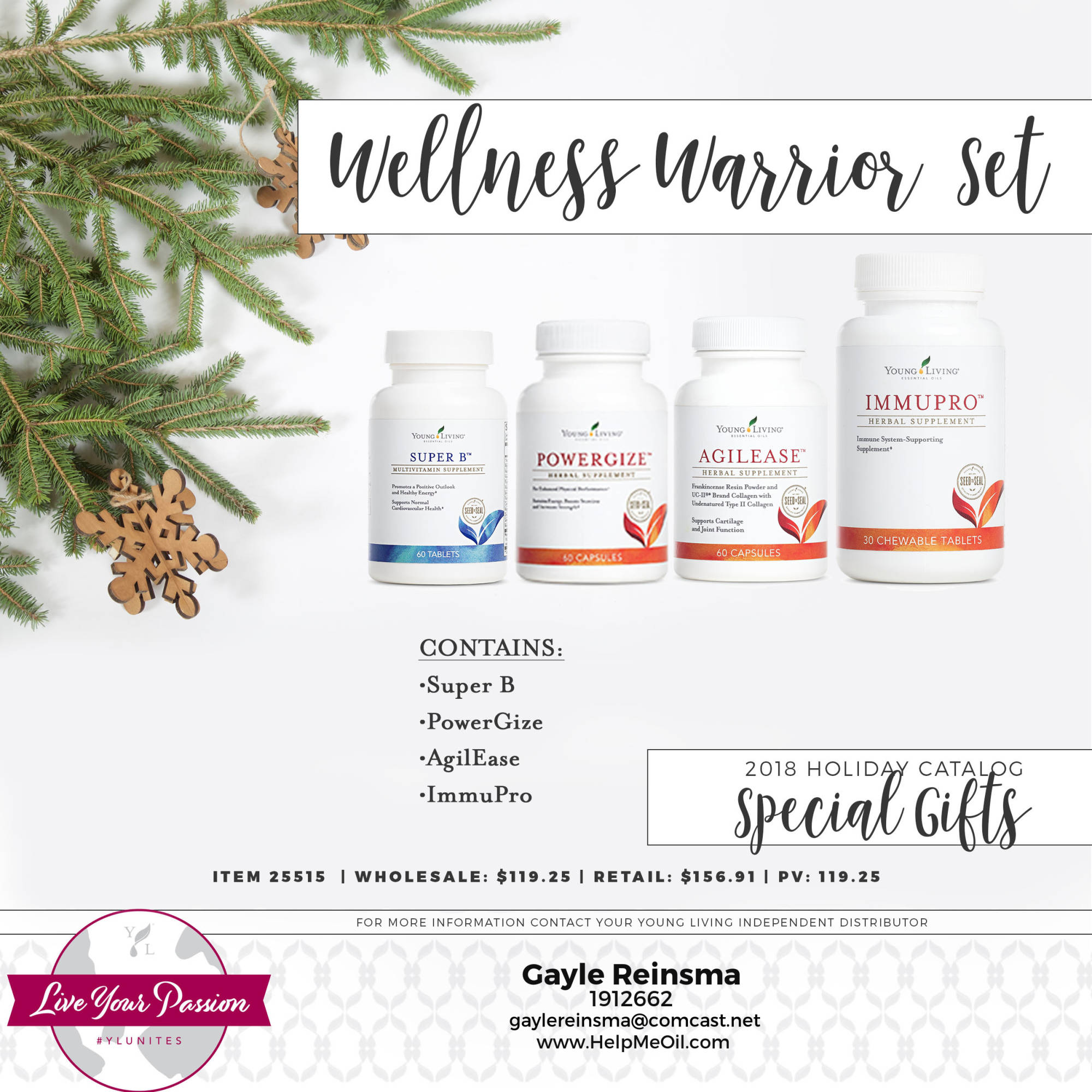 The Healthy Holiday Set is one you WANT for the winter "yuk" and will save you $10!!
The Cozy Holiday set of FOUR OILS is a unique gift with oils that men and women both will appreciate. Buying in this gift boxed bundle will also save you around $7.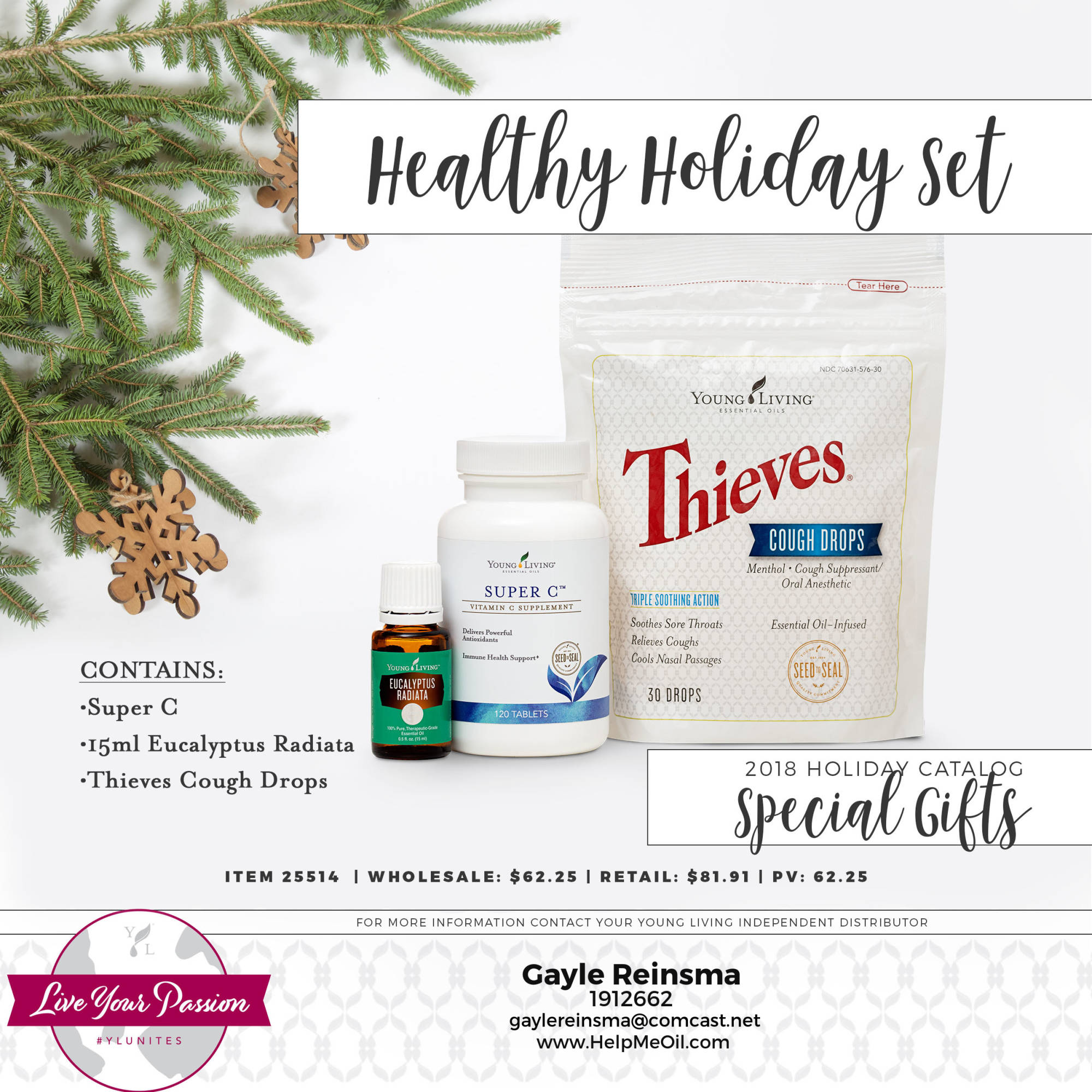 And finally, the makeup sets!!! Have you been eyeing up some makeup but have not pulled the trigger on it yet? Here are some sweet bundles at HUGE Savings!!
Sugar and Spice, Everything Nice! Both sets have FOUR eye shadows and two of our top of the line makeup brushes. Which one is for you? Each set is bundled at a $40 dollar savings!! (Values of eye shadows and brushes)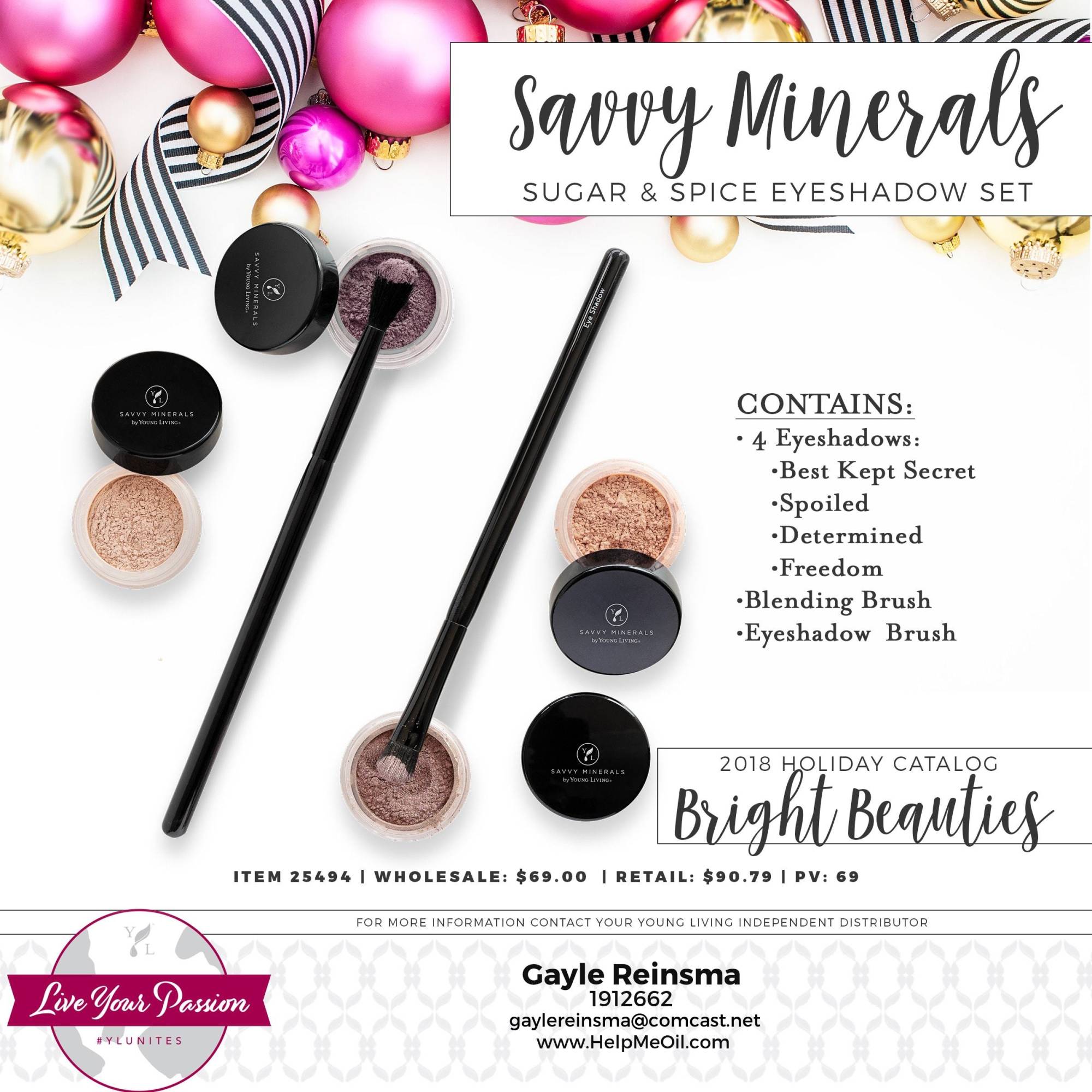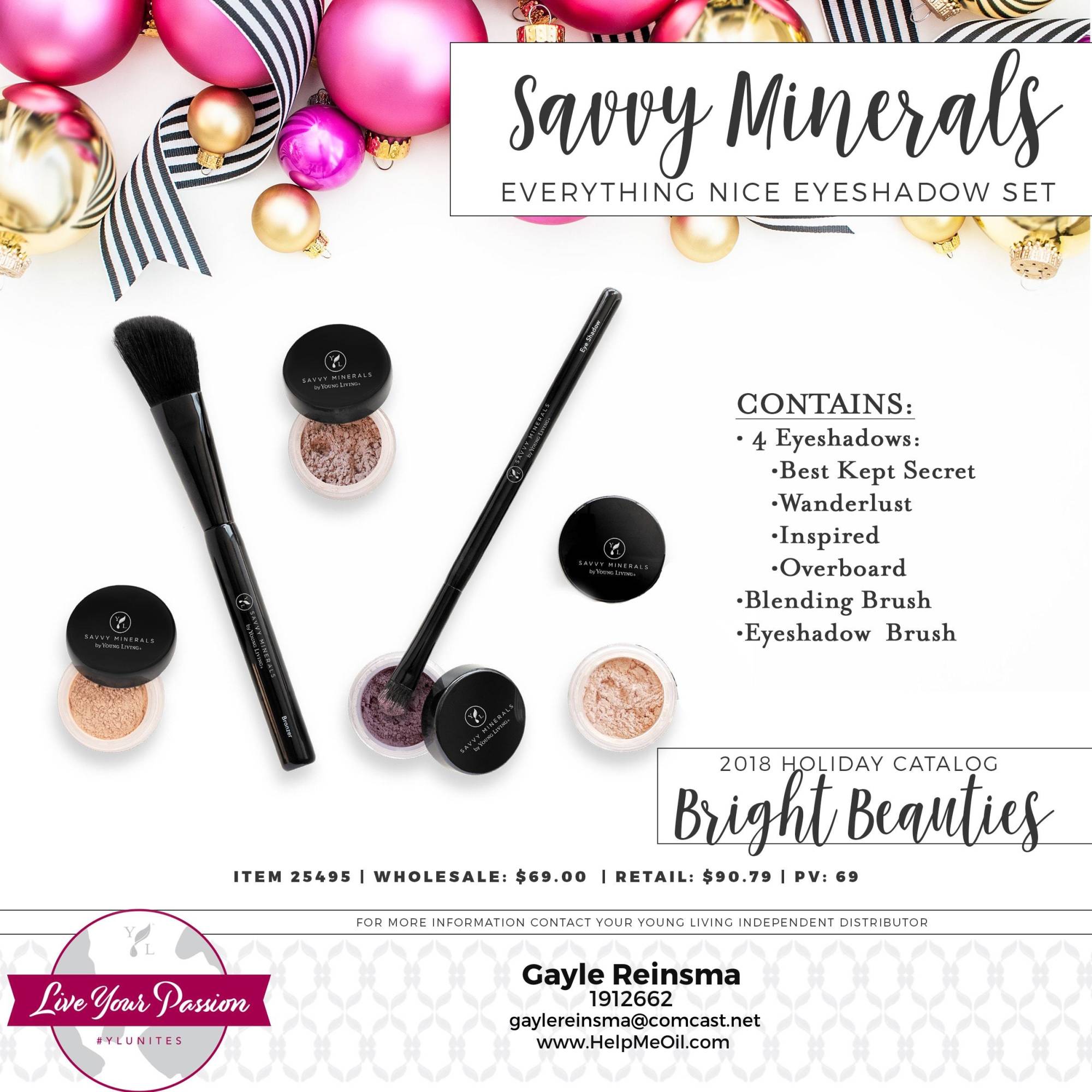 Unwrapped and Countdown are sets that contain Lipstick, Blush, Bronzer and Bronzer brush and come bundled at a savings of approximately $22!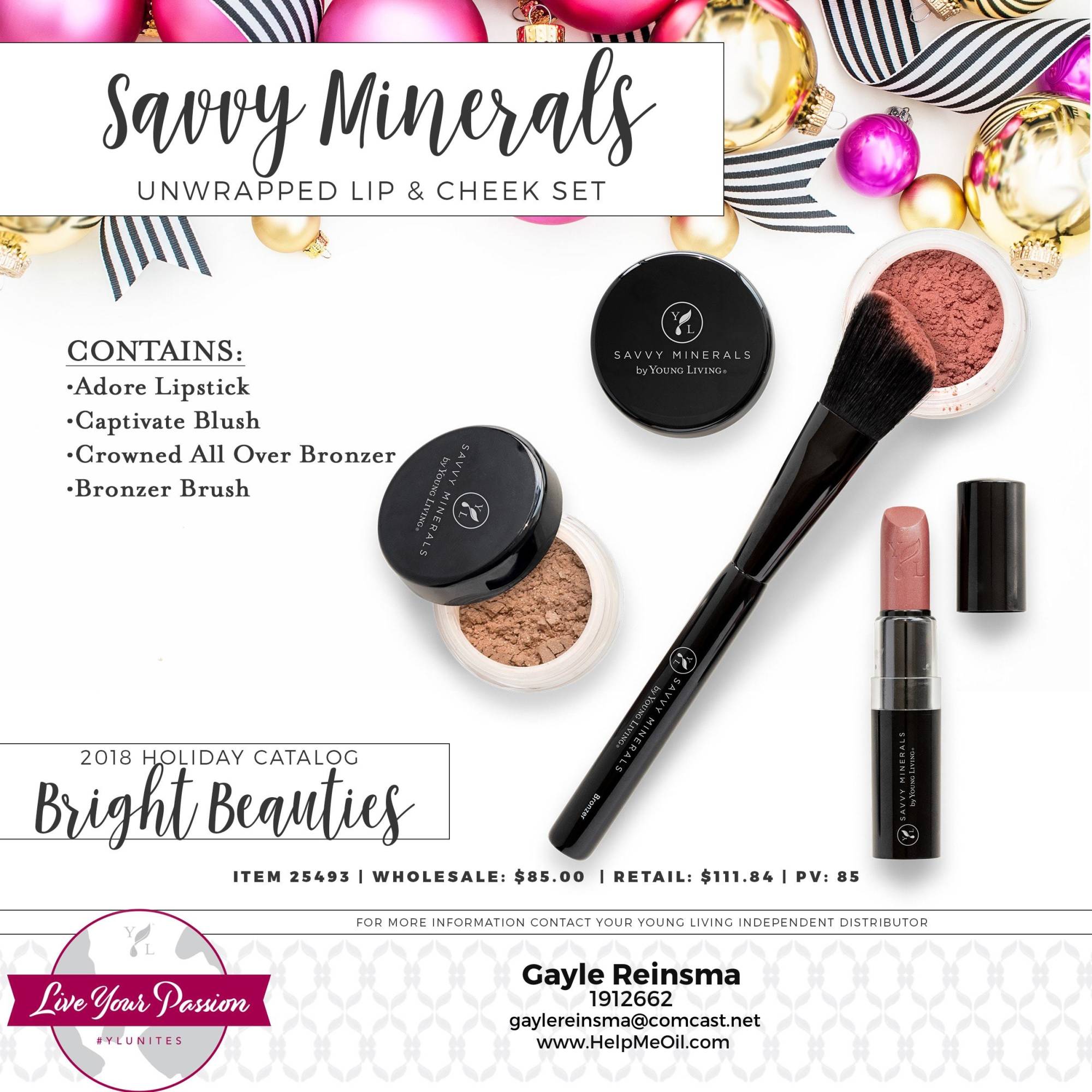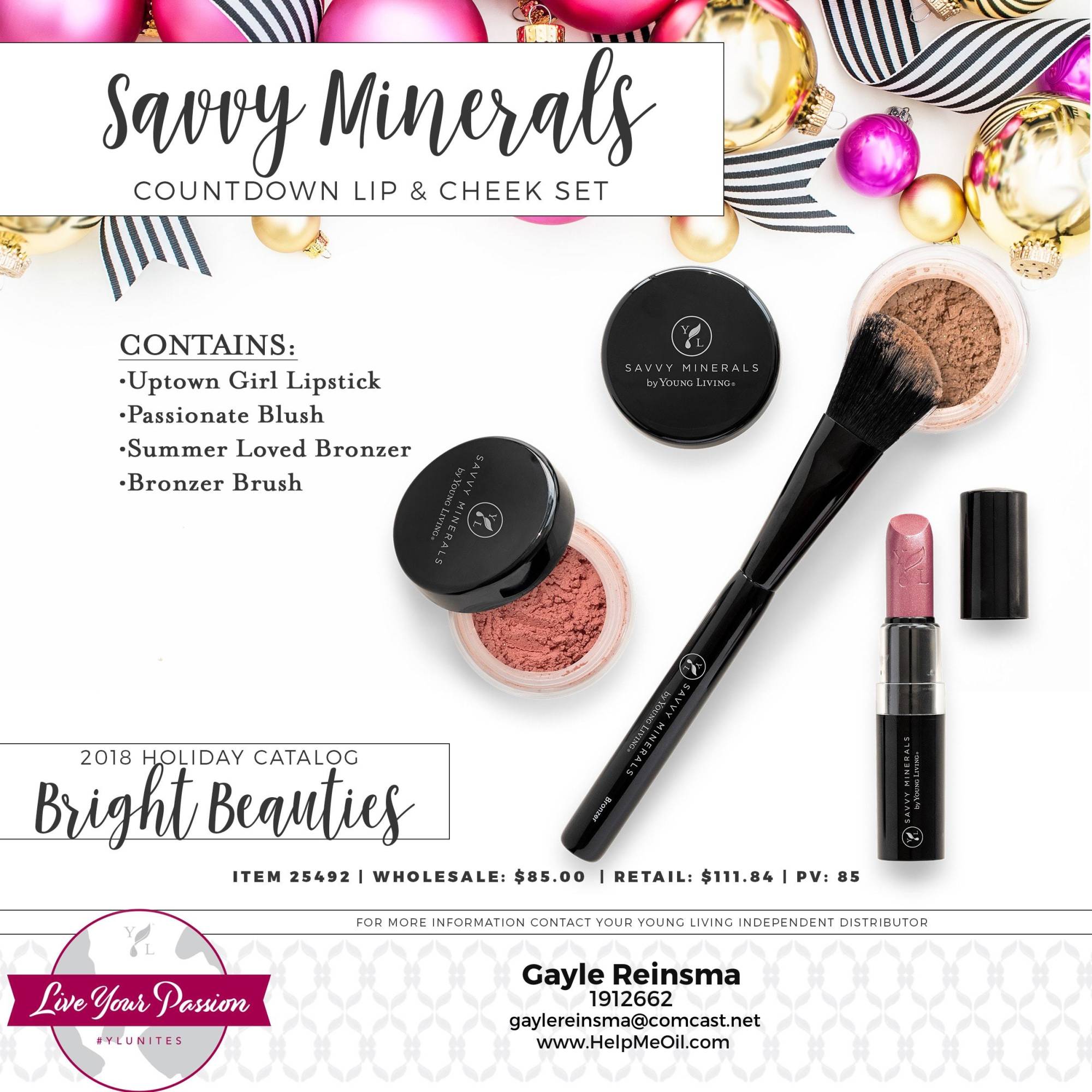 Let it Glow and Sleigh Ridge are Lip Gloss sets! I love our lip glosses. Long Lasting and lip plumping, these sweet sets of 3 colors each are bundled at a savings of $12.50 and come with a FREE makeup bag!!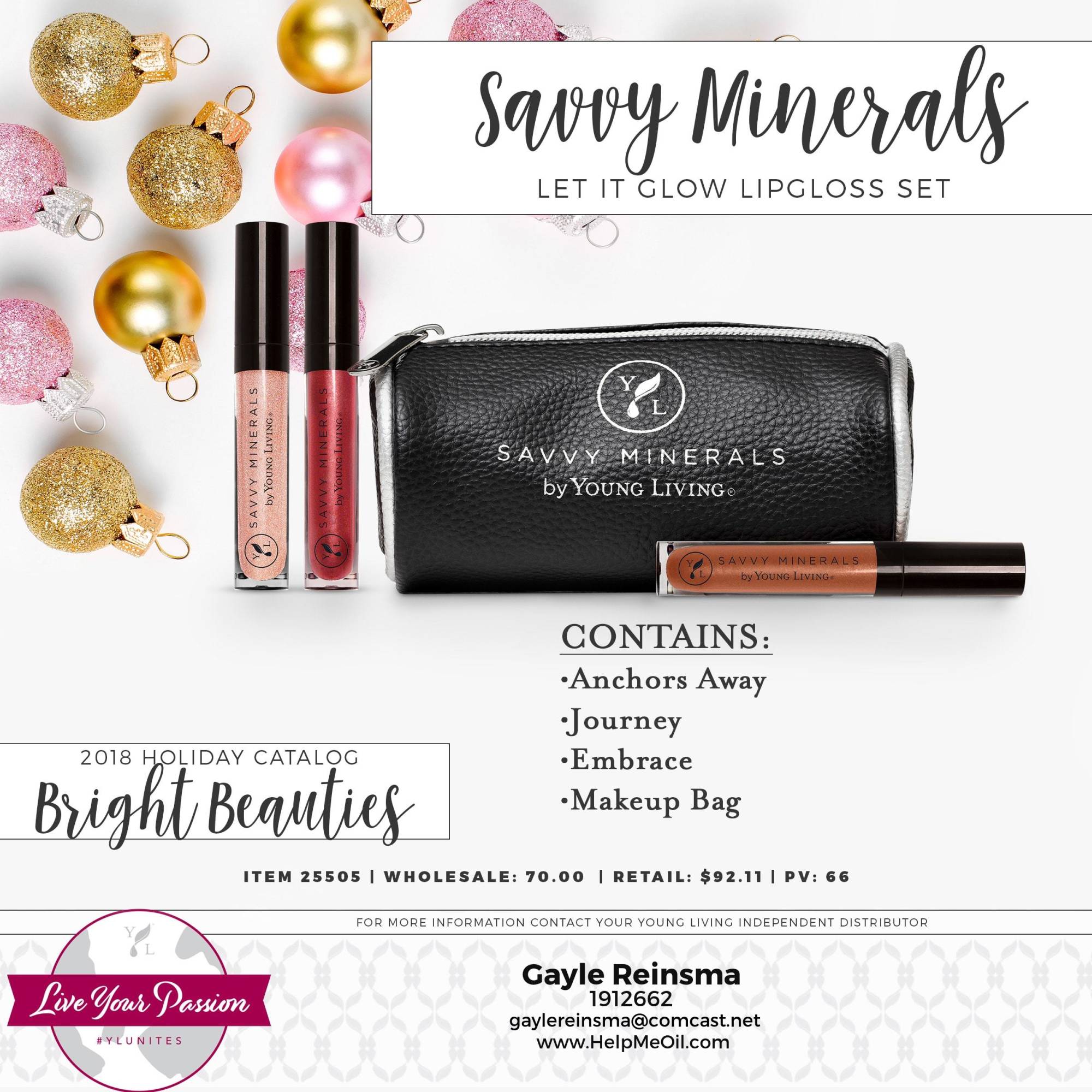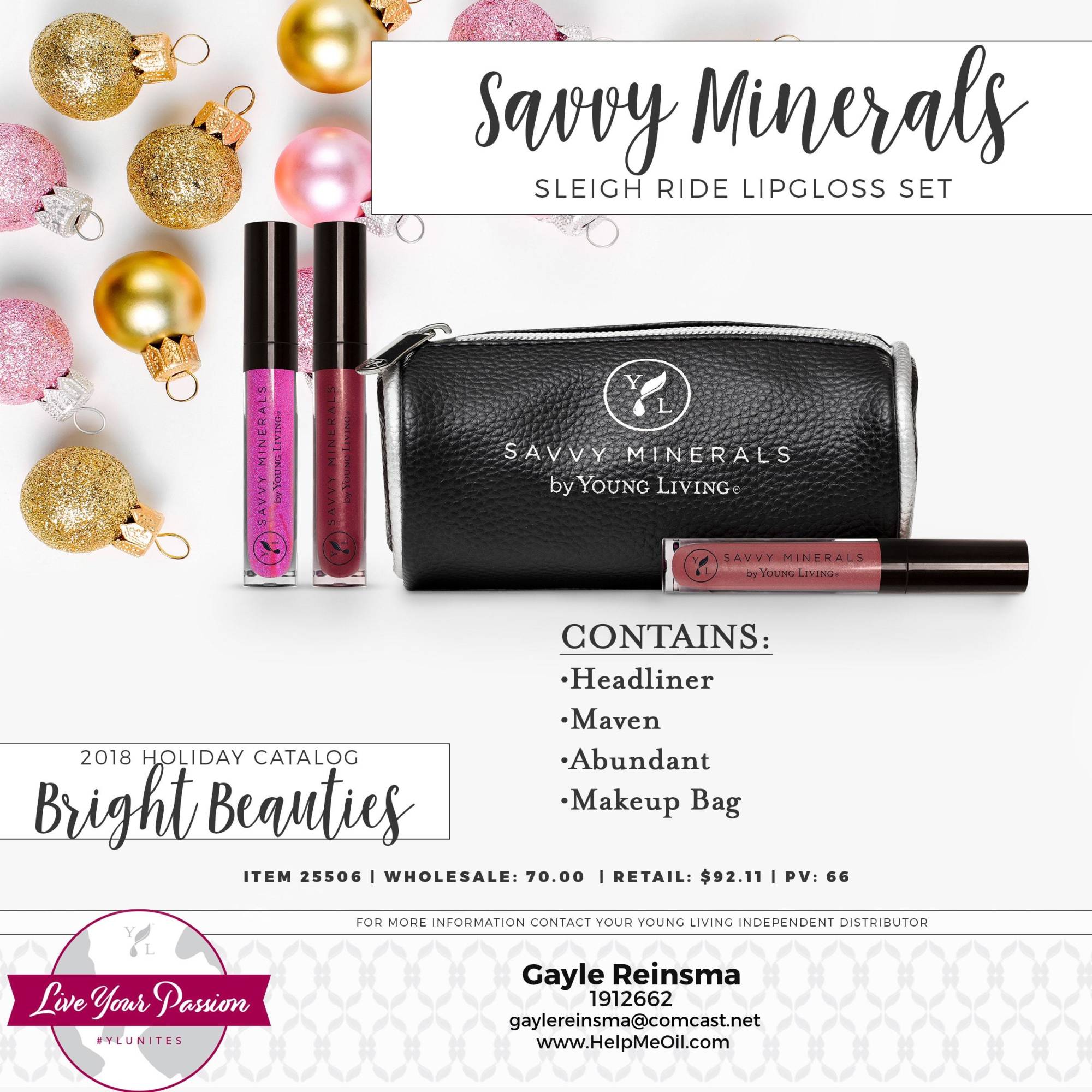 And finally, we come to the end of all these amazing specials with the RETURN of a favorite lip gloss from our Holiday kit last year with a improved and enhance formula, Rockin! And a chance to try our absolutely beautiful Mirah cleansing oil (love this stuff - use it every night!) and our ART cleanser. Your skin will benefit from this two step cleansing. Stop drying out your skin - use this duo for life! But them together and get a FREE top quality cleansing brush!
Remember - only the new oil blend can be placed on ER this month, but starting November 1, you can add them to your ER. If you are worried things will sell out ( some will!), get your faves on a quick order soon. Do you have YL-Go? Then you'll also get free shipping on that quick order - woohoo!
Like getting all of these ideas? Don't miss a single post! Be sure to join my e-mail list today, and let me know others ways I can serve you :)