Mar 16, 2022 09:11 PM Central
Gayle Reinsma
This sale is for all! But if you are BRAND NEW, or reactivating, you save and EXTRA 10%. ** (See below)


Lime essential oil, 15 ml
Peppermint essential oil, 15 ml

Peace & Calming essential oil blend, 15 ml (exclusive size!)

Stress Away essential oil blend, 5 ml

Lemon Myrtle essential oil, 5 ml
Ideas for the "Spring Break" Sale Oils
(Also a vitality oil) Everything tastes better with Lime! Guacamole. Water. Ningxia. Add it! Did you know that Lime Essential oil is 100% Bioflavonoid? Yep! That means it not only supports the immune system, but it stimulates the detox pathways and helps with the absorption of Vitamin C. Emotionally, Lime is linked to feeling unmotivated. Apply a couple drops of Lime over your lungs-yep! Over your lungs and get some motivation going!
Warmer weather is coming and so are the creepy crawlies

Drop peppermint along windows and doorways to repel them! This is also a key oil for enjoying the outdoors when there is pollen everywhere! Add 20 drops each peppermint, lemon, and lavender to a 10ml roller and top with carrier oil - roll behind ears each morning and as needed!
This is still my most favorite oil of all time to diffuse for myself in the evening when I'm winding down. I diffuse it in my kiddos rooms every night. One of my other fave ways to use it is during the winter when we all need a little respiratory support. Lemon and Peace + Calming on your chest and back is like
Four words, friends. Vacation. In. A. Bottle. Stress Away is like being on a tropical isle, in a hammock, sipping a pina.

When in reality, you're stuck in bumper to bumper traffic, your boss just chewed you out, or your kids spilled your hot fresh cup of coffee all over the clean and folded clothes, oh, and your baby just spit up all over you. And you have to leave for an important meeting in 5 mins. K? K. Our fave ways to use this gem: Apply to wrists or back of neck to help you chill out! Add 3 drops to 1/4c. epsom salt and soak away your troubles in the bath. Diffuse with lavender before bed to promote a calming atmosphere.
This is a good one to add to your wellness blends and cleaning products! It is incredibly fresh and uplifting - both in our moods and in our body's defense system! It helps clear the mind and chill you out, too!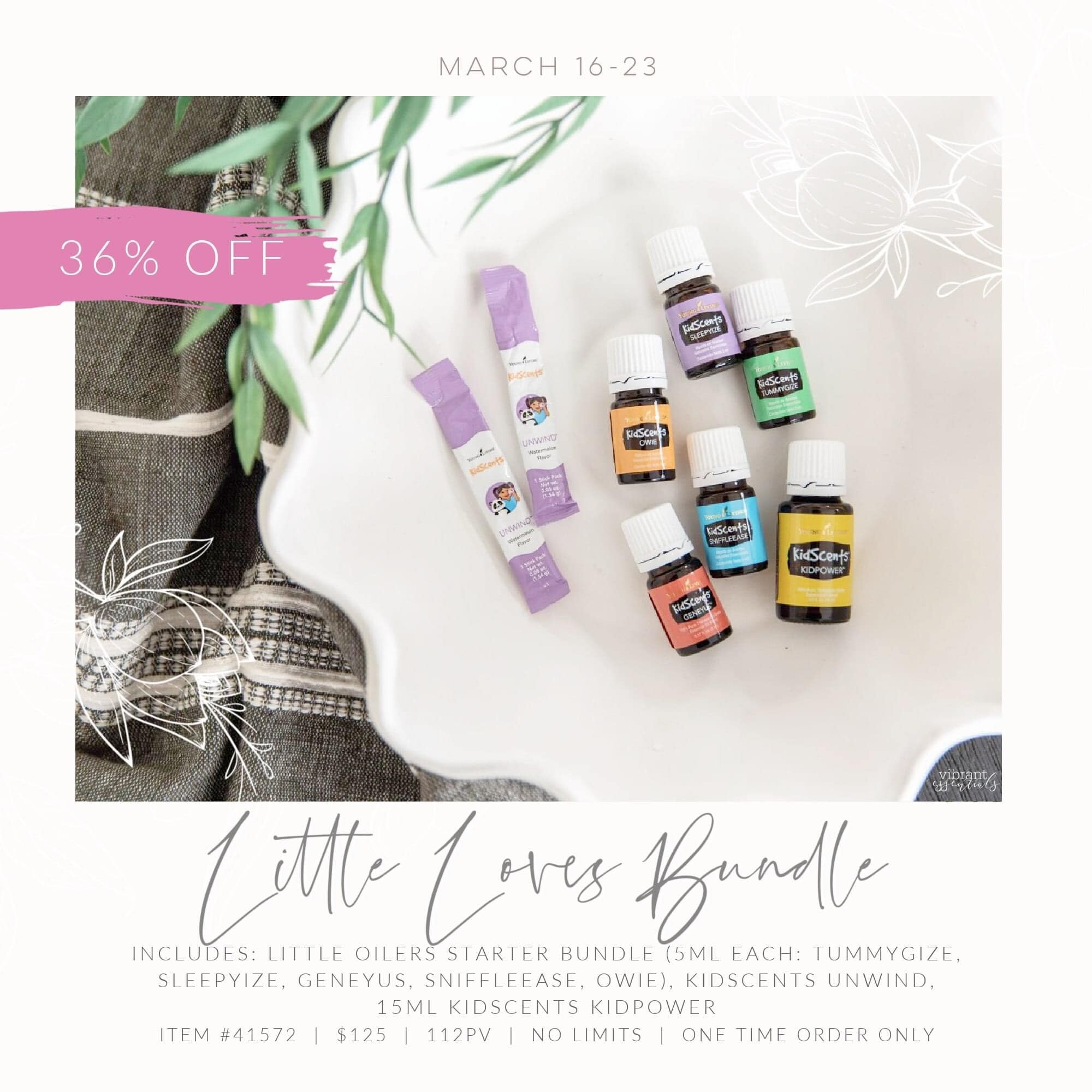 Little Oilers Premium Starter Bundle (5-pack of oil blends, diffuser not included)

Unwind (25 ct.)

KidScents KidPower essential oil blend, 15 ml
Ideas for the Little Loves Bundle Sale Oils
Looove this on little chests and backs! Full of powerful oils like Eucalyptus blue, Palo santo, Lavender, Dorado azul, Ravintsara, Myrtle, Eucalyptus globulus, Marjoram, Pine, Eucalyptus citriodora, Cypress, eucalyptus radiata, Black spruce and Peppermint oils, this is so so needed during the fall and winter to make little lungs happy! Remember how we talk about how much we LOVE those tree oils? YUP. Full of 'em! My 4 year old daughter will even take her bottle and dab a tiny bit on the tip of her nose! I have been known to snag this bottle and use it myself too…
Leave this one out where the kids can grab it whenever they need it. It's so beautiful to teach them to be in tune with their bodies needs! A swipe on the belly will help pretty much any issue feel better!
A blend of Spearmint, Peppermint, Tangerine, Fennel, Anise, Ginger, and Cardamom, TummyGize is the perfect relaxing blend for massaging onto little tummies.
For allllll the boo-boos!!!! Another one to leave out where the kids can easily grab it when needed! It's formulated with Tea Tree, Elemi, and other oils which are gentle and perfect for the skin, so keep this one handy for application whenever you or your little one needs some extra love and care. Just drop it right on top of any ouchie! We add roller tops to ours for easy application on the go. We haven't met a boo-boo that Owie can't make feel better yet!
This relaxing bedtime (or anytime!) blend is so beloved for all ages! SleepyIze contains a beautiful combination of Lavender, Geranium, Roman Chamomile, Tangerine, Bergamot, and Sacred Frankincense, as well as sleepytime favorites Valerian and Rue! I cannot tell you how much we adore this blend in our little ones' diffusers at night, and rolled on to undersides of their big toes and down the spine. Perfect for nighttime bonding and snuggles, you are going to LOVE it!!
Let's call this one focus in a bottle. This oil is a game changer for anyone that has trouble focusing on one task! This is a great one to roll on the back of the neck (brain stem) before school work, or diffuse before working. I literally use this one EVERY DAY. I have it on now as I write this! No lie lol.
Bravery in a bottle for the littles! (And bigs - I dropped this in my palms and huffed just now) This oil reminds me of Valor with a hint of an orange creamsicle. Roll on wrists or spine, or take a big inhale, when you're going into a new situation and need some courage - AND some "go". Keep it in your bag at all time for when you need a little tantrum-taming for the kids. Or husbands. OK of just you!

Help drift into bedtime and ease overstimulation with KidScents Unwind! This simple supplement features calming superstars like L-theanine, 5-HTP, and magnesium that are must haves for bringing a sense of chill when energy is high. My kids like it straight or mixed into water or Ningxia before bed.
* L-theanine: Occurring naturally in green tea, L-theanine helps promote a sense of relaxation while helping ease occasional irritability. It also offers next-day benefits, helping improve and focus and mental clarity in the home and the classroom
* 5-HTP: Working synergistically with L-theanine, 5-HTP promotes a calm state and relieves occasional stress.
* Magnesium: Naturally derived and necessary in over 200 metabolic reactions in the body, magnesium plays a role in defending against occasional sleeplessness and may also bring a sense of calm to your environment. So night night! Sleep tight. Once again - all ages benefit from this!
+ Starts March 16 at 9 a.m. MT - March 23 at 11:59 p.m. MT
+ Add to Cart orders only
+ Loyalty reward points cannot be used to redeem the Spring Break Bundle or Little Loves Bundle
Like getting all of these ideas? Don't miss a single post! Be sure to join my e-mail list today, and let me know others ways I can serve you :)