Sep 9, 2019 09:34 PM Central
Gayle Reinsma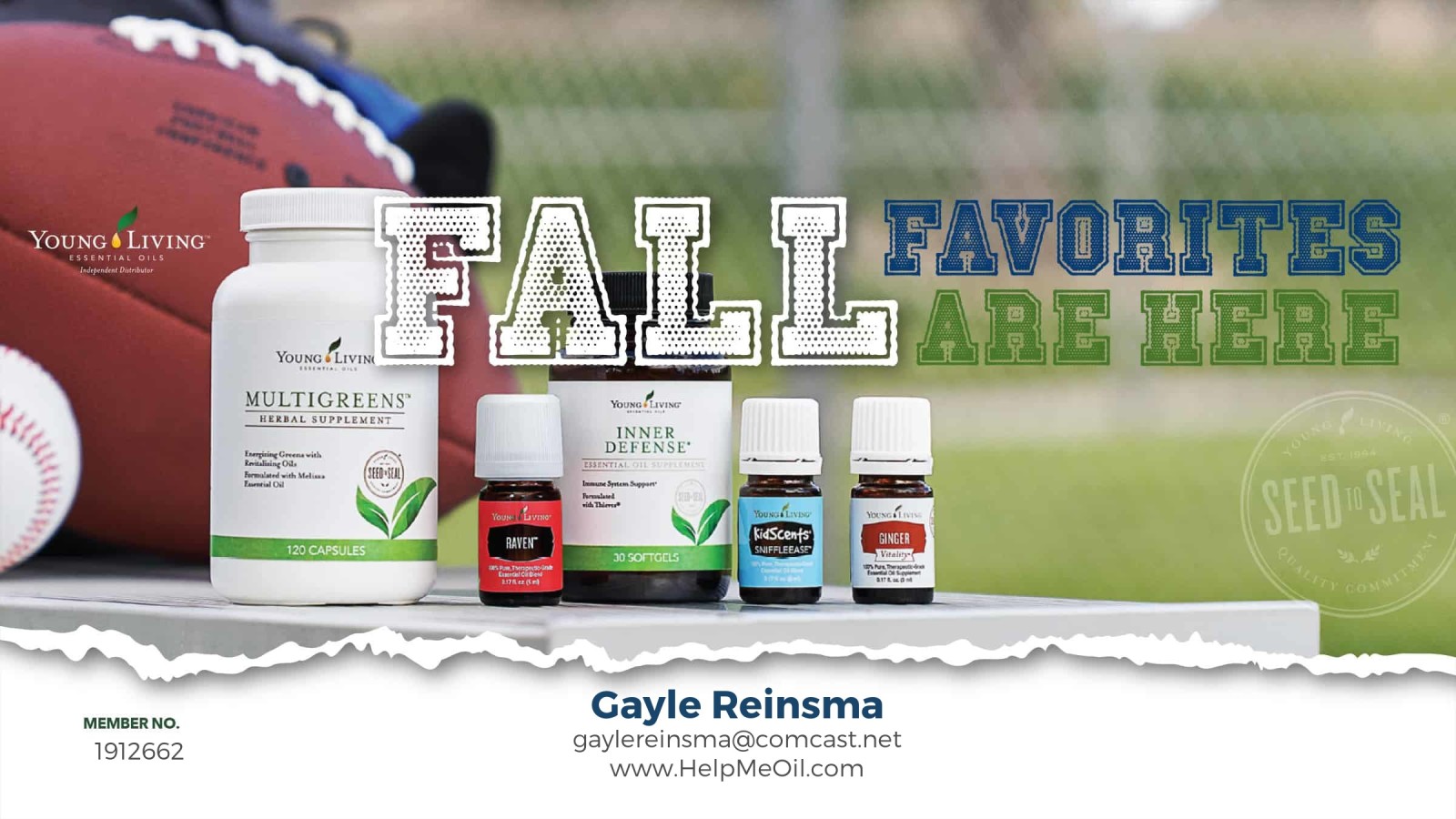 September 2019 Classes and Specials!
Welcome to September, the official kick-off of fall!!
It's still HOT here where I live but that will change soon. But the daylight is fading quicker each day and the nights cool off as well, so the tell-tale signs are all in place.
Ready to get back into doing all you can to improve your health with natural ways? I'm just assuming your head is nodding a big ol YES, so let's put some dates down on your calendars if you are local to me!
CBD CLASS
is Thursday September 19, my house in Lansing. Read more about it
HERE
HELP! How do I use My Oils Night is Monday September 23! (Read details below)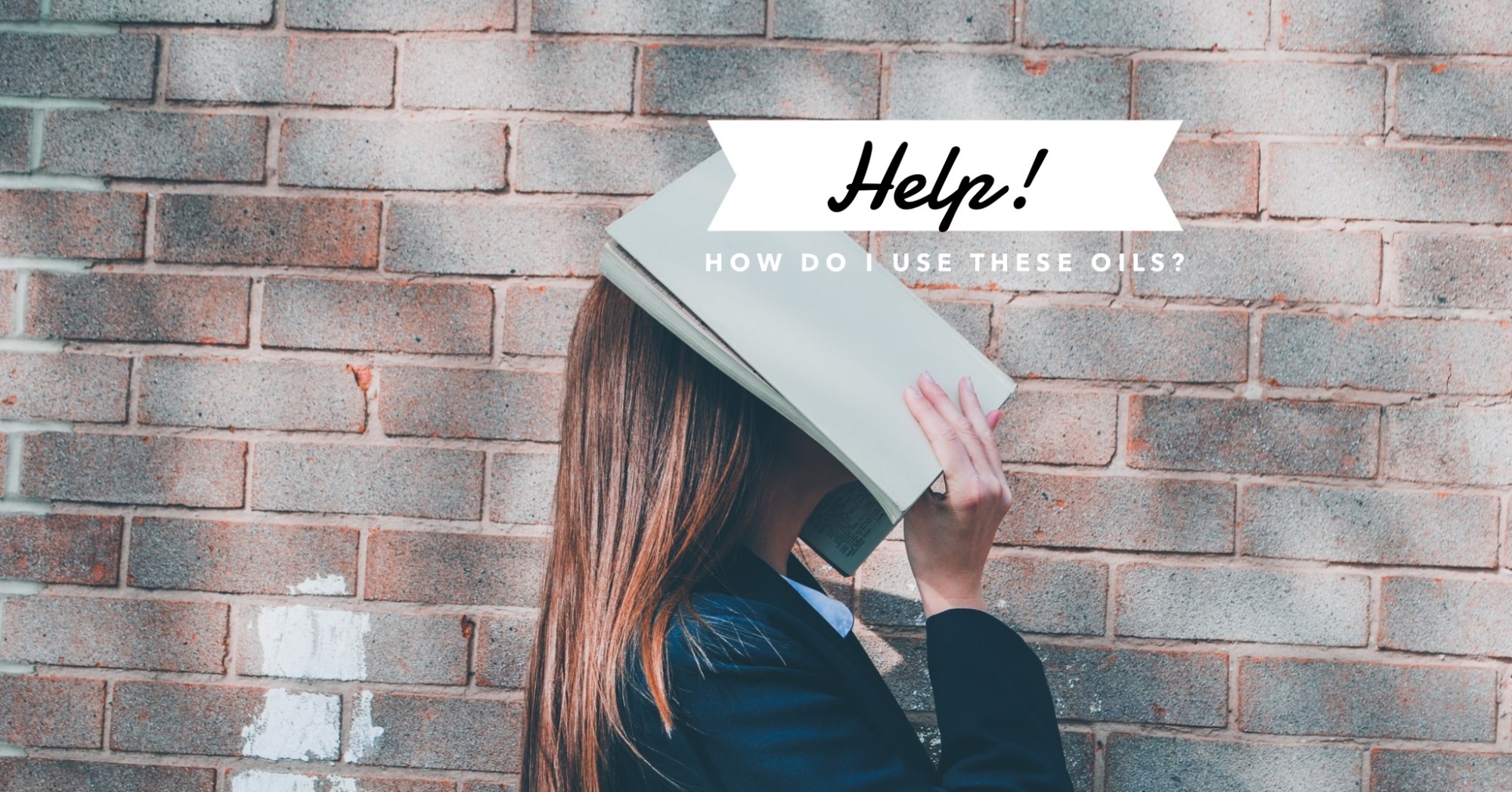 Here are the deets! Monday September 23 will be scan day plus a Q & A open house. You may schedule and iTOVi scan (biofeedback scanning similar to fitbit technology) between 4 and 5:30 pm if you just want a scan. Scans are $5 for YL Members, $25 for non members, or $20 lifetime membership which entitles you for free scans with me for life! If you are not interested in the Q & A sesh, then please schedule a scan. If you LOVE the idea of the Q & A with the added benefit of getting your scan
on the same night, then just show up between 6 and 8 during the open house! Please BRING the oils you have questions about, and we'll chat and share! (Scans however will be private) .
ADVANCE NOTICE:
Keep you eyes out for my announcement soon for the fall lineup of events, which will include a Member Appreciate Night that includes making Elderberry Syrup!!!
YOUNG LIVING SEPTEMBER SPECIALS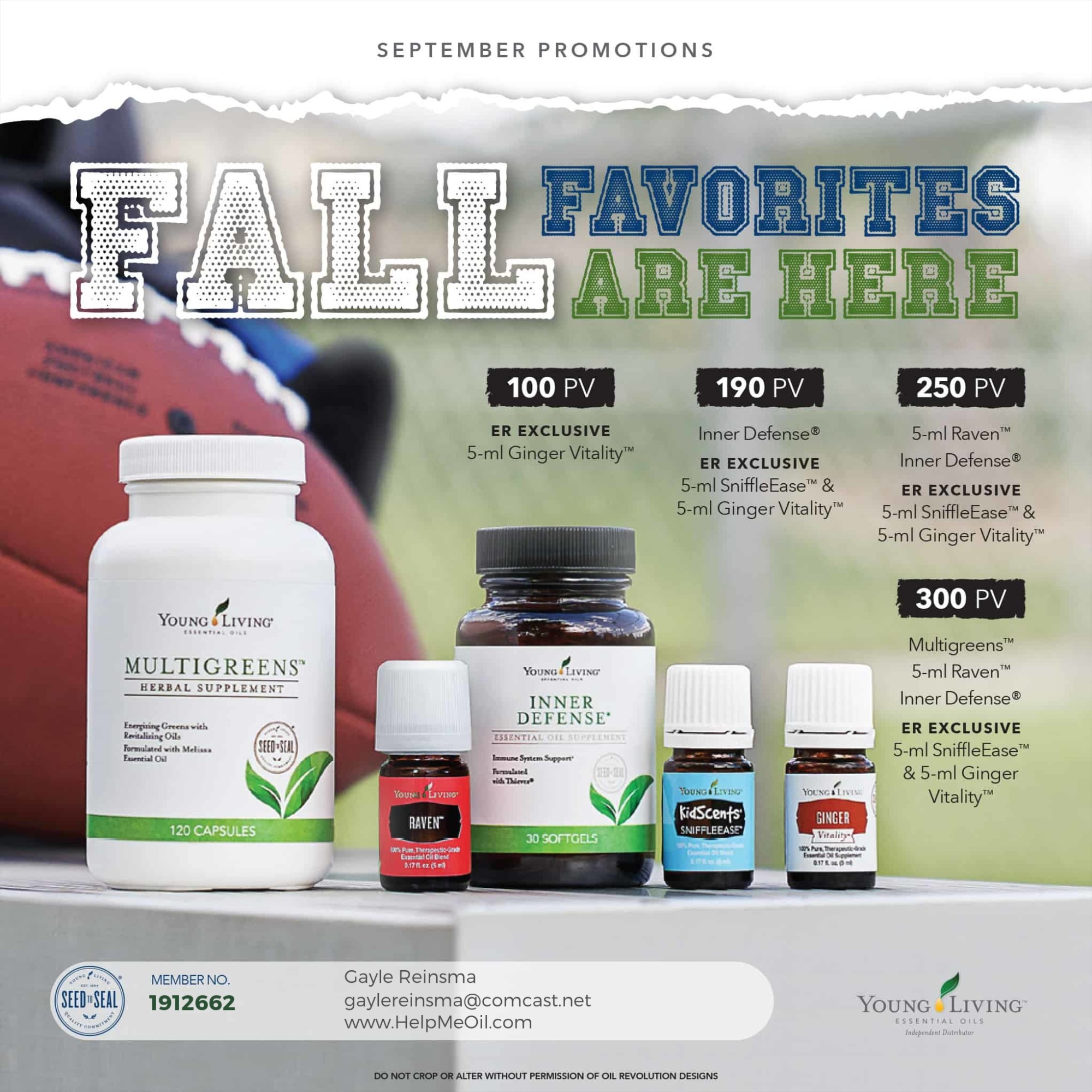 A new month means a new opportunity to score essential oils and other plant-based products. Kick off September with our PV promo featuring vitality-boosting MultiGreens, refreshing Raven, immune-supporting Inner Defense, plus two more! Lets learn more about these perfect for fall freebies!
Essential Rewards members 300 PV tier
Retail value: $153.61
MultiGreens, 120 capsules
• Cover your bases. Support your glandular, nervous, and circulatory systems with three capsules twice daily of MultiGreens.*
• Fuel your hustle. Care for your body with this nutritious chlorophyll blend packed with pure essential oils and super greens.*
Raven, 5 ml
• Get your second wind. Inhale Raven to make deep breathing feel easier, whether you're getting pumped up for your morning workout, calming a fussy child, or clearing life's daily hurdles.
• Ace your bedtime routine! Before you pull up the covers for the night, rub this cool, calming blend of Ravintsara, Eucalyptus, Peppermint, and Lemon essential oils on your feet.
Inner Defense, 30 softgels
• Prevent unnecessary time-outs. Slam dunk your way to a healthy immune system with a softgel a day of Inner Defense.*
• Recruit immune system defenders. With Inner Defense on your team, you'll have the power of Thieves, Oregano, and Thyme on your side.*
KidScents® SniffleEase™, 5 ml
• Bench the blocked-nose blues. When your children have stuffy noses, have them breathe in SniffleEase for a refreshing and stimulating scent.
• Don't sweat the sniffles. Add a few drops of SniffleEase to a warm compress and place it on your child's chest while your little one gets some R & R.
Ginger Vitality™, 5 ml
• Try this game-changer! Spice up your cooking game with a drop or two of Ginger Vitality added to your favorite stir-fry, salad dressing, and marinade recipes.
• Tea up! Add a splash of Ginger Vitality to your tea to tackle healthy digestive system support.*
Essential Rewards members 250 PV tier
Retail value: $99.66
• Raven, 5 ml
• Inner Defense, 30 softgels
• SniffleEase, 5 ml
• Ginger Vitality, 5 ml
Essential Rewards members 190 PV tier
Retail value: $77.95
• Inner Defense, 30 softgels
• SniffleEase, 5 ml
• Ginger Vitality, 5 ml
Essential Rewards members 100 PV tier
Retail value: $17.76
• Ginger Vitality, 5 ml
Standard orders 300 PV tier
Retail value: $111.84
• MultiGreens, 120 capsules
• Raven, 5 ml
• Inner Defense, 30 softgels
Standard orders 250 PV tier
Retail value: $57.89
• Raven, 5 ml
• Inner Defense, 30 softgels
Standard orders 190 PV tier
Retail value: $36.18
• Inner Defense, 30 softgels