Jan 13, 2020 07:29 PM Central
Gayle Reinsma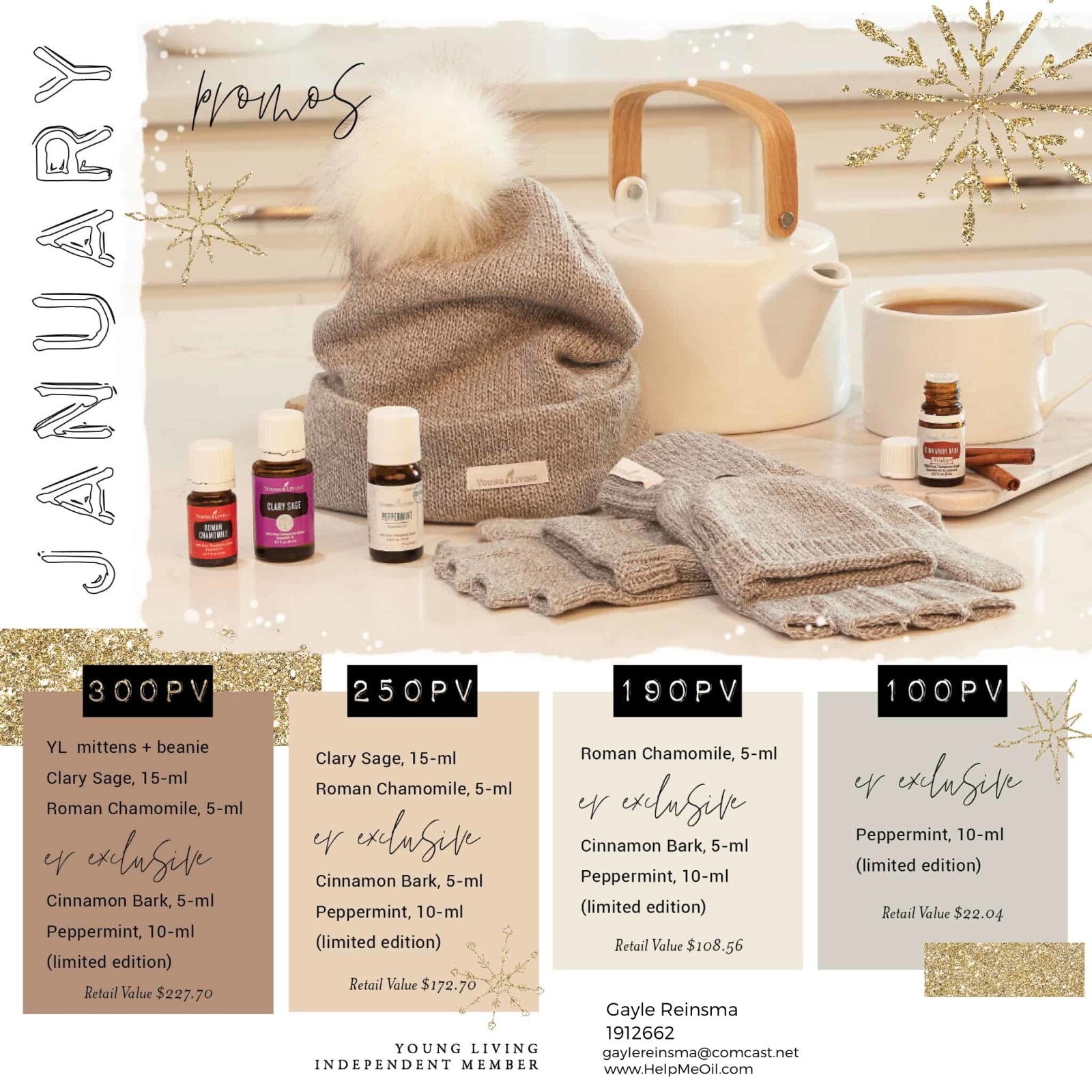 Happy New Year!
Are you a goal-setter or a goal-getter?
Goal-

setters

make resolutions and set goals but fail to do what it takes to bring them to fruition.

Goal-

getters

make resolutions, set goals and THEN put together a plan of action to do

whatever

it takes to accomplish them.
I am challenging you to be a goal-GETTER in 2020. Take the first 31 days of the New Year and make them count - take action, bring more abundance into your life, and gain the confidence you need to make those goals a REALITY! Keep reading for full details on the Abundance Challenge.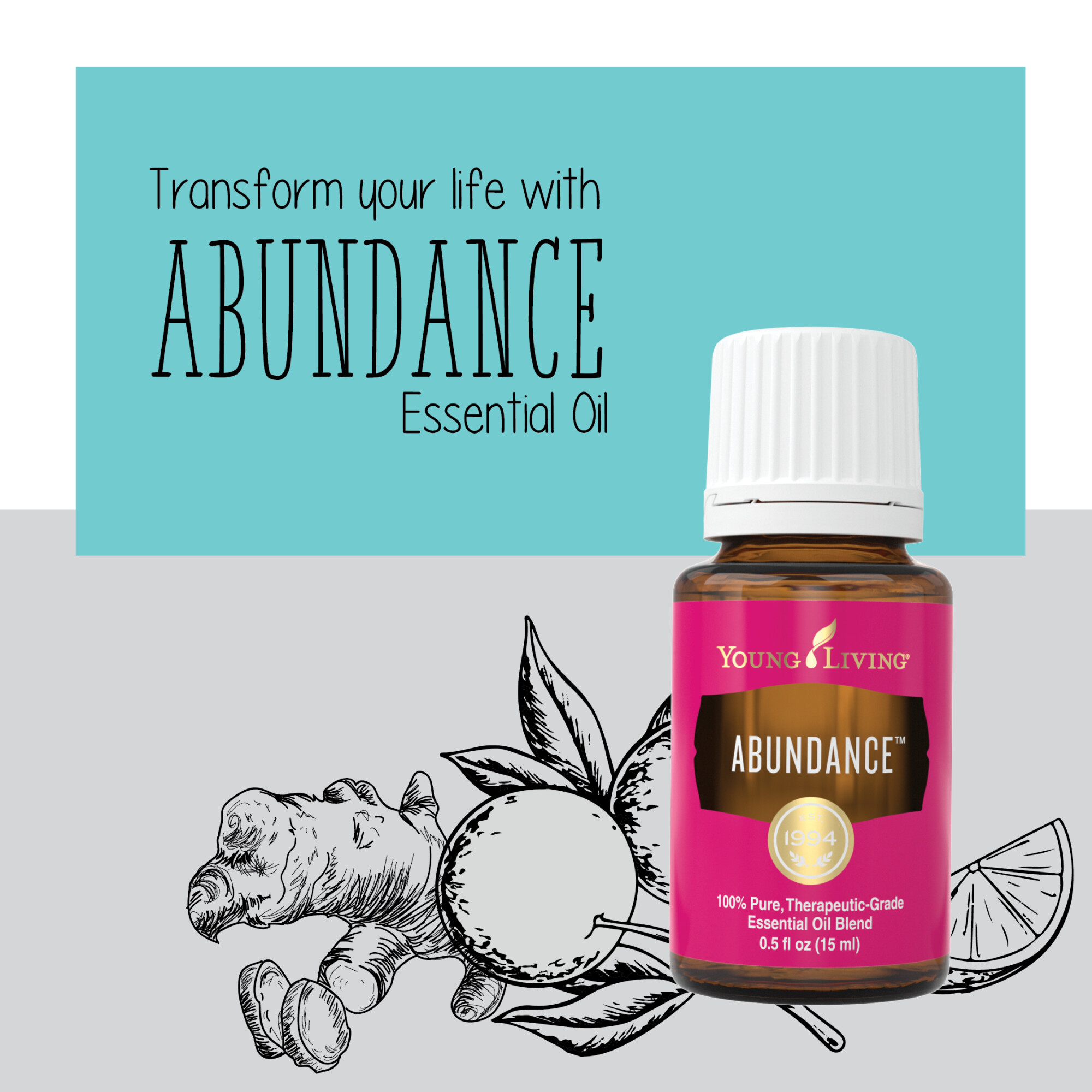 The Abundance Challenge
Every fresh start requires a fresh mindset. The beginning of a NEW Year is the perfect time to reevaluate your thoughts and get your mind ready for action. The purpose of the Abundance Challenge is to help you be more intentional with bringing abundance into your life by focusing on four core areas and using Abundance oil every day.
The thoughts you think and the words you speak must align if you plan to achieve a certain outcome. When you use the words 'want' or 'need', it signifies lack or being without. It speaks to limitation and lack of choice. But you DO have a choice! Every decision, every change begins with a choice. You will feel more empowered, more in control, and more equipped to shift your mindset, make lasting changes, and reach your goals when you make the CHOICE to do it and you start consciously shifting your thoughts and words.
To help you do just that, save these daily affirmations to your phone or print them off and hang them up somewhere you will see them every day.

This folks is your Abundance Challenge! I would love to have you join me! Speak life and affirming thoughts into each day for one month and see how much of a difference this makes! I say these things with Youngs Living's amazing blend Abundance!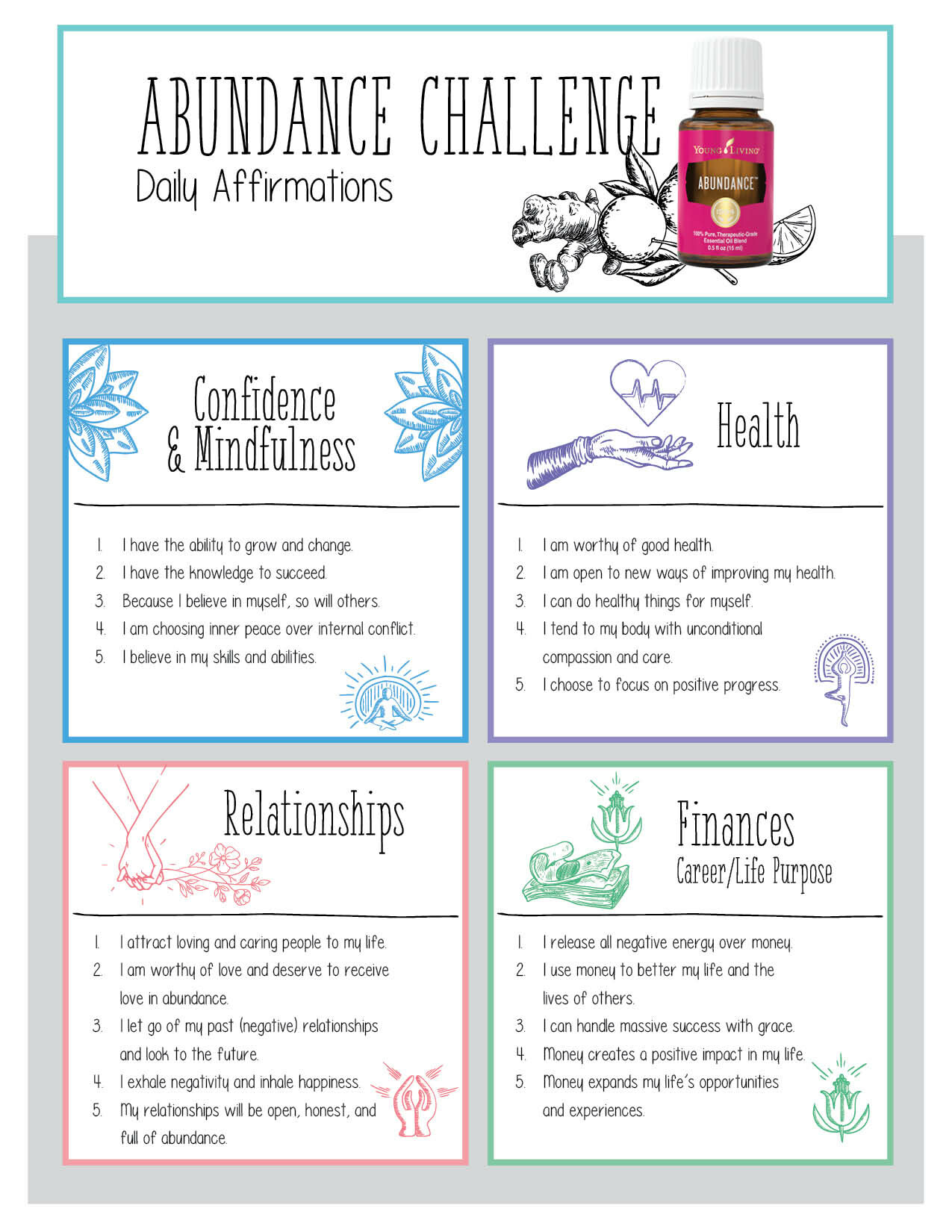 .
---
Featured Oil of the Month: Abundance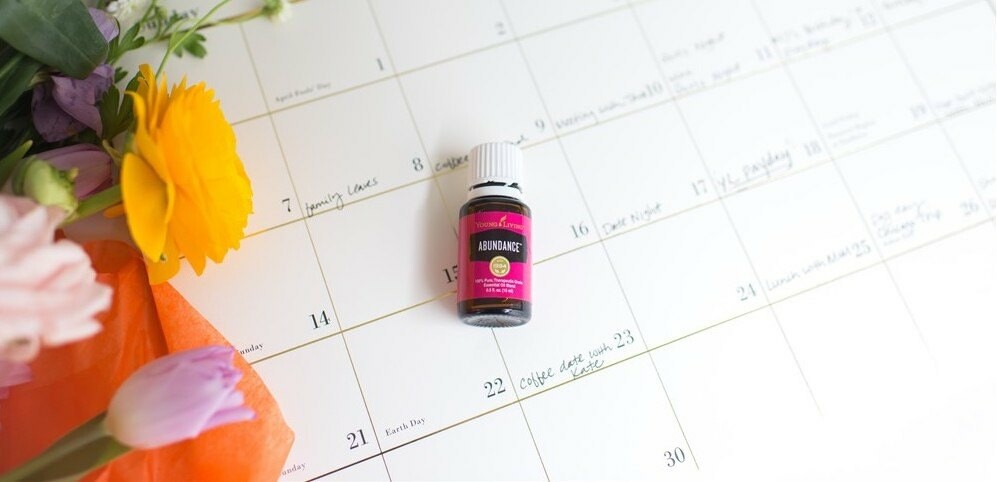 Abundance is a powerful synergistic blend of 8 essential oils that magnifies the vibration and energy needed to usher abundance into every area of your life.
To use Abundance, place 3 drops into the palm of your hand. Use the opposite hand to make 3 clockwise circles with your fingertips to activate the oil. Apply to your forehead, temples, back of neck, wrists, or anywhere else you feel led. Then cup your hands over you nose and take 3 deep breaths.
PRO TIP: For added benefit add a drop of Abundance to your wallet, your journal, your list of goals - wherever you need a little abundance in your life. #mindset
---
Young Living January Promotions
When your order hits one of these PV levels you will receive the corresponding products for FREE! Look at everything you get for free when you hit 300 PV!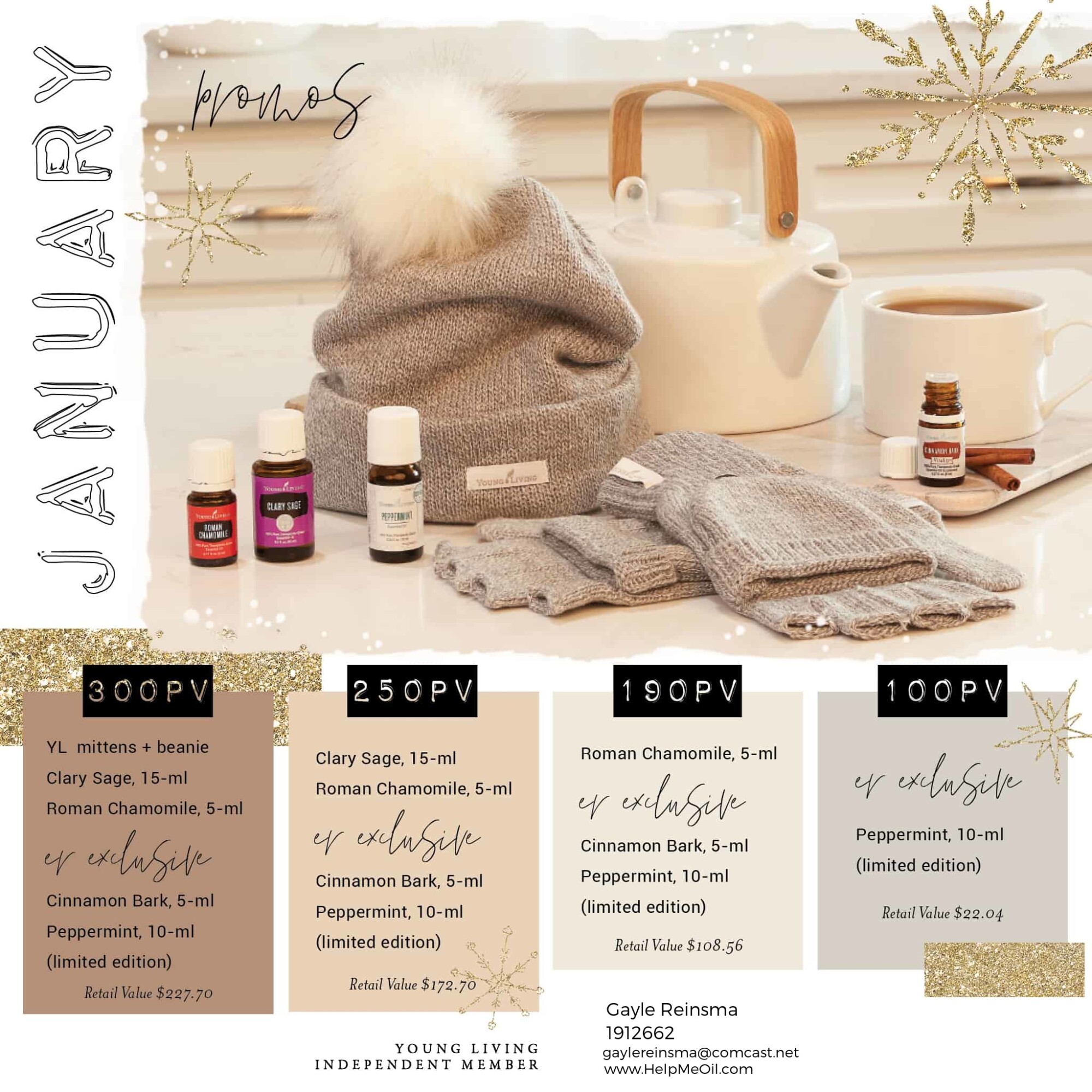 ---
(Retail value of the follow FREE items with 300 pv order: $227.70)
YL-branded mittens and beanie
Bid farewell to the freeze. Button back the mitten end for fingerless gloves that keep your hands comfy while you work.
Head out in style. When you're wearing a beanie this cute, you won't be able to resist going outside to show it off.
Clary Sage essential oil, 15 ml
Keep calm and turn your diffuser on. A long winter and even longer to-do list call for the calming aroma of Clary Sage to help diffuse.
Win at winter with great hair. Frizz and flyaways don't stand a chance when you enhance your favorite conditioner with Clary Sage.
Roman Chamomile essential oil, 5 ml
Cozy up to Chamomile. Bad weather doesn't have to be a downer; it's an opportunity to kick back with a good book and the sweet, apple-like scent of Roman Chamomile.
Give your face a fresh start. Add Roman Chamomile to your face cream and ring in a new year of healthy, glowing skin.
Cinnamon Bark Vitality essential oil, 5 ml
Warm up from the inside out. After playing outdoors with the children, cuddle up with a blanket and spiced hot cocoa.*
Cook up comfort. When the weather outside is frightful, indulge in something delightful, like these cinnamon-oatmeal einkorn pancakes.**
Peppermint essential oil, limited-edition 10 ml
Chill out with a foot rub. If your feet are cramping after a day on the slopes, dilute a drop of Peppermint with 4 drops of carrier oil and get kneading.
Stimulate the senses. If dark winter skies make you feel sleepy, perk up with the refreshing scent of Peppermint—available in an exclusive 10 ml size.
Truly one of the finest line up of promo's I have ever seen for January!
Still don't have your own Young Living essential oils? Take care of there
RIGHT HERE!
Stay tuned for another January post after the Nationwide Young Living kickoff event on January 18. I can't wait to see what education, specials and new products are unveiled! Message me to be part of a private viewing group online! (gaylereinsma@comcast.net)
Like getting all of these ideas? Don't miss a single post! Be sure to join my e-mail list today, and let me know others ways I can serve you :)