Limited Edition NEW starter Kits!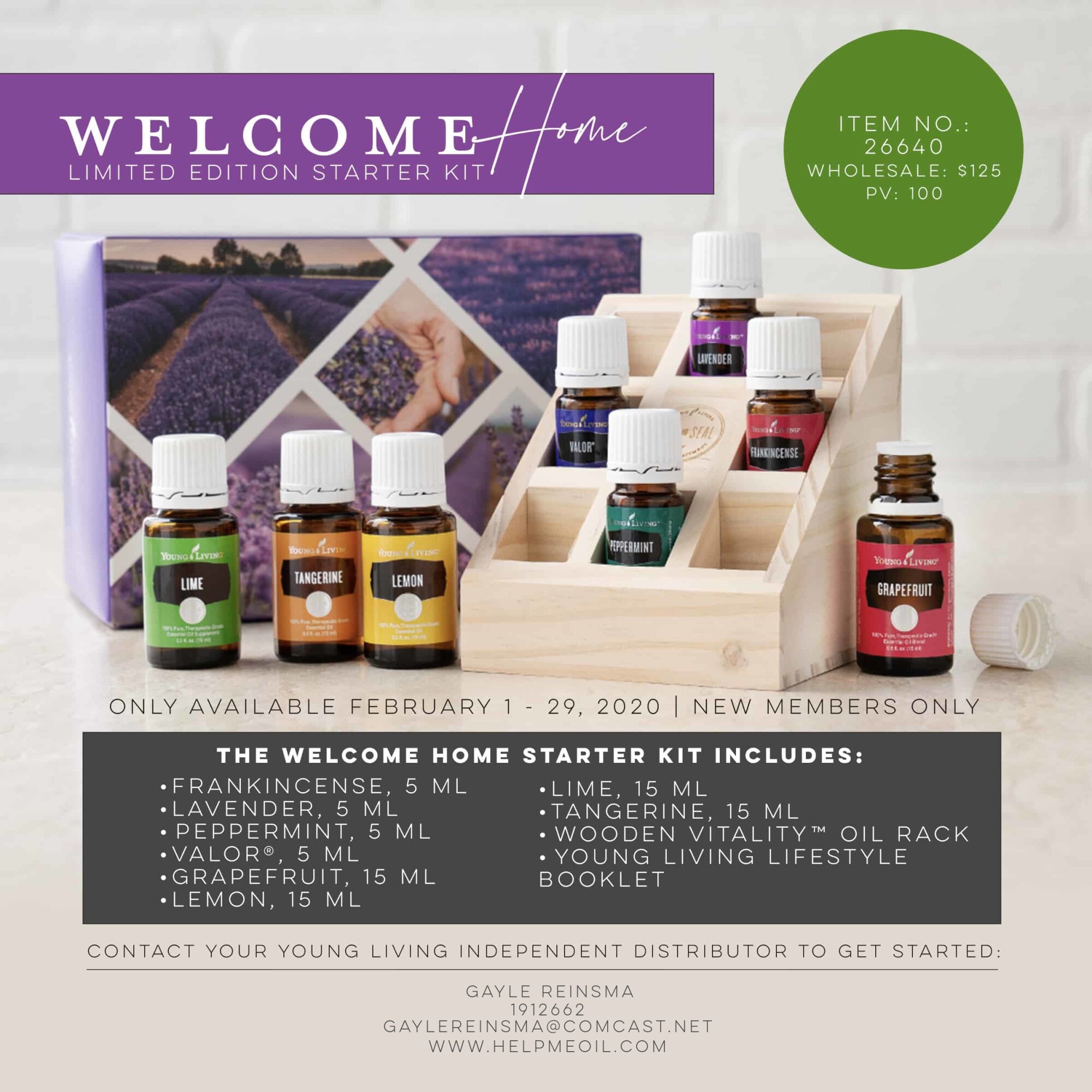 Yes!! For NEW members only Wahhh! That means I can't get one...but you can if you have never been a Young Living Member before!
This starter kit is ONLY available this month of February 2020! There is no diffuser with this kit, but if you enroll through me, I'll ship you one for free!
Are you ready to dive into essential oils but aren't sure where to start? The
Welcome Home Starter Kit
makes it easy to take the leap from newly interested to newly enrolled. Our kit has everything new members need to infuse their homes—and their lives—with the power of pure essential oils.
The Welcome Home Starter Kit includes:
Frankincense, 5 ml

Lavender, 5 ml

Peppermint, 5

ml

Valor®, 5 ml

Grapefruit, 15 ml

Lemon, 15 ml

Lime, 15 ml

Tangerine, 15 ml
Wooden Vitality™ oil rack
Young Living Lifestyle booklet
How can someone
not
fall in love with essential oils after sampling this lineup?
We sweetened the deal with a
free Vitality trio
for any enrollee who purchases the Welcome Home Starter Kit in February and places a 100 PV order in March.
This kit is available to new enrollees in our U.S. and USSP markets only, limit one per new enrollment.*
This limited-time offer begins February 1 at 12 midnight, MT, and ends at 11:59 p.m., MT, on Saturday,
February 29
, or while supplies last.
*The Welcome Home Starter Kit is not available for NFR, APO, and Professional Accounts.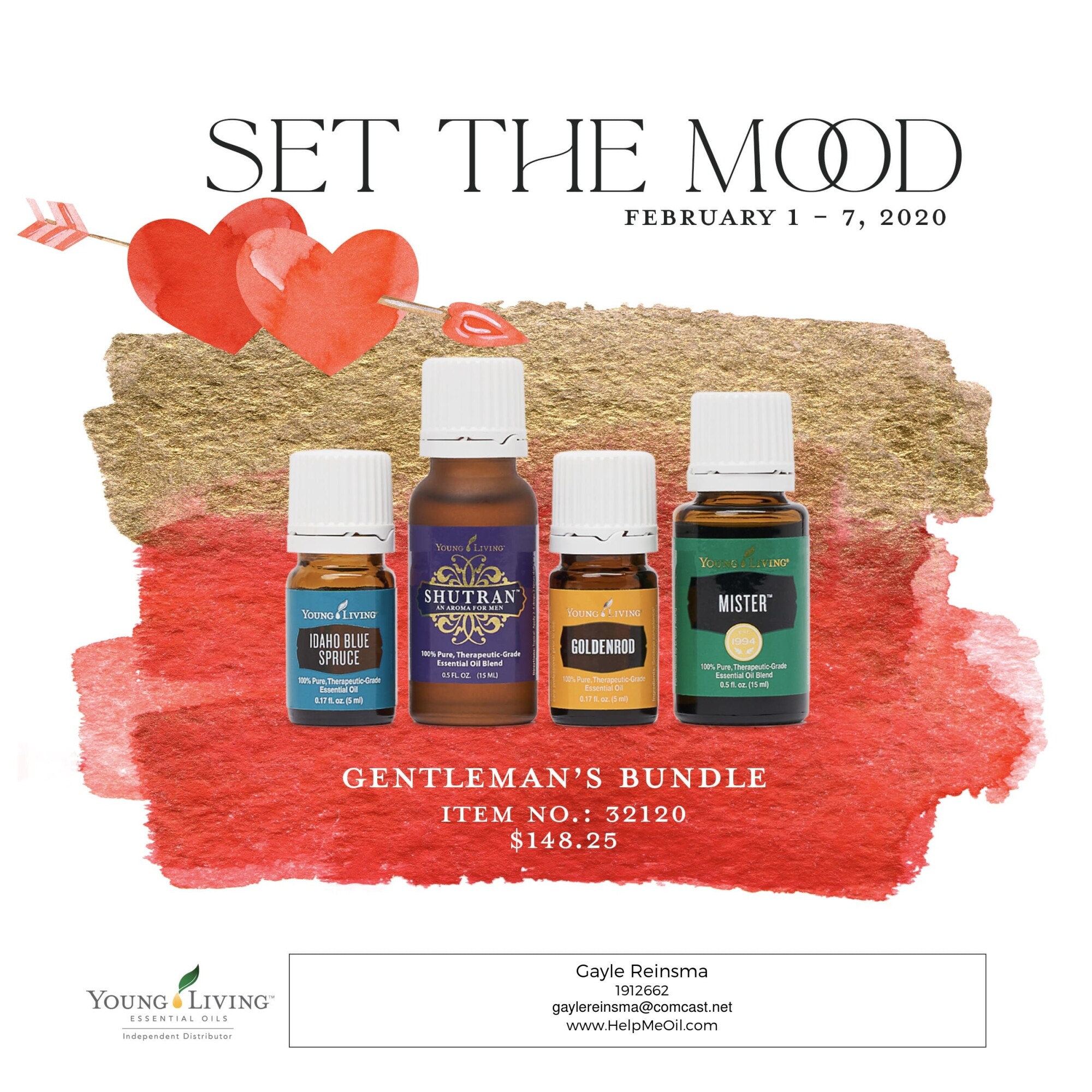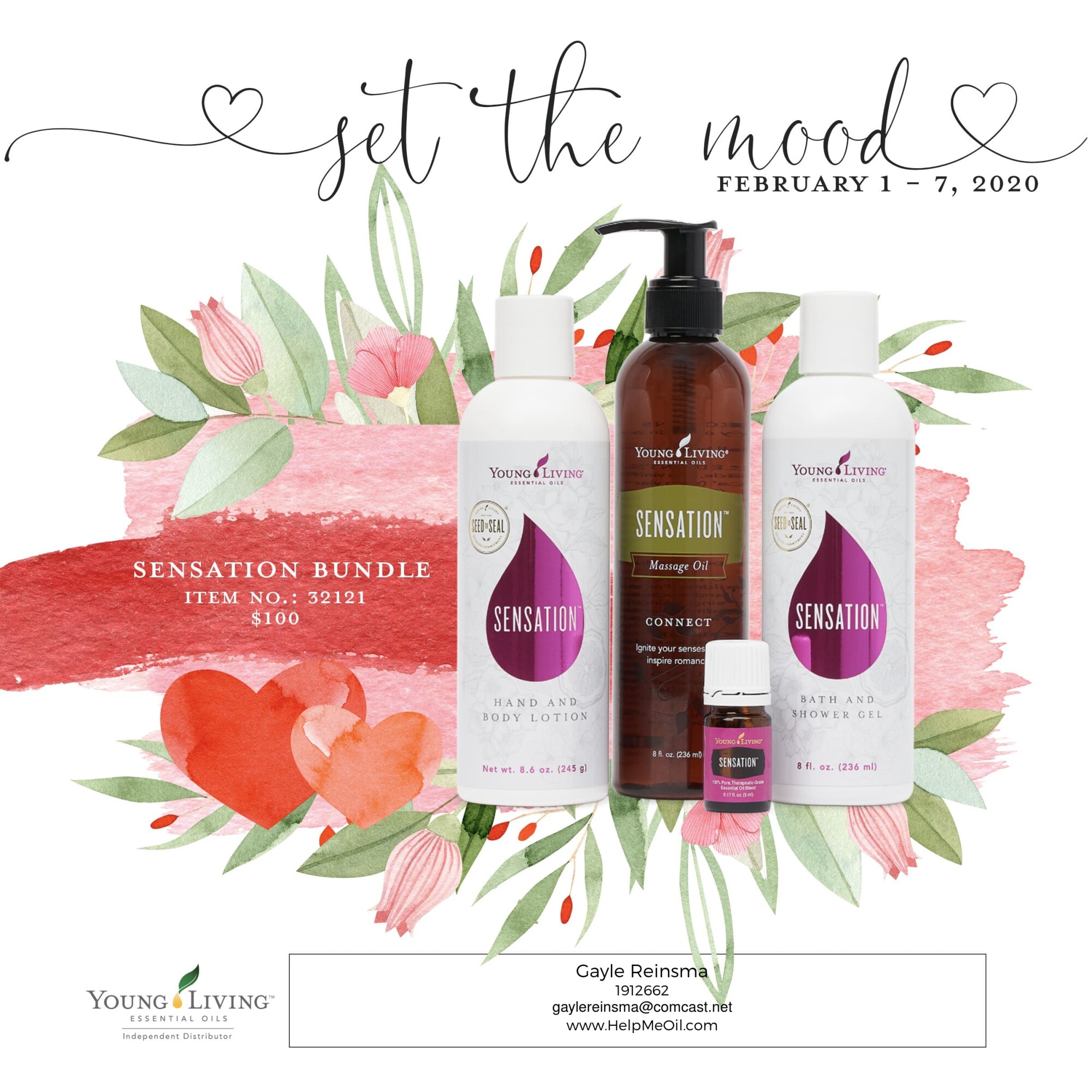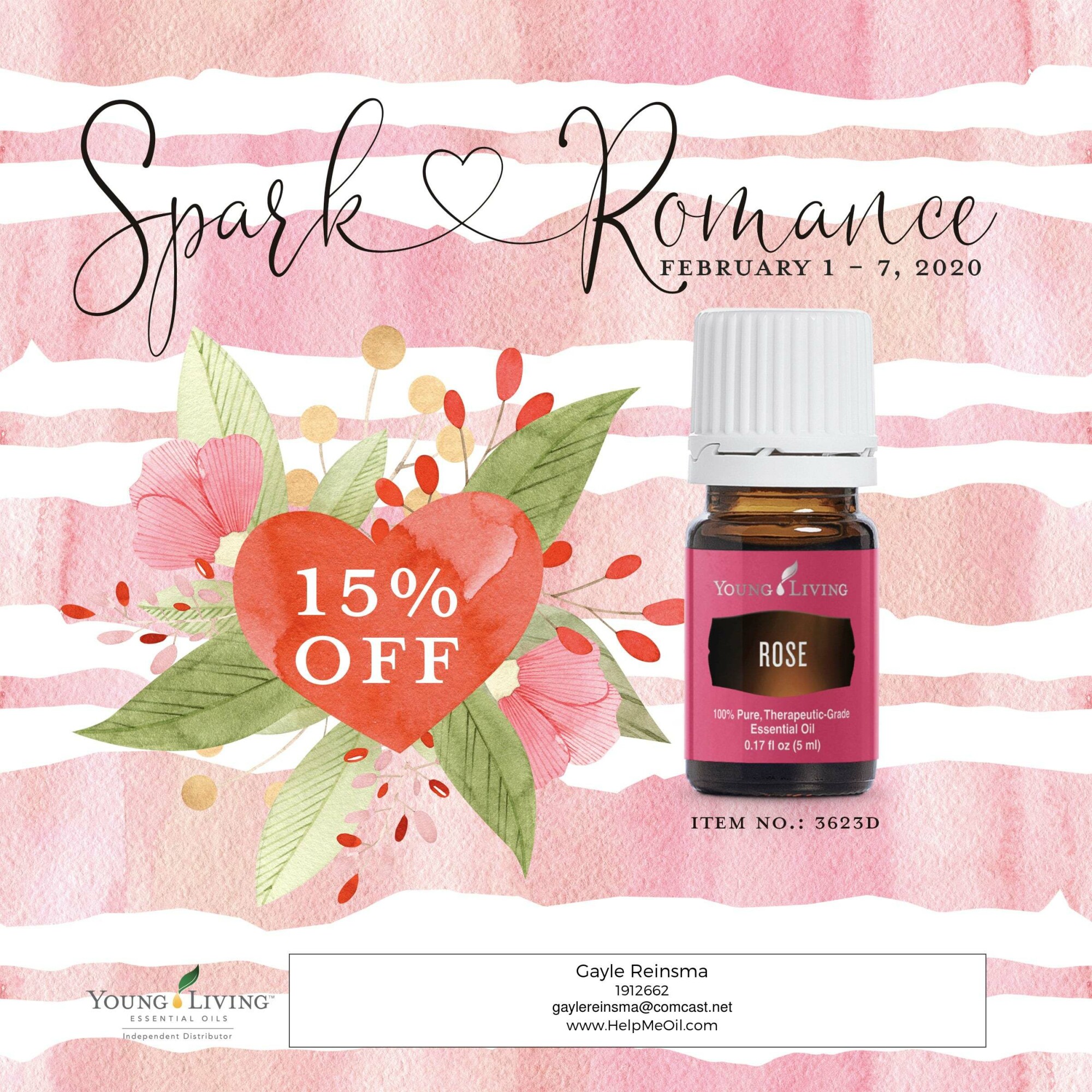 We've got just the thing to amp the romance for Valentine's Day. It's time to save on exclusive bundles and Rose essential oil too! This promotion runs from February 1 at 12 midnight, MT, to February 7 at 10 p.m., MT, or while supplies last.
Set the mood with these Valentine's Day specials:
Sensation bundle ($100)
Item No.: 32121
---
• Sensation™ essential oil blend—Diffuse this tantalizing combination of Ylang Ylang, Coriander, Jasmine, and other essential oils to spark feelings of love and affection.
• Sensation™ Massage Oil—Unwind with your honey by sharing a massage. This light, moisturizing massage oil features the seductive fragrance of Young Living's Sensation blend.
• Sensation™ Bath & Shower Gel—Shower yourself in confidence. You'll love this luxurious lather boosted by the enticing fragrance of Sensation essential oil blend.
• Sensation™ Hand & Body Lotion—Pamper yourself like the queen you are. Apply this hydrating moisturizer before a night out.
Gentleman's bundle ($148.25)
Item No.: 32120
---
• Goldenrod essential oil*—Add this bundle-exclusive to V-6™ Vegetable Oil Complex to create a special Valentine's Day massage oil.
• Mister™ essential oil blend—Tell your guy to diffuse this uplifting blend as he gets ready for date night.
• Idaho Blue Spruce essential oil—Cast relaxing vibes with this fresh, grounding fragrance packed with alpha-pinene and limonene.
• Shutran® essential oil blend—Apply a few drops of this empowering blend as a personal fragrance that boosts confidence.
*Goldenrod is available only in the Gentleman's bundle—so snag this special gift today!
Rose essential oil ($162.35) – 15% off
Item No.: 3623D
---
• Ditch the flowers for Valentine's Day and gift a floral fragrance that will last. It takes 22 pounds of rose petals to make each 5 ml bottle!
Limit of two bundles per account; one-time order only. No limit on Rose essential oil. Available for U.S./NFR/APO, except where restrictions prevent product from entering the country.**
**Goldenrod and Idaho Blue Spruce essential oil are considered Dangerous Goods. Therefore, the Gentleman's bundle cannot be shipped to APO addresses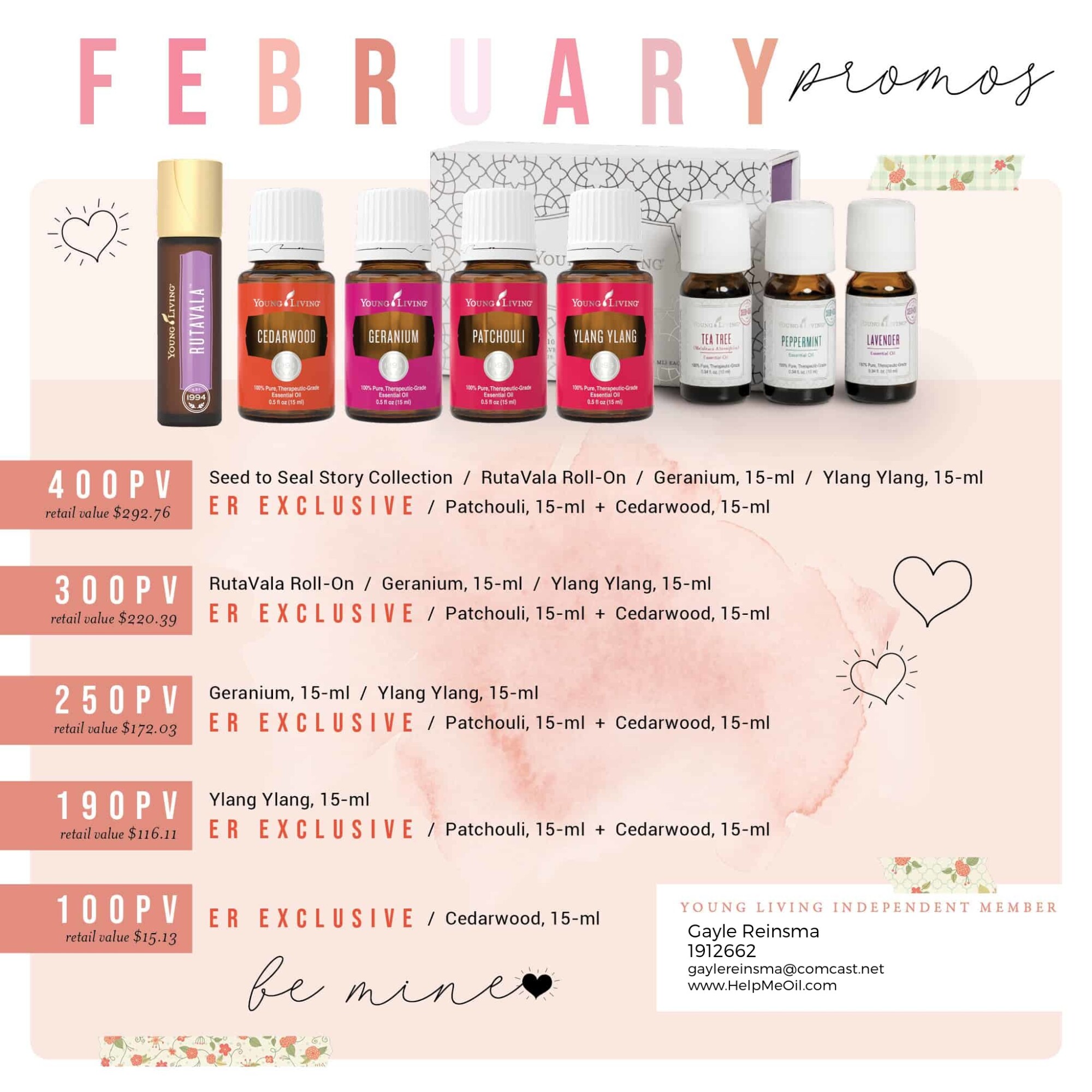 Seed to Seal Story Collection
Share a gift. This February give someone you love a relaxing aroma to use as they settle in for sleep with Lavender, magazine cover-worthy skin with Tea Tree, and a focusing scent to wear as they hustle to make dreams come true with Peppermint.
Enjoy something special. Each oil included in the Seed to Seal Story Collection comes with an elegant white label, in an exclusive 10 ml size that cannot be purchased outside of this promotion.
RutaVaLa® Roll-On
Ride out relationship rough patches. Swipe RutaVaLa Roll-On over your heart to encourage emotional balance during the ups and downs of dating and relationships.
Drop into dreamland. Before cuddles and drowsy pillow chats, roll RutaVaLa on your wrists for a dream-inspiring scent.
Geranium essential oil, 15 ml
Shine with love. Love of Geranium, that is! Add a drop or two to your morning and nightly moisturizer for a glowing look that mirrors feelings you have inside.
Slip into luxury. Take TLC to the next level with a floral-infused bath. Add a few drops of Geranium to the hot water along with a cup of Epsom salt for a peace-producing, stress-relieving soak.
Ylang Ylang essential oil, 15 ml
Ramp up the romance. Who needs a bouquet of flowers when you can add the soft and sweet scent of Ylang Ylang to your diffuser? Turn it on each day and night to truly feel the love.
Love your locks. Combat winter hair with this DIY mask: Add drops of Ylang Ylang to coconut oil and comb through hair. Let sit for an hour, rinse, and enjoy hair that's begging for compliments.
Patchouli essential oil, 15 ml
Reflect on your relationships. Rub the powerful aroma of Patchouli on your wrists while meditating, and don't forget how blessed you are by the people in your life.
Balance your perfumes. When mixing up sweet and floral DIY perfumes, don't forget to add complex notes. The musky tones of Patchouli will catch everyone's attention.
Cedarwood essential oil, 15 ml
Show your partner how much you knead them. Give the gift of massage, enhanced by Cedarwood. Your loved one will get silky-smooth skin along with a scent that soothes.
Make bedtime an oasis. Before heading to bed, diffuse the balmy, oh-so-comforting scent of Cedarwood, so your evenings are full of nothing but bliss and snuggles.
Like getting all of these ideas? Don't miss a single post! Be sure to join my e-mail list today, and let me know others ways I can serve you :)