May 20, 2019 04:51 PM Central
Gayle Reinsma
FREE 14.4 ounce Thieves Cleaner
and Glass Bottle!!
May is FULL of surprises!!
Our Makeup promo ended Sunday night, but bright and early Monday morning, Young Living gave a surprise for anyone who is ready to take that leap of faith to being their journey to better health with us!
Well this is awesome! 😎 🎉 🎊
🌸💗From today through the end of May, if you begin using Young Living products (Makeup, essential oils, Ningxia Red supplement or Thieve Cleaning) with any one of these already deeply discounted premium starter kits, you will also get a BONUS ✅ Thieves 14.4 ounce size cleaner! And that pretty glass bottle too!
Thieves Cleaner☘️🍀🍂 is concentrated,and a capful of it in the gorgeous glass bottle that you also receive will clean your entire house 🏡 with safe, plant based cleaners. This cleaner is safe for you, your kids and your pets 🐶 🐱 🐦 ! No more worries about a harmful product on your babies 👶 high chair or on the kitchen 👩‍🍳 floor where toddlers crawl, face plant, lick (they are kids...) or where your pets lick crumbs off the floor. No more toxic soup ☠️ on the "freshly cleaned" commode. No more air pollution from your Fabulouso (seriously - that stuff stays with me for hours, and NOT in a good way 😞)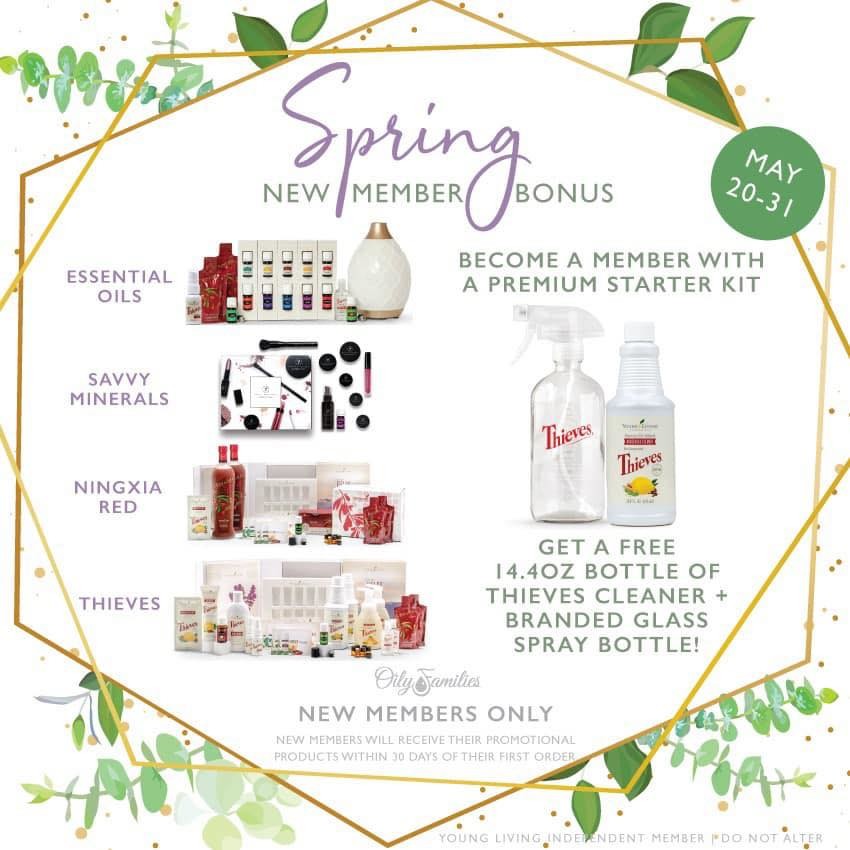 **Please note: Your Thieves and this gorgeous bottle will arrive a few weeks after your starter kit, but it will arrive!
Are you already a member?
Do you love your oils? Share with your friends! Or, sign up your SPOUSE! From now until the end of May, new accouts will get a free 14 ounce bottle of Thieves Cleaner and this gorgeous glass spray bottle!! If they check ER for June, they will get a free Thieve Toothpaste (and 10 ER points!) too!
This applies to all of our starter kits for new enrollments only. If you share, you get a referral check from Young Living for $48 which will arrive in June. (Provided you have placed a 50pv order in May).
If this intrigues you, let me know and I'll help you and make this super easy for your friend!
Like getting all of these ideas? Don't miss a single post! Be sure to join my e-mail list today, and let me know others ways I can serve you :)