Nov 3, 2018 05:38 PM Central
Gayle Reinsma
It's November - the BEST Young Living month of the year!



Oh how we LOVE November in the Young Living world!! Awesome Promotions, fun events, Black Friday, Cyber Monday - ooooh it's so good!
So let's dive in to this month's news! This email will be the specials and promotions as well as a giveaway (One of several I will do this month!) In a few days I will send out the info on my events this month, and I think you'll want to check that out too! Hang in there though -you'll get two more emails this month - so I am asking your forgiveness in advance lol! But you don't want to miss out on the Black Friday and Cyber Monday specials, do you??? To make it sweet, those will contain give-a-way info too! The Promo's this month are soooo good and include a limited edition oil, Higher Unity!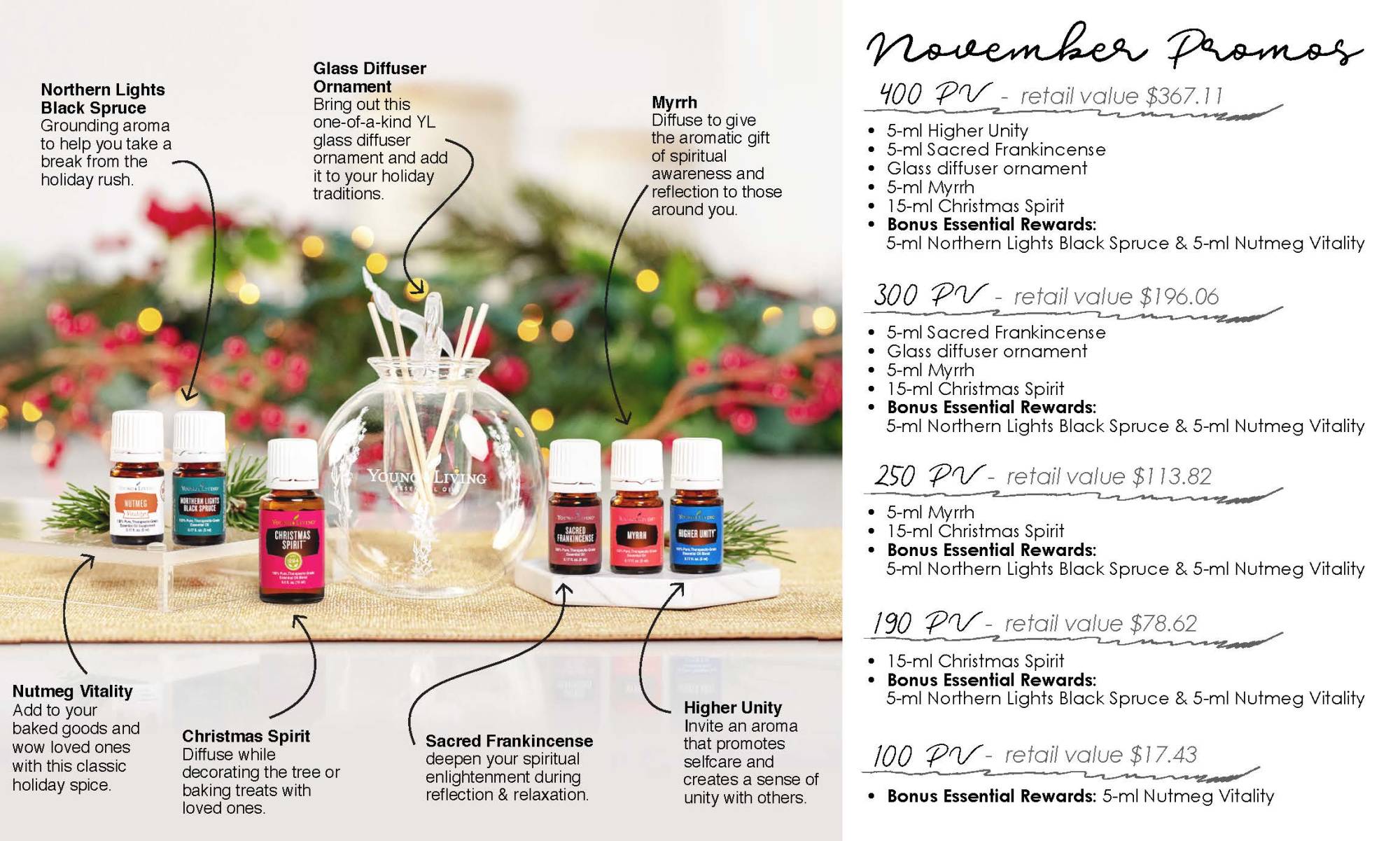 ✨ ALL about Higher Unity!! ✨
Formulated by the D. Gary Young Research Institute, Higher Unity essential oil blend has an uplifting, inviting aroma that helps inspire personal focus, spiritual balance, and unity with oneself and others. It is a luxurious and rich blend of Sacred Sandalwood™, Sacred Frankincense™, Lime, Northern Lights Black Spruce, Spearmint, Lemon, Jasmine, and Rose oils.
I mean SERIOUSLY??!! Those oils?! 😍😍😍
I'm processing my ER TODAY because I need this oil in my hands NOW! 🎉🎉🎉
This soothing, nurturing blend was created to inspire unity and to bring our members together in purpose and thought. Higher Unity promotes an environment of spiritual harmony and awareness. All oils are sourced and farmed following sustainable methods that align with our strict Seed to Seal® commitment to quality. 🙌🏻
🌿 Floral, sweet, and uplifting citrus aroma
💦 Promotes the appearance of healthy, glowing skin
🌿 Promotes a feeling of empowerment, unity, and compassion
💦 Helps reduce the appearance of blemishes
🌿 Promotes an environment of spiritual harmony and awareness
💦 Contains natural constituents geraniol, santalol, limonene, alpha-pinene
🌿 Diffuse to calm, balance, and create an atmosphere of confidence and openness.
💦Use as an addition to the Feelings collection to create awareness of unity with yourself and others.
I'm so excited that YL is going to be providing additional training on this amazing blend!
✨ November 1: The Training & Education team will provide detailed insights on how to use Higher Unity and the best times to use it, as well as provide ingredient breakdowns.
✨ November 1: Brand Ambassador Lindsey Elmore will do a Facebook Live and multiple posts on her blog about the PV promo items, including Higher Unity.
✨ November 4: Chief Science Officer Dr. Mike Buch will provide a video on the Training & Education Facebook page that will include details behind the creation, science, and benefits of Higher Unity.
This oil is ONLY available as a reward during November for reaching 400PV in one single order. But just for reference the wholesale price is $130 and the retail 171.05.
WHO is excited about getting this oil!? 💕🙋🏼‍♀️
GIVEAWAY!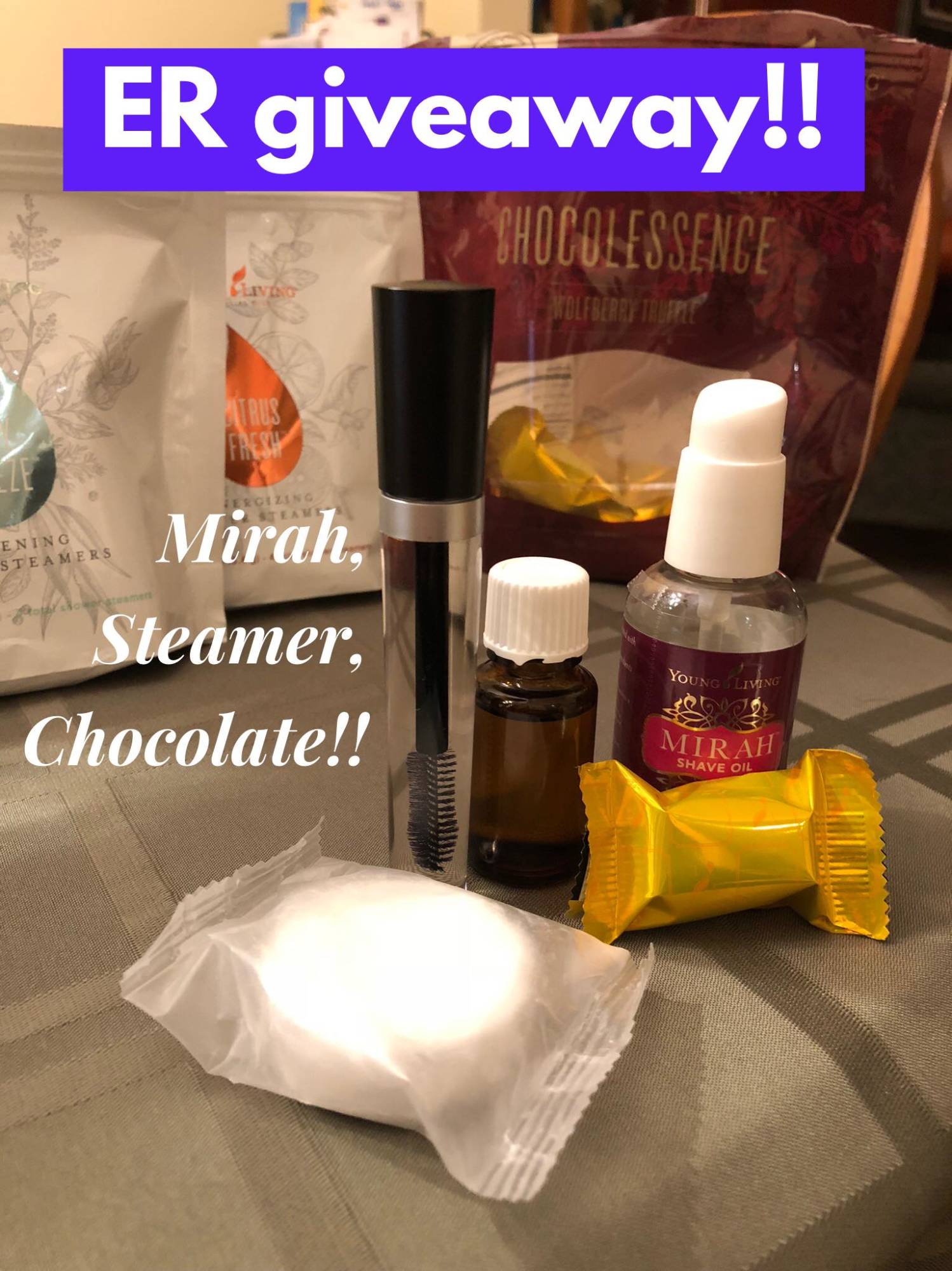 A little incentive: Since there is soooo much happening this month with Thanksgiving and the well deserved office closures for all, including Young Living, as well as the FRENZY of Black Friday and Cyber Monday (yeah deal$!!), I encourage all of you on Essential Rewards to PROCESS EARLY!! If you are in my organization (you are if you get this email!) and you are also on Essential Rewards, this is a little gift that I have for TWO of you that process your Essential Rewards Order by November 10! If you normally let your order auto-run on a later date of the month, just hit "manually process today" to get the ordered early. Trust me - you want to do this so that you order isn't stuck in the inevitable shipping delays that happen over the two weeks at the end of Thanksgiving and beginning of December! Process early, and two lucky people will win a shower steamer, a sample of Mirah Shave Oil (either in a 15ml YL bottle for shaving OR in a mascara tube to enhance your eyelashes!) and a Wolfberry Chocolate Truffle!
Don't process until you check out the recipes and the Holiday Catalog items below! This month, you CAN put those new items on ER!
Hot Products:
The Vitality line is the perfect way to turn holiday dishes into something magical and beneficial for your health! Use Pinterest and search "Fall food recipes with essential oils." Try making my FAVORITE dairy-free coffee creamer!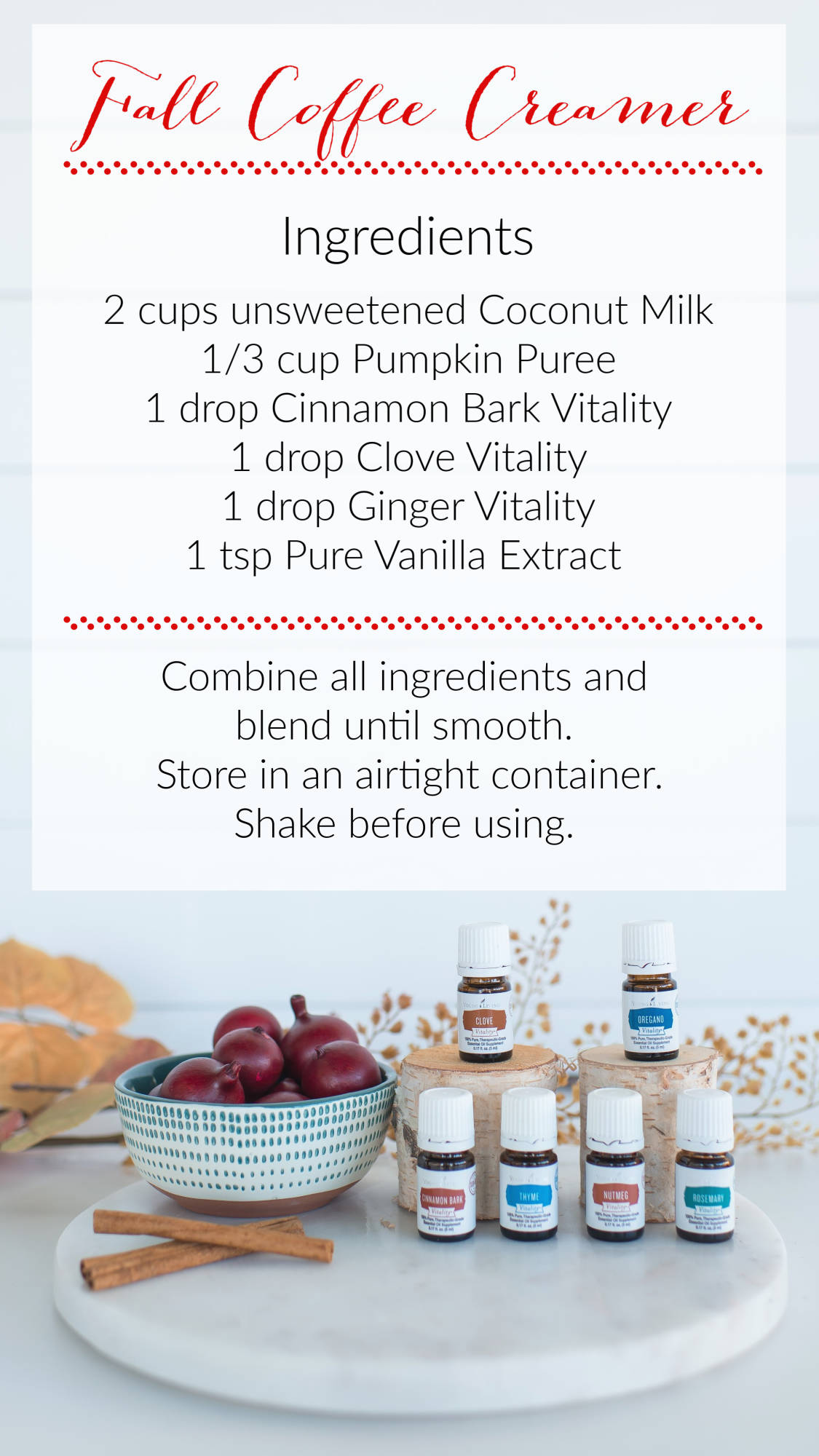 The temperatures have dropped and the holiday season has officially started! Literally overnight the pumpkins are gone and the holiday decorations are on every shelf in the stores! Cinnamon Bark is getting diffused daily here to keep the fall spirit alive just a little longer. Thieves blend from your PSK is obviously an easy option but my new favorite combo is to diffuse 4 Orange, 3 Cedarwood, 2 Cinnamon Bark. Try it!
Monthly TIP: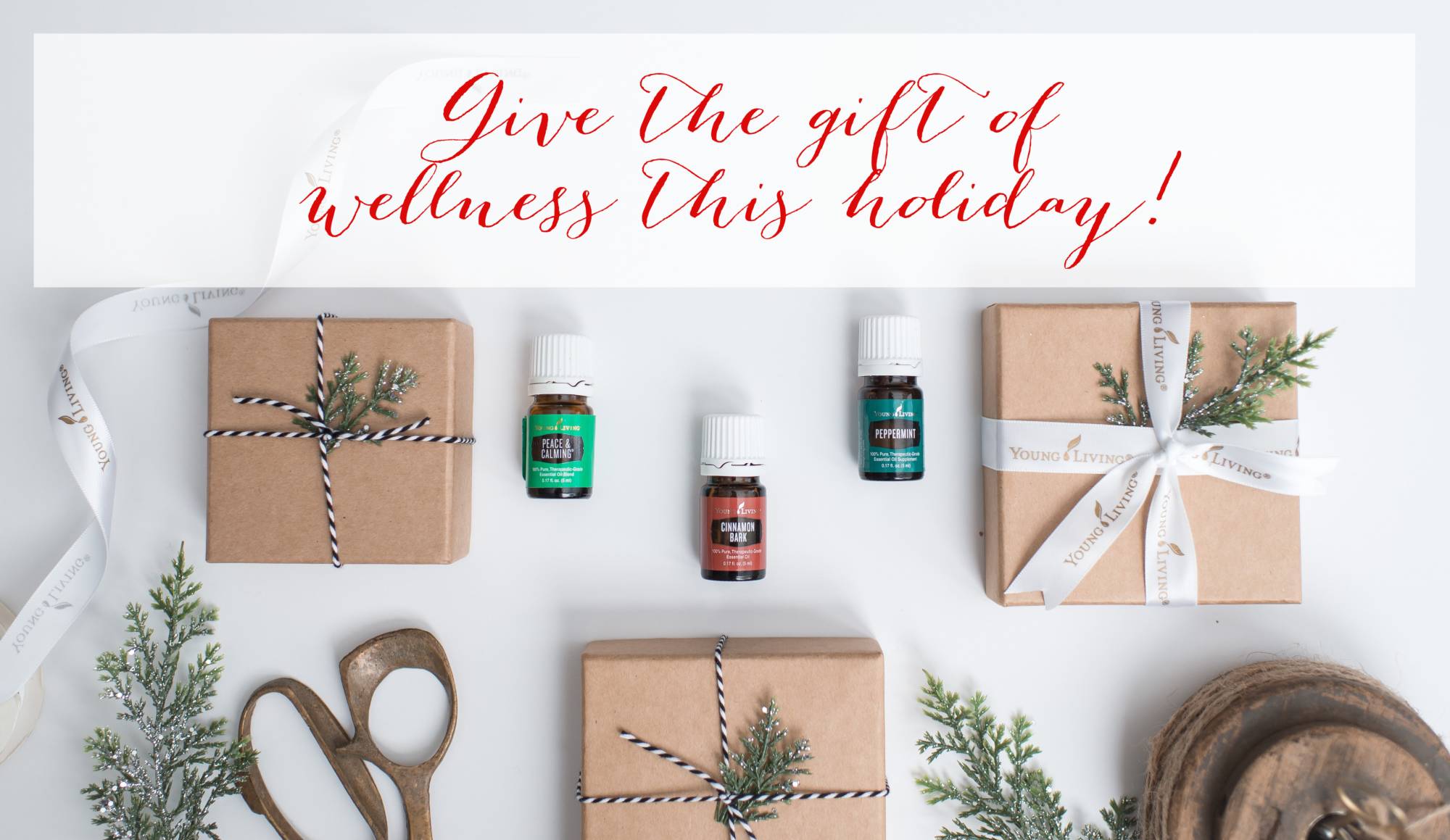 Process your ER order ASAP!
Holiday Catalog
items are available NOW to add to your ER order!
Earn between 10%-25% back on your total ER PV points. (If you're new and this sounds like secret code, contact me!)
If it is your first month and you order 100PV, you will get $10 back in ER points.
If it is your fourth month on ER, you will get $20 back in ER points for a 100 PV order.
Ordering ASAP will ensure you get what you want, not only on
Holiday Catalog
items but also on any products you plan to give as gifts or need to get for yourself.
YL members go CRAY CRAY in giving YL as gifts! Things do go out of stock with all the extra holiday ordering and I don't want you to miss out. Newbies, TRUST ME! Check out the Holiday Catalog items
HERE
!
---
Ok folks, that's all for tonight! Events are on the next email (New class!! Itovi scan Day! Make and Take!!) Before you go, check out one of my FAVORITE oils for work! (And life!)
Business oil of the month: Gratitude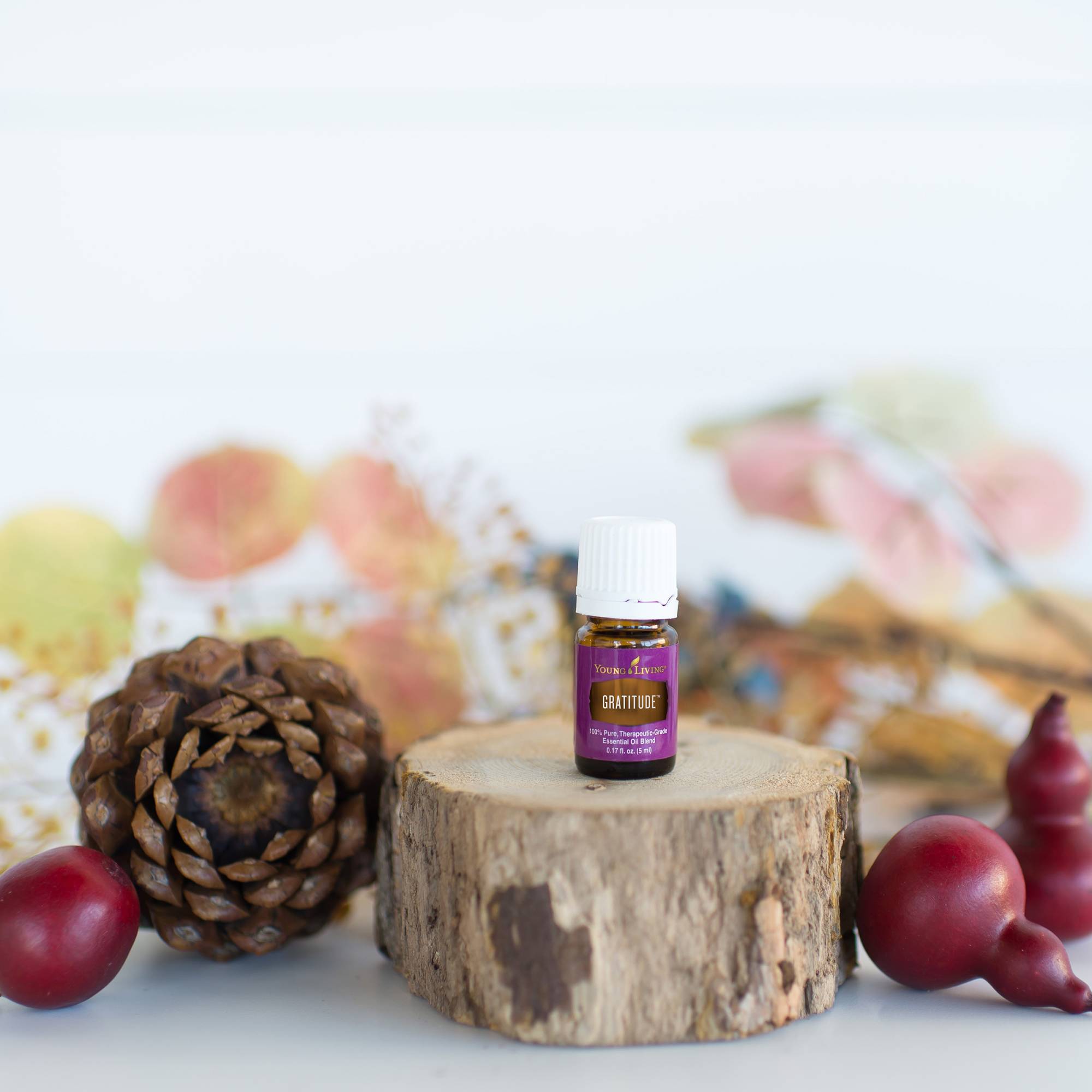 This oil will help you feel grateful for all you have in life. Use it every day this month to create a positive attitude of gratitude.
When you are grateful for the things you have, your entire attitude changes and the way you approach your work or the people around you become more effective and loving. If you want to create MORE abundance in your life, use your Gratitude oil every single day.
Diffuse 4-8 drops or apply a drop to your wrists and inhale in the morning.
To make this even more effective, write down three things every day you are grateful for and why.
Have a lovely month!
...Gayle...
Like getting all of these ideas? Don't miss a single post! Be sure to join my e-mail list today, and let me know others ways I can serve you :)