Ah Mother's Day - you are 8 days away!
Kids, Hubbies, Dad's - I'm the easy button for that!
FABULOUS U.S. ENROLLMENT PROMOS + A MOTHER'S DAY DIFFUSER SALE!
AND - existing Members can now get ALL of the SPRING LAUNCH ITEMS on Essential Rewards!! Money back baby!!
In Fact, ALL of these sales are ALSO ON ESSENTIAL REWARDS!! (This, like, never happens!)
Not on Essential Rewards yet? No worries! Select "yes" on sign up, or existing members, just look for the enrollment tab on the left side of your screen! Extra Freebies, cash back, cancel ANY time!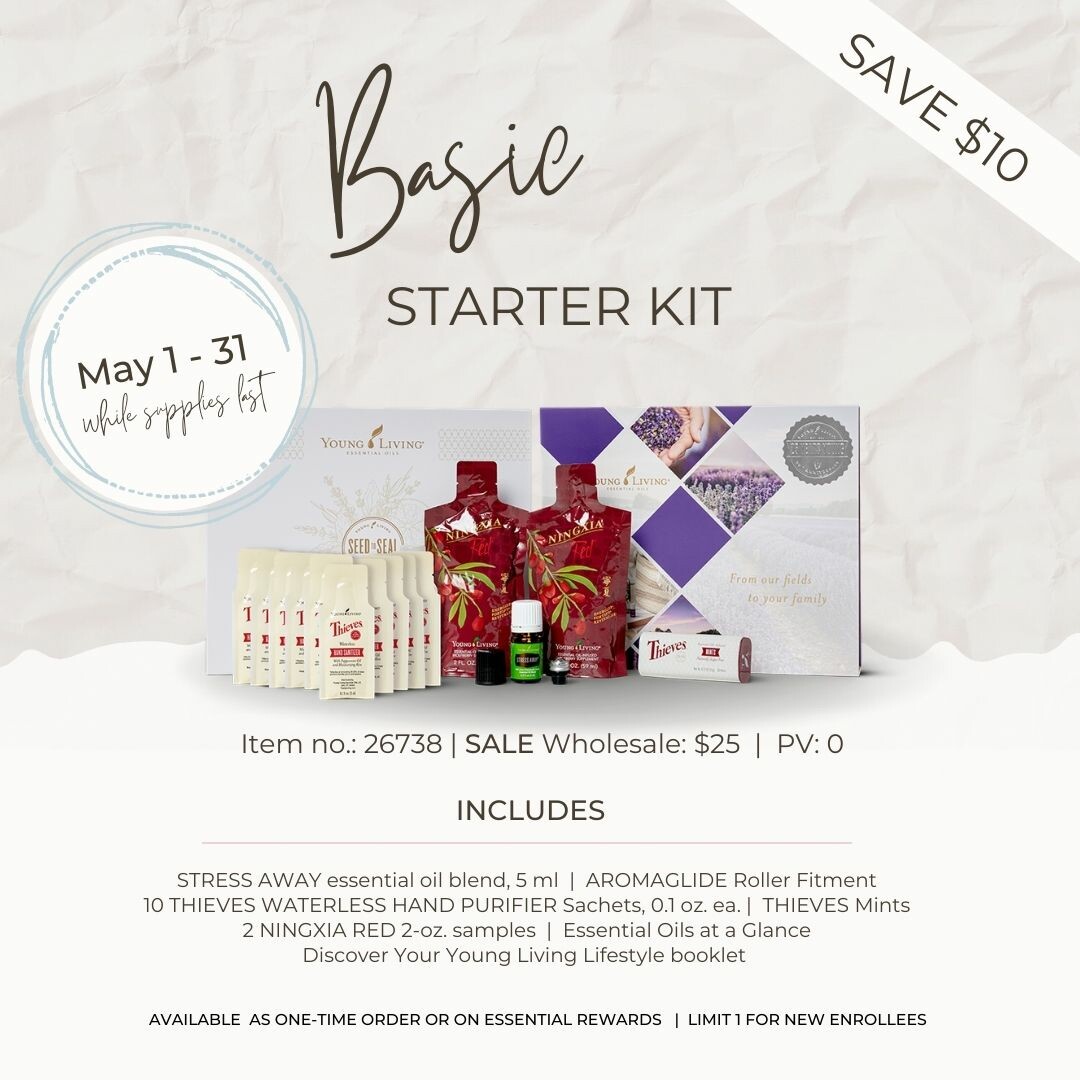 You're not going to believe it! During MAY Young Living is so generously giving us a super FUN way to help our friends get started at a lower cost than ever before! As we inch closer to the "join Young Living With ANYTHING way of getting started, we are clearing a few things out! You get TWO sales as your opportunity this month to snag your discounted membership this month!
This
BASIC STARTER KIT
is the way to go to get used to that, and to start YL your way! It's on sale (while supplies last!) and you can add anything you want. So how about some gorgeous diffusers or a stunningly packaged limited edition oils set?
Young Living giving us 25% OFF the gorgeous Lucia and Lustre Diffusers just in time for Mother's Day too!!
I can think of some special women in my life that I would love to gift one of these hand blown diffusers to for Mother's Day! Read on for pics and info on those.






$10 OFF BASIC STARTER KIT SALE

Get started at an even lower cost! Grab
5ml Stress Away essential oil blend
AromaGlide Roller Fitment
10 Thieves Waterless Hand Sanitizer Samples
2 NingXia Red 2-oz. samples
Essential Oils at a Glance
Discover Your Young Living Lifestyle booklet
Limit 1 for new enrollees
Limited Time Offer; While Supplies Last

SEED TO SEAL STORY BUNDLE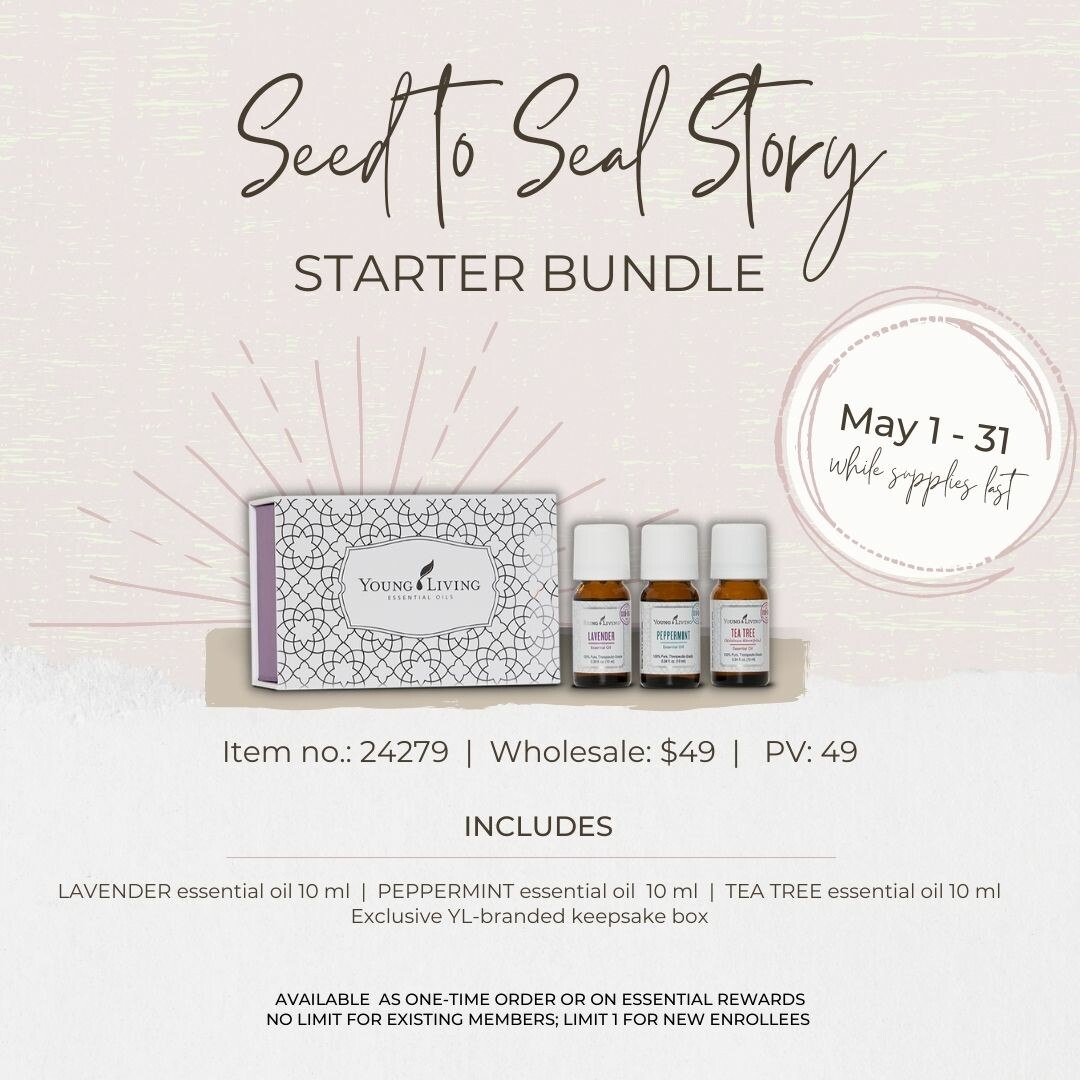 This bundle is so good! This is your SECOND shot at an incredibly affordable way to get the discounted members, and it's only available for May 20201. Originally valued at $70, this is a beautifully packaged collection of three favorites! Peppermint, Lavender and Tea Tree, in unique 10ml bottles. It's also in a super pretty package that geeks like me actually display

, and it's in limited edition sized bottles - very unique!
Exclusive YL-branded keepsake box
No limit for existing members; limit 1 for new enrollees
Limited Time Offer; While Supplies Last
++++++++++++++++++++++++++

MOTHER'S DAY DIFFUSER SALE

Lucia and Lustre are 25% OFF while supplies last in May!!!!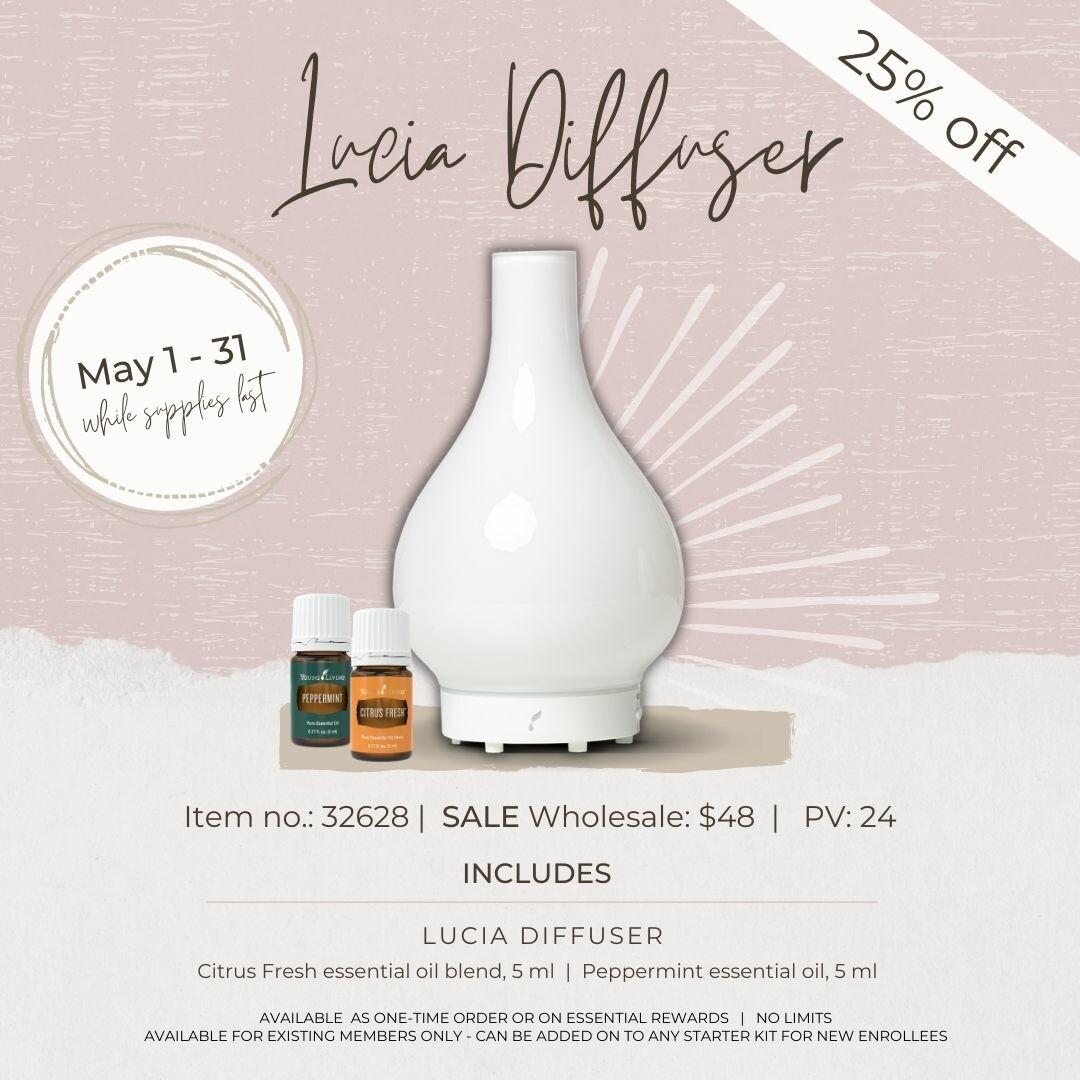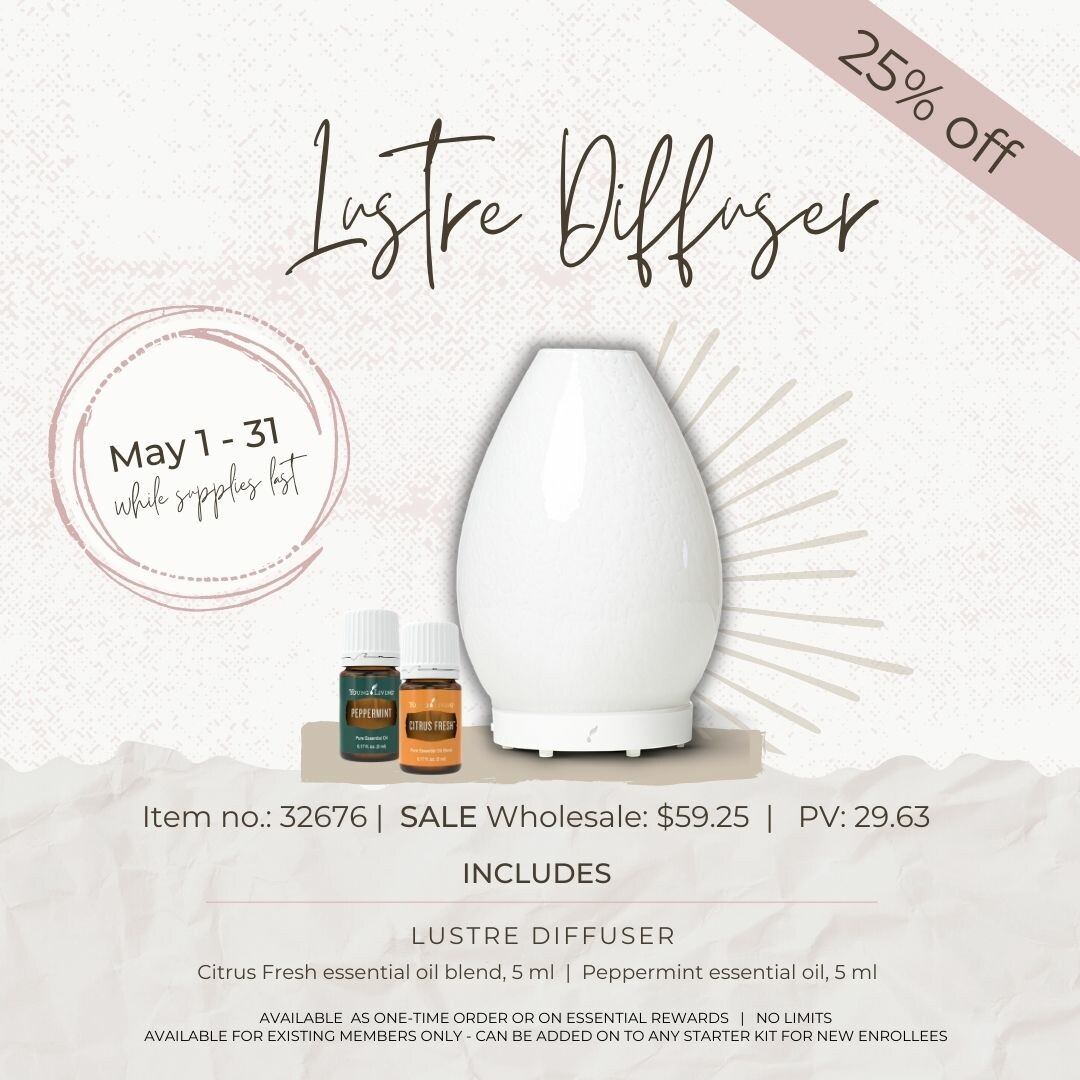 Lucia and Lustre are lush HANDBLOWN ARTISAN GLASS DIFFUSERS and they are gorgeous!

People always ask me about them when they visit.
They are absolutely BREATH TAKINGLY beautiful while lit up and running!!! They look like a piece of art. I love to display them side by side in alternate colors, or just placed them strategically about my home. It's amazing how much fun I have with these two lol!

Lustre runs up to 12 hours and Lucia up to 8 hours.

Lustre Diffuser
ON SALE 25% off — $59.25 wholesale
Includes 5ml Citrus Fresh & 5ml Peppermint

Lucia Diffuser
ON SALE 25% off — $48 wholesale
Includes 5ml Citrus Fresh & 5ml Peppermint
Don't delay though! These are SERIOUSLY good prices!!! This deal ends when the clock strikes midnight at the end of the month OR while supplies last!
OK, don't forget while you are shopping - the Spring Launch items are now ALL available on Essential Rewards (soon to be called "Subscribe to Save....stay tuned on that!)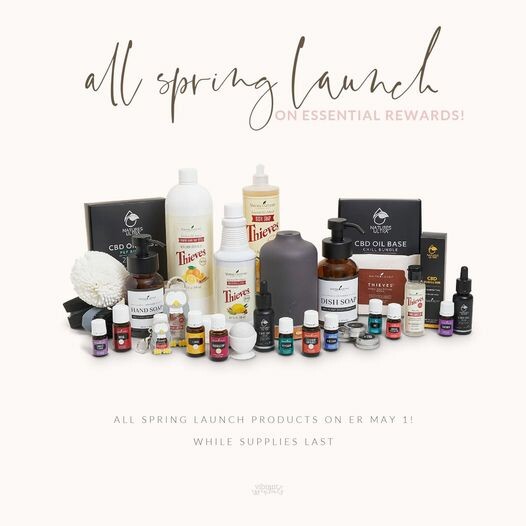 Got questions? Click on the "Contact Me!" Button below! Or, reply to this email. Be watching later this week for insight and usage help on the amazing "Free Gift With Purchase" items this month....and the sale orders qualify!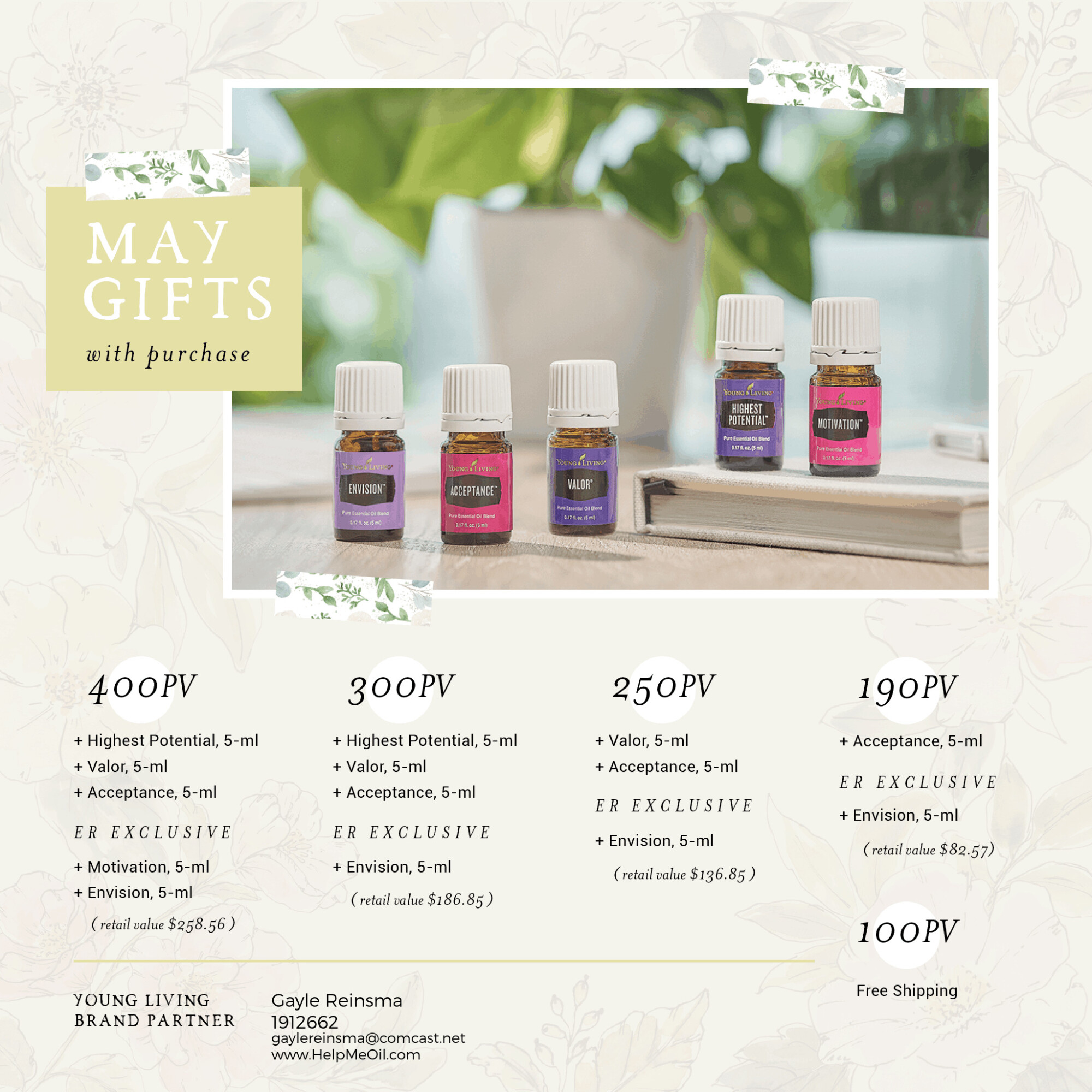 Like getting all of these ideas? Don't miss a single post! Be sure to join my e-mail list today, and let me know others ways I can serve you :)