Nov 8, 2020 02:09 PM Central
Gayle Reinsma
November November...what shall we expect this month????
Enclosed: November promo's, events, holiday catalog news!!!

😝 When you flipped your calendar or planner to November, were you wondering what else 2020 could launch at us? Ha! I am just sitting back watching theatre of life will bring about in this month!!
✅ We have no idea what will happen regarding our election (just what we think or hope!)
✅ Cases cases cases cases (think Meg Ryan singing horses horses horses horses in "Sleepless In Seattle")
✅ Can we? Can't we? Should we? Is everything virtual? Should I grab some TP before the store shelves empty again?
✅ Will everyone "behave" if we dare get together for a Thanksgiving meal?
✅ Should I bring potato salad or wine to the protests/civil war....?
Oy! I'm sorry if any of that offends you, kinda 😉, but shoot - I've lost a few friends over just being me, but the GOOD news is that I gained MORE and got closer to several as well. Moral of that story - just be yourselves. We are more than the mainstream media stories of the moment! Embrace life - ENJOY and appreciate the uniqueness of each of your people!
I'm not gonna stress too much. What happens is what God allows, and it the end, HE wins! So, I'm gonna live my life. Each day, I'll get up,and read some scripture and pray. I'll see who's birthday it is on Facebook and wish them well. I used my planner plenty in 2020 and I'll keep it up again. I'll ABSOLUTELY keep my health in the forefront through balance, rest, exercise, good clean food and the best supplements and oils on earth!
Folks, now is NOT the time to be lazy with your health. OK never is really a good time to do that, but we all get a smidge lazy now and then, but let's pinky swear to not give ourself too many days off of taking care of ourselves, k?
As we gather around the table this month we get to focus on all the things we are grateful for. I am incredibly thankful for my family, my home, and of course my oils! How about you? I would love to hear! I think our world could always use a little positivity spread around, don't you think? So get out your yummiest oil and read on!
Important Announcements

HOLIDAY CATALOG RE-LAUNCH - YES!!
Folks: Beautiful things are available to purchase on Monday!! For a review of what they are, just check this post out HERE!! Read the info below for best results in ordering!
ONE OF THE "2020 funnies" this fall was the colossal failure of the prettiest Holiday catalog launches to date! Ya, that was super fun! 🤣 I snuck my order in however.....and it showed up 3.5 weeks later of course! 😳 However, it was high time to get the House of Young Living in order with our web site and shipping! So as they say - everything happens for a reason. I was sad, but I'm thankful Young Living decided to do the right thing and get things on track before the holidays!
Moving forward, we are investing in innovative systems that will support us as we continue to grow. We know you want a business that you can rely on - one that's stable and secure. Thank you for your patience as we work on a solution that protects you and your business and allows us to build a platform that you are proud to support.
So, Good news! Monday morning, November 9, you'll be able to shop Holiday Launch products in your Virtual Office! All Holiday Gift Guide items are still in stock! But they WILL go fast! So set your phasers for Monday morning 9 am MST ( 10 CST, 11 EST, 12 PST)
THIS LAUNCH INCLUDES A BRAND NEW STARTER KIT!!!!!
Yep all members including NEW members will get a chance to get this lovely kit!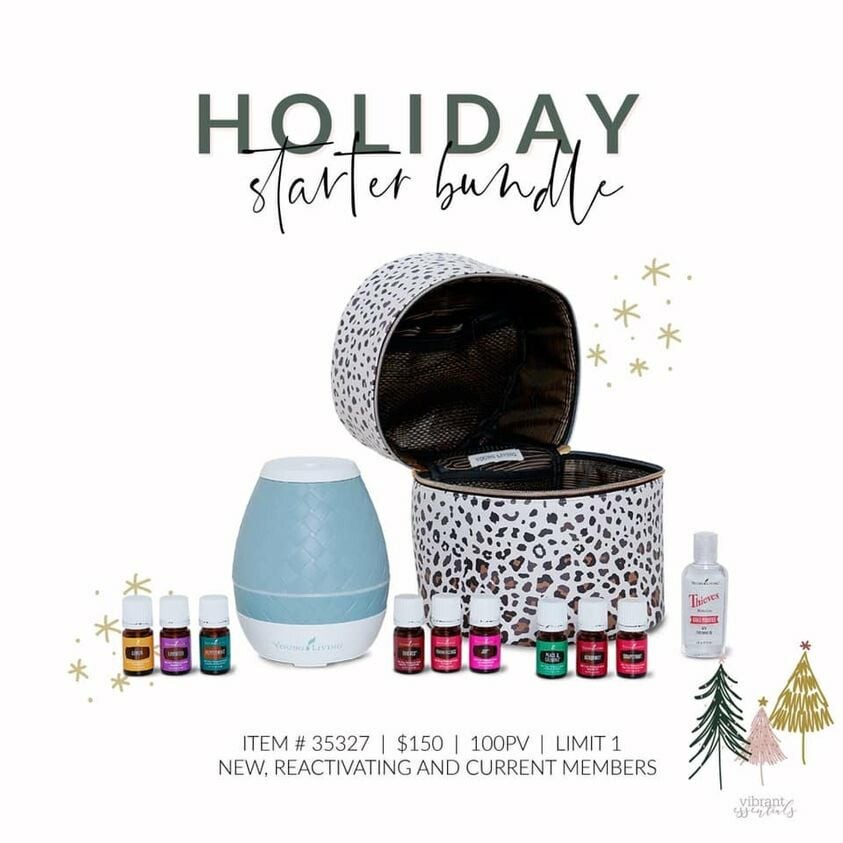 9 oils!
Hand Sanitizer
Sweet Aroma Diffuser
Awesome bag for all of it!
FREE membership (24% discount on future purchases!!)
There will be some type of queue system applied (and yes I had to look up how to spell "queue"....again) which is not completely clear to me, so..... we get to all see how that works together! I ordered a few things yes the one day we were able to, but I want MORE!!! So I'll be waiting with you on Monday. I'm for sure going to get the "Once Upon a Farm" set if I can, and use that in give-aways during December for my ordering members...just sayin! Need a refresher of what's included? HOLIDAY CATALOG! I will send a quick text and email to all members when the catalog is "live" on Monday. Our new website launches as well, so things will look different, and hopefully better!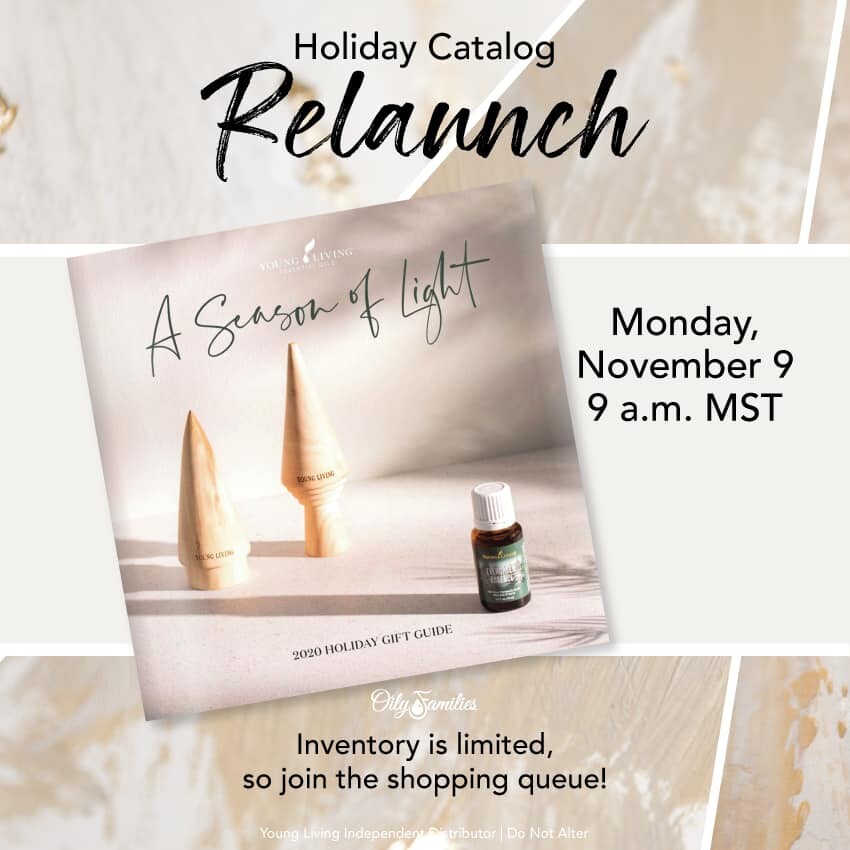 YES, THERE STILL IS A GIVEAWAY!! I had started a little "Pivot! Give it!" giveaway if you ordered in October, but, well we all know how THAT turned out 😝 so I placed that contest on hold and have now expanded it!! If you entered it's still there! If you order holiday items again in November, enter again! I adding LOTS of prizes and will send out more on that early next week!! Watch your emails and texts for GIVEAWAY specific info coming Monday night!!
Speaking of catalogs....we have a brand new 2020/2021 products guide! NEW PRODUCT GUIDE! If you are one of my members, I want you to have one! Add it to your next order, contact me and I'll reimburse!
ADVICE: Think about getting your Christmas ducks in a row and order early! So while your are getting your orders together for the catalog, grab some of our other awesome things to place in one order! (*see below for this months' freebies!) Or if you love our essential rewards system, order your regular ER order there (for points and promo's) and order your holiday faves on a shop order for MORE promo's! ** Holiday catalog items cannot be ordered on ER
My sweet and TALENTED uplines created a kickin' holiday guide of their own that is just full of ideas! Check out the catalog here:
---
EVENTS!!
So let's chat now about Events. Are you up for it? I'm having a few in-person events at my home in Lansing Illinois. But I will be doing some digital classes as I can. Most of them will be recorded and added to my learning channels and broadcast out to you via this format. Young Living has some cool virtual learning options too. So without further adieu, here we go:
---
IN PERSON CLASSES AT GAYLE'S HOUSE:
ELDERBERRY WORKSHOP DATES:
I'll be doing two in-house dates for
elderberry syrup making.
November 12 and December 17.
BEAD BRACELET CLASSES:
I'll be doing two in-house dates in December for bead bracelet classes.
DECEMBER 10 AND DECEMBER 12.
All events will be at 6 pm. Mark you calendars and watch for more detailed info in Monday nights email and on Facebook if you use it!
UPCOMING YOUNG LIVING EVENTS

ON THE GROW EVENTS
At Young Living, we're all about growing the health, wealth, and happiness of our members—and with 26 years behind us, we're still going strong! Join us as we share the power of pure essential oils to grow your dreams into reality!
In light of the current situation, we are transforming the way we do events. To ensure a safe and fun experience for attendees, On the Grow events are moving to a virtual platform.
For upcoming event dates and ticket details go here: https://www.youngliving.com/en_US/company/events/education-events/on-the-grow
YL VIRTUAL BEAUTY SCHOOL
Join in with other Young Living beauty enthusiasts across the globe during these incredible Virtual Beauty School events. You will get to preview the latest information on YL's personal care line, get hands-on training with YL's skin care products and essential oils, plus gain access to exclusive beauty school presentations along with free pampering services and business-building ideas. You will also get an exclusive Beauty School Kit that includes a branded carrying case filled with full- and sample-sized Young Living personal care products; Amoressence, the Beauty School's event-exclusive essential oil blend; and a beautiful hardbound how-to book.
For upcoming dates and ticket details go here: https://www.youngliving.com/en_US/company/events/beauty-school
Featured Recipes
Take a look at these seasonal recipes. Try them all and tell me your favorite!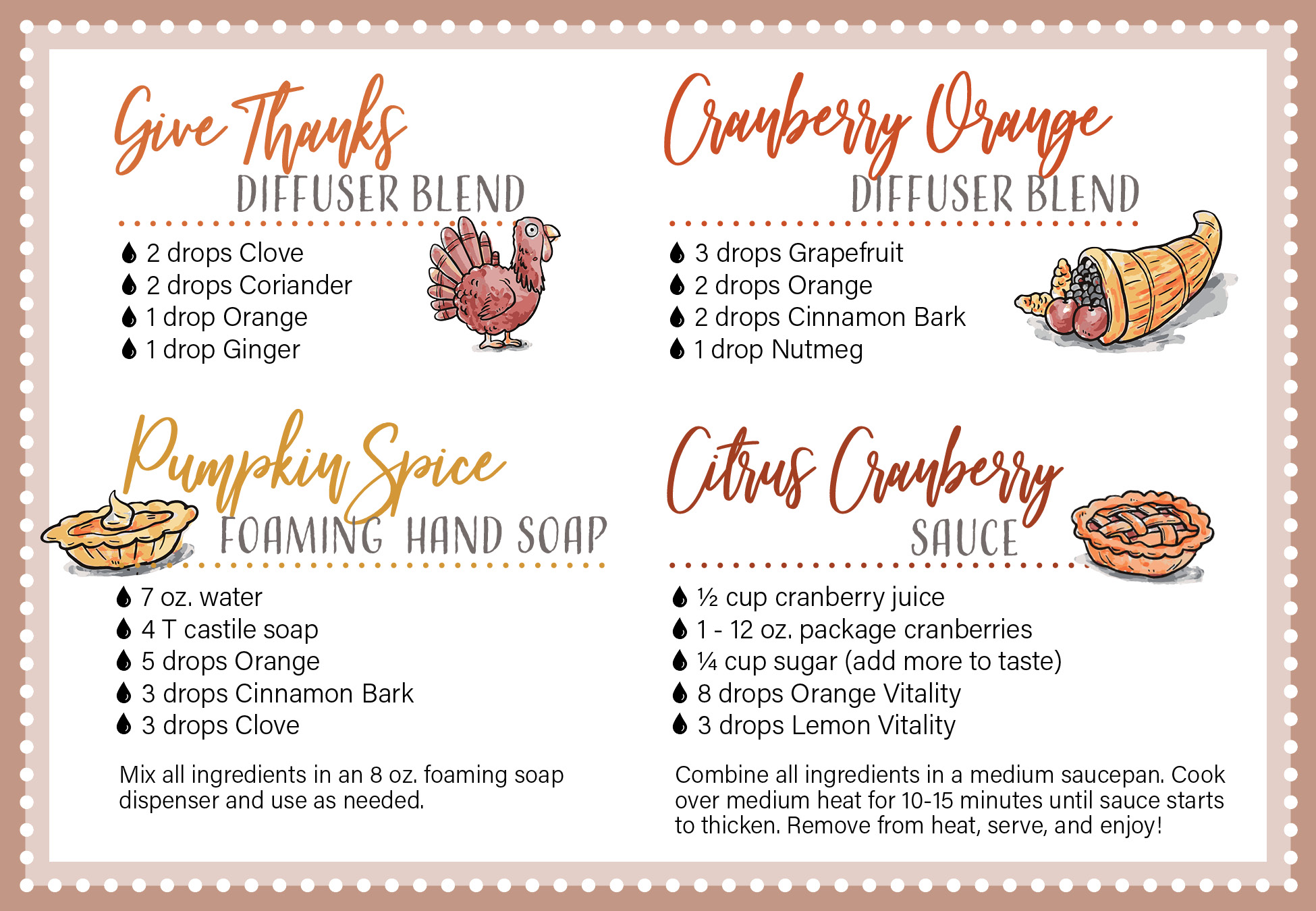 Oil of the Month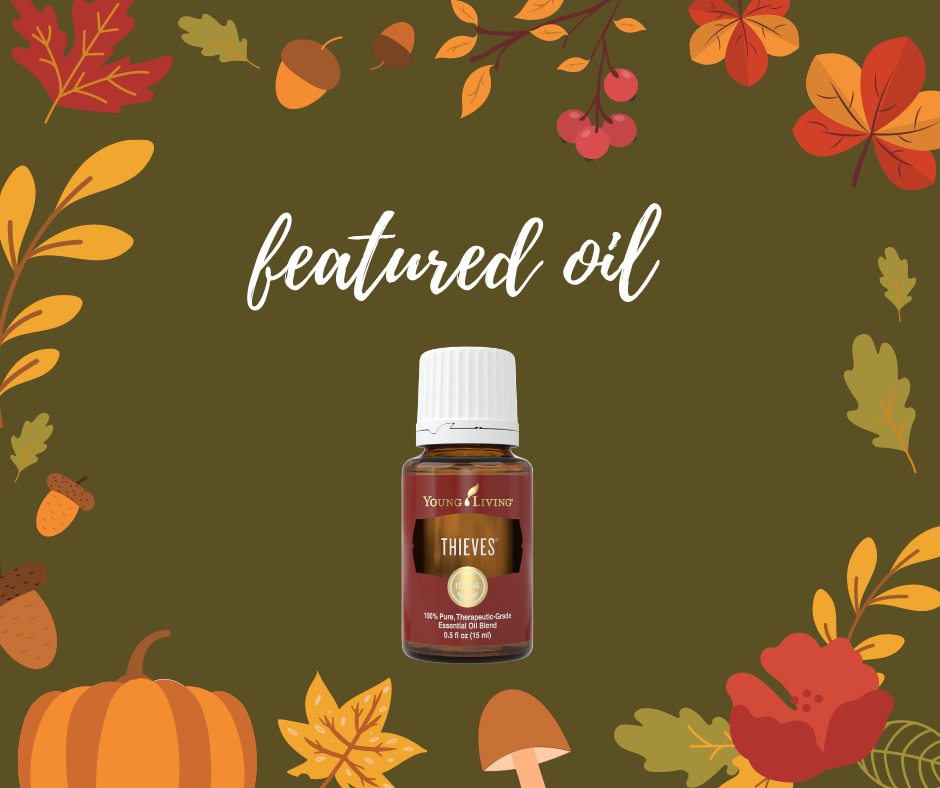 THIEVES
This blend is such a foundational blend for Young Living users, a trusty must-have this season! It's a powerful combination of Cinnamon Bark, Clove, Eucalyptus Radiata, Lemon, and Rosemary essential oils that fills any space with a rich, spicy aroma. It is also a key ingredient in Thieves Household Cleaner, Thieves Waterless Hand Sanitizer, Thieves Wipes, Thieves Foaming Hand Soap and more. Thieves is your go-to for an invigoratingly clean and spicy scent that smells more like fall baking than harsh cleaning formulas. It even comes in a Vitality version so that means it can be ingested!
Did you know Young Living offers a Thieves Premium Starter Kit? Hook your friends up with it this holiday season so they can experience the incredible benefits as well! Simply share your member number with them to enter upon checkout so you get the referral $ for helping them start. Visit www.youngliving.com/IDS for more info.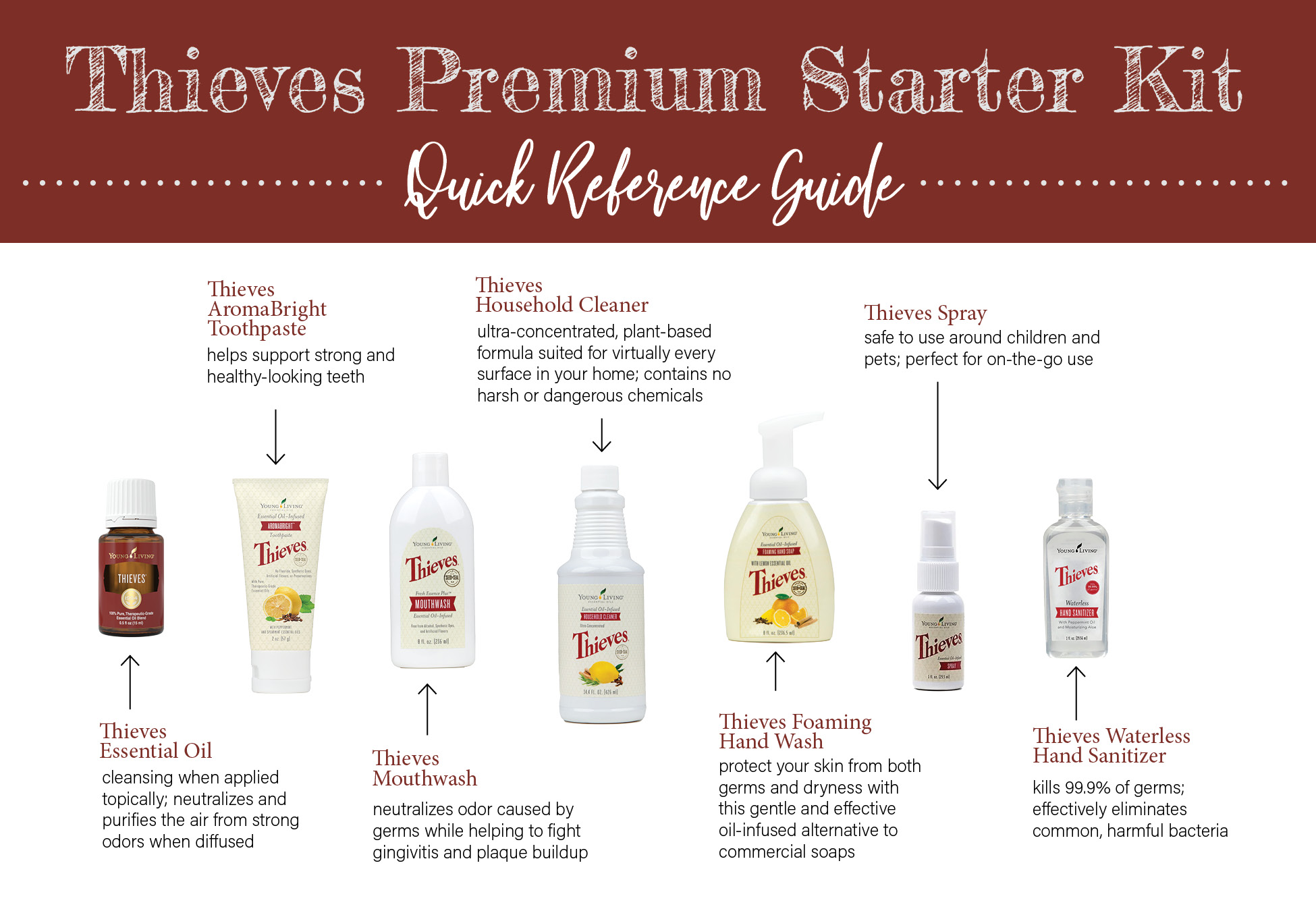 Monthly Young Living Promos
When your order hits one of these PV levels you will receive the corresponding products for FREE! Look at everything you get for free when you hit 300 PV!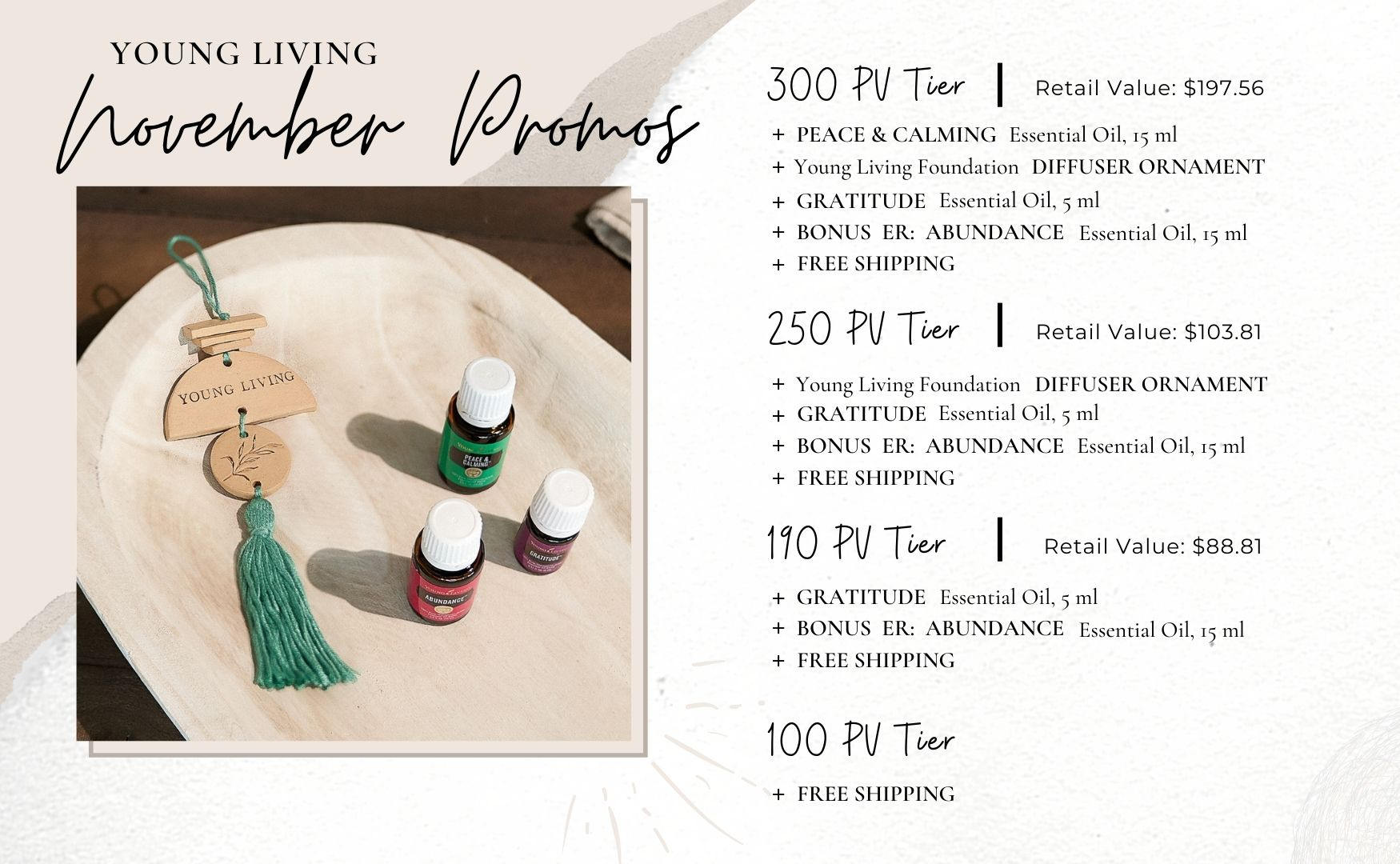 That's all for now folks!! The fun is just beginning!!
Like getting all of these ideas? Don't miss a single post! Be sure to join my e-mail list today, and let me know others ways I can serve you :)